Elvis History E-Zine #9 — December 2008
It's Time for the December Issue
of Elvis History E-Zine
by Alan Hanson
This is the ninth issue of Elvis History E-Zine. If this is the first issue you've received, welcome and thanks for subscribing. If you missed them, you can easily read the first eight Elvis History E-Zine issues by clicking on the back issues link below.
Contents of Elvis History E-Zine #9
• December Anniversaries … A list of important events that occurred in December during the life and career of Elvis Presley.
• Question on Elvis was a hot potato for Minnesota governor in 1956 … See how a politician responded when an 11-year-old girl asked his opinion of Elvis.
• What we missed out on when the army took Elvis away in 1958 … A look at the lucrative movie contracts and concert tours that had to be cancelled when Elvis was drafted in 1958.
• December Birthdays … A list of people in Elvis's world who were born during the month of December.
• A December Quote from Elvis … Read what Elvis said when he found out he was going to be drafted into the army in December 1957.
• What's new and what's coming … on Elvis-History-Blog.com
December Anniversaries in Elvis's Life and Career
December 3 — 40th anniversary of Elvis's "Comeback" special airing on NBC-TV in 1968.
December 4 — 52nd anniversary of the "Million Dollar Quartet" session at Sun Studio in Memphis in 1956.
December 19 — 46th anniversary of Priscilla's arrival at Graceland for a Christmas visit in 1962.
December 20 — 51st anniversary of Elvis's receiving his draft notice in Memphis in 1957.
December 21 — 38th anniversary of Elvis's meeting with President Richard Nixon in the White House in 1970.
December 22 — 48th anniversary of the nationwide opening of Elvis's sixth movie, Flaming Star, in 1960.
December 24 — 42nd anniversary of Elvis's marriage proposal to Priscilla in Memphis in 1966.
December 31 — 33rd anniversary of Elvis's New Year's Eve concert at the Silverdome in Pontiac, Michigan, in 1975.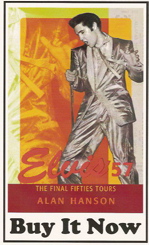 Question on Elvis a hot potato for Minnesota governor in 1956
On December 11, 1956, Elvis's first movie, Love Me Tender, was in its third week in Minneapolis theaters when the Minneapolis Morning Tribune ran a front-page story about how the state's governor, O. A. Freeman, answered a question posed by 11-year-old Linda Johnson. "I would like to have your personal opinion of Elvis Presley," Linda wrote the governor. "I love him."
According to the Tribune, Freeman "straddled the fence on a burning national issue." His return letter to Linda read, in part, "I've been so busy with my duties here and my reelection campaign (a successful one) that I had never seen Mr. Presley until his recent appearance on the Ed Sullivan program. He is certainly a very unusual showman and apparently appeals to many people."
Tribune reporter Ed Goodpaster, who wrote the paper's story about the correspondence between the young girl and the governor, closed his article with the following observation.
"Freeman, no stranger to political differences of mind, realized that this, however, was a different situation. As one of his assistants put it: 'Political infighting hath no fury like a Presley fan whose blue suedes have been stepped on.'"
What we missed out on when the army took Elvis away in 1958
The facts are this: Elvis picked up his draft notice at the offices of the Memphis draft board on December 20, 1957. He requested and received a 60-day deferment to complete work on Paramount's King Creole and then was inducted into the army on March 24, 1958.
Naturally, all of Elvis's entertainment commitments for the rest of 1958 had to be cancelled. But what were those commitments? What would he have done if Uncle Sam hadn't called him so suddenly? Those questions were answered in a Christmas Day 1957 article in Variety headlined, "Presley's Draft Will Cost Him 450G."
"Elvis Presley will lose a minimum of $450,000 in firm picture commitments for 1958 as a result of his draft call," the Variety article began. It pointed out that Elvis's draft call would force him out of his contract with 20th Century Fox to do a movie in 1958. Elvis was to receive a flat $200,000 for that film, which would have been a bargain for the studio since the contract had been signed in 1956 before Elvis's movie price soared. (Elvis fulfilled his obligation to 20th Century Fox with Flaming Star in 1960.)
Elvis was also signed to do another film for MGM, which would have been his third movie of 1958. According to Variety, MGM planned to cast Elvis in a "biopic of the late hillbilly howler Hank Williams, for which he was to receive $250,000 in cash plus 50% of the profits." (Elvis would not make another movie for MGM until 1962, when he filmed It Happened At the World's Fair.)
In addition to the two film projects, Elvis's army service also cancelled out his scheduled personal appearances for 1958. (It would be interesting to know what cities lost their Elvis concerts that year because of the army.) Of course, Elvis's recording sales for RCA were scaled back for two years due to his military service. Between cancelled motion pictures, lost concert ticket sales, and reduced record sales, Elvis's draft call conservatively cost him $1 million in income during 1958 alone.
December Birthdays in Elvis's World
December 14 — Charlie Hodge, Elvis's friend and backup musician, was born in 1934.
December 22 — Dudley Brooks, who played piano on many of Elvis's hits in the 1950s, was born in 1913.
December 27 — Scotty Moore, Elvis's first manager and his guitar player for many years, was born in 1931.
December 29 — Mary Tyler Moore, Elvis's co-star in his 31st movie, Change of Habit, was born in 1936.
A December quote from Elvis Presley
"I don't know what all the fuss is about. I'm just a guy who makes music—no different from anybody else … this country has given to me. And now I'm ready to return a little. It's the only adult way to look at it." — on receiving his draft notice, Memphis Press-Scimitar, December 21, 1957.
What's New and What's Coming on Elvis-History-Blog.com
During November I posted my reviews of Elvis's two documentary films on the site. They are Elvis: That's the Way It Is and Elvis On Tour. Check them out. There are now reviews of all of Elvis's 33 motion pictures in the Elvis Movies section on the site.
Don't forget to check out all the images posted in the Elvis Photos section. Galleries #1-5 contain photos taken of Elvis in 1957. Galleries #6-8 contain 6 photos each that I shot during Elvis's 1976 appearance in Spokane. Gallery #9 contains a set of Elvis photos taken in the little town of Kalama, Washington, on September 4, 1962. Enlargements of all photos are available for a mere $6 each.
My next weekly blog entry will be posted on Thursday, December 4. Also, sometime during December, I'll post an article I've written about Elvis's experiences in Seattle in 1962 while filming It Happened At the World's Fair. The article will appear first in the December issue of Elvis: The Man and His Music, an Elvis magazine published in the United Kingdom.
Like this E-Zine and Elvis-History-Blog.com? Pass it on! Tell your Elvis fan friends to go to elvis-history-blog.com and sign-up for this E-Zine. Consider purchasing a copy of my book, Elvis '57: The Final Fifties Tours for yourself or as a Christmas gift for a friend. I'll be back in your mailbox a month from now with the January issue of Elvis-History E-Zine. Until then, I'll see you in my weekly blogs on Thursdays, and I look forward to getting your feedback. — Alan Hanson