Elvis History E-Zine #11 — February 2009
It's Time for the February Issue
of Elvis History E-Zine
by Alan Hanson
This is the eleventh issue of Elvis History E-Zine. If this is the first issue you've received, welcome and thanks for subscribing. If you missed them, you can easily read the first ten Elvis History E-Zine issues by clicking on the back issues link below.
Contents of Elvis History E-Zine #11
• February Anniversaries … A list of important events that occurred in February during the life and career of Elvis Presley.
• Elvis's Incredible Record Sales Documented in February 1957 Article … See how Elvis destroyed operatic singer Enrico Caruso's recording sales records.
• February Was "Elvis Month" at the International Hotel in the Early '70s … A look at Variety's review of Elvis's February 1971 engagement in Las Vegas.
• February Birthdays … A list of people in Elvis's world who were born during the month of February.
• A February Quote from Elvis … Read what Elvis said about a rumor that he had gotten married in Mexico City.
February Anniversaries in Elvis's Life and Career
February 1 — 51st anniversary of Elvis recording "Wear My Ring Around Your Neck" at Radio Recorders in Los Angeles in 1958.
February 1 — 41st anniversary of Elvis becoming a father, when Priscilla gave birth to Lisa Marie at Baptist Hospital in Memphis in 1968.
February 2 — 33rd anniversary of the beginning of Elvis's "jungle room" recording sessions at Graceland in 1976.
February 3 — 50th anniversary of the death of Buddy Holly, Ritchie Valens, and the Big Bopper in a plane crash near Clear Lake, Iowa, in 1959. Elvis learned of the deaths two days later at his army posting in Germany.
February 11 — 53rd anniversary of Elvis's third appearance on "Stage Show," hosted by the Dorsey brothers, in 1956. Elvis sang his new record, "Heartbreak Hotel," for the first time on national TV, along with "Blue Suede Shoes."
February 11 — 49th anniversary of Elvis being promoted to sergeant, the highest rank he would attain in the army, in 1960.
February 14 — 45th anniversary of Elvis's presentation of the retired presidential yacht Potomac to Danny Thomas on behalf of St. Jude's Hospital in Memphis in 1964.
February 19 — 40th anniversary of Elvis recording "Kentucky Rain" at American Studio in Memphis in 1969.
February 21 — 43rd anniversary of the beginning of principal photography for Elvis's 22nd movie, Spinout, in Hollywood in 1966.
February 24 — 52nd anniversary of Elvis recording "Loving You" at Radio Recorders studio in Los Angeles in 1957.
February 24 — 44th anniversary of the start of Elvis's soundtrack recording session for Harum Scarum at RCA's Studio B in Nashville in 1965.
February 25 — 48th anniversary of Elvis's two charity shows at Ellis Auditorium in Memphis in 1961. They were his next to last live appearances until to his return to the stage in Las Vegas over eight years later.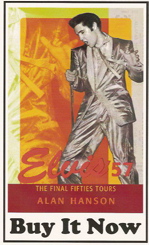 Elvis's Incredible Record Sales Documented in February 1957 Article
"Memphis' Elvis Outdoes Caruso in Record Sales" was the headline of an article in the Memphis Commercial Appeal on February 6, 1957. The article reminded readers that the concept of "golden disks" began when operatic star Enrico Caruso's recording of "Vesta la giubba" was the first to sell more than a million copies. Caruso later received another "golden disk" for "O sole mio," a tune from which Elvis's 1960 gold record "It's Now or Never" was adapted.
The article explained that in a single year Elvis completely eclipsed Caruso's record sales. In 1956 Elvis had five recordings reach million-seller status. They were "Don't Be Cruel"/"Hound Dog" (3,200,000), "Love Me Tender" (2,300,000), "Heartbreak Hotel" (1,600,000), and "I Want You, I Need You, I Love You" (1,200,000). "These and other records pushed his sales to 11 million singles in his first year in the big time, plus two albums," the Commercial-Appeal reported.
It also noted, however, that Elvis was still a long way away from topping the all-time top-selling single. That was Tommy Dorsey's "Boogie Woogie," which sold 4,500,000 copies back in 1938.
The newspaper also reported that Elvis had been chosen by Photoplay magazine as a recipient of its "Stars of 1957" award. Photoplay's award banquet was broadcast live by NBC-TV from the Beverly Hills Hotel the evening of February 7, 1957. On hand were other award winners, among them Rock Hudson and Kim Novak. Elvis, who was filming Loving You in Hollywood at the time, did not attend the banquet.
February Was "Elvis Month" at the International Hotel
When Elvis returned to live performing starting in 1969, February was one of the two months (August was the other) each year that found him on stage in Las Vegas at the International Hotel (later the Hilton). Variety covered nearly all of his Vegas appearances through the years. On February 3, 1971, the show biz magazine reviewed Elvis's fourth engagement at the International.
"All the principal arteries leading into and around Vegas are dotted with 'Elvis' billboards," Variety noted. "Bus benches everywhere contain the same message and radio is busily putting out the word many times an hour. This, a favorite Col. Tom Parker promo, will continue throughout the month as the Presley mystique continues to grow and grow in this aleatory sand pit."
The reviewer declared that Elvis came on even stronger than in his three previous sold-out engagements. "The programming is better with amounts of the goodies along the past years spaced out well, interspliced with contemp fare and—stroke of master planner—a couple of his gospel hits. Amazingly, his trump tune brings down the curtain with a roaring surge of applause … after more than an hour of belting and much physical exertion, that wins the surprise sweepstakes of the year for a Vegas performer."
The writer was particularly impressed by Elvis's ability to integrate karate moves into his act. "Presley has also designed his karate chops for better frequency, so that when he does give the moves, the effect is dynamite in topping off a rhythm tune."
Of Elvis's customary stage-side kisses, Variety noted, "The usual ringside tour in 'Love Me Tender,' with the bussing of femmes, is also gotten out of the way early in order that the principal game be played to enthrall the greater majority of votaries."
Variety's entire review of Elvis's show was over-the-top positive, concluding with, "The entire scheme this trip is a model of the most highly effective showmanship touches, blended with very good sounds."
February Birthdays in Elvis's World
February 1 — Lisa Marie Presley was born in Memphis in 1968.
February 6 — Jerry Schilling, Elvis's long-time bodyguard, friend, and confidant, was born in 1942.
February 10 — Ral Donner, an Elvis sound-alike pop singer, who had a hit record with "The Girl of My Best Friend" and later was Elvis's voice in the film "This Is Elvis," was born in 1943. He died in 1984
February 11 — Hank Garland, the guitarist who played prominently on such Elvis recordings as "A Fool Such As I" and "I Need Your Love Tonight," was born in 1930. He died in 2004.
February 12 — Steve Sholes, the RCA Victor executive who negotiated Elvis's first contract with RCA, was born in 1911. He died in 1968.
February 14 — Joan O'Brien, Elvis's costar in It Happened At the World's Fair, was born in 1936.
February 16 — Otis Blackwell, writer of "Don't Be Cruel" and "All Shook Up," was born in 1932. He died in 2002.
February 17 — Mary Ann Mobley, Elvis's costar in Girl Happy and Harum Scarum, was born in 1939.
February 24 — Richard Thorpe, director of Jailhouse Rock and Fun in Acapulco, was born in 1896. He died in 1991.
A February quote from Elvis Presley
"It's kind of funny. You go out with a girl a couple of times and it's a big romance, you know. They had me married a couple of times. I was down on Wilshire Boulevard one night. I was in a lobby of a theatre. Some people said, 'I thought you were in Mexico City on your honeymoon.' I came to find out that it was in a Mexican paper that I'd eloped and was coming there to get married, and they had a hotel suite reserved and all that stuff. I didn't even know the girl I was supposed to be married to." — February 25, 1961, press conference at the Claridge Hotel, Memphis.
My next weekly blog entry will be posted on Thursday, February 5. Also, sometime during February, I'll post an article I wrote about Elvis's experiences in Seattle while filming It Happened At the World's Fair in 1962. The article appeared in the December issue of Elvis: The Man and His Music, a magazine published in the United Kingdom.
Like this E-Zine and Elvis-History-Blog.com? Pass it on! Tell your Elvis fan friends to go to elvis-history-blog.com and sign-up for this E-Zine. Consider purchasing a copy of my book, Elvis '57: The Final Fifties Tours for yourself or as a gift for a friend. I'll be back in your mailbox a month from now with the March issue of Elvis-History E-Zine. Until then, I'll see you in my weekly blogs on Thursdays, and I look forward to getting your feedback. — Alan Hanson