Elvis History E-Zine #7 — October 2008
It's Time for the October Issue
of Elvis History E-Zine
by Alan Hanson
This is the seventh issue of Elvis History E-Zine. If this is the first issue you've received, welcome and thanks for subscribing. If you missed them, you can easily read the first six Elvis History E-Zine issues by clicking on the back issues link below.
Contents of Elvis History E-Zine #7
• October Anniversaries … A list of important events that occurred in October during the life and career of Elvis Presley.
• An October Elvis Radio Marathon in 1956 Produced Unusual Results … A look at how listeners reacted when a Chicago radio station played Elvis records for 12 straight hours.
• In October 1968, Elvis's Gold Caddy Raised Big Money in Australia … Elvis never played Australia, but his gold Cadillac did and attracted huge crowds.
• October Birthdays … A list of people in Elvis's world who were born during the month of October.
• An October Quote from Elvis … Read what Elvis had to say about a girl who climbed onto the stage while he was performing in Atlanta in the fifties.
• What's new and what's coming … on Elvis-History-Blog.com
October Anniversaries in Elvis's Life and Career
October 1 — 50th anniversary of Elvis's arrival in Germany aboard the U.S.S. Randall to start his army service there in 1958.
October 2 — 54th anniversary of Elvis's first appearance on The Grand Ole Opry in 1954. He sang "Blue Moon of Kentucky."
October 3 — 63rd anniversary of 10-year-old Elvis singing "Old Shep" at the Mississippi-Alabama Fair and Dairy Show in Tupelo in 1945.
October 9 — 35th anniversary of the finalization of Elvis and Priscilla's divorce at the Los Angeles County Superior Court House in Santa Monica in 1973.
October 11 — 52nd anniversary of Elvis appearing before 26,500 fans at the Cotton Bowl in Dallas in 1956.
October 15 — 47th anniversary of Elvis recording "Good Luck Charm" in 1961.
October 17 — 51st anniversary of the premiere of Jailhouse Rock in Memphis in 1957.
October 23 — 40th anniversary of the nationwide opening of Elvis's 28th movie, Live a Little, Love a Little in 1968.
October 28 — 52nd anniversary of Elvis's second appearance on The Ed Sullivan Show in 1956.
October 28 — 51st anniversary of Elvis's infamous performance at Los Angeles's Pan Pacific Auditorium in 1956. Complaints about the show caused the city vice squad to film Elvis's show the next night to make sure Elvis didn't violate the city's indecency law.
October 29 — 42nd anniversary of the start of Elvis's Jungle Room recording sessions at Graceland in 1976.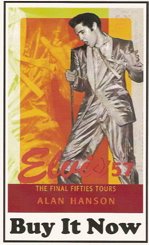 An October Elvis radio marathon in 1956 produced unusual results
On October 2, 1956, Chicago radio station WAIT put on a 12-hour marathon of Elvis records. Starting at 7 a.m., the station began broadcasting 33 Elvis records over and over. The next day the station reported the following results.
• One woman called to say she was canceling her dental appointment so she could stay home and listen.
• Another inquired when there would be a break for a long newscast. She wanted to hang out her washing but didn't want to miss any songs.
• The mother of a 6-month old youngster said the baby usually cries all morning but went to sleep peacefully as Elvis crooned.
• A woman said she hadn't missed work in more than two years but was playing sick to stick near the radio.
• Many mothers reported they had no trouble getting their teenagers up for school. The trouble was getting them off to school.
In October 1968, Elvis's gold Caddy was raising big money in Australia
In its October 9,1968, issue, Variety reported that, "One of the biggest long-running attractions to hit Australia is not even a person but a car—Elvis' Gold Cadillac." Bill Walsh, general manager for RCA Victor Records in the Southwest Pacific area, had arranged with Colonel Parker for Presley's car to be brought to Australia for a year-long tour to benefit the charitable causes of the Benevolent Society of New South Wales. The auto arrived in Sydney on January 19, 1968. By October more than 400,000 Aussies had viewed the car at the admission charge of 30¢, for a total of $128,000. By the end of its tour, the total take was expected to be $165,000. Parker had insisted that "every single cent that came in was to go to the Society," and that there were to be no expenses charged against it, either.
The largest crowd to see the car had been at Sydney's Royal Easter Show in April. It drew 22,500 curiosity seekers. By October the car had visited all of eastern Australia, with upcoming visits planned for Tasmania, Adelaide and Perth. The car was being transported in a special truck donated by a car agency.
With Elvis's Caddy drawing so many fans, just imagine the crowds that would have come out to see Elvis himself had he ever chosen to tour Australia.
October Birthdays in Elvis's World
October 1 — Walter Mathau, Elvis's costar in King Creole, was born in 1920. He died in 2000.
October 1 — Stella Stevens, Elvis's costar in Girls! Girls! Girls!, was born in 1936.
October 18 — Chuck Berry, Elvis's contemporary rock 'n' roller and author of several songs recorded by Elvis, including "Memphis" and "Promised Land," was born in 1926.
October 20 — Dolores Hart, Elvis's costar in Loving You and King Creole, was born in 1938.
October 24 — Jennifer Holden, who costarred with Elvis in Jailhouse Rock, was born in 1936.
October 26 — Neal Matthews, a member of the Jordanaires, was born in 1929. He died in 2000.
An October quote from Elvis Presley
"I remember this blond girl in Atlanta. She came to three different shows. And she sat in the first row and screamed all through all of them. The night we closed she decided to come up on the stage and almost got up there, when about five policemen grabbed her and she was screaming 'Let me at him.' It broke up the house and I got so tickled I had to walk off that stage." — The New York Post, October 4, 1956.
What's New and What's Coming on Elvis-History-Blog.com
During September I posted my reviews of three Elvis movies on the site. They are Stay Away, Joe; Speedway; and Charro! Check them out. The movie reviews are the most read pages on the site.
Don't forget to check out all the images posted in the Elvis Photos section. Galleries #1-5 contain photos taken of Elvis in 1957. Galleries #6-8 contain 6 photos each that I shot during Elvis's 1976 appearance in Spokane. Gallery #9 contains a set of Elvis photos taken in the little town of Kalama, Washington, on September 4, 1962. You can purchase 8 X 10 enlargements of all photos for $6 each.
My next weekly blog entry will be posted on Thursday, October 2. Also, during October, I'll continue my weekly reviews of Elvis's movies. I only have four left to go. They are The Trouble With Girls, Change of Habit, That's the Way It Is, and Elvis on Tour.
Like this E-Zine and Elvis-History-Blog.com? Pass it on! Tell your Elvis fan friends to go to elvis-history-blog.com and sign-up for this E-Zine. Consider purchasing a signed copy of my book, Elvis '57: The Final Fifties Tours for yourself or as a gift for a friend. I'll be back in your mailbox a month from now with the November issue of Elvis-History E-Zine. Until then, I'll see you in my weekly blogs on Thursdays, and I look forward to getting your feedback. — Alan Hanson