Complete Elvis Masters … Let's
Buy Elvis's Music All Over Again
The clever marketing crowd at RCA is trying to stick it to me again big time with The Complete Elvis Presley Masters. It's always bugged me in the past how those guys repeatedly maneuvered me into buying the same Elvis recordings over and over again. They know I've always done it in the past, so they think I'll go for their latest repackaged job. After all, I am a connoisseur of Presley's music, and I've always had to have all of it in the latest format. This time, though, I'm going to stand tall and say, "Hell, no!" At least, I think I'm going to.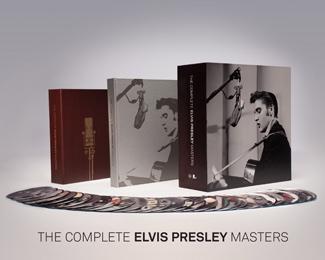 Before getting into details of the Complete Elvis set, just a little background. I first started buying Elvis LP records in 1963. (Girls! Girls! Girls! was my first one.) Before too long I had purchased all his previous albums, and I continued to buy them as they were issued into the 1970s.
About 1974 I repurchased all of Elvis's music for the first time. My original records were worn out from overplaying, so I bought new copies of all his records. Later, I bought a few Presley albums on the new cassette format. (Thank God I didn't have an 8-Track player in my car like my brother did, or I would have had to repurchase Elvis albums in that goofy format too.)
It wasn't until the advent of compact discs in the '80s, however, that I had to spend my hard-earned money to buy all of Elvis's music over again. RCA issued Presley's LPs in CD format, and I bought them all as they came out. Eventually, though, the label figured out how to make me buy all of the King's recordings yet again. In 1992 The Complete 50's Recordings 5-CD box set came out. Of course, I already had the basic recordings on CD, but the new box had a few alternate takes that I just had to have. So I put out another $50 for a set of Elvis songs, most of which I already had. In the same manner, RCA forced me into purchasing The Essential 60's Masters (1993) and The Essential 70's Masters (1995). Lately, it's been the FTD collectors' label that has figured out how to make me pay repeatedly for the same Elvis music.
• RCA now going for the "big score" with gullible Presley fans
Now that RCA has me, and other Elvis fans like me, firmly on the hook, they're going for the big score. With The Complete Elvis Presley Masters, they think we'll plunk down $750 in one lump sum to repurchase all of Elvis's music!
"The Ultimate Tribute," that's how RCA describes its latest Presley product, The Complete Elvis Presley Masters. "This is the definitive collection," claims the Complete Elvis web site, "all 711 master recordings as released during Elvis' lifetime, mastered from the original analog master tapes where available … The collection also contains 103 additional rare recordings and a 240-page hardbound book featuring an annotated discography, original album artwork, rare and classic photos, a complete song index and an essay by Peter Guralnick. Housed in a beautiful, limited edition display case."
The Elvis Complete CD track lineup is impressive to be sure. CDs #1 through #27 contain 711 Presley masters in the order in which they were recorded. They are, according to the Complete Elvis web site, "Every song Elvis recorded for release during his lifetime in a single unique collection, mastered from the original analog master tapes where available using 24-bit technology for greater sonic resolution and dynamics."
The contents of the first 4 CDS in Complete Elvis mirror the tracks on the earlier Complete 50's Masters. Starting with CD #5, however, Elvis's '60s and '70s output is put in chronological order, including movie soundtracks, gospel numbers, and Christmas songs, most of which were left out of the Essential 60's and 70's box sets. Elvis's 1968 Comeback Special is also represented, but only by the content on the LP that came out at the time of the special.
• Elvis's original live albums also included
Also, Elvis's live albums (In Person, On Stage, Aloha From Hawaii, etc.) are inserted where they fit chronologically between the studio takes. It really does appear to be everything Elvis recorded for release from his Sun records days until his final recording sessions at Graceland in October 1976. (The live recordings made for the Elvis in Concert LP are not included, presumably because that album was not released until after Presley's death.)
The final 3 CDS in Complete Elvis contain a mish-mash of alternate takes, home recordings, early live songs, and later Vegas numbers. All of these 103 extra recordings (including, unfortunately, Elvis's classic rendition of Froggy Went A Courtin) appear to have been released on previous RCA Presley products.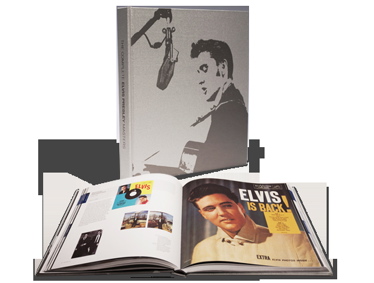 What interests me more than the music in the Complete Elvis package is the book that comes with it. The web site describes it as follows:
"This meticulously researched, lavishly illustrated 240-page book is, without question, the ultimate reference to the music of Elvis Presley. Inside you'll find the most comprehensive discography of Elvis' music ever produced, including artwork and information on each single, EP and album released during the artist's lifetime, release dates, chart positions and catalog numbers. Also included is a complete chronological song index which lists each track with recording date, studio and musician information. Rare and classic photographs, a foreword by producer Ernst Mikael Jørgensen and an essay by acclaimed Presley biographer Peter Guralnick bring valuable historical context to the collection."
The volume sounds like an updated version of Jorgensen's 1998 discography, Elvis Presley: A Life in Music, which is a wealth of interesting information about Presley's recording sessions. Unfortunately, the book is said to have been "produced exclusively for this collection." It appears the only way to get a copy will be by purchasing the entire set.
• Who would pay the high price?—not me!
And what will that cost? For pre-order, the base cost is listed at $749 plus estimated shipping of $14.99. The $763.99 total may be increased by applicable taxes. (Shipping of the Complete Elvis is scheduled to begin "on or before October 19, 2010"). For that price you get (1) a custom designed, individually numbered display case, (2) a silk-screened, silver-gilded hardcover book on archival paper, (3) 30 CDs, and (4) an individually numbered certificate of authenticity.
Well, I'll be darned if I'm going to pay that much for 814 Elvis recordings that I already have on CD. But wait. The price might go down! Pre-orders are being taken for a "limited first run of only 1,000 numbered units." That sounds like there will be a later basic offering of the Complete Elvis package for a lower price. If so, we'll have to wait to see just how much lower. In any event, I can't imagine the price could be lowered enough to entice me into buying Elvis's complete recording catalog again.
But then I read the following passage on the Complete Elvis web site: "THE COMPLETE ELVIS PRESLEY MASTERS is an indispensable piece of music history and the one collection no true connoisseur should be without." Connoisseur, huh? I know that comment was meant especially for me. Maybe I have to have Complete Elvis after all. | Alan Hanson


Complete Elvis Presley Masters Web Site

Go to Blog Archives 2010

Go to Home Page