Elvis Presley Lampooned During
2011 Baseball Night in Seattle
In addition to being an Elvis Presley fan, I'm also a Seattle Mariners fan, so if I had lived closer to the Emerald City, I certainly would have been in Safeco Field for the team's annual Elvis theme night at on Friday, May 27, 2011. In general, I love to see Elvis recognized in public venues. However, I have mixed feelings about the format of Elvis promotional nights in Seattle and other major league cities. Although it's nice that Elvis is honored with a night at the ballpark, such events always seem to take the form of a pathetic parody instead of a celebration for the iconic entertainer. Cameras focus on fans in gaudy jumpsuits gyrating in aisleways between innings while TV and radio announcers give voice to "classic" Elvis expressions like, "thank you … that you very much."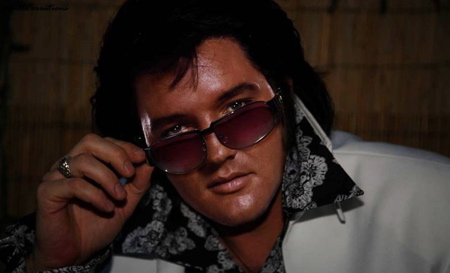 Despite the fact that it was a night game, the giveaway item at Elvis night at Safeco Field was sunglasses. The first 10,000 fans through the gates received a pair of Elvis style shades. And there were plenty of signs fans made and brought to lampoon Elvis.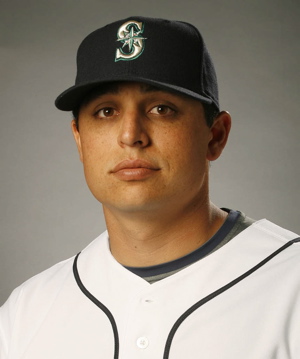 Officially, the Mariners called the event "Viva Las Vargas," in reference to Seattle pitcher Jason Vargas (right), who did not play in the game. Fans were encouraged to dress in their Elvis best and report at 6 p.m. to a radio station tent at Safeco Field for a costume contest. The winner received four front row tickets to a future Mariner game and a baseball autographed by Jason Vargas. (No need to put that ball in the safe deposit box; he'll never make the Hall of Fame!)
Mariner internet blogger Jeff Sullivan called it the Mariners' "most curious promotion" of the year. "I get that 'Vargas' and 'Vegas' sound somewhat alike, but one doesn't remind you of the other," noted Jeff, "unless you take the bags under Vargas' eyes to be indicative of heavy drug use, which is one of those messages the Mariners probably have a policy against sending."
Also at the game, one "lucky" spectator won a trip for two to Las Vegas. (Just one trip! You'd think a team that is paying one of it's players $18 million this year, could afford to give away multiple trips to Las Vegas, but then, attendance is down this year.)
Knowing I wouldn't be in the stands for 2011 Elvis night in Seattle, I emailed the Mariners ahead of time my suggestions for the evening's musical program. I knew, of course, that Elvis tunes would be playing over the public address system intermittently throughout the game, and I proposed a collection of Presley song titles for those occasions.
• Dust off those old Sun label 45s
For starters, I suggested the Mariners have two of Elvis's early Sun label recordings cued up should rain clouds, not uncommon in Seattle, start moving in near game time. "When in Rains, It Really Pours" would have been an appropriate Elvis refrain in that eventuality. However, since Mariner ownership took that possibility into consideration when they built Safeco Field, the incoming crowd could then have sung, "I Don't Care If the Sun Don't Shine" in harmony with Elvis as the stadium's retractable roof moved across to shield the playing field from unruly rain showers.
To maintain the Elvis theme throughout the game, Presley tunes, of course, were played over the PA system to entertain the crowd between innings. All the Presley platters selected for this purpose shared two characteristics. First, the tunes were readily identified with Elvis, even by non-Presley fans, who were the majority among those in the stadium that evening. Second, only Elvis's high-energy musical offerings were chosen for between-inning entertainment. Since rock 'n' roll gets the crowd's blood up, well known Presley ballads like "Are You Lonesome Tonight?" and "Love Me Tender," which were designed to encourage a different kind of passion, are generally poor choices for an Elvis baseball night.
Here were my recommendations for nine well known, uptempo Presley songs to be played between innings at Safeco Field on May 27, 2011:
1st inning: "Heartbreak Hotel"
2nd inning: "All Shook Up"
3rd inning: "Return to Sender"
4th inning: "Don't Be Cruel"
5th inning: "Jailhouse Rock"
6th inning: "Little Sister"
7th inning: "Blue Suede Shoes"
8th inning: "Teddy Bear"
9th inning: "Burning Love"

Did the Mariners heed my suggestions? With one exception, I have no idea. I watched the game on TV, and that particular medium has an irritating habit of running commercials between innings. The one exception was the 5th inning, when the grounds crew ran onto the field to smooth out the infield dirt area. The dozen or so rakers were all wearing white jumpsuits and coal black wigs. Several were clearly overweight, lending a degree of authenticity to the spectacle. After finishing their grounds keeping duties, the crew paused to do perform a rather lame jig—hardly qualifying as "gyrations"—while "Jailhouse Rock" blared over the PA system.
You'll notice that the most well known Presley recording of all is missing from above list. That's because I advised that the playing of "Hound Dog" in the stadium should await another, more appropriate moment, that being when the home team manager, Eric Wedge in the Mariners' case, charged out of the dugout to dispute a call with an umpire. Can't you picture it? Elvis shouting "You Ain't Nothin' But a Hound Dog" while the manager goes nose-to-nose with the umpire?
• More musical selections for Elvis night at the ballpark
There are a few other Elvis recordings I suggested for certain times during the game. After every strikeout by Mariner rookie pitcher Michael Pineda, a few bars of "I Got My Mojo Working" would have been appropriate. Ever since 9/11, it has been customary for "God Bless America" to be sung during the seventh inning stretch in major league parks. Of course, Presley never recorded that song, but on Elvis night his 1975 live Las Vegas recording of "America the Beautiful" would have fit the mood just as well. Then, of course, toward the end of the game, "Viva Las Vegas" obviously should have been playing leading up to the awarding of the Las Vegas trip to that lucky fan.
Should the Mariners prove victorious over the hated Yankees that evening (which they were), I suggested the final out could be followed by Elvis singing "Happy Ending" from his movie It Happened At the World's Fair, which, coincidentally, was filmed and set in Seattle nearing 50 years ago. Finally, as the Seattle fans left the ballpark, Elvis could have reminded them that his promotion had resulted in "Such a Night" at Safeco Field.
It turns out that there was one Elvis ballad that was played repetitively at Safeco Field that evening. The strains of "Can't Help Falling In Love" could be heard over and over again in the makeshift Elvis marriage chapel set up in the stadium. Over the course of the game, Elvis married 469 people in the chapel, and each one left with a marriage certificate to prove it. Understand, now, that Elvis didn't preside over all these weddings; he was actually the groom in all of the ceremonies. Despite Elvis's prodigious reputation, I doubt even he could have performed his duty with so many women on that wedding night in Seattle. — Alan Hanson | © May 2011


Go to Elvis Universe

Go to Home Page