"Elvis: The Man and His Music" …
The Best Magazine for Elvis Fans
One summer day in 1998, I was in a Tower Records store in Seattle browsing through their rack of Elvis CDs, when I noticed several Elvis magazines sitting on a ledge above the CDs. One caught my eye. It was a small publication, roughly 6 x 9 inches, with the name ELVIS: The Man and His Music. After a quick thumb-through revealed what appeared to be a lot of interesting articles, I paid the $2 asking price and took the magazine back to my hotel room.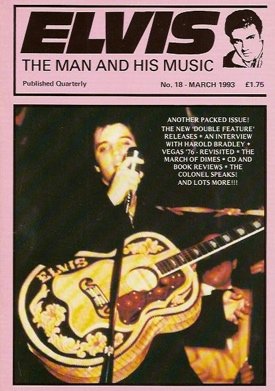 What I had purchased was an Elvis fan magazine published in the UK. That evening I read the forty-page publication from cover to cover. My favorite article in it was titled, "Follow That Dream – Revisited" by Bill Bram (more on Bill a little later). The author shared his findings while visiting many of the film's Florida location shooting sites in 1986. I've always enjoyed reading articles that burrow into the details surrounding Presley's career. Articles like Bram's help me understand Elvis a little better.
Over the last 10 years, because of its emphasis on Elvis history, ELVIS: The Man and His Music (EMM) has been my favorite Presley magazine. I'm sure there are some Elvis magazines out there that I haven't seen, but of the ones I have, this is the best by far when it comes to quality articles about Elvis. The magazine contains a lot of photos as well, but the emphasis is clearly on information. If you are a fan who loves to see pictures of Elvis, then there are better magazine choices for you than this one. Personally, I know what Elvis looked like, so I'm not particularly interested in viewing an endless stream of Presley photos. I'd rather read about the man.
• An Elvis magazine written by hard-core Elvis fans
ELVIS: The Man and His Music is published quarterly by Now Dig This publications. Its long time editor and lead writer is Trevor Cajiao. As a commercial publication, it takes a much more balanced approach to all things Elvis than would a fan club publication. I would characterize Trevor and his cadre of regular contributors as "hard-core" Elvis fans. They definitely have strong opinions about what happens in the Elvis world, and they aren't afraid to say what they think is good and what is bad.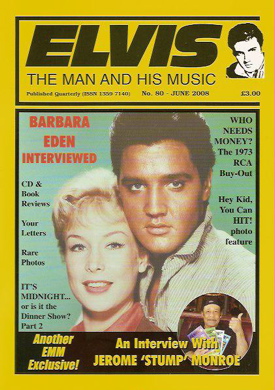 A summary of the contents of issue number 80, dated June 2008, should provide an idea of what the magazine is all about. It begins inside the front cover with the editor's "Find Out What's Happening" column, a list of news items from the Elvis universe. It was here that I first learned of the recent passing of Todd Morgan, an Elvis Presley Enterprises executive who I had communicated with concerning my Elvis '57 book. Other assorted Elvis facts are included, such as the use of Elvis's version of "Hound Dog" behind the opening credits of the new Indiana Jones film.
Next comes the magazine's letters-from-readers column. Most of the letters comment on articles from the previous issue, but readers are allowed to vent their displeasure here as well.
• Barbara Eden interview a highlight in issue #80
EMM regularly includes interviews with people connected with Elvis during his lifetime. Issue #80 contains two such interviews. The most interesting one is with Barbara Eden, Elvis's co-star in Flaming Star back in 1960. Miss Eden is very complimentary of Elvis as an actor, calling him a "natural." She also shares some interesting anecdotes about her work with Elvis in the film.
As with all magazines, readers will find articles in ELVIS: The Man and His Music that are not their cup of tea. Issue #80 contains two articles that are for hard-core Elvis fans only. One is a fact-filled essay on the fallout from Elvis and the Colonel selling Elvis's back record catalogue to RCA for $5 million in 1973. The other article is even more detailed. It tries to sort out the dates of dozens of Elvis live recordings from the 1970s that have appeared on various CDs.
A regular feature of EMM that I find very useful is its reviews of recent Elvis CD and DVD releases, as well as of recently released books about Elvis. I purchase some of the Elvis CDs issued on the "Follow That Dream" label, but not all of them. At $30 a pop I like to know what I'm buying, and the detailed reviews in EMM help me decide which ones are worth it.
EMM's book reviews are also useful. With all the Elvis books that are published these days, it's helpful to read an honest review of a particular volume before laying down the money to buy a copy. Here, as well, the EMM reviewers don't pull punches. If they like a book, they say so; if not, they're honest about it.
• EMM gives Elvis movie book a thumbs up
One of the two books reviewed in EMM's issue #80 is Elvis: Frame by Frame, a study of nine Elvis movies, by Bill Bram. Yes, it's the same Bill Bram who wrote the Follow That Dream article that so impressed me in that first EMM issue I saw 10 years before. In his review, Trevor judged Bill's book to be "one of the best Elvis books I've read in years."
A final regular feature of EMM is the reprinting of a vintage newspaper article following an Elvis concert appearance. For example, issue #80 reproduced an article from The Detroit News on April 7, 1972, about Presley's show in that city the day before.
As you can see, ELVIS: The Man and His Music has a lot to offer to Elvis fans interested in Presley history and current Elvis-related products and events. The only reservation I have about recommending the magazine is its relatively high cost at this time to U.S. Elvis fans. The current exchange rate makes the UK produced magazine expensive in U.S. dollars. EMM has no U.S. agent. Individual copies and subscriptions can only be purchased through the Now Dig This web site. Past issues are also available through the Now Dig This site. If your Elvis budget can handle the burden in these troubled economic times, I strongly recommend that you check out ELVIS: The Man and His Music. — Alan Hanson | © June 2008


Go to Elvis Universe

Go to Home Page