Eugene Sheviakoff: Remembering
A Special Elvis Presley Fan
"I am writing on behalf of my family. You had been in contact with my father, Eugene Sheviakoff. I just wanted to let you know that my father passed away this morning from being ill for a very long time. I wanted to let you know because my father was such a fan of your website and helping to read over your blogs was a delight for him."
When I received the above email message from Nina Miller in Australia on Monday, September 20, 2010, I was both surprised and saddened. I had been in email contact with Eugene for about two years, and in the dozens of emails he sent me he never once mentioned his illness. I had lost a good friend who had come my way through our shared interest in Elvis Presley.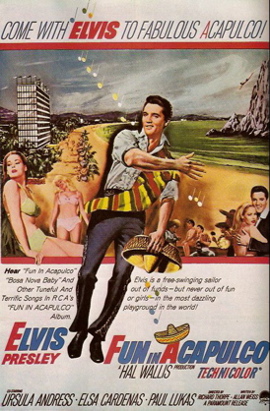 I first heard from Eugene in June 2008, when he emailed me his comments on one of my early blogs about Elvis's movies. It was obvious from that first communication that he was a fan and defender of Presley's films. He suggested that I do some research on Elvis's costars and write a blog entry about my favorite ones. He signed off that first email with, "Your fellow Elvis fan, Eugene Sheviakoff," as he would many future emails.
I never got around to acting on Eugene's suggestion, and in February 2009 he sent me a long article listing his favorite costars in Elvis's 31 theatrical films. I held on to Eugene's article for many months before realizing I could never write anything to compete with Eugene's detailed treatment of the subject. So I asked his permission to use his article in my blog space with his name listed as "guest blogger." I also asked his assurance that the article had never previously appeared in print or online. He responded, "Your website is the only one that I send my letters to so definitely there is no problem in that area."
Eugene's costars article has permanent place on the web
This past April Eugene's article on Elvis's movie costars appeared on Elvis-History-Blog.com. (It still exists as a permanent page on the site. A link to Eugene's article appears at the bottom of this blog.)
As soon as it was posted, I asked Eugene to get back to me with any needed corrections. I only mention this because it led to me asking Eugene if he would proofread all of my blogs from then on, which he agreed to do. Thereafter, after posting my Elvis blog on Wednesday night each week, I'd find a message from Eugene early each Thursday morning identifying any typos or grammatical errors in that week's blog. I confess that I grew a little complacent in proofreading my own writing because I knew Eugene would give it a thorough going over for me.
I'll miss his proofreading but even more I'll miss his weekly comments on my Elvis blogs. There were times he disagreed with me, but he always did so respectfully. He was passionate about Elvis but also tolerant about the opinions of other fans.
Fun in Acapulco brought an awakening
Earlier this year, Eugene explained to me how he became an Elvis fan:
"We are a white Russian family who migrated from China to Australia in 1958 when I was about 14. My parents came to China from Russia in 1917 to escape the Russian revolution. I have now lived in Australia some 50 years.
"I had begun hearing about Elvis Presley since I first read about his being discharged from the army in 1960 and bit by bit began reading more and more about him as the years went by. Gradually I came to understand that people regarded him as a very popular singer. Our nearby railway station always put up big movie posters of his films, and I remember seeing a poster for It Happened At the World's Fair there.
"In 1963 there was an awakening. I heard 'Bossa Nova Baby' on the radio and immediately liked it. Later in the year there was a trailer for Fun in Acapulco in the local theater, and I knew I had to see this film. I saw it and I was converted. I became an Elvis fan and stayed a fan for 40 years and continue to be one. Overall I consider myself a lucky man. I have a good wife and family, I have my interest in Elvis Presley, and now I've found your website and am learning more each week about Elvis Presley, his life and career."
Eugene's daughter Nina recalled how her father shared his enthusiasm for Elvis with his family. "My brother and I grew up with the music and the movies," she recalls, "and have such fond memories of how we would settle down for Sunday afternoon in front of the TV when an Elvis movie was on. It was a wonderful time in my childhood listening to my father's treasured records, especially my father's limited edition Moody Blue vinyl record because it was blue!"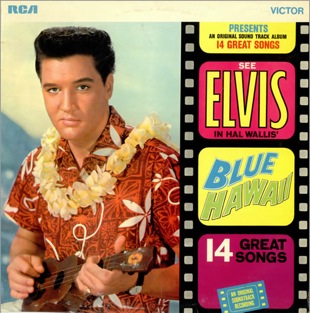 Elvis anniversary music
"My parents shared a love of Elvis, and the Blue Hawaii album was played on their wedding anniversary each year as they had played the album during their small reception after their wedding 39 years ago. My father's love of Elvis' films and music caused a lot of tension and laughter over the years as we got frustrated with his growing collection. Now we are blessed with a treasure of memories which we will enjoy for years to come."
Eugene's collection included over 50 Elvis CDs, but when DVDs of Presley's movies started to be released, that facet of Elvis's career became his primary interest. He was especially interested when I posted blogs about subjects related to Elvis's films and would comment on them extensively in his emails.
Occasionally, Eugene would share bits of Elvis film trivia. The following one concerns the trailer for The Trouble With Girls.

"In the trailer we see Elvis in a scene with Nicole Jaffe who plays Betty, but the name on the screen is Joyce Van Patten, who appears considerably later in the film and plays Maude the channel swimmer. I first saw the trailer in 1969, but didn't see it again until The Trouble With Girls was released on DVD in Australia in 2007. I would have thought that a prestigious movie company like MGM would have taken the trouble to correct the error, but it seems that they didn't worry about it."
Another bit of Elvis film trivia Eugene passed along concerned how the Presley pictures were filmed.
"I would have preferred it if Paradise Hawaiian Style had been filmed in widescreen. Elvis altogether in his film career made more widescreen films than regular screen films. MGM made 14 films of which 13 were made in widescreen (either Cinemascope or Panavision), the only exception being Harum Scarum. Paramount made 9 films of which only 2 are in widescreen (Blue Hawaii in Panavision and Roustabout in Techniscope) and the other 7 are in regular screen."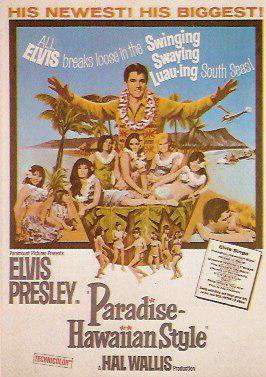 Elvis' leading ladies article in the works
This past summer, Eugene informed me that he had in mind to write an article about Elvis's leading ladies. I encouraged him to do so, and in August he emailed me a draft of the article. I suggested he make some changes before I posted it in on Elvis-History-Blog, and he agreed to rework the article.
Meanwhile, though, Eugene obtained a copy of Gillian Gaar's book, Return of the King, which I reviewed in this space in June. In the last email I received from Eugene last Thursday, he explained, "I have been reading Return of the King slowly as time permits and find it enjoyable reading. I also must mention that for now, at least, I am abandoning my Leading Ladies project. Somehow with Return of the King being my first priority, I've lost interest."
There are probably hundreds of thousands of Elvis fans around the world similar to Eugene Sheviakoff. Through his music and movies, Elvis is an ongoing source of pleasure in their lives.
Eugene, in particular, though, helped me to realize an important part of Elvis Presley's legacy. Even decades after his death, Elvis still has the power to bring two fans together in friendship, even though they live half a world away from each other.
"Thank you again for being a friend through Elvis to my father," expressed Nina. "I cheer up just thinking that he has his chance now to meet Elvis." | Alan Hanson (September 2010)


Read Eugene Sheviakoff's Article on Elvis's Costars

Go to Blog Archives 2010

Go to Home Page