Heritage of the Flaming God
by Frank J. Brueckel and John Harwood
Edited by Alan Hanson and Michael Winger
Waziri Publications
OPAR—the lost city of the Flaming God with fabulous riches and human sacrifice in the heart of Tarzan's Africa. Readers of Edgar Rice Burroughs' Tarzan novels are familiar with Queen La, Opar's beautiful High Priestess, and her beast-like followers. But who built Opar? When, why and how? How came it to fall into decay and isolation? In his Tarzan novels, Burroughs touched only lightly on Opar's ancient past.
Three decades ago, Frank J. Brueckel and John Harwood attempted to answer those questions and many more in their essay, "Heritage of the Flaming God." Fate left this classic essay unpublished through the years, but now, as the centerpiece of this collection of Opar and Atlantis essays edited by Alan Hanson and Michael Winger, Brueckel and Harwood's essay is available for the first time for all Burroughs and lost continent of Atlantis fans to enjoy. (Soft cover, 8 ½ x 11, 126 pages, cover illustration by Thomas Yeates, inside illustration by Dave Hoover.)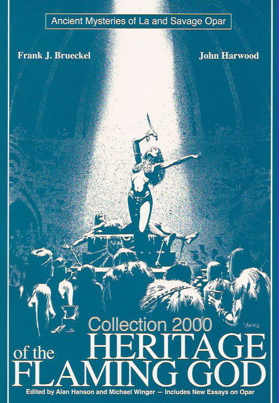 Price
$15.00 plus postage & handling
Postage & Handling
Anywhere in the U.S. (USPS Media Mail) $3.25
Canada (USPS First Class Mail) $6.25
Europe (USPS First Class Air Mail) $22.50
Australia, New Zealand, Japan (USPS First Class Air Mail) $13.00
Methods of Payment

• PayPal (preferred method, especially for international payments).
Make PayPal payments to alanh111@comcast.net
• Or send check/U.S. money order or international money order to:
Alan Hanson • 12007 N. Atlantic • Spokane, WA 99218 • USA
Also from Waziri Publications