Behind the Scenes of …
"Fun in Acapulco"
As I advance in years, every so often I get an urge to relive the pleasant pursuits of my youth. One sure way to do so is watching an Elvis Presley movie. It recalls the joyous Saturdays spent in local theaters during the 1960s watching each new Presley film when it came to my town. At those first viewings, my eyes and ears concentrated on Elvis. In subsequent viewings through the years, though, I made an effort to take note of other elements in Elvis's movies, such as the other actors, scenic photography, and background music. So when I watched Elvis's 1963 film Fun in Acapulco recently, I tried to go beyond the spotlight on Elvis and view the movie in its entirety.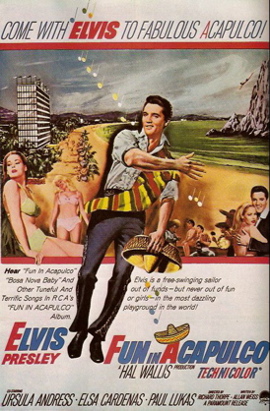 Of course, aside from the Elvis, the other person most involved in Fun in Acapulco was producer Hal Wallis. Although he is never seen in the film, his influence is there, behind the scenes, from beginning to end. The process Wallis used to create Fun in Acapulco can be traced through the incredible website newspapers.com. Its extensive newspaper files from the early 1960s bring to light the producer's actions in bringing Fun in Acapulco to the screen.
The basic production background of Fun in Acapulco is familiar to most Presley film fans. It was Wallis' sixth feature starring Elvis, so the producer didn't have to plow new ground. Actual physical production of the film got underway in January 1963 at Paramount's Studios, with principal photography starting on January 28 and running through March 13.
However, Wallis had a lot of work to do before actual filming could begin. Knowing the magic of Elvis' name, Wallis knew he could build some hype for the coming film by keeping the Hollywood entertainment press informed of each step he took. Through wire service articles and syndicated Hollywood columnists, news of Wallis' work appeared in newspapers throughout the country.
• Mexico revealed of setting for next Presley film
The earliest mention of the new Presley film that would become Fun in Acapulco appeared in a 35-word wire service blurb published in U.S. papers on December 4, 1962. It read:
"Mexico City (UPI) — Elvis Presley will rock 'n' roll his way to Mexico incognito to film 'Fiesta in Mexico,' newspapers here reported Monday. The report said Presley would fly directly here from Los Angeles and 'remain incognito during his stay.'"
Wallis, who probably fed this information to UPI, obviously at that time had not yet settled on the final title of the film or the Mexican city in which it would be set. But it was the beginning of the producer's strategy to keep the upcoming Presley film in the news by feeding information piecemeal to the press leading up to the film's release a year later.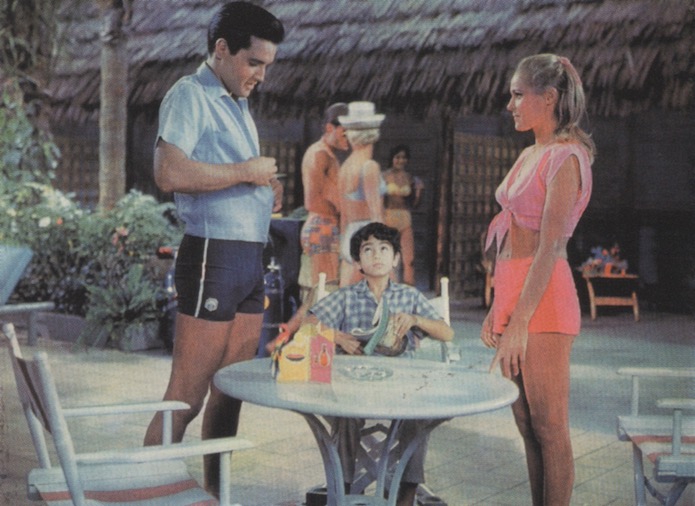 Wallis probably never intended that Elvis fly to Mexico City, or Acapulco for that matter, and Presley's ability to work uncover anywhere would have been virtually impossible. The producer would have been well aware of the bad press Elvis had received in Mexico over the previous few years. It started in 1958, when the Wallis produced King Creole was banned in the country after teenagers rioted at a showing in Mexico City. Even more damaging to Presley's reputation in Mexico, though, was a rumor that Elvis had made disparaging comments about Mexico and its people. The rumor was widely believed in Mexico then, and even Hollywood columnist Sheila Graham reported it as fact in her column in December 1963.
"Elvis Presley made some derogatory remarks about Mexican women in a fan mag article about two years ago. In Mexico, they are only just now getting around to forgiving him. And his boss Hal Wallis is hoping the Mexican government will relent and permit the showing of Elvis's latest, 'Girls! Girls! Girls.' And to help matters along, Wallis signed top Mexican actress Elsa Cardenas to co-star with Elvis in 'Fun in Acapulco.'"
(Several sources later verified that Elvis never made the racist comments. The rumor was spread through the Mexican media after Presley allegedly slighted a Mexican politician by declining to give a private concert for his teenage daughter and her friends.)
• One at a time, Wallis revealed cast members of Fun in Acapulco
In late 1962 and early 1963, Hal Wallis built Elvis' supporting cast for Fun in Acapulco. The producer informed the press individually as each actor signed on. They included:
— Ursula Andress as Margarita Dauphine
In her Hollywood gossip column of December 6, 1962, Louella Parsons broke the news that Presley's leading lady had been cast. "Can't remember when I last had news about Ursula Andress," Parsons noted, "but up she crops with Elvis Presley in 'Fun in Acapulco' for Hal Wallis. As I remember Ursula I'd hardly have picked her as a vis-à-vis of Elvis — but it's been so long since I've seen her, she may have changed. Anyway, Ursula is off to Mexico with Elvis and company right after the holidays."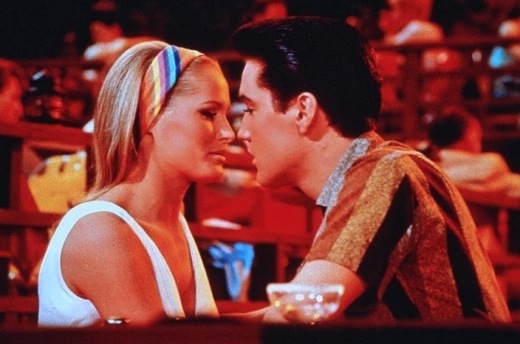 — Elsa Cardenas as Dolores Gomez
A week later, Louella announced that Wallis had chosen Elsa Cardenas, the "reigning queen of movies in Mexico," as Elvis' second female co-star for Fun in Acapulco. Cardenas' only previous appearance in an American film was as Rock Hudson's daughter-in-law in Giant in 1955. Parsons wrote, "She was such a shy little teenager. She had a duenna (governess) glued to her side everywhere she went. Well, you ought to see her now … a stunner if I ever saw one. And no duenna!" In the film, Cardenas played a famous lady bullfighter who was Ursula Andress' rival for Elvis's affections.
— Richard Thorpe as director
The next news from Wallis came on January 7, 1963, when a short news service article announced that Richard Thorpe had been signed to direct Fun in Acapulco. "A veteran director with more than 25 years experience in Hollywood," the article noted, "Thorpe previously directed Presley in 'Jailhouse Rock.'"
— Paul Lukas as Maximillian
In her February 1 column, Louella Parsons revealed that Paul Lukas "will play the part of a former European grand duke who winds up as head chef at an Acapulco hotel" in Fun in Acapulco. Lukas was a surprise addition to the cast. An Academy-winning film actor, he had been living in Majorca in semi-retirement for eight years. Parsons explained that Lukas was in Hollywood for a short stay, "when he ran into Wallis and wound up in the Presley movie."
— Robert Carricart as Jose Garcia
Principal photography on Fun in Acapulco was already underway, when a wire service article reported that Wallis had signed Robert Carricart for a "featured role" in the film. Known for his work on Broadway, Carricart played the part of Jose Garcia, the love forlorn manager of Elsa Cardenas' lady bullfighter.
— Linda Rivera as the Telegraph Clerk
On March 2, a Hollywood wire service reported, "Latin actress Linda Rivera has been signed by producer Hal Wallis for a role in Presley's next film." In 1957 Rivera had played a squealing bobby-soxer in Wallis' first Presley movie, Loving You. In Fun in Acapulco, she had one scene. After Elvis' character wrote out a telegram he wanted sent to his family back in the states, Rivera, as the hotel telegraph clerk, read it back to him aloud. Noting a "problem" mentioned in the telegram, she looked up at Elvis and said, "Do you have a problem, senior?" Reaching out to touch his hands, she sensually added, "Anything I can do?"
— Darlene Tompkins as First Girl
A wire service article on February 26, announced, "Beautiful Darlene Tompkins has been signed by producer Hal Wallis for a role in 'Fun in Acapulco.' Darlene, winner of a record twenty Southern California beauty contests, appeared in an earlier Presley film, 'Blue Hawaii.'"
During Elvis Week 2007 in Memphis, Darlene and I had adjacent booths at Elvis Expo. She had a significant role in Blue Hawaii as Patsy, one of the teenage girls for whom Elvis's character was a tour guide. Darlene said that Elvis personally insisted that she be given a part in Fun in Acapulco. It was a small one. She appears as one of three underage girls sitting at a table in an Acapulco canteen named "El Torito's." When she spotted the father of one of the other girls enter the canteen, Darlene voiced her only line in the film: "Uh, oh. Back to the convent!"
— Howard McNear as an American Tourist
One actor whose name did not appear in the gossip columns or in the cast list accompanying reviews was Howard McNear, who was appearing in his third Elvis film.  He had played a travel service owner in Blue Hawaii and a bank loan manager in Follow That Dream. In Fun in Acapulco, McNear plays a tourist who, with his wife, engages in a short conversation with Cardenas' lady bullfighter, concluding by inviting her to "drop in for a visit" the next time she is in Oklahoma.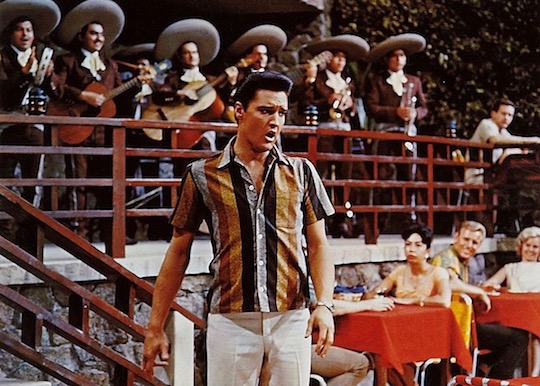 In the middle of his casting process, Hal Wallis found his own name headlining a wire service article: "Producer Hal Wallis Undergoes Surgery." On February 16, 1963, UPI reported that Wallis was in "generally good condition" after undergoing surgery for removal of kidney stones at Cedars of Lebanon Hospital in Los Angeles. Wallis, 62, was expected to remain in the hospital for a week.
• Wallis made Hollywood look like Acapulco
In all of the Fun in Acapulco pre-production information that Wallis shared with the press, he apparently neglected to mention that no location shooting would take place in Acapulco. Background photography had been shot there, as well as some action footage of Mexican high divers, but all of the principal photography with the cast was done at Paramount Studios and nearby locations in Hollywood. In the finished print, it's very obvious that Elvis at times is performing in front of background footage shot in Acapulco. One example occurs when Elvis sings the song "Mexico" as he and his young "manager" Raoul ride a bicycle through the streets of Acapulco. Elvis was actually pedaling a stationary bike in Hollywood.
A few reviewers were fooled. One declared, "This entertaining musical, produced by Elvis' screen discoverer Hal Wallis, is filmed on location in the romantic south of the border city of Acapulco.'" Others, however, noticed the Mexican setting seemed unreal. A reviewer in The Ottawa Citizen observed that, "the technicolored Acapulco scenery has an artificial look to it."
To keep building the hype in the Hollywood press for Fun in Acapulco, Wallis described a couple of dramatic scenes in the script. In one scene, the producer explained, Elvis would dive over 130 feet from a rock cliff into a narrow strip of water off Acapulco Bay. Of course, Wallis meant "Elvis' character," not Elvis himself. Amazingly, though, when the film came out, a few reviewers thought Elvis actually had made the dive. One reviwered declared, "At one point in the plot, Presley displays his swimming and diving ability in a spectacular plunge of 136 feet from the cliff to the surf below."
• "I never cared a whole lot about swimming"
As for Elvis' swimming skills, columnist Harrison Carroll got to observe them close up when he was allowed to watch the shooting of a pool scene for Fun in Acapulco. Carroll began his column of February 28, 1963, with the following: "With his co-ordination, you'd think he would be a great swimmer, but, curiously enough he is not at home in the water."
The scene to be shot was set up around an exact replica of the pool and cabanas at the Acapulco Hilton. The set had to be exact, Carroll was told, because it had to match the previous footage shot at the real site in Acapulco. A group of bit players were sitting around drinking cool tequila drinks (actually a solution of water and just enough cola to simulate the color of the real thing). 
The scene was a simple one. Elvis was to enter the pool and swim to the other side. Larry Domasin, who played Elvis' diminutive agent, waited on the other side with a towel. "As the camera rolled," Carroll observed, "Elvis heads for the opposite bank. He uses an overhead stroke. In the brief footage, it will look okay. Only an expert swimmer may detect a lack of perfect form." Later, Carroll asked Elvis why he never became an "accomplished" swimmer. "I don't know," Elvis replied. "I like to be around the water, but I never cared a whole lot about swimming."
• "Elvis To Risk Life In 'Fun in Acapulco'"
That was the headline over a short wire service article out of Hollywood on March 28, 1963. It wasn't about the scene of Elvis supposedly diving from the height of a 13-story building. It was about another stunt that Elvis reportedly would perform himself. Since no paraphrasing can capture the preposterous premise of the original article, its entire text follows.
"HOLLYWOOD, Calif. — Elvis Presley will risk his life and limbs in a circus aerial act in Hal Wallis' 'Fun in Acapulco.' Presley, as a circus aerialist, will swing from a high trapeze, 20 feet above the circus floor, in a scene in which he misses a catch and drops a fellow performer. Paramount Studios will take every precaution to provide out-of-camera range safeguards for Presley, but the risk is great. For this reason, the scene will be the last staged for the picture. There can be no retakes."
• Fun in Acapulco received bad and good reviews
At times in the 1960s, Hal Wallis' attempts to hype expectation for Presley's films and the brutal competitiveness among Hollywood gossip reporters to draw the most readers to their columns resulted in such dramatic press commentary about Presley's next film. All was fair in the writer's attempt to build ratings and in the producer's attempt to draw an audience to the theater. In the end, though, like all Presley films, Fun in Acapulco had to stand on its own before the nation's film reviewers. 
Many reviews of Fun in Acapulco from 1963 and 1964 can be read on newspapers.com. They range in tone from glowing to scornful. Concluding this trip down memory lane are excerpts from two of those reviews, one from each end of the spectrum. First, the bad:
"Well, Elvis Presley may be having Fun in Acapulco, as the title of his latest movie has it, but it's doubtful if very many other people will share the enjoyment. In fact, even his most dedicated admirers are likely to lose some of their patience at the complete mediocrity that marks this recent arrival at the Regent Theatre in almost every department.
"What passes for a plot is nothing more than a rehash of the most obvious formula material. Richard Thorpe's direction is stale and sluggish. Poor Elvis! He really works hard to make it appear as if he's taking the whole thing seriously." — The Ottawa Citizen, December 3, 1963
Now the good:
"Compared with the Beatles, Elvis Presley sounds like Caruso in 'Fun in Acapulco,' which opened yesterday in neighborhood theaters. And he certainly looks better. In fact, this attractive travel poster for the famed Mexican resort is far and away his best musical feature ever. It's a pleasant, idyllic movie that never takes itself seriously and moves briskly under Richard Thorpe's direction. The excellent color photography and the balmy atmosphere of the resort — the luxurious hotels, the beaches and the quaint byways — were positively eye-popping.
"The songs, in native rhythm, come thick and fast. The melodies and staging are generally bright and imaginative. And Mr. Presley has never seemed so relaxed and personable." — The New York Times, February 20, 1964
Alan Hanson | © December 2018 
Related Articles on Elvis History Blog