Elvis History Blog Readers
Share Their Stories & Comments
About twice a year, this blog space is given over to its readers, and this week is the first installment for 2016. Following are just a few of the interesting stories and messages I've received from readers via the "comment" link at the bottom of this blog page. Comments arrive in my inbox almost daily, and I try to answer them all as soon as time permits. However, to repeat what I've noted before, my response to all questions about the value of Elvis collectibles will be … "I'm not a collector of Elvis memorabilia, and so I know nothing about the value of such items. I suggest you put your item up for auction on a site like eBay and see what response you get.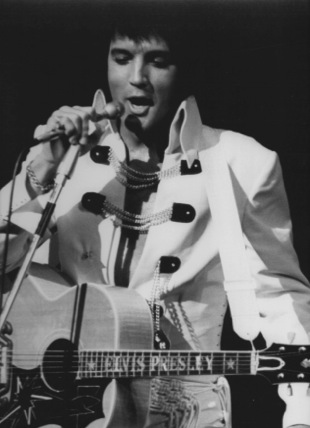 The following stories and comments have been received within the last few months. As I usually do, we'll start with the kind of feedback that motivates any blogger to keep going. 
From Tom:
I appreciate your writings tremendously, a treasure trove of insights, facts, and opinions that make for a great amount of very, very good and balanced reading. Thank you.
My response to Tom:
Thanks for the kind, and motivating, comments. I'll continue to do my best to maintain a high level of  balanced content on Elvis History Blog.
---
From Bianca:
I just had to write you. I was born in 1980 in Murfreesboro, Tennessee, a suburb of Nashville. For whatever reason, I was not raised on Elvis music. I discovered what the world's fascination with Elvis was about when I was 21 and attending The University of Tennessee. In a show typical of the time, a countdown of rock 'n' roll's hottest men of all time on VH1, Elvis came in at number 1. I totally got it. I was immediately enamored with him, his looks, and his incredible stage presence shown in the old clips from the '50s. I put those black and white Wertheimer posters all over my home and started buying everything I could find with those iconic images on it. I just simply became a huge, huge fan.
I am proof of his legacy's ability to carry on into generations born after he left the earth. I earned the nickname "Elvis" among my friends and always liked how he sort of gave me more personality. My home is still decked out with memorabilia and now my law office is, too. I have felt a kinship with him in a way that is difficult to explain. I've sobbed at the brevity of his life and belted out his songs, complete with stage moves to audiences in my more "fun" years. Being someone from Tennessee, a Christian, a person with former substance abuse issues, and an eternal Mama's girl, I've always felt like I knew who he was somehow.
I wanted to share with you that this past Monday, September 28, 2015, my long-time boyfriend asked me to marry him just outside Elvis' meditation garden and final resting place at Graceland. I had stepped away from his grave in order to hide my flowing tears as I saw it for the very first time, when he came and put his arm around me to comfort me. I cried into his shoulder and when I began to dry my tears, I saw that he was nervously holding a gorgeous diamond ring. It was a beautiful, private moment between us, The King, and his interred family. We will wed on May 20, 2016, in Hawaii and, yes, I found a former ETA, Reverend Watters, to perform the beach ceremony.  For an upcharge, he'll still don the Hawaiian shirt, lei, ukulele, and the slicked back hair. Again, it will just be between us ... and Elvis.
Thank you for keeping up such a fascinating blog of Elvis history.  I hope you enjoyed reading my little Elvis story, too.
My response to Bianca:
I just love reading stories like yours. As you noted, decades after his death, Elvis Presley still has an incredible ability to draw new fans to him. It's something that's hard to explain, but those of us who are long-time Elvis fans understand that his influence is like a thread running through our lives. It touched us in our youth and continues doing so as the years pass by. 
---
From: Alexandru:
I was very disappointed with "Careless Love." Too much gossip, too many details about Elvis' casual girlfriends, too many quotes from other books about Elvis, and so on. Peter in this book never showed that even in Elvis' worst soundtracks a song or two are worth mentioning. (Girl Happy is one example). Spinout, Roustabout, Live A Little, Love a Little, The Trouble with Girls, and Change of Habit are dismissed as garbage all along regarding the movie songs. It is a gross manipulation. What about "Return to Sender," "Bossa Nova Baby," and "Can't Help Falling in Love"? Peter Guralnick never enters into detail about the good songs Elvis recorded for his movies in the '60s, and to me this is a major flaw of "Careless Love."
My response to Alexandru:
Of course, "Careless Love" is the second volume of Peter Guralnick's Elvis biography. The author's general assessment of Elvis is completely opposite in the two books. In the first volume, "Last Train to Memphis," which covers Elvis from birth to his army induction in 1958, Guralnick describes Presley's achievements in a positive light. That light is turned off in "Careless Love." It's as if, in Guralnick's eyes, something happened aboard that troop ship that carried Elvis to Germany in 1958 that turned him into a self-absorbed person and a trivial entertainer for the rest of his life. As you noted, Alexandru, a degree of balance is lacking—in both volumes.
---
From Tawny:
I just found your website tonight and have been enjoying it. You said you like the memories so here goes. It was 1970, I was 14, and Elvis was coming to Denver.  My mom was so excited and insisted we go. Elvis was her thing, mine was The Grass Roots, but I tagged along to the concert with her and my stepdad.  My mom was dressed to the nines and my stepdad looked annoyed. When we got there, you could sense the excitement, but I just acted bored. The lights went down, the music started and out walked Elvis. I got a little more interested and when he started singing I was hooked. He was the bomb!!! and so handsome!!! I became a fan for life. I was fortunate enough to see him once more in 1975, and it made my love of all things Elvis even stronger. Thank you for letting me tell my story.
My response to Tawny:
Yours is one of many stories I've heard showing how parents have been able to pass their love for Elvis down to their children, this in spite of the natural generational divides that arise, especially in musical tastes. Unfortunately, it never worked with my two daughters, both of whom were bombarded with Elvis music in our home as they grew up. I wonder, Tawny, if you'll be able to pass on your love for Elvis to your children. Unfortunately, they won't have the opportunity you had to see him live on stage.
---
From Jeanne:
Bravo, Mr. Hanson.  My sentiments EXACTLY:  "I am and always will be an Elvis fan, and my blogs reflect the respect and honor he justly earned during his career. However, he was a human being with flaws like all people. How those imperfections became apparent and how he managed them are part of what makes the great American story of Elvis Presley's life so interesting. His great achievements are the more remarkable when viewed in the context of his personal frailties." (Note: That passage appeared in my January 7, 2016, Elvis blog.)  You took the words right out of my mouth, but I often find myself in the company of those fans who cannot handle this honest approach to Elvis' life and career, so I just stay quiet.
My response to Jeanne:
Thank you for the kind words about Elvis History Blog. You mentioned that you find yourself in the company of other Elvis fans who don't share your honest approach to his legacy. I wish I could find a few like-minded Elvis fans in my town. I enjoy writing about Elvis, but it would be nice to get together with other fans occasionally and talk about Elvis's professional and personal lives. There is an Elvis club here, but rather than talking about Elvis, the members enjoy cranking up the karaoke machine and taking turns singing Elvis songs. They have fun, but it's just not my thing. 
---
From John:
More critical thought needs to be put into Elvis's place in the history of the arts. I see and hear him noted on the same page as Mozart and Michelangelo. So get to work . . . a lot of critical history has to be reviewed and re-written to take into account the marvelous and now fading phenomena of the recording arts.
My response to John:
"Elvis, like Beethoven, Bach, and the Beatles, will be appreciated for many lifetimes." That's a passage from Paul Lichter's book, "Elvis: The Boy Who Dared to Rock," published in 1978. When I first read that back then, I thought it was a ridiculous statement. I still think it's highly unlikely that Elvis will ultimately be considered on the same level with such exalted company a century or two from now. However, his musical legacy certainly seems to be appreciated more now, four decades after his death, than it was when he was alive. All of his work will be available for future generations to judge. Who knows whether the ages will acclaim him or dismiss him? — Alan Hanson | © February 2016