Reader Comments, Stories & Questions On Elvis History Blog During 2018
Once each year, this blog space is given over to its readers, and this month's blog features some of the interesting stories and messages I received from readers in 2018. Comments arrive in my inbox almost daily, and I try to answer them all as soon as time permits. Before getting into the more substantive comments, let's start with the kind of feedback that motivates any blogger to keep going.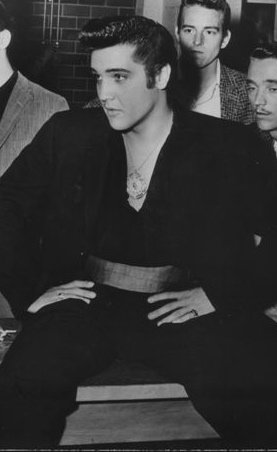 From Brett:
"Just thanking you for a wonderful piece on Ann-Margret and Elvis. It was perfect in every way. Just found your site and am looking forward to immersing myself in it."
From Irene Tsu:
"I enjoyed reading your Elvis film history. I was in "Paradise Hawaiian Style." I will be going to Memphis for the first time for an Elvis event to meet fans and sign autographs. However, I barely have any still photos from the film. I'm ashamed that I actually threw out a whole box of Elvis photos, posters, 78 & 45 records, many hand signed by Elvis, when they got damp in my garage.  Young & FOOLISH! Please tell me where I can purchase some photos. I'm deeply grateful."
My Response to Irene:
I'm not a collector of Elvis photographs, but I know a couple of collectors who have accumulated thousands of Elvis images. I'll put you in touch with one of them to see if he can help you.
From Bonnie:
"My friend and I hitched a ride from Trail, B.C. (150 miles north of Spokane) to attend the 1957 Elvis concert at Memorial Stadium.  We were separated from the stage by a dirt track, from which everyone was grabbing handfuls of dirt following the show. Carol and I could not get a ride back to Trail, since it was so late, and I had to call my mother to drive down to get us.  We were both grounded. We are now 75 years of age.  What a wonderful experience! " 
My Response to Bonnie:
I was only 8 years old in 1957, so I was too young to experience the magic of seeing Elvis live on stage in those days. Hearing the testimony of others who actually did, however, helps those early days of Presley pandemonium comes alive for me. Thanks for sharing.

From Anthony:
"At long last I've found someone that mirrors my opinion of Elvis at his best. To me he was truly Elvis in '69. Two days after Elvis' death, a TV station here in Ireland showed a full hour concert of Elvis' return in '69. Although he wore the black two-piece suit on his TV appearance, for this concert it was the same suit but in white. One of the songs he did was "Stranger in My Own Hometown," which he performed brilliantly. I'd love to know whatever became of that concert film. I know back then Ireland was the first country to get films from the USA. It must be lost in archives somewhere. I'd be very grateful for any information you could give me in this, as there is simply no material out there on Elvis that comes close to my memory of this concert 50 years ago."
My Response to Anthony: 
There are occasions when the memory of a devoted Elvis fan comes in conflict with known Presley history. My first thought was that you had seen the Aloha From Hawaii concert, but he didn't sing "Stranger in My Own Hometown" during that show. You may be the only Elvis fan who has this particular memory. Whether or not it's ever confirmed, my advice is to hang onto it.

From Anne:
"In reference to the photo on your site labeled, "Gaylene Moos, 15, meets Elvis at the Spokane, Washington, train station on the evening of August 29, 1957," the photo is not of Gaylene Moos.The photo is of my mother (she has an additional photo taken earlier in the day from the front wearing the same dress).  Also, my mother was given an autographed copy of the photo. Several years ago, when a man from the Spokesman Review visited my mother, she talked about Elvis coming to Spokane, and her meeting him at the train station. Mom's neighbor was driving one of the cars at the train station. If Gaylene is anything like my mother, who was also 15 at the time, the memory of Elvis is one that is very cherished. If Gaylene wants to believe that she is the girl in the photo, that is fine. But, please do not identify the girl in the photo (below) as Gaylene when it is not."
My Response to Anne:
I welcome corrections to any information posted on Elvis History Blog. My goal has always been to provide factual information about Elvis' life and career. Here, though, we have two Elvis fans who, for nearly 60 years, have shared the memory of an event that only one of them could have experienced. It leaves me with two unpleasant choices. Either delete the story completely from Elvis History Blog or include the claims of both women, thereby casting doubt on the cherished memories of both. After some consideration, I've decided to keep on the site Gaylene's memories of being at the railroad station that night, but to edit out her claim that she was the girl in the picture.
From Paul:
"After my doctor told me I had a year to live, all I wanted to do was take my fiancé to Graceland. My family heard of our trip and decided to join us. We will be arriving March 1st and 2nd. We'll be staying at the Guest House with VIP tour plans. Topping it off would be getting on the Elvis radio trivia show or just telling fans of my lifelong love of the king and the miles I've traveled to stay there."
My Response to Paul:
Elvis Presley has obviously been a positive and supportive influence in your life. Visiting Graceland is the experience of a lifetime for many Elvis fans, and I'm sure it will be for you too. I was there last summer and stayed in the Guesthouse. I wish that our visits there could have overlapped. I would have enjoyed hearing about your "lifelong love of the king."
From Annemarie:
"I'm over the moon that you will keep blogging. There are few Elvis Blogs of substance. I can live with once a month. Barely. But it is what it is. Priorities change. I hope all archive articles will remain. They are a rich source of info and perspective."
My Response to Annemarie:
When I think now about how I posted blogs about Elvis every Thursday from 2008-2012, I can't imagine how I was able to keep up that pace. Going to every other week in 2012, allowed me the time to write longer and more detailed blogs. My monthly schedule now gives me a chance to go into even greater depth about Elvis's life and career. I feared I would lose many readers when I backed off to once per month last year, but the feedback I've received has not declined. Thanks for your ongoing support. I have no plans to quit blogging about Elvis. The over 400 archived articles on Elvis History Blog will remain available for years to come.
From Joyce:
"I really don't see the need to write this article about Elvis. No, it does not change what we think of Elvis or that he is was and always will be the King of Rock & Roll. The greatest entertainer, singer, artist that will ever live. Myself, as I read this, I thought this person must be an Elvis Hater. In the end you said some words of Elvis being just as I mentioned above on his own merit. I just thought it was odd to point out these statistics. Who really cares?"
My Response to Joyce:
First of all, Joyce, I don't know to which article on Elvis History Blog you're referring. When my site host sends me reader comments, the specific page on which the reader clicked the "Comment" button is not identified. Usually, I can figure out which article is involved, but sometimes, as with this one, I can't.
However, I can address your general comments. I believe Elvis Presley was the greatest entertainer who has ever lived. That he is the "greatest entertainer, singer, artist that will ever live" is a bit presumptuous, though, considering the world will continue for quite some time after both you and I are gone. If you believe Elvis was a spiritually perfect person, you are going to find much on Elvis History Blog that disappoints you. Elvis was a human being, and all human beings have failings. Elvis's imperfections are part of his great American story that I believe should be both told and celebrated. That he was able to rise above his flaws to achieve such greatness is what makes his story so compelling. 

From Peter:
"For me, Elvis was quintessentially suited as a blues artist. 'Reconsider Baby' is one example I always remember. Sadly, the blues do not sell well. Not a singer-songwriter, Elvis' rep suffered because to do both became prerequisite after the Beatles. The issue of his choices to include in his repertoire would become important to signify his talent. Your blog on the Colonel is most helpful. He could turn down scripts. It has been my thought that Elvis was afraid that his success would evaporate, and therefore it was business, a formula that worked. Sadly, Elvis was too much the star that he could not take lesser parts to learn and develop as an actor. Elvis seemed to evoke a love or hate response in anyone I knew. I was a fan while my friends and peers were not."
My Response to Peter:
I always enjoy hearing how other Elvis fans interpret aspects of his career. I agree with all you say, with one exception. Colonel Parker could and did reject movie scripts from outside sources, such as when Robert Mitchum pitched "Thunder Road" to Elvis in 1957. However, once Parker and Elvis signed a contract with a studio, the Colonel's stance was that neither he nor Elvis should question any script presented to Elvis.

From Linda:
"Just sat in my car listening to "Where No One Stands Alone" with tears, goosebumps, peace and happiness. Absolutely beautiful!"
 My Response to Linda:
Thanks for your beautiful comment about one of Elvis's gospel songs. I often listen to Elvis's music when I'm driving. At times, even though I may have listened to one of his songs a hundred times, I still feel like I'm listening to it for the first time. His music can still evoke an emotional response after all these years.
From Lisa:
"There is a photo (right) going around reportedly showing Elvis in Barrow, Alaska, in the 60s. I'm a diehard fan, and I know he never made it to Alaska. People are saying it was an unofficial visit. Was Elvis known to make unknown, unofficial visits? I doubt it because of his status. Please clear this up and I'd love to send you the pic."
My Response to Lisa:
Yes, Elvis was known to make unofficial and sometimes secret visits. One example was in December 1970, when Elvis "ran away" from Graceland alone. He eventually wound up in President's Nixon's White House office on that boondoggle. It would have been absolutely impossible, however, for him to have been in Barrow, Alaska, at any time without it being known. The picture you sent is either mislabeled or  computer generated. Perhaps some Elvis History Blog reader will recognize it and let us know where and when it was actually taken.

From Jamie:
"Never more than a casual Elvis fan, I had no Elvis in my music or movie collection. That changed on Christmas Day 2018, when I received "Elvis Presley - The Album Collection" box set. I started at the beginning and I'm learning to really dig Elvis one album at a time. Also, until recently, and I'm 54, I'd never watched an Elvis movie. Now, I can say I've seen the first five Elvis flix. King Creole was really quite good and so is the sound track to G.I. Blues. Looking forward to learning more about Elvis on your blog. Thanks for the hard work."
 My Response to Jamie:
Thanks for sharing your very interesting comments. I am always amazed at Elvis's ability to draw new fans to him even all these years after his death. I was just reading a newspaper editorial from 1956 in which the writer stated, "A year from now, no one will remember who Elvis Presley was." Here we are over 60 years later, and Elvis is still entertaining people and gaining new fans

Alan Hanson | © February 2019