This Is Elvis



This 1981 Film Is Still the Best About Presley
First released in 1981, just four years after Elvis's death, This Is Elvis has been called "The definitive film biography of The King" by Dave Marsh of Rolling Stone. Certainly, the people on the production side had good credentials. Executive producer David L. Worper was an experienced documentarian, and producer/directors Andrew Solt and Malcolm Leo had impressive résumés as well.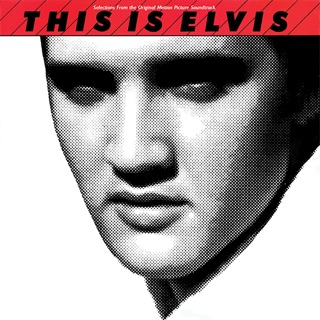 Colonel Parker took his standard credit of "technical adviser," and Presley insiders Jerry Schilling and Joe Esposito served as consultants. Obviously the project had complete access to the Presley estate video files. The use of some Elvis home movie footage, much of it now familiar to Presley fans, was used for the first time in This Is Elvis.
After the 1981 theatrical release, an expanded and slightly altered version was made available on video in 1983. It then disappeared from the commercial scene until 2007, when Warner Bros. Entertainment released both versions of the film in a single package.
The goal of both versions was a rather ambitious one—to tell Elvis's life story through video, music, and the spoken word. Real video of Presley and those who surrounded him was used whenever possible. Gaps were filled with filmed dramatizations. Thankfully, very little still photography was used.
The necessary nuisance of narration was wisely kept to a minimum. Ral Donner, a Presley sound-alike, who had several hit records in the early 1960s, did the bulk of the work providing Elvis's voice. Gladys, Vernon, and Priscilla Presley all had stand-in voices as well, while Joe Esposito and Linda Thompson spoke for themselves.
Since This Is Elvis never came to a theater in my town, I first saw the film in its 1983 video incarnation. I remember being put off by the staged scenes at that time and never viewed the movie again. So, as I watched the new digital version 24 years later, it was almost like seeing it for the first time.
• Short Version Moves Along Quickly
Since I had never seen the theatrical version, I decided to view that one first, followed by the video version for comparison purposes. At 102 minutes, the original documentary moves quickly along in its lofty effort to tell Elvis's life story.
It starts with a dramatization of Elvis's arrival at Graceland on the last night of his life. Then it jumps back to Tupelo in 1946 to begin a straight chronological account of Elvis's life from age 11 through his funeral in 1977. Out of necessity, staged scenes take Elvis from his youth through his first recording for Sun Records in Memphis. First impressions are always important, and the extended use of staged scenes makes for a weak opening to This Is Elvis.
The real Elvis is first seen 17 minutes into the film in a montage of stage and TV footage. Unfortunately, it is here that the producers first commit what is an ongoing sin throughout the movie. Either through ignorance or design, they get events out of order. Included in a series of clips identified as showing Elvis in 1956, is a snippet of him on stage in September 1957. Aiming the film at a general audience, the producers obviously decided that, when needed, accuracy in the time frame was secondary to moving the narrative along.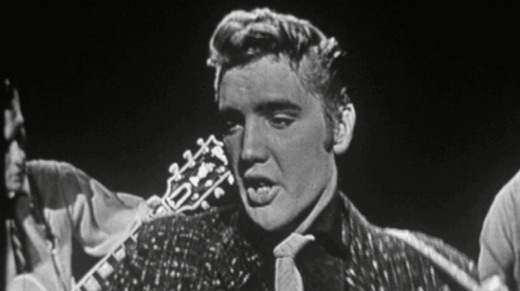 This Is Elvis does a good job of moving Presley's story quickly forward by using a mixture of video from Elvis's movies, interviews, newsreels, and TV shows. Elvis sings periodically, and whether the performance was taken from a Dorsey or Sullivan TV appearance or from one of Elvis's early movies, generally the producers included the entire song without interruption or voice-over by the narrator. The decision to allow the music to play out was a wise one. It periodically slows down the otherwise shotgun pace of the film, and emphasizes the visual element that was crucial to Presley's music.

While omissions were obviously necessary in trying to cover Presley's entire life in 102 minutes, a puzzling one occurs in the film's segment on Elvis in the 1950s. While emphasis is placed on each of his first three films, not a scene or even a word is included about King Creole, widely considered the best movie of his career.
Elvis's military stint is passed through rather quickly, but the video clips of his army processing, maneuvers, press conferences, and return from Germany, while nothing new, are nicely spliced together. In the absence of real video, Elvis's meeting with Priscilla in Germany is staged.
The same is done for later sixties scenes in Memphis—renting movie theaters at night, buying cars, buying clothes at Lansky's. The filmmakers keep it to a minimum, though, replicating scenes only when necessary to make needed transitions.
• Las Vegas Events Out of Sequence
Viewed under the appropriate lyrics of "Too Much Monkey Business," a montage of clips characterizes Elvis's movies of the 1960s. Other video snippets in This Is Elvis show Elvis and Priscilla's wedding, their life at Graceland, and the birth of Lisa Marie remind viewers of the important events in Presley's life during that period.
Then This Is Elvis moves on to the '68 "Comeback Special" and Presley's triumphant opening in Las Vegas the following year. In this segment, Solt and Leo decided to play loose with some scenes from the Elvis movie That's the Way It Is, which documents the singer's Las Vegas engagement in the summer of 1970. In This Is Elvis, rehearsal footage from That's the Way It Is, is portrayed as Elvis rehearsing for his '68 TV special, and on stage footage of Elvis from 1970 is said to be from his initial Las Vegas show of 1969.
(It disturbs the historian in me when facts are distorted to fit a filmmaker's story line. However, the Elvis fan in me would probably have been disturbed even more had more phony staged scenes been used instead to make these screen transitions.)
Footage from the 1972 film Elvis on Tour is sprinkled throughout the rest of This Is Elvis to illustrate Presley's almost continual concert tours during the 1970s. Interestingly, the only clip from Elvis's 1973 "Aloha From Hawaii" TV special is one that shows him landing in a helicopter.
A view of Memphis's Baptist Memorial Hospital signals the start of the documentary's final segment on Presley's decline and eventual death. It is followed by a portion of a press conference held by Sonny West and Dave Hebler, two of the three fired Presley bodyguards whose book, Elvis: What Happened? was published shortly before Elvis's death.
• Sonny West Talked About Elvis's Drug Use
It's to the filmmakers' credit that they did not soften the blow at this critical moment in This Is Elvis. They let Sonny West speak candidly and at length about Elvis's drug use and resulting strange behavior. It showed that the producers, despite having the cooperation of the Presley estate at the time, were not about to gloss over the tragic events that led to the singer's death.
The press conference scene is followed immediately by a clip of an overweight Elvis sweating profusely on stage as he fumbles through the lyrics of "Are You Lonesome Tonight?" For an Elvis fan, it's a painful thing to watch.
Then This Is Elvis goes into its closing tribute. As the overweight Elvis sings "My Way," a montage of video clips from younger and happier days flashes by. After finishing the song and leaving the stage, the old refrain, "Elvis has left the building," is heard. As the limousine drives him away from the arena, the scene fades to the funeral procession a mere six months later. Then the scene jumps back to the stage several years before. Fans in the crowd are shown crying as Elvis sings "American Trilogy." The final scene shows Elvis from behind, as he drops to one knee, raises his head, and spreads out his arms and blue cape in a triumphant pose.
As the credits rolled by to Elvis's recording of "Memories," my assessment was that the film was generally well done. Of course, I would have preferred more coverage of certain events, such as King Creole and the Aloha special, but it's understandable that the producers had to make some tough decisions under the time constraints required of feature films in the early 1980s. In the end, the theatrical release was generally fair to all parts of his life, as well as to both the charitable and dark sides of Presley's nature.
Then it was time to view the other version of This Is Elvis, the expanded one issued on video in 1983. This one runs 144 minutes, so a whopping 42 minutes had been added to the theatrical release. Personally I was hoping some of that time would go toward a longer clip of the police video taken during Elvis's 1957 show in Los Angeles. Unfortunately, it didn't happen. Both versions show only about 10 seconds of that infamous event.
Because the video version of This Is Elvis is longer, it is much richer and does a better job of covering Elvis's complete life story. For example, it contains certain events that really should be included in any Presley biography. King Creole is given three and a half minutes in the video version (although it is unfortunately portrayed as having been made before Jailhouse Rock!) The Hawaii Aloha special is there too, with nearly six minutes of on-stage footage.
• Elvis's Sexual Language Censored
In all, the 42 extra minutes are added in 20 different segments, running from one to six minutes each. The opening dramatic scene is expanded to include the discovery of and transportation of Elvis's body to the hospital. Elvis sings seven more songs, taken from the Dorsey, Sullivan, Allen, and Sinatra TV shows, as well as from his movies and the '68 "Comeback Special." There are a couple of extra interviews, one of which the narrator says happened when Elvis arrived in Hollywood. (Actually, it occurred in Portland, Oregon, when Elvis arrived there on a concert tour in 1957.)
On viewing the expanded version, I was surprised to notice that two scenes were altered from the theatrical version. Someone on the production team must have recognized how discomforting the scene of the overweight Elvis trying to sing "Are You Lonesome Tonight?" was to watch. It was replaced in the expanded version with Elvis singing the song "Love Me." The latter performance is certainly more sympathetic to Elvis. He gets the lyrics right, and it shows him throwing scarves to the crowd while singing.
One scene in the 1981 version of This Is Elvis was edited (read "censored") for the video release due to strong sexual content. It comes near the film's end in the segment about Elvis's concert tours in the 1970s.
Prior to a concert in some unspecified city, Elvis and his entourage walk into a room. Elvis then turns to Jerry Schilling and says, "Remember that girl I was with last night? She gave great head, boy." Then turning to address someone behind the camera, Elvis continues, "Hey, Joe. That girl last night gave the greatest head I've ever had."
I was both surprised that Elvis would make such a comment when he knew he was being filmed and that the producers would decide to include it in the film. The scene seemed so out of place in what was generally a video study of Presley's public life. Many books have detailed his sexual appetite, so the scene reveals no big secret. No doubt, many viewers will see nothing but humor in it. For me, though, it was an unneeded reminder of a character flaw in a man I have otherwise come to admire so much over the years.
The producers decided to censor the scene for the extended 1983 video version. After entering the room, we hear Elvis telling Schilling, "Remember that girl I was with last?" Then, in an obvious voice-over, Elvis is made to say, "She could raise the dead." The second part of the scene, where Elvis addresses "Joe," is cut off completely.
In the final analysis, most Elvis fans should prefer the 1983 video version of This is Elvis over the 1981 theatrical release. The 42 minutes of additional content provides more Presley music and a more complete look at his life and career. The original version has value for non-Presley fans looking for a quick overview of the man's life.
Despite the irritating staged scenes, This Is Elvis is clearly the best documentary ever produced about Elvis Presley. Particularly for the current younger generation of Elvis fans, those who did not grow up with him in real time, this video biography will help put their idol's life in perspective. — Alan Hanson | © March 2008
(Photo Credit: Warner Bros. Entertainment, Inc., 2007)

Go to Elvis Movies

Go to Home Page