Roustabout


Behind the Scenes of Elvis Presley's
1964 Paramount Movie

On Wednesday, February 26, 1964, Elvis Presley reported to Paramount Studios in Hollywood to begin work on Roustabout, his sixteenth motion picture. It would be his seventh for Paramount, all under the auspicious of producer Hal Wallis. Elvis' previous Paramount film, Fun in Acapulco, was playing in theaters when production on Roustabout began.
Wallis began assembly the pieces for this new Elvis movie nearly three years before the star showed up on the Paramount lot. The first step was to get an acceptable script. It was Wallis' practice to feed information on his upcoming films throughout the process to members of the Hollywood Press. The first mention of Roustabout appeared in Louella Parsons' column on May 3, 1961.  "Allan Weiss was a sound technician when he wrote Blue Hawaii for Hal Wallis," she noted. "Now he's written Roustabout, also for Elvis." (Weiss ended up sharing writing credit for the film with Anthony Lawrence.) Parsons saw the film as a challenge for Elvis, but assured his many young fans they would get what they wanted most. "The Roustabout gives Elvis one of his strongest acting roles to date, although he'll sing, lest his fans burn the theaters down." Parsons then added an interesting but highly unlikely way that Wallis claimed Elvis would prepare for his role in the film.
"According to Wallis they are going to make a deal with a travelling carnival, which Elvis will join for a for few weeks to learn the duties of a roustabout."
Turning his attention back to work on his two most recent Presley films, Girls! Girls! Girls! (1962) and Fun in Acapulco (1963), no more was heard about Roustabout in the Hollywood press until the week after Elvis reported for work on the film. John Rich was Wallis' surprise choice to direct the film. Better known for directing TV programs, Rich had previously directed just one feature film, Wives and Lovers.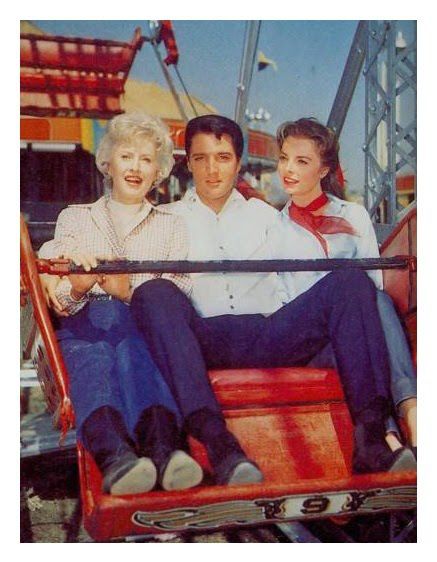 • A surprise co-star for Elvis
Wallis then began feeding out the names of the actors he had signed to work with Elvis in Roustabout. He started with a well-known actress who had been nominated for an Academy Award for her work in Wallis' 1948 production Sorry, Wrong Number. The announcement began appearing in local newspaper entertainment columns the first week of March 1964.
"Barbara Stanwyck has been signed for the role of 'Maggie' in the upcoming Hal Wallis production for Paramount release, 'Roustabout,' starring Elvis Presley. The famed actress enacts the role of the owner of a travelling carnival who hires Presley as a carny roustabout. The casting marks the first time Miss Stanwyck and Presley have appeared together in a motion picture. However, both have starred in films for Wallis in the past."
In his Associated Press Hollywood column of March 31, 1964, Dave Smith commented on Stanwyck's current standing in the film industry.
"Barbara Stanwyck is beginning to enter into the maturity of fully-blossomed womanhood … Somewhere in between is a woman who is 56 and doesn't hide it, who has covered plenty of mileage and doesn't show it, who has had some rough breaks and doesn't crab about it, and knows the score and doesn't forget it. One of Hollywood's biggest names for three decades, Miss Stanwyck has survived the trek from 1930 to 1964 in fine shape. She looks like a 40-ish woman who might have had her hair silvered at a beauty parlor … but since 1957 she has made only three movies, including the present Roustabout, a musical vehicle for Elvis Presley."
This would be Stanwyck's 77th picture in a long Hollywood career in which she earned four Academy Award nominations. Her biographer, Al DiOrio, claimed Barbara was surprised when Hal Wallis called her about the part in the Presley film. Later, though, she explained, "The idea of working with Mr. Presley intrigued me because that would bring me into a younger audience than I'm accustomed to. And I thought this would be rather fun."
According to producer John Rich, "Elvis and Missy hit it off real well. She remarked several times that Presley is a fine young man and always a gentleman. Each had a mutual admiration and respect for the other's professional stature."
Even Colonel Parker was taken by the eminence of Barbara Stanwyck in the film industry. When a London reporter asked Colonel Parker about Stanwyck playing in Elvis' picture, he said, "You've got it all wrong. Elvis is acting in Miss Stanwyck's picture."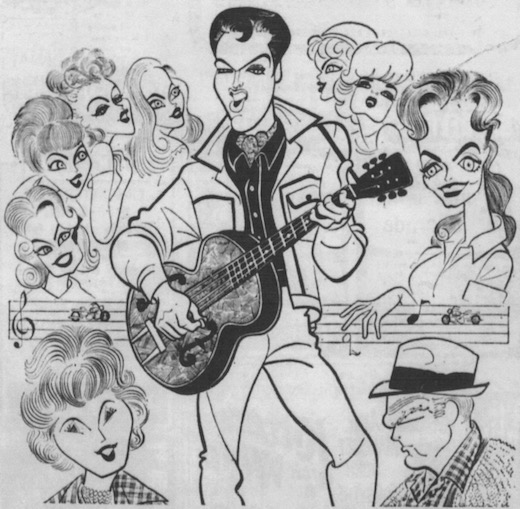 • A New Leading Lady for Elvis
While Stanwyck would have a pivotal role in Roustabout, she was much too old to play the required role of Elvis' "leading lady." For that job, Wallis tabbed a new face in Hollywood. Joan Freeman, a typical blue-eyed outdoor girl born in a small Iowa town, was cast as Cathy Lean. She had just completed a Roustabout scene in which she had been dunked several times in a carnival concession pool when a columnist approached her while she was drying off. She felt lucky to get the part, she said. "My fan mail has tripled since I got this co-starring role with Elvis. Naturally, the fans want to know all about their hero — but they also want to know all about me, and how it feels to be romantically involved with Elvis." She quickly added, "only in the picture, of course." (She had married film costumer Frank Beetson just a few months earlier.)
The role of Freeman's troublesome father went to Leif Erickson. Throughout March 1964, Wallis fed information on other cast members to various columnists. Sue Ane Langdon would play a palmist in the carnival, and Dabs Greer was assigned the role of a banker handling the precarious fiancés of Stanwyck's traveling show. As the owner of bigger carnival trying to swallow up Stanwyck's struggling show, Pat Buttram would paly a Colonel Parker clone in the film. "I was the rich carny owner who signed Elvis to a rinkydink contract," he explained.
•  A future sex symbol and hundreds of extras
One actor with a very small role in Roustabout would later fashion a sexy career in Hollywood. Associated Press columnist Dave Smith reported on her in his column of March 31, 1964.
"California's former State Fair Queen, Racuel (sic) Welch, has been signed for a role in the Hal Wallis production Roustabout, starring Elvis Presley and co-starring Barbara Stanwyck … Miss Welch, who was named Maid of California in her official capacity of Queen of all California State Fairs, is featured in college coffee house sequences of the Presley starrer."
Then there were the hundreds of extras Wallis needed to make his film carnival come alive. The writer of an article in Nashville's The Tennessean fairly gushed with praise. (Since no writer was credited, it's possible Wallis' own promotional writers composed the following.)
"Producer Wallis didn't spare the budget in establishing one of the largest carnivals on record at his San Fernando valley location. It was complete with a long and glittering Midway. The thrill rides included Ferris Wheels, loop-the-loop airplanes, a "hell-on-wheels" motordrome for motorcycle stunt riders, merry-go-round, kiddie trains and everything else to thrill the 'earth people,' as the carnies refer to the customers.
"Producer Wallis accomplished something else as well when he brought the carnival to Hollywood for 'Roustabout.' Approximately 500 youngsters and adults, all carnival-lovers, attended this gala event for five days, gorged themselves on candied applies, hot dogs, and enjoyed the rides and played the concessions and it didn't cost them a cent. In fact they got paid for it."
• A Fight Scene Gone Bad and a Scary Motorcycle Scene
On March 11, 1964, just five days into the start of principal photography on Roustabout, an accident in a fight scene threatened to delay work on the film. A Hollywood columnist on the set described the action and its aftermath.
"A fight scene staged for a movie proved too realistic Wednesday for actor Elvis Presley and cost him nine stitches on his left temple. Presley … followed the script by knocking down stunt man Glen Wilder with a karate slash, but as Wilder fell his foot caught Presley in the head, according to Paramount Studios. The actor went from the film location near Lake Sherwood to Conejo Medical Square, Thousand Oaks, where he was treated by Dr. Donald M. MacGillis."
Another writer put the stitch-count at six, but however many it was, director John Rich concealed them with a Band-Aid, leading film audiences to later conclude that it covered up a slight injury from a motorcycle crash that had occurred earlier in the film.
Roustabout chief cinematographer Lucien Ballard described for an unnamed Hollywood writer what he labeled "one of the trickiest and risky camera stunts ever attempted in films."
"For daredevil motordrome sequences in the film where motorcycle stunters ride horizontal on a circular wall, a camera has been mounted on back of motorcycle ridden by famous motordrome impresario Charles Thomas. The camera shoots backwards and is designed to catch Presley as he makes horizontal turns on the wall, as well as ground activity. Film audiences seeing 'Roustabout' will have the feeling of participating in a high speed horizontal ride in a motordrome."
Thomas, who ran the "Hell on Wheels" concession in the film, rode his motorcycle at high speed around the vertical walls of the circular motordrome. He estimated that he got "his head bashed in about once a year" and suffered various broken bones. As to be expected, he was unable to get accident insurance.
• Barbara Stanwyck on the Set
Columnist Harrison Carroll approached Barbara Stanwyck on the set as she sat back watching director John Rich shoot a scene with Sue Ane Langdon. "What on earth are you doing in an Elvis Presley picture?" he asked Barbara . "I'm in a Hal Wallis production," she countered. "Elvis Presley is the star, but I'm in a Hal Wallis production. And very glad to be. If the part is good, I'll play it. This picture could open a whole new audience for me. Progress, that's the thing." Then Barbara stretched one leg out toward Carroll.
"I'll have you know that these are the most expensive blue jeans ever made. Edith Head designed them. They bought the material and then they bleached and aged it. I came into Edith's office and they tailored the garments especially for my measurements. I have two extra pairs. We are not going to run short of wardrobe."
Stanwyck declined to hide in her dressing room between takes. Instead, she usually could be found on the set trading jokes with members of the crew. In the commissary she passed on the exclusive executive room, instead sitting in the main dining room chatting with her friends. There she willingly answered the questions of writers who approached her. Hollywood correspondent Armand Archerd asked her to comment on this film's diversion from her usual co-stars and films. "Diversion — of course, but have you considered that this role could open a brand new audience for ME? Let's face it. Elvis has a legion of fans who are staunch and loyal followers. Maybe they've never seen ME in a movie."
Barbara's informal socializing with the cast and crew did not undermine her preparedness when the cameras rolled. She revealed that when she plays a role for a picture or TV, she still has to learn the complete script before shooting starts. "All actors don't have to do that," she noted. "They can learn their part each night for the shooting the next day. But I have to know where I'm going and what I'm doing and why I do it."
• Nothing but respect for Elvis
Archerd asked Barbara how she and Elvis got along on the set. Elvis showed the "utmost respect" for her, she responded. He insisted on calling her "Miss Stanwyck," despite her kidding him about it. Summing it up, "I liked him," she said. Later she told Hedda Hopper, "He's a perfect gentleman. After working with some people here, I was pleasantly surprised."
Other members of the cast and crew voiced similar sentiments:
Joan Freeman: "First of all, I'd like to let people know what a fine person Elvis is. He's very considerate and so modest you'd never know he was a big star with admirers in every corner of the world."
Pat Buttrum: "I couldn't get over how Elvis called me 'Mr. Buttrum.' His manners impressed me, too. It's always 'Yes, ma-am,' a refreshing relief from the brashness of some youngers."
Director John Rich: "I didn't know what to expect, but I found him one of the politest, most willing performers I've ever worked with. He's shy and all business and even though we were very friendly, he never got on a first-name basis with me."
• A grand finale across three Paramount sets
Starting when Elvis got out of the army in 1960, all of Hal Wallis' previous Presley movies had concluded with a grand finale production number. Roustabout continued that Wallis-Presley tradition. On April 20, 1964, the last day of principal filming, hundreds of people, including dancers, musicians, carnival sideshow workers, concession hawkers, and carnival customers joined Elvis and the other actors in the cast in a musical production number flowing across three large sound states on the Paramount lot. A Hollywood writer described the action when the cameras started rolling.
"Three cameras, under the supervision of director John Rich and chief cinematographer Lucien Ballard, trained their Technicolor and techniscope lenses on the colorful sequence which played along the entire length of the regulation size carnival midway designed and constructed by Paramount art directors Hal Pereira and Walter Tyler.
"Considered the biggest production number ever created for an Elvis Presley picture, the entire complement of artists, including Miss Stanwyck, Joan Freeman, Leif Erickson and Sue Ane Langdon, together with the mass of bit players, extras and carnival attractions, participated in a 'Pied Piper' type of musical extravaganza from one end of the midway to the other. The throng is led by Elvis as he delivers the last of eleven top tunes he sings in Roustabout, titled 'There's a Brand New Day On The Horizon.'"
• Looking back at Elvis in Roustabout
In February 1967, while working on the movie, The Reluctant Astronaut, Joan Freeman was asked to recall her relationship with Elvis Presley. "We worked together for several weeks before he would address me by my first name," she recalled. "He was the nicest, most polite young man."
In Al DiOrio's 1983 biography of Barbara Stanwyck, he included the following statement that Stanwyck had made while working with Elvis Presley during the filming of Roustabout in 1964.
"So many people expect the swelled head and all that sort of thing. As a matter of fact, very honestly, so did I. It is not the case. Elvis was a wonderful person to work with. His manners are impeccable, he is on time, he knows his lines, he asks for nothing outside of what any other actor or actress wants."
---
Elvis Presley completed his work on Roustabout with publicity stills and a brief recording session on May 14, 1964. By the time Roustabout was playing in theaters nationwide in November 1964, Elvis has already completed work on two more movies, Girl Happy for MGM and Tickle Me for Allied Artists. (© Alan Hanson | April 2023