Elvis Presley's Movies

Recalling 
His Hollywood Legacy
To View Elvis Movie Reviews, Scroll Down to List
or Select a Movie Poster
Like most fans, I have mixed feelings about the Elvis movies. I have my favorites, and those I never tire of watching. Then there are some that make me cringe and wonder why he ever agreed to appear in such fluff. I wasn't always so judgmental. As a young Elvis fan in the sixties, I enjoyed every one of his movies and thrilled with anticipation each time a new one came out.
It was in 1962, at age 13, that the lightning bolt struck, and I suddenly became an Elvis fan. That holiday season Girls! Girls! Girls! was released. It was my first Presley movie, and it helped cement my loyalty to him. Over the next 10 years, 22 more Elvis movies followed, and I saw all but one of them in their original theatrical releases.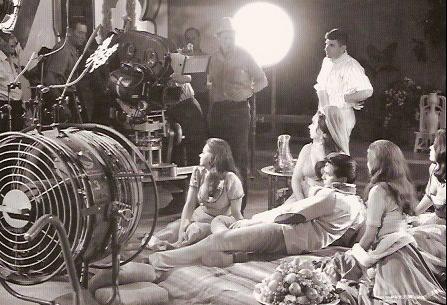 Of course, Elvis had made 10 movies before I became a fan. These I eventually saw when they were re-released in theaters or appeared on TV. (Home video was still far in the future.)
It's hard to explain to younger fans how important those movies were to Presley fans in the 1960s. There were no live concerts. The only chance most of us had, and ever hoped to have, of seeing our idol was on the movie screen. Sure, we recognized that most of his flms weren't Oscar material. Still, we got to see Elvis and hear him sing, and it was enough to sustain our devotion until his next movie came out six months or so later.
Elvis Presley's dream was to become a movie star, and the dream started well for him. His acting ability developed steadily through his first four movies. But, alas, it was the music, which first gave him access to Hollywood, that proved the undoing of his acting career.
We fans deserve much of the blame. We flocked to the movies that had lots of music while merely tolerating the more dramatic ones. The inevitable result was a long series of films with weak plots in which only the music mattered.
That's a discussion for another time, however. Below you'll find my reviews for each of Elvis Presley's 33 films. For each film, I mix my remembrances with excerpts from reviews of the film when it was first released. Click on a link below to see that film's review. — Alan Hanson
Photo credits: The set of Harum Scarum,1965 (above); the set of Kissin Cousins (below) ©Warner Bros. Entertainment Inc.
Love Me Tender His first movie had major consequences for Elvis Presley's future Hollywood career.
Loving You By having Elvis sing early and often, Hal Wallis created the formula used for future Presley movies.
Jailhouse Rock In his third movie, Elvis Presley played a rock 'n' roll bad boy and got some credit for his acting while doing it.
King Creole In his fourth movie, Elvis Presley's smoldering performance as an angry and confused young man earned him the best reviews of his acting career.
G.I. Blues In his fifth movie, Elvis Presley starred in a musical comedy that was panned by critics but whose commercial success made it the formula for his future Hollywood films.
Flaming Star In his role as a half-breed in Flaming Star, his sixth movie, Elvis Presley continued to develop his acting ability in the best of the three Westerns that he made in his film career.
Wild in the Country In his role as a emotionally troubled young man in Wild in the Country,his seventh movie, Elvis Presley tackled the most challenging dramatic role of his career.
Blue Hawaii A colorful South Seas backdrop, Elvis crooning 14 songs, and a light comedic story line combined to make Blue Hawaii the most successful film in Elvis Presley's Hollywood career.
Follow That Dream In his ninth film, Elvis showed some natural comedic talent as the naive but clever son in a hillbilly family battling gangsters and the Florida welfare department.
Kid Galahad Presley plays a physical role as a singing prize fighter, supported by a fine supporting cast, including Charles Bronson, Gig Young, and Lola Albright.
Girls! Girls! Girls! Presley plays a singing fisherman who performs 12 musical numbers while trying to decide between two female admirers and a sailboat.
It Happened At The World's Fair At the Seattle World's Fair, Elvis Presley plays a singing playboy pilot who woos a nurse while helping a little girl find her father.
Fun in Acapulco With the then popular resort city as a backdrop, Elvis sings 11 songs as a lifeguard-troubador who goes to Mexico to deal with a troubled past.
Kissin' Cousins Elvis sings nine songs while playing two roles in a Li'l Abner style film that became the model for the rest of his Hollywood career.
Viva Las Vegas An energetic, musical romp, Viva Las Vegas featured sizzling co-stars Elvis and Ann-Margret, lots of music, and an exciting road race on its way to becoming one of 1964's top box office films.
Roustabout After bad boy Elvis Presley hooks up with Barbara Stanwyck's struggling carnival, he sings his way through good and bad times in this 1964 Paramount feature.
Girl Happy In his 17th film, Elvis heads a band playing during spring break in Fort Lauderdale, where he pursues both shapely Mary Ann Mobley and pretty Shelly Fabares.
Tickle Me Elvis plays his first straight comedic role as a singing ranch hand, who fights off girls and bad guys while helping shapely Jocelyn Lane search for hidden gold.
Harum Scarum Elvis battles Arab assassins and a flawed script, while singing nine songs in an effort to win the heart of a lovely Arab princess, played by Mary Ann Mobley.
Frankie and Johnny Elvis sings a dozen songs while playing a riverboat gambler/entertainer who plays both sides of the romantic fence in an effort to change his luck at the gambling tables.
Paradise, Hawaiian Style Elvis returns to the islands where he romantically juggles five girls while trying to make it as a helicopter pilot in the tourist business.
Spinout Elvis plays a singing race car driver who tries to resist the charms of three women (Shelley Fabares, Diane McBain, Deborah Walley), all of whom are determined to marry him.
Easy Come, Easy Go As a singing frogman, Elvis spoofs the mid-sixties counter culture while trying to recover a treasure chest from a sunken ship.
Double Trouble Elvis plays a traveling discotheque singer in Europe, who battles a host of smugglers and assassins while trying to protect a young heiress.
Clambake As a wealthy young man pretending to be an ordinary Miami Beach ski instructor, Elvis romances Shelley Faberas while preparing to compete in a speed boat race.
Stay Away, Joe As the prodigal son of an American Indian family, Elvis returns to the reservation for a non-stop party of brawling and girl-chasing.
Speedway Elvis plays a stock car driver who squares off over taxes and romance with IRS agent Nancy Sinatra in this musical-comedy featuring vintage racing footage.
Live a Little, Love a Little Elvis plays a swinging, singing photographer, who finds himself entangled in the web of a quirky woman, played by Michele Carey.
Charro! Elvis plays a bearded gunfighter who battles a gang leader over a stolen Mexican cannon and a woman saloon owner, played by Ina Balin.

The Trouble With Girls Elvis, as the manager of a 1920s traveling Chautauqua show, deals with a multitude of problems, including a murder, to ensure that the show will go on.
Change of Habit Elvis plays an idealistic doctor, who, along with three sisters of mercy, led by Mary Tyler Moore, works to solve problems in a tough city ghetto.
Elvis: That's the Way It Is Rehearsal and live performance footage is used to chronicle Elvis' August 1970 engagement at the International Hotel in Las Vegas.
Elvis On Tour Multiple-screens are used in this documentary covering Elvis' 15-city concert tour in April of 1972.
Reader Comment: Alan's blog has become my go to before I watch an Elvis movie. I currently have snacks at the ready and the intro to King Creole on pause now as I write. The reviews helpfully set up the age of Elvis at the time, the chronological order of the film amongst the 30 or so he made, and then delves into the strengths and weaknesses of the lead actor and the film itself. It's buffeted by snippets of meticulously researched reviews from the time. It's also fun and interesting to hear from someone who experienced the films (and the hysteria) as they happened. Super enjoyable. — SLA (September 2023)