Kissin' Cousins
Elvis Movie #14
Metro-Goldwyn-Mayer | 1963
In order of filming, Kissin' Cousins was Elvis Presley's fifteenth movie. (Viva Las Vegas was actually filmed before Kissin' Cousins but released afterwards.) It was a watershed picture for Presley, not only because it marked the near halfway point in his career output of 31 theatrical films, but also because it signaled a radical change in how the star's pictures were made.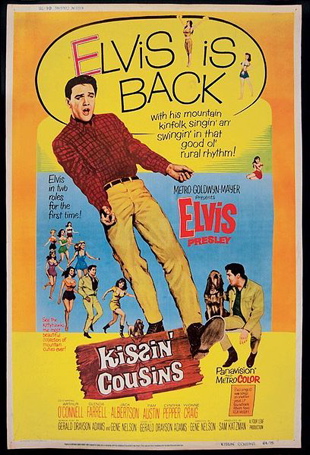 In terms of budget, production time and promotion, all of Presley's first 14 movies were fairly standard for Hollywood films featuring lead actors the stature of Elvis. However, while it took over seven weeks in 1963 to film Viva Las Vegas, Kissin' Cousins was shot soon afterwards in less than half that time. The haste produced a picture which disappointed critics when it hit theaters in April 1964. Variety opened its review of March 4, 1964, with:
"This new Elvis Presley concoction is a pretty dreary effort, one that certainly won't replenish the popularity of Sir Swivel. Presley needs—and merits—more substantial material than this if his career is to continue to flourish as in the past. A few more like this and Cuhnel Parker may have to press the panic button."
• Parker ordered Presley films be made PDQ
Unbeknownst to Variety, Parker had already pushed the panic button. Supposedly concerned about the high production costs of Viva Las Vegas, Parker insisted that Elvis' next film be shot much faster and with strict budget controls. As to be expected, cutting corners noticeably cut the quality level of the film.
Howard Thompson reviewed the film for The New York Times on April 2, 1964. Thompson, who just a few months earlier had given Presley one of the best movie reviews of his career, couldn't hide his disappointment with Kissin' Cousins. "With the flavor of 'Fun in Acapulco'—and that it was—fairly fresh," noted Thompson, "Elvis Presley's movie status takes a nosedive in his latest, 'Kissin' Cousins.' Yesterday's new arrival … is a broad, meandering rehash of 'Li'l Abner.' For Pete's sake, El! … On the whole, Sam Katzman's production is tired, strained and familiar stuff, even with double-barreled Presley. Come on, lad—at least one of you. Spruce up or leg it back to Acapulco."
• For Elvis fans only
The basic Elvis film formula was still used—light musical comedy, light on plot but heavy with girls and Elvis singing. Clearly, though, MGM and director Katzman had given up entirely on drawing a general audience and aimed this production solely at Elvis' core crowd. Variety's review concluded that the producers may have misjudged the patience of even Elvis's most loyal fans:
"Presumably, Metro is counting heavily on the support of ruralities to bring home the boxoffice bacon. The ammunition is Elvis in a dual role, a bunch of songs, a backwoods setting and a bevy of decorative young females in a minimum of wardrobe. But producer Sam Katzman and staff have forgotten several 'little' things like a well-developed storyline and characterizations that are at least remotely related to life. Without these vital ingredients, 'Kissin' Cousins' is a commercial long shot, city or country."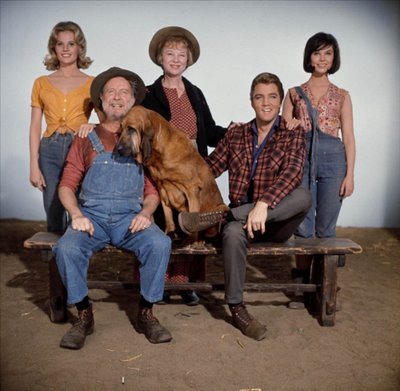 Elvis, an Army tank gunner in G.I. Blues four years earlier, is an Air Force officer in this one. (He'd join the Navy for 1967's Easy Come, Easy Go.) The caravan of Army vehicles early in the film provides some decent backwoods scenery, but most of the picture is played out against tacky studio backdrops.
• "Them dang Kittyhawks"
With the first appearance of the "Kittyhawks," a roaming pack of wild, man-hungry women, the movie gives up any similarity to real life and enters the realm of cartoon stuff. And that would be okay had the producers taken a little more pride in their work. Director Gene Nelson depended too much on "wreslin" scenes for laughs, and the several musical production numbers have the feel of rehearsals instead of the polished performances seen in most previous Presley movies. In one sequence, a female dancer clearly stumbles and falls to the ground near the end of the number. Certainly any serious director would have re-shot the scene, but apparently doing so in Kissin' Cousins would have cost precious time and money. And the editing in the film's final number, when Josh and Jody alternately turn to face the camera, is painfully amateurish.
Well, having registered my disappointments with Kissin' Cousins, I have to admit that I nevertheless found the movie moderately entertaining, both back in 1964 and in recent viewings. Since the movie was designed to appeal solely to Elvis' fans, perhaps it should be evaluated on how well it accomplished that goal. I can't speak for all Elvis fans, but to this Elvis fan the most important ingredient in an Elvis movie is—the music! In Kissin' Cousins, Elvis' nine numbers are a mixed bag.
Even Thompson in the Times agreed that Elvis started out well musically in Kissin' Cousins. "The freshest and most promising part of the film is the opening sequence, as Elvis (One) meets his suspicious relatives and warbles three really nice tunes, as natural and right as rain," observed Thompson, referring to "Smokey Mountain Boy," "Gold in the Mountains," and "One Boy, Two Little Girls."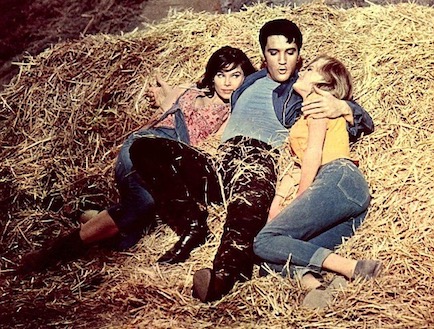 • Pre-fabricated songs infected soundtrack

The rest of the numbers are not as appealing, however. A disturbing trend, only touched upon in previous Presley films, was expanded in Kissin' Cousins. That is providing songwriters with a situation or bit of dialogue from the script and having them write a song to fit it. "Catchin' on Fast," "Barefoot Ballad," and "Once Is Enough" appear to be three such pre-fabricated ditties.
Variety even criticized the whole notion of how Elvis' musical numbers were inserted in the film. "At the root of the failure of 'Kissin' Cousins'," read the review, "is the business of bursting into song out of context in the middle of a scene. This used to be reasonably acceptable to audiences, but now it is beginning to evolve into an anachronism. Smoother, slicker, more convincing techniques for lapsing into song are necessary in the modern musical."
According to Variety, another weakness of the film was "the synthetic, two-dimensional pivotal character, the one portrayed by Presley. The star's character must be appealing. It must have depth and substance to enable his young fans to relate to him." All that the reviewer could say about Elvis'sacting work in the film was, "Presley does as well as possible under the circumstances."
Fresh off sharing billing with Ann-Margret in Viva Las Vegas, Elvis found himself surrounded by a group of character actors and unknowns in Kissin' Cousins. Arthur O'Connell (Follow That Dream) and Yvonne Craig (It Happened At the World's Fair) were each appearing in their second Elvis movie.
• Beverly Powers—"some fancy cleavage"
Variety assessed the supporting cast as follows: "Arthur O'Connell is excellent as the patriarch of the mountain clan, but what a mountainous waste of talent. Glenda Farrell is good as his hick wife, and delivers one musical number effectively. Jack Albertson (as Captain Salbo) handles a comedy role capably, and Donald Woods (as General Donford) a straighter assignment with pro finesse.
"The film features three luscious females—Pam Austin, Cynthia Pepper and Yvonne Craig. Miss Craig gets the biggest play and, with a racy, cuddly performance, makes the strongest impression. Miss Austin sort of vanishes inexplicably about halfway through the story. Evidently she is the femme lead on the cutting room floor. Beverly Powers (as Trudy) chips in some fancy cleavage to the cause."
In Variety's list of "Big Rental Pictures of 1964," Viva Las Vegas pulled in $4.67 million to finish at number 11, while Kissin' Cousins ended up at number 26 with $2.8 million. However, the much lower production costs of the hillbilly film provided a greater profit margin than the flashier, costlier Vegas picture. Hollywood had learned its last lesson on using Elvis Presley. After Kissin' Cousins, the philosophy would be: "Do it on a dime, fast as you can, and for Presley fans only." — Alan Hanson | © May 2008
Go to Elvis Movies

Go to Home Page