1956 … The Year Elvis the Pelvis

Burst Upon the American Scene
It was Elvis Presley's breakout year. After two years of recording in a small Memphis studio and playing backwater Southern towns, Elvis exploded on the American entertainment scene from every angle imaginable. In 1956 Elvis seemed to be everywhere—on the record charts, on TV, in movie theaters, and live on stage.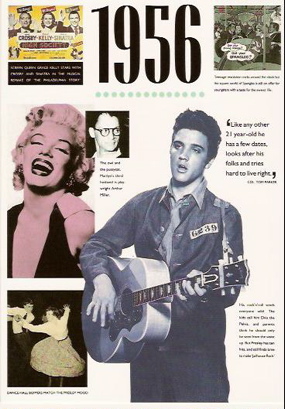 Elvis made record chart history in 1956. During the year he placed 17 different songs on Billboard's Top 100 singles chart, including 3 singles that reached #1—Heartbreak Hotel, Don't Be Cruel, and Love Me Tender.
Presley also made TV history in 1956. He appeared on prime-time network variety shows 11 times, including 6 appearances onStage Show with Tommy and Jimmy Dorsey; twice on The Milton Berle Show; once on The Steve Allen Show; and two times on The Ed Sullivan Show. In 1956 Elvis also took the first step in a long Hollywood career with the release of his first film, Love Me Tender, in November.
Throughout the year, however, Elvis continued to take his stage show directly to the country's teenagers. In 1956 the newly crowned "King of Rock 'n' roll" appeared in concert 143 times in 79 different cities. His commitment to live shows in 1956 helped build the loyal fan base that would be the foundation of his continuous popularity in future years. | Alan Hanson (August 2010)
Select from among the links below to learn more about Elvis in 1956.


Elvis in the News
• Elvis in March 1956: It was the most important month in Elvis Presley's career.
• Elvis in June 1956: A tour of Long Beach record stores revealed his popularity then.
• Elvis the Pelvis: The origins of an iconic rock 'n' roll nickname.
• Elvis' Gas Station Fight: Elvis's rebellious image in 1956 was fueled by a fight with two gas station attendents.
• Elvis' Encounter with Robbie Moore: The Memphis belle taught Elvis a lesson about privacy in 1956.
• Elvis' Hairdo: An "Elvis haircut" was called a "Badge of Emptiness" in '56.
• Elvis Letters-to-Editor: Letters in New York "Daily Mirror" showed strong feelings about Elvis.
• Elvis and June Juanico: The day Elvis's girlfriend talked too much.
• Elvis Press Criticism: Columnist Jack Gould led the press assault on Elvis in 1956.
• Betty Hutton: The actress defended Presley in 1956.
• Analyzing the Presley Craze: The New York Post tried to figure out Elvis in 1956
• Selling Elvis' Image: The Great Elvis Merchandise Flood of '56
• The Priscilla Myers Story: An Example of Elvis Presley's compassion in the midst of his exploding fame.
• Letters to the Tribune: A series of reader letters in the La Crosse Tribune after Elvis' appearance there on May 14, 1956.
• Runaway to See Elvis: In the summer of 1956, a 14-year-old New York girl ran away from home to find Elvis in Memphis.
Elvis on Stage in …
• Winston-Salem: Early '56 concert in North Carolina amazed newspaper writer.
• Denver: Rocky Mountain writer runs teen gauntlet after criticizing Elvis in '56.•
• San Antonio: Presleymania was in full bloom by April 1956.
• Corpus Christi: Blamed for juvenile delinquency, Elvis was banned in Corpus Christi in 1956.
• Waco in April: A vulnerable young Elvis was revealed in a Waco newspaper interview.
• Tulsa: Hysteria in Tulsa was like "throwing Christians to lions."
• Houston: How the world changed in six months.
• Las Vegas 1956: Elvis faced his toughest crowds at the New Frontier Hotel in 1956.
• The Twin Cities: A St. Paul critic addressed an open letter to Elvis in 1956.
• Memphis, May 1956: Elvis came back to Memphis for a triumphant homecoming.
• Little Rock: A Little Rock newspaper columnist had a sensible attitude about Elvis in 1956.
• Sioux City: An Iowa newspaper blasted Elvis after a 1956 show in Sioux City.
• Dayton: A Journal Herald writer explored her daughter's Elvis craze.
• Omaha: Newspaper letters revealed a rift between teenagers and parents.
• Oakland: "If he did the same stuff on the street, we'd lock him up," said an Oakland cop.
• Charleston: Elvis made national news when he bit a reporter's hand.
• Savannah: Elvis was treated with respect by a Savannah newspaper in 1956.
• Florida: Over 100,000 saw Elvis during his 1956 Florida tour.
• St. Petersburg: A profile of an Elvis crowd in 1956.
• Dallas: Live at the Cotton Bowl … Elvis's landmark '56 road show.
• Waco in October: Low turnout to see Elvis brought criticism from Presley fan club president.
• San Antonio: It was boys vs. girls in a San Antonio teen debate over Elvis in '56.
• Toledo: Elvis rumbled in a Toledo bar, then rocked on stage.
• Shreveport: (Final Hayride Appearance): With his last Louisiana Hayride show in December 1956, Elvis began his transition from rock star to movie star.