What's in a Nickname? …
"Elvis the Pelvis"
"Anybody in the spotlight as much as Elvis Presley is bound to pick up a few nicknames along the way. He is no exception. Since his television and personal appearances, 'Elvis the Pelvis' has gained wide usage because of the wild gyrations which accompany his singing and guitar playing."
— Elvalee Donaldson, Lakeland Ledger, August 1, 1956
---
Elvis Presley certainly acquired a considerable number of nicknames during the early years of his career. Among the creative monikers pinned on him were "The Hillbilly Cat," "The King of Western Bop," "The Cool Cat," "The Memphis Flash," "The Hoppin' Hillbilly," "The Vibrating Valentino," "The Tennessee Troubadour," "Mr. Hound-Dog," "Ol' Snake Hips," "Mr. Sideburns," and "The Pied Piper of Rock 'n' Roll."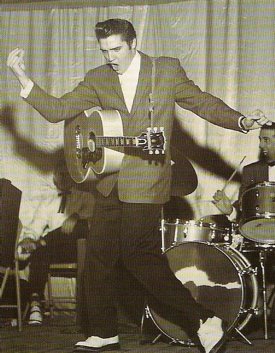 Among all his nicknames, though, the two that have remained permanently embedded in the pop culture lexicon are "Elvis the Pelvis" and "The King of Rock 'n' Roll." The former arose from his detractors' need to belittle Presley and the latter from his supporters' desire to exalt him. Putting aside the title, "The King of Rock 'n' Roll," for now, let's take a closer look at the phrase, "Elvis the Pelvis"—its origin, its inferences, and its applications to Elvis.
Our investigation begins in the summer of 1954, when the 19-year-old Elvis Presley first began performing on stage. In a 1956 interview with Paul Wilder for TV Guide, Presley recalled when he first used his trademark movements on stage:
"The very first appearance after I started recording; I was on a show in Memphis where I started doing' that. I was on a show as an extra added single, a big jamboree at an outdoor theater—outdoor auditorium—and I came out on stage and I was scared stiff. It was my first big appearance in front of an audience. And I came out and I was doin' a fast-type tune, one of my first records, and everybody was hollerin' and I didn't know what they were hollerin' at. Everybody was screamin' and everything. And then I came offstage and my manager (Bob Neal) told me they was hollerin' because I was wigglin' my legs … And so I went back out for an encore and I did a little more. And the more I did, the wilder they went."
It's obvious, then, that from the beginning, despite his later claims that his shaking on stage was an unconscious response to rock 'n' roll music, Elvis purposely used sensual movement on stage to entice an emotional response from his audience. Over the next couple of years, he expanded his repertoire and the intensity of his physical outbursts to maximize the ebb and flow of the crowds' fervor. However, considered just another hillbilly singer on a fledgling Memphis r&b label in 1954, Elvis remained under the radar of the press in the communities he played as an under-attraction in traveling country and western shows.
• The "Saint Vitus Dance" metaphor
It wasn't until early in 1956 that his signing with RCA, his network TV appearances, and his first #1 record on Billboard's pop charts forced the media to pay attention to Presley. Local newspaper writers struggled to describe his stage act. Reviewers started using words like "jerking," "squirms," and "gyrations." When an Associated Press article described him as "Johnny Ray with the St. Vitus dance," the image stuck briefly. Frances Melrose repeated the image in her article about Presley's April 8, 1956, show in Denver, as did Ken Kennamer in his review of Elvis's appearance in Lubbock, Texas, two days later.
(Note: Historically, Saint Vitus Dance was a bizarre spectacle that occurred in 14th to 17th century Europe. Bands of people, sometimes in the thousands, gathered and danced erratically until they collapsed from fatigue. In modern times, "Saint Vitus Dance" has been used as an informal name for the disorder "Sydenham's chorea," which is characterized by "rapid, uncoordinated jerking movements primarily affecting the face, hands and feet.")
Newspaper critics soon began looking for a more contemporary comparison, one with which readers would be more familiar. They found it in "burlesque," along with its accompanying terms "hootie-coochie" and "bump and grind." Following is a sampling of press passages that dressed Presley in burlesque images:
"His performance was the most disgusting exhibition this reporter has ever seen. For Presley is the male counterpart of a hoochee-koochee dancer in a burlesque show." — Sioux City Journal, May 24, 1956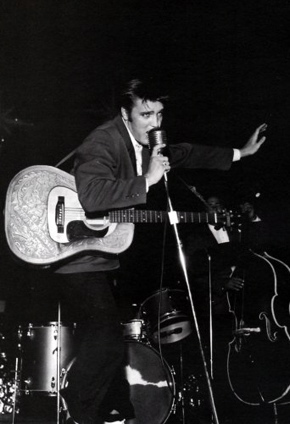 "Most of his action stems from the hips. In fact, devotees of the burlesque circuit will recognize his basic technique as 'grind-and-bump.' This normally is practiced by young ladies of the burlesque, but Mr. Presley has adapted it to the concert stage, with little sacrifice of its innate vulgarity." —  Columbus Citizen, May 27, 1956
"From watching Mr. Presley it is wholly evident that his skill lies in another direction. He is a rock-and-roll variation on one of the most standard acts in show business: the virtuoso of the hootchy-kootchy. His one specialty is an accented movement of the body that heretofore has been primarily identified with the repertoire of the blonde bombshells of the burlesque runway." —  New York Times, June 6, 1956
• "I never do a bump and grind"
Some writers took it a step further and compared Elvis to certain racy ladies of stage and screen. "He gave them everything, including the erotic bumps and grinds associated with the Gypsy Rose Lee school," noted Paul Molloy of the Columbus Appeal. An editorial in the St. Petersburg Times pointed out that Elvis had "abdominal muscles Little Egypt would have envied." And in the Tampa Morning Tribune, staff writers described how Elvis, "slunk panther-like across the stage with a masculine version of Marilyn Monroe wriggle in every jerking step." 
Elvis, of course, didn't care for the comparisons journalists made between his stage movements and the girly bump-and-grind acts of the burlesque circuit. Three weeks after critics blasted his rendition of "Hound Dog" on the June 5, 1956, Milton Berle Show, Elvis renounced the metaphor in an interview with reporter Kays Gary of the Charlotte Observer: 
"Do you see the show? This Debra Paget is on the same show. She wore a tight thing with feathers on the behind where they wiggle most. And I never saw anything like it. Sex? Man, she bumped and pooshed out all over the place. I'm like Little Blue Boy. And who do they say is obscene? Me!"
In a June 1956 interview with United Press's Hollywood reporter Aline Mosby, Elvis addressed the bump-and-grind descriptions of his stage movements. "I don't do any vulgar movements," he told Mosby. "I just do a lot of wigglin' and quiverin'—but I never do a bump and grind."
Months later, in a September 1956 interview with Bob Thomas of The New York Post, Elvis again decried the persistent comparisons of his stage act to that of a stripper:
"They say I do bumps and grinds. Why I never did a bump or grind in my life. What I do is, I wiggle my shoulders and I shake my legs and I walk up and down the stage and I hop around on one foot. But I never bump or grind."
Although burlesque comparisons continued to appear sporadically in press reviews of Presley's stage shows through the end of 1957, by the summer of 1956, most journalists had latched onto a three-word phrase that encapsulated their contempt for Elvis's antics on stage—"Elvis the Pelvis."
• June 5, 1956 … "Elvis the Pelvis" is born
The general belief is that the term was first used following Presley's slow, thrusting version of "Hound Dog" on the June 5, 1956, network broadcast of The Milton Berle Show. In truth, though, the expression had appeared in print before Elvis's shocking performance that evening. In fact, the morning of the Berle broadcast, the following announcement appeared in Bob Hull's "TV Talk" column in the Los Angeles Herald-Express:
"Elvis 'The Pelvis' Presley, the teen-age singing idol who made his break into the big-time a short while ago on a Milton Berle show, helps Uncle Milty close out his season tonight." 
Who first came up with the catchy phrase? That seemed answered in 1983, when a brief article appeared in the Memphis Press-Scimitar under the headline, "Originator Says 'Elvis the Pelvis' Disliked Name." A portion of the article's text reads as follows:
 "Twenty-seven years ago a Mississippi newspaper reporter helped create the Elvis Presley image by referring to the fast-rising singer as 'Elvis the Pelvis.' The phrase was coined by Pinckney Keel, then a reporter for the Jackson Clarion-Ledger, now the forum section editor for The Nashville Banner. In the summer of 1956, Keel did a 15-minute interview in Jackson with Presley. The young rock 'n' roll singer was just becoming famous and had appeared on network television where he was photographed from the waist up because some people regarded his gyrating hips as improper. 'On the way back to the paper, 'Elvis the Pelvis' occurred to me,' Keel recalled."
However, several time and place discrepancies cast a shadow on Keel's claim to have originated the term. First of all, Presley did not make a personal appearance in Jackson, Mississippi, in 1956, making it difficult to pin down just when Keel might have had the opportunity to interview Elvis in that city. In their book, Elvis: Day by Day, authors Peter Gurlnick and Ernst Jorgensen don't record Presley being in Jackson at any time in 1956.
Another timing issue arises from Keel's contention that he interviewed Elvis after he appeared on network television "from the waist up." That controversy only arose after Presley's first appearance on The Ed Sullivan Show on September 9, 1956, by which time the national media had already been using the term "Elvis the Pelvis" for at least five months.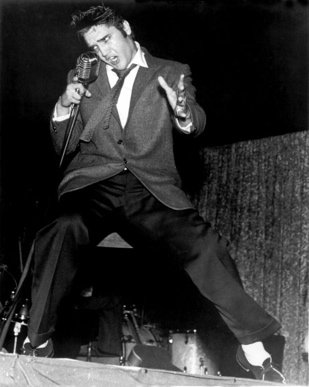 If, as he claimed, Keel had interviewed Elvis in 1956, he certainly would have written an article about it in the Jackson Clarion-Ledger, where he was working that summer. In an effort to locate such an article, I asked Mississippi Department of Archives and History to search for it. The following is a summary of the MDAH researcher's findings: "Unfortunately, I was unable to locate the requested 'Elvis the Pelvis' article by Pinckney Keel. I searched the Clarion Ledger, as per your request, from May 1-June 30, 1956. I did not find the Keel article in these issues."
Unfortunately, Pinckney Keel died in 1984, the year after his claim to coining "Elvis the Pelvis" appeared in the Press-Scimitar. So, unless some evidence surfaces supporting Keel's claim to have launched the term "Elvis the Pelvis," and it predates all other uses of that term in the media, the credit for originating that iconic Presley nickname will remain unclaimed.
A search for "Elvis the Pelvis" on newspapers.com, which searches thousands of newspapers (including the Jackson, Mississippi newspapers) dating all the way back to the 1800s, found the term first used in the April 12, 1956, issue of The Gastonia Gazette in North Carolina. In his "Along the Avenue" column, Bill Williams wrote,
"You know Elvis, don't you? He's a geetar with six broken strings and a loose pelvis. Elvis the Pelvis, they're calling him."
Notice Williams does not claim to have originated the term. Rather, he is repeating as expression already in use in the media earlier by the spring of 1956.
• Journalists couldn't resist the cute phrase
Regardless of exactly when "Elvis the Pelvis" was first coined, the nickname got big time traction in the country's print media following that second appearance on the Berle show, and it continued through the end of 1957, when Elvis stopped doing live shows.
Presley's critics seemingly found the phrase irresistible. The short three-word rhyme allowed them to instantly diminish him as an amateurish entertainer. Even journalists who were not anti-Elvis couldn't resist the "cute factor" that the "Elvis the Pelvis" phrase added to their articles. Many writers used the term over and over again, often as a stand in for Presley's name. Following are some examples of how "Elvis the Pelvis" was used in 1956 press reports: 
"About the only guy who ever summed up Elvis 'The Pelvis' any better was the California policeman who, after watching him writhe around a stage, commented: 'If he did that on the street, we'd arrest him.'" — New York Herald Tribune, June 18, 1956
"Elvis the Pelvis rarely sleeps more than three hours a night, yet his energy on stage is jet propelled." — Lakeland Ledger, August 1, 1956
"Elvis (The Pelvis) Presley, boy wonder of show business, rocked them in their seats and rolled some of them in the aisles at two electrifying Rock 'n' Roll performances." — Tampa Morning Tribune, August 6, 1956
"In this day and age of Elvis the Pelvis, that old song about every little movement having a meaning all its own has taken on new significance." — The Shreveport Times, December 9, 1956
Of course, for many journalists, the charm of the phrase "Elvis the Pelvis" was in its rhyme. Just how much his pelvis actually had to do with his stage act is debatable. Anatomically, the "pelvis" is "the large bony structure near the base of the spine to which the legs are attached in humans." In the September 1956 TV Guide interview, Elvis rejected the implication that he worked his pelvis on stage:
"I don't roll—what they call 'pelvic gyrations'—my pelvis has nothing to do with what I do. I get rhythm with the music. I jump around to it because I enjoy what I'm doing. I'm not trying to be vulgar, not trying to stimulate sex. I just do a lot of wigglin' and quiverin.'"
Whenever asked, Presley expressed distain for the "Elvis the Pelvis" nickname. In August 1956 he told a Lakeland, Florida, reporter that the nickname "disgusts him," and in a September TV Guide interview, he said, "I don't like them to call me Elvis the Pelvis. It's the most childish expression I ever heard from an adult." 
• Variations on a theme … "Pelvis" uses multiply
Ignoring Presley's dislike of the term, newspaper writers continued to use it, even creating variations on the theme so that they could use the term "pelvis" more often in reference to Elvis. One deviation involved dropping the Elvis and simply referring to him as "The Pelvis." A few examples:
"Asked if he could consider his type of singing 'rock 'n' roll, the 'Pelvis' said no. 'I guess it hasn't been classified yet.'" — Miami Daily News, August 3, 1956
"Backstage in the Pelvis' dressing room, he was a different person." — Orlando Sentinel Star, August 9, 1956
"The Pelvis applies more 'Body English' to a song than many baseball pitchers and he has more movements than a well-oiled Swiss Watch." — Shreveport Times, December 16, 1956
Another variation involved dropping the "Elvis" and the "the," and simply referring to him as "Pelvis" instead of "Elvis:" 
"The 21-year-old 'Pelvis,' as he is often called, was greeted by three girls, official welcomers from his fan club here." — The Arizona Republic, June 13, 1956
"Presley, sometimes called 'Pelvis Presley,' is a rock'n'roller whose gyrating hips have outraged music critics far and wide." — Charlotte Observer, June 27, 1956
The writers most infatuated with the "pelvis" variations found ways to mix and match, so they could use the term as often as possible. Consider the following excerpts from Bob Masters's Presley show review in The Shreveport Times on December 16, 1956:
"Elvis (The Pelvis) Presley came to town yesterday, and last night 9,000 rock'n'rollers 'flipped' … But at least his lips were moving, and his pelvis certainly was. He wasn't halfway through 'Heartbreak Hotel' before it became apparent nobody ever had a more appropriate nickname. … A brief talk with the Pelvis disclosed that he was glad to be back in Shreveport … With teen-agers giving every indication of tearing the Pelvis limb from limb out of sheer admiration and animal spirits, the police threw up more or less effective barricades."
Despite the "pelvis" overload in his article, Masters had no apparent beef with Presley. Like many writers then, Masters seemed to be motivated solely by the term's comical aspect while discussing Presley. Usually the context in which reporters used the various "pelvis" terms revealed their underlying opinion of him.
• The final days of "Elvis the Pelvis"
Still, Elvis made it clear he didn't care for the nickname, "Elvis the Pelvis," in any context. Surprisingly, a few journalists seem to think that Elvis's fans embraced it as a term of endearment toward their idol. In an August 1956 Miami Daily News article, a reporter claimed that Presley was "known by both his admirers and detractors as 'Elvis the Pelvis.'" And during that same Florida tour, Bella Kelly in the Daily Newsreferred to, "the 'Pelvis,' as he is affectionately called by his teenage fans." Neither writer provided any proof or even one example to support their nonsensical statements.
With his tour schedule cut back to only 18 cities in 1957, local reporters had fewer opportunities to write reviews knocking "Elvis the Pelvis." Still, some writers continued to use the phrase and its variations to diminish him. In March, Tony Weitzel wrote in the Chicago Daily News, "In the throes of Thursday's sequined slaverings, Elvis the Pelvis resembled nothing so much as a devil dancer leading some horrid jungle sex ritual." William Disbro in the Fort Wayne Journal-Gazette observed, "One distaff worshiper of the golden idol followed the entry of the pelvis with egg-shaped eyes." Hugh Thomson in the Toronto Daily Star declared, "Elvis the Pelvis hasn't any kind of singing voice." A Los Angeles Examiner article promised, "For those who haven't seen 'Elvis the Pelvis' in action there lies ahead an unbelievable experience." 
In November 1957, Elvis was in Hawaii for several shows. At a Honolulu press conference, he was asked again what he thought of the nickname, "Elvis the Pelvis." He responded, "It's very immature and childish, like a kid trying to find something to rhyme with Elvis. But there's nothing I can do about it."
On Veterans Day 1957, the Honolulu Star-Bulletin's Walt Christie wrote the following assessment of Elvis Presley's societal influence to that point:
"Just a year ago, a trade paper summed it up like this. 'Elvis and rock 'n' roll are making as much noise around the discussion table as on the turntable. The Beat and The Pelvis have been topics for educators, theologians, psychiatrists and assorted eggheads. Nothing much seems to have been solved."
That evening Elvis Presley gave his final live show of the 1950s. When he left the stage that evening, it marked the passing of the image embodied in the phrase "Elvis the Pelvis." Three months later he was in the army. When he reemerged in 1960, both he and his fans were older. Elvis never again gave the press reason to call him "Elvis the Pelvis." The term lives on, though, as an iconic nickname in the early history of rock 'n' roll. (Alan Hanson © May 2016)