Elvis blog entry #289
Posted July 17, 2015
(New Posts 1st & 3rd Thursdays of Each Month)
"An Oral History of Elvis: The King Remembered"
Over the eight years I've been managing Elvis History Blog, I've read hundreds of Elvis books, magazines, and newspaper articles, always searching for blog topics. Along the way, I've come across a horde of Elvis anecdotes, remembrances by all kinds of people who had personal encounters with Elvis at some point in their lives. Many of these anecdotes I've had to put aside, because, although they are often extremely interesting, they were too brief to build a full blog entry around.
This week, though, I'm giving this space over to a dozen short Elvis anecdotes. All of the memories below were culled from various articles in one of my favorite Presley magazines—the December 1977 Elvis memorial issue of Country Music. Each of the anecdotes reveals a moment in Elvis Presley's life, and together are a small part of the huge fabric that makes up the oral history of the King of Rock 'n' Roll.
• Mrs. J.C. Grimes, Elvis's fifth grade teacher
"I would say he was best in chapel time, because he liked to sing so well. We sang out of this book, like church book, and each child had a turn and we just let them sing what they wanted. This was every morning. He came back to my school, in later years. It was right after his mother died, and we talked about her. He went into my class room and told the boys and girls that I had one time been his teacher."
• Evan (Buzzy) Forbess, Elvis's childhood friend
"There was one I used to get him to sing every time; it was the first thing he ever learned on his guitar, 'Won't You Play That Simple Melody.' It gets a little rhythm beat going to it, and gave him a chance to beat on his guitar pretty good. He didn't have the wiggle and what-have-you then, but some things about Elvis never changed. Some people say the wigglin' is what made him, but when Elvis started singing, he'd affect people just with his voice and singing. And the rest didn't make no difference."
• Guy Lansky, Lansky Brothers clothing store on Beale Street
"One day he told me, 'Mr. Lansky, I'm broke right now, but when I make it, I'll buy you out.' This kid was sure of himself and that broke me up. Then he first started getting his checks and bringing them in. That scared the hell out of me. He'd bring in $1,000 worth of checks and I said, 'Oh boy, we ain't got this kind of money.' But we had to dig to get it. Here he was buying everybody clothes and I wasn't about to say I couldn't pay it. So I cashed his checks. Big money, big money."
• James Tipler, Elvis's employer at Crown Electric in Memphis
"The last time I saw him was a little over a year ago, in Vegas. We had a little conversation about some of the older days. He showed us his hand where he'd reached down to shake hands with the girls and they'd all clawed him, tried to pull him off the stage."
• Wanda Jackson (left), who toured with Elvis in 1955
"He had the first pink Cadillac I'd ever seen, pink and black. I thought it was really strange that he could afford this Cadillac, but he couldn't sit in the air conditioning. He had it in his car, but if he was in air conditioning before he sang, it stopped him up. It was something in 1955 that just everybody couldn't have, and a lot of people would leave their windows rolled up to make people think they had it. And here Elvis had it and yet he drove all over with his windows rolled down."
• Sam Phillips, owner of Sun Records
"You remember Clyde McPhatter? Elvis thought Clyde McPhatter had one of the greatest voices in the world. We were going somewhere one time—down to the Louisiana Hayride or to Nashville—and we were singing in the car. Well, Bill Black couldn't carry a tune in a bucket, and Scotty was worse. So Elvis and I were the only good singers in the car. But we were talking about Clyde McPhatter, and he said, 'You know, if I had a voice like that, man, I'd never want for another thing.' But Elvis knew he had talent. I think he just had a little trouble gaining confidence."
• Bob Neal, Elvis's manager before Colonel Parker
"There was a lot of activity in the Southwest, generated from his appearances on the Louisiana Hayride. Nationally, however, it was difficult to get his records played. The country music stations felt that he was too far out and the other stations didn't know what it was. In that early part of his career, the best promotion was when he appeared on a show. Before he appeared, record stores would not stock his record. The day after he appeared they would be mobbed for his records, and that spread the gospel right there."
• D. J. Fontana, Elvis's drummer
"We'd get off a date at night and have to drive maybe 4-500 miles and he was so keyed up he'd wanna talk all night. So we'd stop the car at a restaurant and me or Scotty or Bill, whoever's turn it was, would walk him down the road a mile or so. And then when the other two finished eating breakfast, we'd drive up ahead and pick up him and whoever was walking him. We were just trying to wear him out, so we could get some sleep."
• Faron Young, who toured with Elvis in 1956
"I never will forget when we went to Amarillo and he'd just really gotten hot. He had an old '54 Cadillac limousine and I had bought a brand new 1957 Cadillac limousine. So we parked them out back of the auditorium, and when the teenagers came out after the show, they thought surely that brand new one was Elvis'. And they just proceeded to dismantle that sumbitch of mine; cost me—I mean, cost the insurance company—$2700 to get that car repaired when I got it back to Nashville."
• Gordon Stoker of the Jordanaires
"He always believed he had a weight problem. Once when we were doing a picture at Paramount, Elvis sat next to me in the cafeteria. I had a steak and when I cut into it he said, 'Ooh, how do you stand that? That's just like goin' up and takin' a knife and cuttin' a hunk out of a cow. I don't know how in the world you can eat that stuff.' I've seen him go all day long on three-quarters of a hamburger, a bowl of vegetable soup and a glass of milk."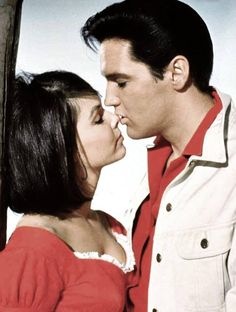 • Yvonne Craig (right), who appeared with Elvis in Kissin' Cousins and It Happened at the World's Fair
 "The funny thing was he evoked all sorts of strange maternal instincts. One time I went up to his house and watched movies, and at one point we went back to "his quarters" and watched television. And I said to him, 'You know, I hate to tell this to you but you must be careful in Hollywood, because there are a lot of people you can not trust and they could say anything in the world is going on back here. And if it gets before a judge, Elvis … I mean, you could be called up for paternity suits and rape cases and all sorts of things, just because of who you are. I mean, it's all right with me, but how do you know? You don't really know.' So I was giving him this really weird motherly talk, right? He said, 'Yes m'am, yes m'am.' As I was driving home later I thought to myself. 'I can't believe I just gave him that long lecture. The fellow has been a superstar for a number of years, and I'm certain he must know all of these things.' But he sort of brought that out of people, who really wanted to protect him, I think."
• Felton Jarvis, Elvis's record producer
"Once he'd worked Las Vegas and gotten used to horns, strings, whole orchestras, that's what he liked best. He enjoyed singing songs like 'My Way' or 'Impossible Dream,' where he could really stand out and show off his singing. Don't get me wrong, he still liked doing those old three chord rock 'n' roll songs, but he wanted to do the bigger songs and be more than the King of rock 'n' roll."
---
The oral history of Elvis Presley is made up not only of the remembrances of people who knew him well, but also by those of us who only knew him from afar, but still have a cherished memory of him. I hear those anecdotes often from Elvis fans who take the time to hit the "comment" button and share their stories with me. For example, recently I received the following message from Joe:
"I just came across your world's fair story. My mother is the girl that rode in the electricmobile with Elvis. He sat her on his knee and sang a song to her. She is still alive, and has the piece of paper Elvis autographed for her. If you'd like more info, or to talk to her, please call me."
If you have a personal Elvis anecdote, let me know, and I'll share it with the readers of Elvis History Blog. | Alan Hanson (© 2015)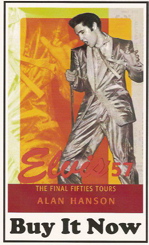 My next Elvis blog posting will be
Thursday, August 6, 2015

Meanwhile, Check Out:

ElvisBlog.net

A weekly column of news, history and commentary about Elvis Presley
by Phil Arnold

Elvis Presley and Memphis

Daniel Fritsch's blog about Elvis's intimate relationship with his hometown
---
Go to Elvis Blog Archives for 2015 (Entries #276+)
Go to Elvis Blog Archives for 2014 (Entries #252-275)
Go to Elvis Blog archives: 2013 (Entries #228-251)
Go to Elvis Blog archives: 2012 (Entries #201-227)
Go to Elvis Blog archives: 2011 (Entries #147-199)
Go to Elvis Blog archives: 2010 (Entries #96-146)
Go to Elvis Blog archives: 2009 (Entries #43-95)
Go to Elvis Blog archives: 2008 (Entries #1-42)

Go to Home Page