Elvis History Blog #366 | Posted April 1, 2019
New blogs posted on the first day of each month
A Magic Moment With Elvis Presley


The Priscilla Myers Story
Throughout his career, Elvis Presley took the time to personally visit fans who were limited by disability, injury, or serious illness. Just how many times he went out of his way to brighten the lives of these special young people will never be known. Many such visits were noted in the press, but publicity was not Elvis's motive for these one-on-one meetings. Many other encounters remained private, shared only by Elvis and the young person whose wish he made come true.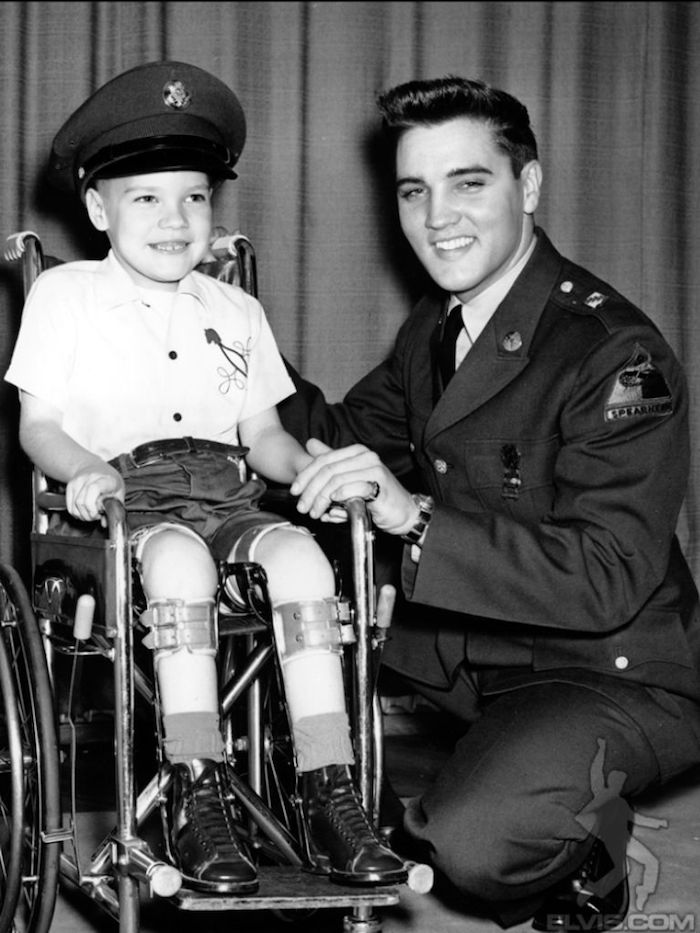 Many of those personal visits occurred while Elvis was touring the country during his early years of fame in the fifties. Just how Elvis learned of these unfortunate fans who longed to meet him is unknown. Some probably became known through the press. Family members of others may have written to Elvis at Graceland. Colonel Parker probably brought others to Elvis's attention. However he learned about them, Elvis appears to have done his best, within the confines of his hectic schedule, to arrange a meeting  with them.
This is the story of one of them. In the spring of 1956, 13-year-old Priscilla Myers of Dayton, Ohio, was suffering from a serious lung ailment, a complication of her genetic cystic fibrosis. In May, Priscilla was checked into University Hospital in Columbus, 70 miles from her home, in preparation for surgery. That spring, Elvis Presley's busy tour schedule included an appearance at Columbus's Veterans Memorial Coliseum on May 27. 
Knowing of Priscilla's fondness for Elvis, several Dayton disc jockeys got word to Elvis, and arrangements were made for him to visit her at the hospital a few days before she was scheduled to undergo the surgery. Unfortunately, Elvis's tight schedule conspired to prevent the meeting. He arrived in Columbus just minutes before going onstage and had to leave town immediately after his performance for his next scheduled appearance.
Priscilla's disappointment was tempered, though, when she received a bouquet of flowers and a note from her idol. In a Dayton Daily News article, Gee Mitchell noted that Elvis's thoughtfulness, "undoubtedly played an important role in Priscilla's coming through a delicate operation successfully." She spent that summer at home, but her doctor advised that she not return to school in the fall. Disappointed, Priscilla prepared to take her courses at home with a tutor.
Meanwhile, Elvis had not forgotten his promise to visit Priscilla. Her gloom faded when she learned Elvis wanted to see her when his tour schedule brought him back to Ohio in November. His closest show to Dayton was scheduled for Hobart Arena in Troy, Ohio, on November 24. Arrangements were made for Priscilla and Elvis to meet in his arena dressing room prior to the concert.
On the morning of scheduled meeting, Priscilla and her mother made the 20-mile drive to Troy from their home in Dayton. In his newspaper article the following day, Gee Mitchell described the long anticipated meeting.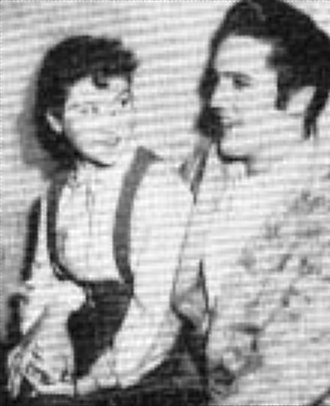 (Right: Priscilla Myers with Elvis, November 24, 1956; Troy, Ohio)
"While some 5,000 others screamed 'We Want Elvis,' in the main auditorium, Priscilla and her mother sat in the dressing room and awaited his arrival. Impatient? Sure. But she had been waiting seven months. What was a matter of a half-hour or so more?
"The door a few feet from Priscilla flew open finally and the tall, black-haired young man in a gray plaid sports jacket bounced in. 'Elvis,' someone started, 'this is … ' 'I know, you're Priscilla,' the idol of every bobby soxer broke in. 'It's good to see you.' He said 'hello' to Mrs. Meyers then sat down with Priscilla and began chatting as though with a friend of many years."
"Outside the dressing room the 'We Want Elvis,' clamor increased. But those worshippers had to wait awhile for their moment. This one belonged to Priscilla."
What sentiments passed between Elvis and Priscilla during those brief minutes and to what degree they sustained her in the difficult year to follow remained private. In July 1957, cystic fibrosis and it's accompanying lung disorders began to ravage Priscilla's young body. By October she had lost 35 pounds and was in an oxygen tent in critical condition at University Hospital in Columbus.
Bonnie, one of Priscilla's friends, sent her a card, and when Priscilla's mother's thank you note mentioned that her daughter would love to receive more cards, the word was spread through Elvis Presley fan clubs around the country.
Bonnie also sent a letter to Virginia Kay, a 17-year-old high school student with a column in the Pasadena Independent newspaper. In her column of October 31, 1957, Virginia urged readers to send cards to Priscilla for her upcoming 15th birthday. Virginia added, "Letters have been coming in from members of the Elvis Presley Fan Club, also giving us news of the little sick girl, and to assure us that their idol did send a personal message to Priscilla."
Unfortunately, Priscilla Myers did not survive to reach her 15th birthday. In her November 14 column, Virginia Kay printed the contents of a brief letter she had received. 
"Dear Miss Kay: Sorry to inform you, and interested readers, that 14-year-old Priscilla Myers has passed away. For several years she had been in and out of hospitals. One of her greatest sources of pleasure was Elvis Presley and his records. She received a wire and gifts from him. — Mrs. O. E. McKinley, East Lynn, Mass."
Less than a year before, Elvis Presley had taken the time to make a dream come true for Priscilla Myers. He never received, nor sought, public acknowledgement for the compassion he showed Priscilla and many other young fans who were forced to face difficult trials much too early in life. — Alan Hanson (© April 2019)

---
Mea Aculpa, Pinckney Keel
I owe Pinckney Keel an apology, at least a partial one, anyway. Back in May 2016, one of my blogs concerned Elvis Presley's infamous nickname, "Elvis the Pelvis." In the blog, I summarized my efforts to track down the person who had first used that expression in reference to Elvis. Keel,  a crime reporter  in 1956 for the Jackson, Mississippi, Clarion-Ledger, had long claimed that it was he who coined the nickname. In August 1983, Keel told an Associated Press writer that he had interviewed Elvis for 15 minutes in Jackson, Mississippi, during the summer of 1956. "On the way back to the paper, 'Elvis the Pelvis' occurred to me," Keel stated.
In 2016, I tried to confirm Keel's story, but it just didn't add up. First of all, Elvis never appeared on stage in Jackson in 1956. Guralnick and Jorgensen's book, Elvis: Day by Day, contained no reference to Elvis being in Jackson at anytime during 1956. Furthermore, Keel claimed in the 1983 AP article that his interview with Elvis took place after Elvis "had appeared on network television where he was photographed from the waist up," an obvious reference to Presley's first Ed Sullivan appearance on September 9, 1956. By that date, though, many in the press already had been using the term "Elvis the Pelvis" for many months. (The earliest use of the term I have been able to find appeared in a North Carolina newspaper column in April 1956.)
Still, I didn't want to discredit Pinckney Keel, who went to his grave in 1984 honestly believing he had created the expression. If, as he claimed, he had interviewed Elvis in 1956, he certainly would have written an article about it in the  Clarion-Ledger, where he was working that summer. In an effort to locate such an article, I asked the Mississippi Department of Archives and History to search for it. Following is a summary of the MDAH researcher's findings: "Unfortunately, I was unable to locate the requested 'Elvis the Pelvis' article by Pinckney Keel. I searched the Clarion Ledger, as per your request, from May 1-June 30, 1956. I did not find the Keel article in these issues."
So, in my 2016 blog, I came to the conclusion that it was unlikely Keel had (1) interviewed Elvis in 1956, (2) written an article about it for the Clarion-Ledger, or (3) coined the phrase "Elvis the Pelvis."
My apology to Pinckney Keel now concerns my first two conclusions listed above. Unfortunately, if I had instructed the researcher to examine copies of the Clarion-Ledger into July, he would have found what I discovered recently on Newspapers.com—an article by Pinckney Keel about his interview with Elvis Presley. It was dated July 10, 1956.
So, my sincere regrets go to Pinckney Keel and his descendants for doubting that he interviewed Elvis Presley in 1956 and wrote an article about the encounter. Keel revealed in his 1956 article that Presley, en route to Florida, stopped his '56 Cadillac El Dorado at a Jackson filing station on the evening of July 9, 1956. When Elvis made the mistake of getting out of his car, teenagers immediately flooded the station seeking autographs. That forced Elvis to stay in Jackson much longer than he planned, and allowed the Clarion-Ledger time to send Keel down to the station to get a story.
Keel's interesting account in the Clarion-Ledger of his meeting with Elvis is certainly entertaining. The basic question, though, remained. "Did he use the expression 'Elvis the Pelvis' in the article?" If, as he claimed, the expression suddenly came to him while he was walking back to the office, he certainly would have used it in the article he wrote for the following day's paper.
Unfortunately, he didn't. The expression Keel used in his article several times was "Pelvis Presley," equally dismissive and somewhat similar to, but not exactly the infamous nickname, "Elvis the Pelvis." Here's on example from Keel's 1956 article: " 'Pelvis Presley' ate a sandwich in the North State Street Pharmacy while his car was being gassed at the Dickson Service Station."
Of course, in the definitive history of Elvis, it wouldn't have mattered if Keel had used "Elvis the Pelvis" in his article, since the nickname had already been widely in use for at least three months.
The result of all this is that I've gone back to my archived blog on "Elvis the Pelvis" and rewritten the section devoted to Pinckney Keel's role in the history of the nickname. In the rewrite, I acknowledge that Keel did, in fact, interview Elvis in Jackson in 1956 and write a story about it in the Clarion-Ledger. The facts continue to show, however, that Pinckney did not coin the phrase "Elvis the Pelvis," as I'm sure he honestly believed he had done.
The name of the person who actually was the very first to speak or write the nefarious phrase "Elvis the Pelvis" remains unknown. For now, he (or she) remains as anonymous in history as fellow villain "Jack the Ripper."— Alan Hanson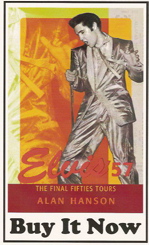 My next Elvis blog posting will be
Thursday, May 1, 2019

Meanwhile, Check Out:

ElvisBlog.net

A weekly column of news, history and commentary about Elvis Presley
by Phil Arnold
Graceland's weekly blog about all things Elvis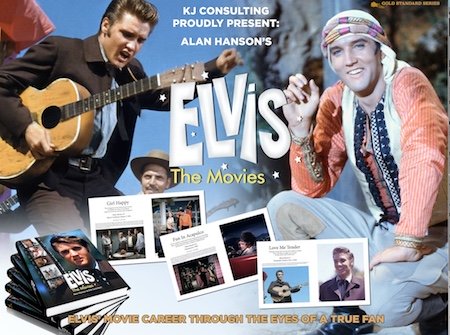 ---
Go to Elvis Blog Archives for 2019 (Entries #363+)
Go to Elvis Blog Archives for 2018 (Entries #348-361)
Go to Elvis Blog Archives for 2017 (Entries #324-347)
Go to Elvis Blog Archives for 2016 (Entries #300-323)
Go to Elvis Blog Archives for 2015 (Entries #276-299)
Go to Elvis Blog Archives for 2014 (Entries #252-275)
Go to Elvis Blog archives: 2013 (Entries #228-251)
Go to Elvis Blog archives: 2012 (Entries #201-227)
Go to Elvis Blog archives: 2011 (Entries #147-199)
Go to Elvis Blog archives: 2010 (Entries #96-146)
Go to Elvis Blog archives: 2009 (Entries #43-95)
Go to Elvis Blog archives: 2008 (Entries #1-42)

Go to Home Page