Elvis blog entry #313
Posted June 26, 2016
(New Posts 1st & 3rd Thursdays of Each Month)
June is one of four months this year that contains five Thursdays. Since I blog only on the first and third Thursdays of each month, the blog I posted on June 16 would have sat on my blog page for three weeks until the first Thursday in July. Fortunately, Cassie Phillips has provided an interesting article to help bridge the gap this month on Elvis History Blog. I agree with her recommendations, and also endorse several other Elvis sites, which are regularly listed at the bottom of this blog page. — Alan Hanson
Five Additional Sites to Learn All There Is to Know About the King


by Cassie Phillips
Thanks to Alan for publishing this article. His site is an incredible resource for all things Elvis, and his dedication to uncovering and posting only valid information makes it one of the greatest spots on the web. Before you check out the other sites on this list, be sure to have a read of his post detailing some fantastic biography resources!
---
Rock and Roll's biggest legend and a true cultural icon, Elvis Presley, has more than earned his title as one of the music industry's leading royals. With over 40 top ten singles, 14 Grammy nominations and a Grammy lifetime achievement award, it's not surprising that the King from Memphis has secured himself millions of lifelong fans, all over the world.

With so many dedicated supports, it's also no surprise that the reams and reams of blogs, fan sites and web communities are rapidly increasing on a regular basis. Because of this, Elvis fans everywhere are struggling to find good, quality information and news about their icon. As a site that takes pride in separating the fact from the fiction and rumors, we've taken the time to compile a list of some of the best resources on the internet where you can stay up-to-date with all there is to know about the King of Rock and Roll.
By far the best first stop for any Elvis fan is the official website itself. Run by the Elvis estate, it's a thoroughly fantastic resource for keeping up with all the latest news, as well as indulging in some quality throwback photos and articles. Alongside providing you with all things Elvis, it also has a great community where fans can get together and talk about their favorite musician. You can even post your Elvis-related shots from old concerts or visits to Graceland or other relevant sites. 
The website is also currently selling tickets to a fantastic new UK tour, where performance footage of the King himself will be aired with backing from the live Royal Philharmonics Concert Orchestra, which will be an amazing experience and is highly recommended to any nearby fans who can make the dates!
Elvis, the music is an affiliated site that's run by Sony record company, which became official owners of the King's musical legacy after merging with BMG, who bought out Presley's original signers, RCA records. It's a fantastic resource and a one-stop shop for all of your Elvis listening needs, as well as providing insightful and up-to-date news articles about exciting events and new releases.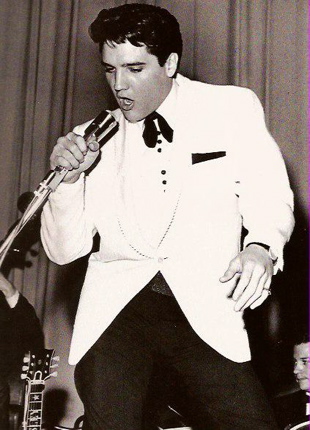 The site is incredibly well formatted and easy to navigate, no matter how you chose to get your music fix. Alongside a comprehensive discography that provides detailed information on everything, down to the whole production teams for each song, there's also easily accessible options to buy the songs from Amazon and iTunes or stream directly from Spotify. For users of the latter, there's even a whole page dedicated to the best Presley playlists available on the platform, which can be listened to with one simple click!
Not only is the website the essential first stop for anyone looking to take a trip to Memphis and visit the legendary home of the King, but it also has tons of information, history and stories about the life and times of Elvis. Alongside a comprehensive biography, a fantastic list of quotes, FAQ's and records of fans experiences meeting the legend himself, there's also tons of information to be found on the work he inspired after his death.
Graceland's education program, for example, has been designed to equip children to make their dreams a reality, just like Elvis did. There's even a legitimate campaign to include Elvis in the 2016 presidency race! Alongside this, the news section is a fantastic place to stay updated on all the latest goings-on, and the Graceland online shop is the ultimate stop to pick up some fantastic merch.
 The Elvis Information Network is a hotspot for literally everything you can ever want to know, watch or read about our favorite rock and roll legend.  The site has endless features available, but some of the best include: comprehensive reviews of all CD's DVD's, books, and all other releases related to Elvis; interviews with the major players in the Presley camp, such as Sony Record's Roger Semon; a plethora of information about tribute acts and much, much more. 
It also has a link through to some of the best YouTube clips of the King, including performance highlights, interviews, TV commercials and even just snippets from his life. Overall, this site is probably one of the best places to go if you want to immerse yourself completely in everything Elvis—past, present & future.
Elvis Presley and vinyl records go hand-in-hand, and pretty much define an entire era of music, making this website the perfect stop to get your fill of a time gone by! Its format may be simple, but it does its job brilliantly and is a highly useful resource for record lovers everywhere.
As well as great, practical tips on how to identify and find different types of vinyl, it also has produced a comprehensive discography of all of the Kings records, alongside information about their release and pictures to help you identify them. For collectors, the site is a one-of-a-kind checklist to help you keep track of the which Elvis releases you have, and which are still needed, and for everyone else it's a fantastic way to familiarize yourself with all of our favorite Rock and Roll legends' music.
This list only covers a few of the endless incredible Elvis resources that are on the web today. While they provide a fantastic amount of brilliant information for anyone hoping to learn more about the King, there are many other web pages out there that are equally useful. If you can think of any that you feel should be on this list, then be sure to leave a comment below and share your ideas with fellow Elvis fans!

About the Author: Cassie is a freelance writer and blogger who is proud to combine her two greatest loves: Elvis and online entertainment. She is also interested in using new technologies to make the world of entertainment better.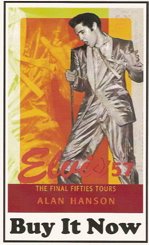 My next Elvis blog posting will be
Thursday, July 7, 2016

Meanwhile, Check Out:

ElvisBlog.net

A weekly column of news, history and commentary about Elvis Presley
by Phil Arnold
Bob Parks' and Ger Rijff's archive of rare photos and stories from the Golden Age of Elvis Presley

Elvis Presley and Memphis

Daniel Fritsch's blog about Elvis's intimate relationship with his hometown
---
Go to Elvis Blog Archives for 2016 (Entries #300+)
Go to Elvis Blog Archives for 2015 (Entries #276-299)
Go to Elvis Blog Archives for 2014 (Entries #252-275)
Go to Elvis Blog archives: 2013 (Entries #228-251)
Go to Elvis Blog archives: 2012 (Entries #201-227)
Go to Elvis Blog archives: 2011 (Entries #147-199)
Go to Elvis Blog archives: 2010 (Entries #96-146)
Go to Elvis Blog archives: 2009 (Entries #43-95)
Go to Elvis Blog archives: 2008 (Entries #1-42)

Go to Home Page