March 1956 … The Pivotal Month
In the Career of Elvis Presley
Elvis fans often discuss what they consider to be the most important day or event in Elvis' career. But have you ever thought about what was the most important month in the King's career? I suggest March 1956 as the month during which the most significant series of events in Elvis' life were bunched together in a 30-day period.
First of all, March 1956 was the month that Elvis Presley first appeared on Billboard's Top 100 pop chart. On March 3, 1956, "Heartbreak Hotel" debuted on the chart at #68. It moved up the chart quickly, and by the end of the month it was inside the top 10 at #9 and on its way to #1. The flip side, "I Was the One" became Elvis' second chart song when it entered the Top 100 at #84 on March 10, 1956. By the end of the month, it had climbed to #25.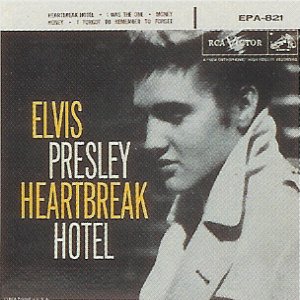 "Heartbreak Hotel's" chart appearance on March 3 began an unprecedented and record-breaking streak for Elvis on the Top/Hot 100. Starting that week, he had at least one title in Billboard's top chart for 136 consecutive weeks—over 2½ years! The streak included both sides of Elvis' first 11 RCA singles, 14 top 10 sides, and 7 #1 records. Elvis' name would not be absent from the Hot 100 until late September 1958, when RCA began increasing the interval between Elvis' single releases after he had entered the army.
• Elvis' first LP released: March 23, 1956
As "Heartbreak Hotel" rushed up the singles chart in March 1956, RCA released Elvis' first record album, titled simply "Elvis Presley." "This young singer from the south is the latest performer to cash in on frenetic highjinks," read Billboard's review on March 14, 1956. "In this collection Presley works through a repertory that's a blend of hillbilly and rock 'n' roll, ranging from such contemporary classics as 'Tutti Frutti' to the Rodgers & Hart oldie, 'Blue Moon,' in which an echo effect and some falsetto piping almost succeeds in making the song unrecognizable."
A full-page in Billboard (another first for Elvis) on March 31 announced, "A Red Hot Star Is Born on RCA Victor Records!" The LP quickly rose to the top of the LP chart, where it stayed for 10 weeks. It became the first RCA album ever to sell over 300,000 copies on its initial release.
• March '56 appearances: radio, TV, and tour shows
According to Scotty Moore, Elvis and the band were so busy on the road that they were oblivious to Elvis' records moving up the charts. The guys traveled to Shreveport on March 3, 10, and 31 to appear on The Louisiana Hayride radio broadcast. The March 31 show was Elvis' last regular appearance on the Hayride,. Colonel Parker bought out his contract with the show two days later.
Elvis also traveled to New York City in March for the final two of his six Saturday night network TV appearances on CBS's Stage Show. On March 17 Elvis sang "Heartbreak Hotel," which was just starting its run up the charts, and "Blue Suede Shoes." A week later he again performed his hit record, along with "Money Honey" from his soon to be released LP.
While Elvis' Saturday nights in March 1956 were taken up with Hayride and Stage Showappearances, he continued his frenetic touring during mid-week. He played Memphis on March 9th, Atlanta on the 14th and 15th, Charleston on the 18th, Columbia on the 19th, Augusta on the 20th, Lexington on the 21st, Richmond on the 22nd, and Washington D.C. on the 23rd.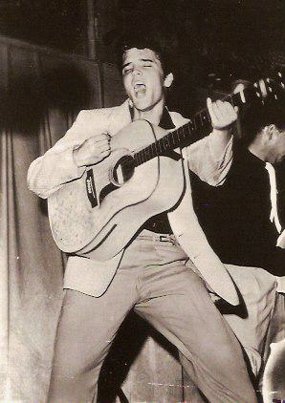 • Elvis live in Lexington
The audience reaction to Presley's show at the YMCA arena in Lexington, Kentucky, on March 21 was typical at the time and demonstrated that Elvis' popularity had already exploded at ground level. "A whirlwind blew into Lexington last night," observed an unidentified reviewer in The Dispatch the next morning. "The whirlwind is Elvis Presley, 21-year-old singing sensation of the nation who has what many experts describe as the 'biggest drawing power in the entertainment world at present.' He had to be ushered from the dressing room by policemen who forced their way through scores of young girls seeking autographs, souvenirs or just a look at 'their boy.'"
According to the review, cries from the estimated crowd of 4,800 could be heard blocks away. "Elvis slouched his shoulders, wiggled them, spread his legs, wiggled them, and the sighs and cries grew even louder. When he talked it was louder cries. When he strummed his guitar the noise got louder and when he sang bedlam broke loose. Using all types of intricate motions as he delivered his songs, many of them top-selling RCA Victor hits, Elvis showed his audience what has gained him fame as the new 'bobby-soxers' favorite of the nation. Backed by a good band Elvis sang on, wiggled on and danced on. Young voices rang high from the audience—'Sing to me, Elvis,' shouted many a young miss."
After meeting Elvis at a pre-concert press gathering, the Dispatch writer described him as "a shy fellow who says he's ever thankful to the public for their 'taking him in.'" Elvis added, "I'll never forget the folks who have made this rise possible, especially my mom and dad. It just appears to be a dream to me. I hope I can continue to please the public."
• Hollywood screen test: March 25-27, 1956
During the press conference, Elvis brought up still another significant event in his career during March 1956—his Hollywood screen test. Elvis told the assembled writers that he would soon be flying to the coast "to receive a screen test for a new Hal Wallis move, 'The Rainmakers,' (sic) starring Burt Lancaster and Kathryn Hepburn." Wallis had sent the script to Colonel Parker on March 7, and the Colonel turned it over to Elvis with the admonition, "Do not discuss this matter with anyone—not the boys in the band, the people at the Hayride, anyone, because this is private." Parker could not have been happy when he learned Elvis was discussing a possible role in The Rainmaker with local reporters. For the record, Elvis flew to Los Angeles on March 25 for a three-day screen test at Paramount Studios.
• Colonel Parker takes control: March 26, 1956
Behind the scenes, March 1956 was also significant in Elvis' career because his professional relationship with Colonel Parker was finalized during that month. Early in March, Parker concluded contractural agreements that officially put an end to Elvis's relationships with former manager Bob Neal and tour organizer Hank Snow. Then on March 26 Elvis signed a formal agreement that made Colonel Parker his "sole and exclusive Advisor, Personal Representative, and Manager in any and all fields of public and private entertainment." For better or for worse, in March 1956 Elvis put complete control of his fledgling career in the hands of Colonel Tom Parker.
Elvis Presley's first Top 100 chart single, his first LP release, his final regular appearances on the Hayride and Stage Show programs, his ever explosive personal appearances, his Hollywood screen test, his agreement with Colonel Parker—all of them happened in March 1956. Certainly there were other key events in Elvis Presley's life, but no other single month in his 24-year professional career produced as many life-changing episodes. In March 1956 it must have seemed to Elvis Presley that all of his dreams were coming true at the same time. — Alan Hanson | © December 2010


Go to Elvis 1956

Go to Home Page