Elvis in Oakland: June 3, 1956 …
"If He Did the Same Stuff
On the Street, We'd Lock Him Up"
Police Officer 230 must have thought it was his lucky day on June 3, 1956, when he was part of a law enforcement contingent assigned to work Elvis Presley's show at the Oakland Auditorium. While his fellow officers dealt with the noise and pandemonium in the arena during Presley's performance, Officer 230 found himself posted all by himself in an empty hallway in the Auditorium's dressing room area. He was going to earn his overtime pay in quiet contemplation far away from the maddening crowd.
What Officer 230 didn't realize, however, was that Elvis had retired to his dressing room between shows, and thousands of teenage girls from the first show's audience were looking for their idol. Suddenly the hallway doors at one end burst open and a tidal wave of screaming girls swept down upon the startled officer.
"One doorway," he later told a Oakland Tribune columnist, "and what must have been 3,000 girls come running through it, and they wedge tighter and tighter, and I am in the middle of them. It is a wonder somebody didn't get hurt. It was awful. I've never seen anything like that before in my life, and I never want to again."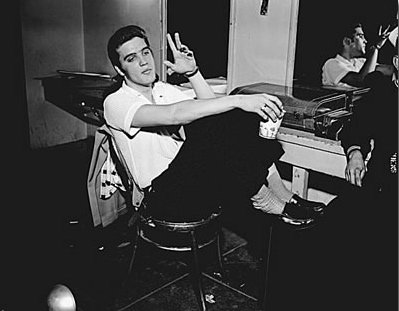 An article and an advertisement in the Tribune on May 31 informed Bay Area teenagers that Elvis was coming to Oakland just three days later. On Sunday, June 3, two shows at 3 and 8 p.m. were scheduled in the Auditorium. Tickets were scaled at $1.50, $2.00, and $2.50. It was just the second time that Elvis played California. Two months earlier he had performed in San Diego following his first appearance on The Milton Berle Show.
• Elvis address his wealth at press conference
During the parade of opening acts for the 3 o'clock show, Elvis held his customary press conference in his arena dressing room. Tribune reporter Elinor Hayes was there. "Off stage, he is a natural appearing youth with a shrewd intelligence and a disarming frankness," she noted in her review the next day. "He has the Valentino look for the gals and the 'ma'am' kind of manners for their mothers." The subjects he addressed included the following:
His sudden wealth: "I don't blow anything, other than on four cars, a motorcycle, and stuff like that. I've got about 35 jackets and pants. My income taxes are really high. But I've a manager who can get the most out of a deal. He drains 'em."
His two diamond rings and $700 diamond encrusted wristwatch: "They are useless but I've always wanted stuff like that."
His fanatical fans: "If the police and my managers would let me, I'd get mobbed all the time. It makes you feel good. I would feel worse if they didn't swoon over me."
• Elvis uses knees to take control of the crowd
After the opening acts, which included bandleader Del Courtney, songstress Vera Mason, comedian Paul Desmond, and the Jordanaires, Elvis took the stage for his 20-minute show. "A noise meter would have thought it was recording the '06 earthquake," Hayes observed of the reaction. The crowd, according to San Francisco Chronicle writer William McPhillips, was composed mostly of "teen-aged girls, some oldsters, and sprinkling of weird-looking young men."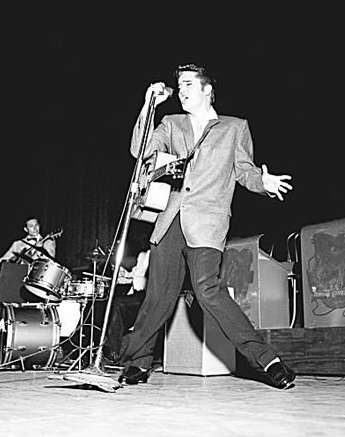 The yelling subsided when Elvis broke into "Heartbreak Hotel," which had been #1 on Billboard's singles chart for the past five weeks. "The crowd was quiet as he sang in lyrics verging on the unintelligible," noted McPhillips, "until one of his black denim-clad knees shot out."
Then Elvis slowly took control of the crowd. "When the screams subsided, the right knee picked up where the other left off," observed McPhillips, "and gradually, as the movement spread upward, the famous voice was lost in bedlam. Presley, his duck-tailed, tawny hair now hanging in his eyes, grabbed the microphone as if it were alive and dragged it around the stage, now petting it, now turning upon it the full vent of his manly wrath."
In her Tribune review, Hayes saw it this way. "He has a gyrating, knee-knocking, tear-'em-apart style of whipping out a song with a vicious driving beat. He does everything but lie down and roll in front of his three-piece band. On stage he is a song-belting phenomenon who has only to appear to send his audience into a near hysterical frenzy."
The Tribune's "Daily Knave" columnist described Presley as "the singer who shivers, shudders and twitches like a man wearing underwear four sizes too small." An irritated Oakland cop, one of a dozen detailed to protect Elvis while on stage, declared, "If he did that same stuff on the streets, we'd lock him up."
• Crowd reaction was "simply frightening
Ralph Gleason, writing in the Chronicle across the bay, had the best description of the crowd reaction. "The reaction of the audience, which was mainly teenage girls, is simply frightening. At the afternoon performance, one of the ushers claimed an impromptu, voluntary panty raid disrupted proceedings for a while, and at the evening show two young ladies collapsed with a mild case of hysteria and another fainted clear away at the mere prospect of owning an autograph from the Presley pen." Gleason likened the crowd reaction to the "thousands who crowded the Sportspalast in Berlin to chant in unison during the Third Reich."
The crowd size and box office take in Oakland were actually low by Presley standards in mid-1956. Variety reported that an afternoon audience of about 3,000 and an evening crowd of near 2,500 paid a combined gate of only $9,000. Reporter Hays judged the two-show total higher at 6,400.
After Elvis' evening show, he waited in his Auditorium dressing room for a half hour until he could be escorted safely to his waiting car. He had a pressing engagement in Los Angeles two days later. In fact, the main reason he had come to California at that time was for his June 5 appearance on The Milton Berle Show. Bay Area teenagers were fortunate Elvis had an open date while in the state.
After labeling Presley's Oakland performance "earthy and extremely direct," Gleason assured his readers, "you won't see it on the Milton Berle show when he makes his appearance. It's a bit rugged for TV." His prediction, of course, was off base. Elvis' sexually charged rendition of "Hound Dog" on the Berle show that evening touched off a firestorm of criticism and forever saddled the singer with the handle "Elvis the Pelvis." The crowd in Oakland was the last to see Elvis live on stage before he passed from the outrageous to the appalling. — Alan Hanson |  © December 2011


Photos by Bob Campbell | June 3, 1956 | San Francisco Chronicle

Go to Elvis 1956

Go to Home Page