In April 1956 San Antonio      Saw Presleymania in Bloom
"A gun-chewing, nonchalant phenomenon named Elvis Presley moseyed off to Corpus Christi Monday to see what he could do in the way of searing the souls of additional thousands. Behind him he left tears, screams, wild applause, mangled emotions—in short, agony, sweet and complete. It was a traumatic experience this newly arrived singing star brought to municipal auditorium Sunday afternoon and night. Youthful sufferers to the number of 12,000 writhed through it in sheerest ecstasy." — Betty Scheibl in the San Antonio Light, April 16, 1956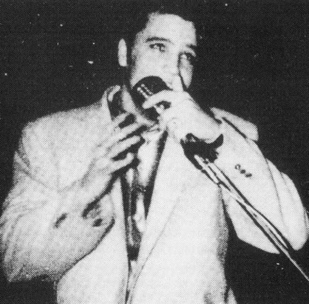 Elvis Presley's reception in San Antonio on April 15, 1956, revealed how sudden and explosive his rise to stardom had been in the early months of his breakout year. When he signed with RCA Victor in January, he was an unproven quantity outside of the South. Although he'd been seen on network TV seven times by early April, his controversial appearances on the Milton Berle and Ed Sullivan shows were all still ahead of him. He had yet to have a #1 record. ("Heartbreak Hotel" was still three weeks away from topping Billboard's "Top 100.") And yet, all the elements of Presleymania were in place when he flew into San Antonio in mid-April.
 San Antonio was the mid-point stop on Presley's 15-city tour that month, beginning in San Diego and sweeping across Colorado, Texas, and Oklahoma before ending with a two-week stint at the New Frontier Hotel in Las Vegas. April 14, the day before the San Antonio shows, was one of the few open dates on the tour. After appearing in Amarillo on the 13th, Elvis and his band flew to Nashville for a recording session. (The harrowing mechanical and navigation difficulties during that private flight convinced Elvis to avoid flying in the future.) After the session, which produced his next single, "I Want You, I Need You, I Love You," Elvis and the guys flew into San Antonio on a commercial flight.
 It was Presley's second 1956 appearance in that town. On January 15 he had come as an "extra" on Hank Snow's Grand Ole Opry show. Three months later, though, Elvis was headlining his own show in San Antonio's Municipal Auditorium. General admission tickets sold for $1.75 on the lower floor and $1.50 in the balcony. Two shows were scheduled that Sunday at 3 p.m. and 8 p.m. In its April 25 issue, Variety estimated the matinee crowd at around 6,000 with the evening show bringing in a few hundred over 6,000. "Gross box office was approximately $14,300 for both performances," according to Variety, "a local record for this type of show."

A crowd of predominately teenage girls began lining up three hours before the afternoon performance. At 3 o'clock the show opened with a series of other entertainers, "whose names don't matter," judged Gerald Ashford in his San Antonio Express review the next day. (For the record, they included Wanda Jackson, Hank Locklin, the Farmer Boys, Leon Payne, and the Texas Cool Cats.)
 • "This is just a dream"
 Meanwhile, Elvis was backstage entertaining a gathering of journalists and fan club officers. "This is just a dream," he responded to a question, while sipping a soft drink. "It makes you feel good. I've got everything a boy ever dreamed of having." In their articles the next day in competing newspapers, Ashford and Scheibl provided different versions of another Presley response. Ashford reported that when asked if he gotten mobbed wherever he went, the singer answered, "Well, if I said yes I'd be braggin', but if I said no I'd be lyin'." Scheibl claimed Elvis made that diplomatic response to a different question—if he had had any marriage proposals since his rapid rise to fame. Elvis also revealed that he felt "real good" when he got three or four hours of sleep, and that he had been presented with a gold record for "Heartbreak Hotel" at his Nashville recording session the day before.
 Scheibl added that the fan club girls, mostly from Dallas and Austin, "got brotherly busses on the cheek, pats on the cheek, pats on the shoulder and squeezes." One girl, announcing it was her birthday, received a long kiss. When a reporter asked another girl why she liked Elvis, she responded, "Because he looks so mean!"
 At 4:30, Elvis, wearing a white silk jacket, black pants, and a blue satin shirt with a mandarin collar, prepared to take the stage. Seven of the ten policemen on duty in the auditorium held back the crowd from pouring over the orchestra pit and onto the platform. "The floor between the first row and the pit was a sea of full skirts," Scheibl noted, "as Elvis worshippers crouched and crawled into position, cameras at the ready." But they were forced to move back when Elvis came on.
 • Writers astonished by Elvis on stage
 In his Express review, Ashford marveled at Presley's energy:
 "His stage act consists in equal part of singing, guitar playing and dancing, the whole being classified, if it can be classified at all, in the 'rock and roll' category. To an adult ear, all his songs sound pretty much alike, but he puts them over with tremendous verve and vitality, and keeps it up steadily for nearly an hour without visible signs of fatigue. Perhaps because of his youth, he shows no signs of nervous tension or need for rest that is common to older performers who put forth even half as much energy."
 In the Light, Scheibl painted a multi-sensory picture of what happened in the arena:
 "You couldn't hear Elvis on the front row. Uproar exploded each time he looked as though he might open his mouth. A flash of white teeth from Elvis, a loose hipped slur of dance steps, a Brando-like gaze from soulful blue eyes, and the floor vibrated with 6,000 stamping feet, whistles shattered the air. Cries of 'Look this way, Elvis' and 'Here, over here!' drowned Elvis out. Lipreaders jumping out of their seats in the vicinity of this reporter obligingly supplied the song titles."
 Scheibl provided the Presley playlist: "Baby, Let's Play House," "Heartbreak Hotel," "Long Tall Sally," "I Was the One," "I Got a Woman," "Only You," "Blue Suede Shoes," "Money Honey," and "Tutti Fruitti."
 The banner headline over Ashford's review in Express the next morning read, ROCK 'N' ROLL STAR STIRS NEAR RIOT. As usual with Presley shows in the fifties, the use of the term "riot" was an exaggeration. At the end of the first show, Colonel Parker, obviously not yet completely aware of the passion his client stimulated in teenage girls, set up a table outside the auditorium and invited those wishing autographs to line up. Elvis appeared, but about 3,000 youngsters stormed the table and forced him to flee back to his dressing room. The crowd followed, jammed up against the auditorium's west stage door entrance, and began chanting "We want Elvis." At one point, Elvis appeared at an upstairs window and waved at the throng.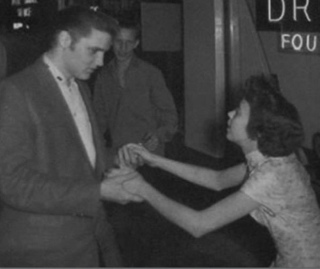 Later, in an interview with DJ Charlie Walker, Elvis expressed regret that he couldn't give autographs that day: "You know I hate not to but if a lot of people start getting' hurt, and there's a lot of little bitty kids in the crowd and they get trampled on and everything. And the police make us quit, you know."
 In fact, one 17-year-old girl, who had fainted in the crush, had to dragged away by security guards. In his dressing room, Elvis assisted the officers in reviving her. Ashford reported that Presley then looked into her eyes and asked how she felt. "I feel wonderful" was the predictable reply.
 • Pipe organ fascinates captive Elvis
 Knowing it would be unwise to leave the building before the crowd dissipated, Elvis passed the time with a few reporters inside the deserted arena. He sat down at the keyboard of the auditorium's big pipe organ. "These things fascinate me," he said, as he hit a few notes at random. He then played what Ashford called "passable renditions" of "Silent Night," "Harbor Lights," and several other tunes.
 While under siege in his dressing room, Elvis gave a recorded interview to DJ Charlie Walker of KMAC Radio in San Antonio. Walker asked about the seven-year contract Presley had recently signed with Paramount Pictures. "Of course, it's a dream come true," Elvis declared. "It's something I never thought would happen to me … of all people. But it just shows that you never can tell what's gonna happen to you in life." Naively, Elvis then expressed his desire to keep his acting and singing careers separate:  "I've had people ask me was I gonna sing in the movies. I'm not, I mean as far as I know, cause I took strictly an acting test and I wouldn't care too much about singin' in the movies."
 The Walker interview was one of many Elvis granted local DJs while he toured the country in the first half of 1956. By April Colonel Parker had not yet realized that his boy was beyond having to coax jockeys into playing his records. Elvis closed his San Antonio interview with Walker by massaging the DJ's ego.
 "Thank you very much, Charlie … And I'd like to say thanks for all the spins, Charlie, you been givin' me. And you really been a friend to me, and I want you to know I really appreciate it, and I'll be lookin' forward to comin' back and visitin' with you again real soon."
 Then Elvis, as Scheibl noted, "moseyed off to Corpus Christi." But true to his word, Presley returned to San Antonio six months later on October 14, 1956. The Texas city was one of just two that Elvis played three times in 1956. (The other was Richmond.) In his jump-suited reincarnation of the seventies, Elvis played the city three more times (1972, 1974, 1976), making San Antonio one of the most favored cities in the Elvis Universe. — Alan Hanson | © June 2013