The Great Elvis Presley
Merchandise Flood of 1956
"Can you really sell this stuff, Mr. Saperstein?"
That was Elvis Presley's response after viewing a selection of collectible products that merchandiser Henry "Hank" Saperstein brought for the singer-actor to examine on the set of Love Me Tender in 1956.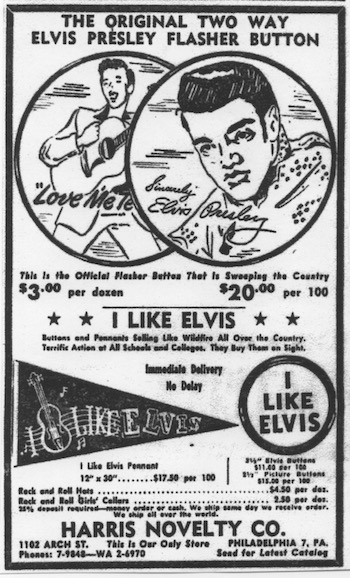 Through his company, Special Products, Inc., the 37-year-old Saperstein had previously handled licensed products for "The Lone Ranger," "Ding Dong School," "Lassie," and Disney characters "Peter Pan," "Mickey Mouse," and "Davy Crockett." Before jumping on the Presley train, though, Saperstein analyzed the rock 'n' roller's market potential for theme products. First, he took note that Presley's records sold just as well in non-TV areas as they did where Elvis' TV antics could influence watchers. "I had my No. 1 criterion—universality," he explained in a Newsweek article. Then he concluded that Elvis also met the second requirement for commercial appeal—he filled an emotional need. "It's nothing new," Saberstein said. "We are each of us insecure in our way. We like to identify ourselves with people who are somebody."
So, in late July 1956, Saperstein and Colonel Parker agreed on a deal giving Special Products, Inc. the "exclusive right to exploit and commercially promote the image of Elvis Presley on different articles of merchandise." Elvis and the Colonel received an advance of $22,500 against 45 percent of royalties and licensing fees.
An August 25, 1956, Billboard article announced that Special Products, Inc., was about to launch its first line of Presley-endorsed merchandise, which included a T-shirt and a line of rock 'n' roll costume jewelry. These and future products—blue jeans, charm bracelets, soft drinks, etc.—would be aimed at the teenage market. The company also claimed that Elvis would make personal appearances in department stores to plug the merchandise.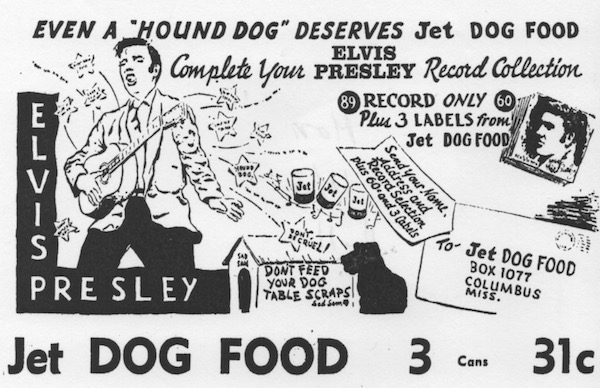 Within weeks licensees were lining up and products were being shipped to retail outlets across the country. Among the stores featuring Elvis merchandise were Sears and Roebuck, Montgomery Ward, W.T. Grant, Woolworth's, Kresage, AMC Stores, Macy's, Allied Department Stores, H.L. Green, Rexall, and Whalen. "The youth of America now is being deluged with Elvis Presley ready-to-wear items," the Tupelo Daily Journal declared in its September 8 issue, "many of them in his favorite colors of black and emerald green."
• Elvis merchandise brought in big money
A Billboard article on September 29 predicted that the Presley merchandising campaign would "eclipse sales of $20,000,000 before the end of the year." At the time of the article, Saperstein had lined up 18 licensees, who were currently producing 30 products, "all in the Elvis Presley motif and all bearing either his name or likeness." The article offered a list of Elvis merchandise already available at retail outlets.
"Merchandise includes such items as hats, T-shirts, blue jeans, kerchiefs, bobby-sox, canvas sneakers, skirts, blouses, belts, purses, billfolds, wallets, charm bracelets, necklaces, magazines, gloves, mittens, a statue, book-ends, a guitar, lipstick, cologne, stuffed 'hound dogs,' stuffed dancing dolls, stationary, greeting cards, sweaters, and most recently a soft drink. A glow-in-the-dark picture of Elvis, whose image lasts for two hours after the lights have been turned off, is also available."
Saberstein's experience in the tie-in product business allowed him to make considered decisions when it came to licensees and products. Harold Bell, who handled the company's ready-to-wear licensing set-up, explained, "We hope to keep the demand for Elvis Presley alive for many seasons." To accomplish that, the company sought quality products, not gimmicks. "One manufacturer wanted to make up special sideburns that would go to each customer," Bell said. "We screamed. We don't want that sort of thing. This is a serious business."
During the first few months of sales, Saperstein kept a close eye on market indicators to guide the Presley campaign forward. Product promotions were planned to coordinate with Elvis' two upcoming films, Love Me Tender and Loving You. Saperstein kept a constant watch of record sales, since he considered that to be the best indicator of Presley's continuing popularity. He also reached out to the 200,000 members of Elvis' national fan club.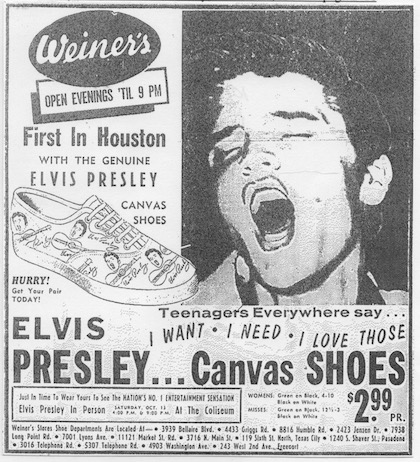 On October 20, 1956, Special Products, Inc., provided Colonel Parker with the company's first accounting of sales under the July agreement. A list of 21 licensees had to date paid a total of $75,663. Special Products issued three checks from those fees. The first went to The William Morris Agency for its standard 10 per cent cut. Elvis and the Colonel were due $11,549 after their advance payment was deducted. A check was made out to Elvis for $8,661 and another to Colonel Parker for $2,887. These two checks indicate that the Presley portion of licensing fees was split 75 per cent for him and 25 per cent for his manager. 
Some manufacturers of Presley products placed wholesale ads in Billboard. One was the Harris Novelty Company of Philadelphia, who offered their Elvis-themed items to retailers in the magazine's December 8 issue. Their two-way Presley flasher buttons were $3 a dozen or 100 for $20. Elvis pennants were $17.50 per 100, rock 'n' roll hats were $4.50 per dozen, and girls' collars were $2.50 per dozen. In the same issue, Shop-Rite Industries hawked their Elvis pins, described as follows. "Each pin contains a miniature picture. Beautiful gold finished frame. Guitar has mother of pearl finish. These pins are selling like wild fire so order now. We also have a matching charm bracelet for the same prices." Prices were $7.20 a dozen for up to five dozen and $6.90 a dozen for six or more dozen.
• Elvis "Victrola" topped the Presley product line
As Elvis continued to tour heavily through the end of the 1956, retail stores around the country stocked up and advertised in local newspapers whenever Presley's road show made a stop in their town. For instance, Shainberg's Black & White Store ran a full-page ad in the Tupelo Daily Journal when Elvis played the Mississippi-Alabama Fair in his hometown on September 26. In the Shainberg ad, local girls Mary Ann Harris and Sarah Wilburn modeled Elvis Presley knit shirts, available in blue or gold for $1.99 each. Buyers "BETTER HURRY!!" The ad noted, "We have only 600 of the Elvis shirts available." Shainberg's also advertised a limited supply of Elvis Presley necklaces for $1 each. Only 288 were available.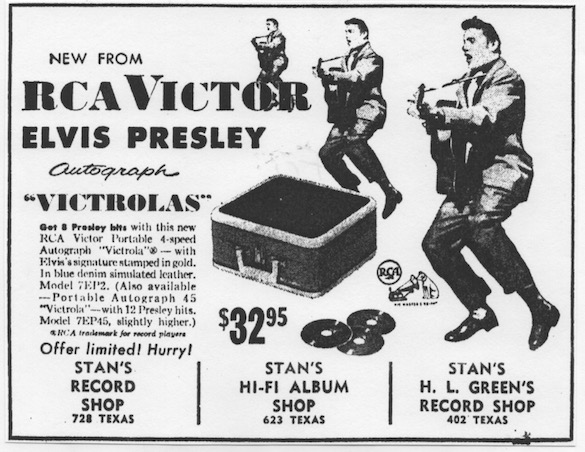 One of the more expensive Elvis tie-in products in 1956 was the "Elvis Presley Autograph Victrola" by RCA Victor. The portable record player came in a luggage-style case finished in "rugged simulated blue denim" with Elvis' signature stamped in gold on the cover. The Victrola came in two models. The 4-speed model, which came with an album of 8 Presley songs, sold for $32.95, and the automatic "45" model, packaged with an album of 12 Elvis tunes, was priced at $44.95.
Of course, a few ads in Billboard and Variety were not sufficient promotion for a company like RCA Victor. In addition to including Presley records to play on their Elvis record players, RCA put all of its marketing muscle behind the product. Louis Collin, sales manager for RCA's Radio and "Victrola" division, detailed the promotional campaign.
"Network radio and co-op space ads will carry the lion's share of the job, with dealers being supplied with newspaper mats and a special spot radio transcription, recorded by Presley himself. Dealers will also get special selling aids, including streamers, counter cards, posters, and handbills."
• Saperstein looks to the future of Presley merchandise
In the February 18, 1957, issue of Newsweek, Saperstein looked back on the first six months of his company's Presley merchandise licensing and its prospects for the future. He noted that so far licensed products had accumulated $26 million in sales. He listed general sales figures for selected items.
"Dollar lipsticks have passed the 450,000 mark in sales. A Providence, R.I., costume jewelry firm has turned out 350,000 charm bracelets ($1 plus tax), jangling with such Presley symbols as a hound dog, guitar, or a cracked heart. Another $150,000 has gone for the same number of statuettes of Elvis, complete with guitar. A New York clothing manufacturer has moved 80,000 pair of $2.98 jeans bearing Presley's photo and has expanded the line to include Presley 'Ivy League' girls' shirts."
Saperstein saw 1957 as shaping up to be another banner year for Presley products. By the end the coming year, he estimated "traffic in Presliana may produce a sales total of $55 million." A new market had recently opened across the ocean with 11 British companies then holding licenses and tooling up to produce Presley items.
It couldn't go on forever, though. "He's too hot," Saperstein said. "He can't be sustained at the maximum level." He figured Elvis had about two more years to run with tie-in merchandise. He was right about Elvis staying hot in the business in 1957, but his disappearance into the military in 1958 slowed the demand for the Presley brand. It didn't end it, though. Not even his death could do that. To this day, over 60 years after Colonel Parker and Hank Saperstein made that first deal to sell Elvis in the wider marketplace, a demand for Presley-themed items still thrives.
I don't consider myself an Elvis Presley collector, but as I sit in my office and look around, I can see an Elvis mini-jukebox, an Elvis clock, an Elvis piggy bank, and an Elvis light-switch cover. I just can't help occasionally surrounding myself with reminders of my youth. — Alan Hanson | © December 2017.