October 12, 1956 …

When Elvis Played Waco, Texas:
"The Squarest Town in America"

"The squarest town in America." That's what Kay Wheeler called Waco, Texas, on October 13, 1956. The self-proclaimed president of the "National Elvis Presley Fan Club" was reacting to the city's response to Elvis' appearance there the night before. "You know that place Elvis sang in holds 11,000 people and only 5,000 showed up to hear him sing," the Dallas 17-year-old said. "Why, they ought to be flattered he came to town … those people just sat on their hands while he sang. I'm going to do something about that town."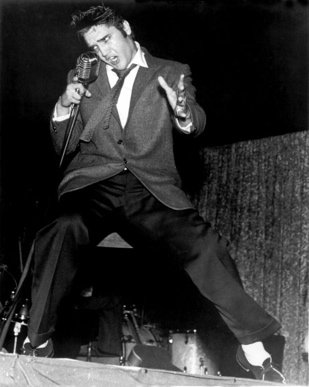 Wheeler's Presley fan club got a big boost after her article, "I Flipped Over Elvis," appeared in a national movie magazine. "I got 1,000 letters a week after the article came out and since then I've got 500 a week," she announced. "I've got 10,000 club members in the country—4,000 in Houston alone. But that Waco. I don't have a club in that city."
 Wheeler didn't elaborate on her threat to "do something about that town." She pointed out that over 26,000 had come out to see Elvis at the Cotton Bowl in Dallas the night before his Waco appearance. From Waco Presley went to Houston, where over 16,000 attended his two shows there. Then it was on to San Antonio to perform before a crowd of 10,000. Wheeler said Waco should be "ashamed" of its paltry turnout to see "the hottest piece of property in America."
 • Elvis hot as could be that October
 Elvis' show in Waco that October was his third visit to the city. He was still with Sun Records and only regionally known when he first played Waco on a Louisiana Hayride show on April 23, 1955. A year later he was a burgeoning rock 'n' roll phenomenon when he drew a crowd of 4,000 to his show in Waco on April 17, 1956. In the six months that passed until his return in October, though, Presley exploded on the national scene with appearances on the Milton Berle, Steve Allen, and Ed Sullivan shows. His recordings of "Hound Dog" and "Don't Be Cruel" ruled the charts, and his first movie, Love Me Tender, was due out in just a few weeks.
Citing heavy advance ticket sales, Othel Neely of the Heart O' Texas Coliseum predicted a crowd of about 7,000 to see Presley this time around. In addition to several buses chartered by Kay Wheeler's Dallas based fan club, Neely was expecting an influx of Elvis fans from nearby communities, including Temple, Mexia, Austin, and Walnut Springs. Noting how orderly the crowd had been for Presley's April show, Neely was not expecting a disturbance at the Coliseum. Still, just in case, he said 14 off-duty policemen and two deputy sheriffs would be on hand.

There were no reserved seats for Presley's show, and all tickets were priced at $1.50 in advance and $2 at the door. The Waco Times-Herald noted that, "there are seats available for Negro Presley fans also."
Teenagers aiming for the best seats began lining up at the coliseum doors at 5:30 for the 8 o'clock show. At the front of the line, were five married women from Teague, who, according to Times-Herald writer John Sliney, had arrived at the rear entrance at 3:30 p.m. and tried to bribe building superintendent Homer Casey to let them sneak in early. When he refused, they parked themselves at the front door and waited until it opened at 6:30. They got front row seats.
• 3 minutes of screams—"Ugh"—3 more minutes of screams
 Starting at 8 o'clock, the estimated crowd of 5,000 sat patiently through an hour's worth of opening acts. When Presley took the stage at precisely 9:12 p.m., "a deafening roar went up that lasted a full three minutes," according to an article in the Waco News-Tribune. The crowd, which sat obediently in their seats until then, rose and moved toward the stage. They continued to creep forward throughout Elvis' 38-minute show.
 "After things finally quieted down, Presley looked one way, then the other, took a deep breath and said ugh, and another uproar lasted three more minutes," noted the unidentified News-Tribune writer. Elvis was dressed in a green jacket with matching tie, dark pants, and blue suede shoes. He opened, as usual, with "Heartbreak Hotel," and moved quickly through his set, which included "I Got a Woman," "Money Honey," "Blue Suede Shoes," and "Don't Be Cruel."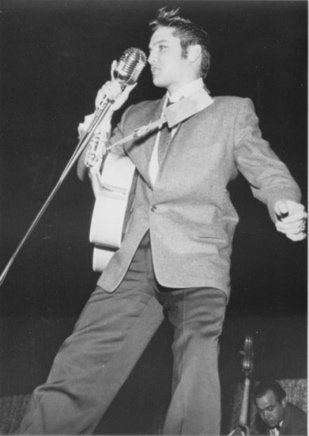 Elvis "showed them how he got his nickname, 'The Pelvis,'" observed the Tribune reviewer. "Presley went through his regular 'routine' of dancing all over the stage, pulling his hair and having the appearance of being unable to control himself." Some teenage girls who scooted their chairs to close to the stage were blocked by the policemen ringing the platform.
 • Girls pounded on the concrete floor
 The intensity of the audience's response to Elvis' antics seemed proportional to its distance from the stage. When Presley asked the crowd, "Do you love me?" a 14-year-old blond girl in the front row jumped up, grabbed her neck, and fell to the floor in an apparent faint. Reporter John Sliney noticed, "a few of the girls, wearing Elvis Presley skirts and sweaters, apparently lost control of themselves a few times. They fell down, pulled their hair and beat their fists against the concrete pavement. But when 'he' would stop to catch a breath they would get up, try to straighten their hair, smile and giggle with friends."
 Meanwhile, in the back of the crowd, Sliney also noticed a more subdued reaction: "One girl who looked to be about 11 years old sat with her youngish looking parents. She wore an Elvis Presley hat—a black number with Presley-ed band. All three had $1.50 binoculars and after Elvis had started performing the three of them looked like a trio at a race track with a few dollars on a dark horse."
 Sliney called Elvis' closing routine, "the work of a showman":
 "Presley broke into 'Houn' Dawg,' wiggled, walked, ran and even crawled all over the stage singing louder and with more enthusiasm than before. He would walk over to the edge of the stage, look a girl in the eye and say, 'Honey, you ain't nuttin' but a houn' dawg.' The crowd loved it and showed their appreciation as Presley turned on more steam.
"He loosened his collar, pulled at his tie, backed up toward the center of the stage and started all over again. When the time came for the exit, still singing and wiggling, he backed toward the rear of the stage, stopped, sang a few more lines, then ducked behind the curtain."
 • Was Elvis affected by the way Waco treated him?
 Instead of immediately leaving town for Houston, where he was booked the next night, Elvis first spent a couple of hours at the house of a friend, Eddie Fadal. Along with his band and Hollywood friend Nick Adams, Elvis spent about 2 ½ hours there, "playing everybody's records but his own," according to an article in the News-Tribune.
 Meanwhile, over the following week, Kay Wheeler's criticism of Waco was printed in multiple Texas newspapers. "Elvis was obviously affected by the way they treated him there," she insisted. However, Waco's low turnout to see Presley was no indication to her that his popularity was fading. "Elvis will last as long as there are women around," Kay declared. —Alan Hanson | © January 2013