Elvis Homecoming




On Stage in Memphis: May 1956
Elvis Presley played Memphis so many times that labeling any of them a "homecoming," much less a "triumphant" one, seems a pretentious exaggeration. In all, Elvis performed in his hometown 33 times over the years of 1954, 1955, 1956, 1961, 1974, 1975, and 1976. However, if one performance can be singled out for the title of "triumphant homecoming," it would have to be his appearance in the city's Ellis Auditorium on May 15, 1956.

Elvis had appeared on that same stage just five months earlier in December 1955. But all that had happened in Elvis' career during those five months raised the May performance to the illustrious level of a "homecoming." In the interim, Presley had risen meteorically from a regional success to a national sensation. He had appeared on national TV seven times with the Dorsey Brothers and Milton Berle. His "Heartbreak Hotel" was firmly entrenched atop Billboard's "Top 100" national pop chart, and he had even signed a Hollywood contract with Paramount Pictures. Suddenly, Memphis had a famous native son that it could welcome home with open arms.
Elvis' return in May gave Bob Neal, the singer's former manager, one last chance to bask in Presley's glory and capitalize on the success of his former client. Neal, host of the "Morning in Memphis" show on WMC radio, was the local promoter for the Presley homecoming. Designated "Bob Neal's Cotton Picking Jamboree," the Auditorium show was set for opening night of the city's annual Cotton Carnival. Tickets were priced at $2.50 for downstairs seats and $1.50 in the balcony, with a separate section for "colored." Neal sold tickets out of his Memphis record shop until 3 p.m. on the day of the show. The remaining tickets were then sold at the Auditorium box office, with the doors opening at 7:30.
• A capacity crowd jammed the Auditorium
"It's gonna require both North and South Halls of the Auditorium to take care of those who want to welcome Memphis' own Elvis Presley back home Tuesday night," Neal announced in the Commercial Appeal on Sunday, May 13. If there had been East and West Halls, they could have been opened as well. A crowd of 7,000 filled the Auditorium to capacity, with many others turned away. No specific show time had been set. "The show will get rollin' as soon as possible," the Commercial Appeal reported, "after the Cotton Carnival's Royal Barge lands at the foot of Monroe, the monarchs can take part in the opening ceremonies, then get up to the Auditorium."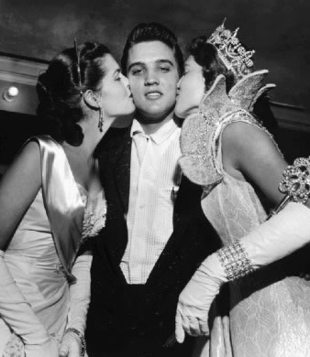 Maid of Cotton Patricia Cowden (left) and Carnival Queen Clare give Elvis kisses just before he walks onstage at Ellis Auditorium on May 15, 1956. (AP photo by Gene Herrick)
Elvis appeared the night before in La Crosse, Wisconsin, and had to make an 800-mile journey to his Memphis home on Audubon Drive. Paul Molloy described his arrival at Ellis Auditorium the following evening. "When Presley's police-escorted limousine roared to a stop in front of the Auditorium, scores of youngsters were waiting with unashamed ecstasy. As he brushed by her, his full lips parting in a lazy smile, one girl dropped her pencil and stood transfixed. She remained that way, speechless, until after police whisked the dark-complexioned idol away."
One girl grabbed Elvis. "He grinned and he said, 'Cut me loose,' so I cut him loose," she said. "It was heavenly."
The opening acts got underway at about 8:30. Country and western star Hank Snow got an unaccustomed second billing to Elvis that evening. The Jordanaires' spirited gospel number, "Dig a Little Deeper," had the crowd clapping in time. But the crowd was there to see Elvis. Between numbers of the opening acts, the chant of "We want Elvis" went up.
• Elvis' clothes didn't fit
Back stage Elvis visited with country comedienne Minnie Pearl, a fellow veteran of the hillbilly show tours. She had flown in from Nashville to see his show for the first time since his meteoric rise.
"When Presley slouched on stage, his pants too tight and his violently green jacket too wide," Molloy observed, "the kids uttered a bittersweet moan. When he broke into his best-selling 'Heartbreak Hotel' some fell to their knees, some clasped their heads, some threw their arms about themselves in a sort of self-embrace and jiggled their knees."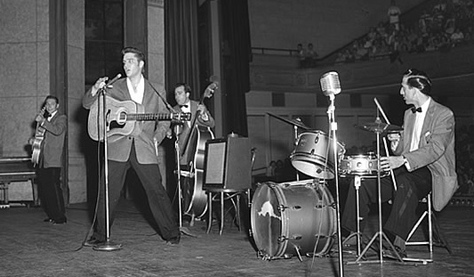 Although teenagers predominated, Molloy saw a curious mix in the crowd. "They came in all sizes and assortments: Teenagers in sloppy moccasins and floppy shirts, matrons in blue jeans, adolescents affecting the neatly trained kiss-curl; in the arms of one stout, perspiring woman a worn-out baby slept, its little face nestled in a wilted corsage." One boy, passing himself off as Elvis' brother, signed autographs for naïve girls.
• "A salesman of masculine sex"
Elvis gave the crowd his regular rock 'n' roll repertoire, including "Long Tall Sally," "Blue Suede Shoes," and "I Was the One." "Presley is plainly a salesman of masculine sex," Molloy declared, "and the reaction it created was spontaneous. There was no prompting, no coaching from press agents. Some of it was terrifying … He gave them everything, including the erotic bumps and grinds associated with the Gypsy Rose Lee school."
Robert Johnson added his observations in the Press-Scimitar: "Elvis worked his hardest. Perspiration was rolling down his face as he whipped out the songs which have made him a national idol. He joked, clowned and you could sense the understanding between him and those who so eagerly follow him. It was a happy, spirited crowd … Elvis strikes sparks, and something in his fans catches fire."
Molloy observed one 14-year-old girl catching fire. "She screamed as if suddenly scalded. From the throat of her companion came a weird, guttural whine, like that of a hurt puppy. Across the aisle another girl was literally scratching her arm with her fingernails, leaving long red welts. Tears coursed down her cheeks, mussing her makeup … Some girls were actually striking each other with their fists, apparently unaware of what they were doing."
• Elvis' reception best ever granted a native son
It was indeed a "triumphant homecoming." Johnson reported that Elvis was greeted that evening with "one of the greatest ovations and demonstrations of popularity in Memphis history" and that his reception had a "fire and enthusiasm never in memorable history granted a native son." It was obvious that the Memphis press had decided to support their hometown star unconditionally. There were no disparaging remarks about Presley in either the Press-Scimitar or the Commercial Appeal. No editorials condemning his sexual gyrations or contending he had a negative influence on young people.
There would be another Memphis homecoming for Elvis just seven weeks later, when he was due to appear at a charity show at Russwood Park on the Fourth of July. He knew now, though, that he would receive a warm reception from his fellow citizens and the Memphis press on Independence Day, as he would every time he returned home in the future. Controversy might follow him wherever else he went, but Elvis Presley could always count on Memphis welcoming him home with open arms. — Alan Hanson | © February 2012

Go to Elvis 1956

Go to Home Page