Elvis Treated With Respect
By Savannah Newspaper in '56
It's generally accepted that in 1956 the American press condemned Elvis Presley at every turn for his sexually suggestive movements on stage. That was often the case, since most of the reviews in local newspapers were written by over 30-year-old reporters, who were mystified by the young singer's sudden popularity. There were some newspapers, however, that bucked the national tendency to criticize Elvis. One that actually gave Elvis a fair hearing was theSavannah Evening Press.
Elvis brought his show to Savannah on Monday, June 25, 1956. It was just three weeks after his controversial, bump-and-grind rendition of "Hound Dog" on The Milton Berle Show.Since then, hostile journalists had been laying in wait to scorn Elvis in their reviews of his road show. In Savannah, however, Evening Press reporter Robert Epps wrote an impartial and entertaining assessment of Elvis's appearance. His article is reproduced in its entirety below.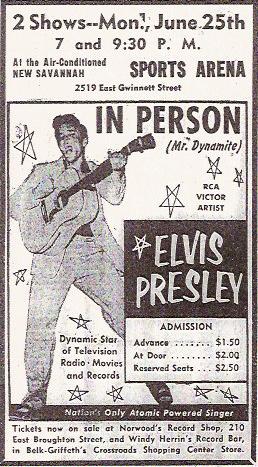 Epps concentrated on what he saw and resisted the urge to judge Elvis one way or the other. Also, unlike other journalists, Epps refused to portray Presley's Southern drawl as the mumbling of an illiterate buffoon. The boxer analogy was the writer's focal point, but he also used several other comparisons to help readers visual Presley's stage presence.
Presley Looks Like Boxer After Singing
by Robert Epps
Atomic-powered Elvis Presley worked half the teen-aged girls in Savannah into a state of frenzy last night, then had to hide in a storeroom at the Sports Arena for an hour after his last performance to avoid their clutching hands.
"That's okay, I love 'em all," said the 21-year-old rock-and-roll singing star. "They're a wonderful bunch of people. Savannah's a wonderful town."
A dozen police officers, firemen and arena officials were busily trying to keep under control the pushing crowds that jammed at every exit. Elvis, completely exhausted, looked like he needed all the protection he could get.
'Yes," he said, in answer to a question, "a show really wears me out. But if I get to them—that's what counts."
The dynamic young entertainer, whose eyes are such a light hue that he looks as if he's standing farther away from you than he really is, wore sport clothes without a necktie, and had a towel around his neck to check the stream of perspiration.
He looked like a film-hero middleweight who just finished a tough fight, except for the lack of bruises. This is indicative of good police work in keeping him untouched on his current tour. He came here from Atlanta and goes on to Charlotte, Augusta and Charleston.
In truth, the post-prizefight allusion fit pretty closely to his performance. He put in about 15 good rounds shuffling from one end of the stage to the other, ducking, bobbing, weaving and clinching with the microphone as he delivered some of the songs that have made him famous: "Heartbreak Hotel," "Long Tall Sally" and "Blue Suede Shoes."
The lyrics were enough to boil some spectators' blood, but it was his body movements—he appeared to have the joints of a grass snake—that really brought the screeching with a din that would have done justice to the seventh game of the World Series.
The Arena was packed for both of his appearances, the first at 7 and the last at 9:30. Teen-aged boys with duck-tail haircuts and shiny-eyed girls popping gum rubbed elbows with others who had come out of curiosity to see the nation's newest entertainment phenom.
"I'm here mainly to watch the crowd's reaction," one man said.
He wasn't disappointed. They roared, they stomped, they screamed and as Elvis approached the dress circle feminine arms shot out at him. He touched one ecstatic young girl, but for the main part kept safely out of grabbing range.
His exit was spectacular. Singing away on "You're Nothing But a Hound Dog," he edged his way to the side of the stage, and on the closing words, limply dropped the microphone into a policeman's hands, slumped down the steps and on to the dressing room, where he probably collapsed.
---
Three days after Epps's article appeared, the Evening Press printed the following short article by the teenage niece of one of the paper's editors. In 1956 newspapers rarely presented the viewpoint of Elvis's young fans. They were, after all, the impressionable group Elvis was being accused of contaminating. That the Evening Press allowed the youth voice to be heard was another example of the paper's open-minded approach to Elvis at a time when most adult minds seemed to be closed against him.
THE PRESLEY "PROBLEM" by Diane (Dee) Sutlive
First, I'd like to say, being a registered member of the "Elvis Presley Fan Club" you may think I'm prejudiced: Maybe so, but I think for the most part, I have an open mind(!)
When people say this "boy wonder" is illiterate or worse (some have, too), I think it over, and only THEN do I disagree.
Really, I think you have to be a teen to really appreciate him. He's different, and people have to get used to his style. The male disc jockeys, critics, etc., say he's sexy. (I wonder why!) Personally I think they're jealous. After all, how many women do you know that REALLY like Jayne Mansfield?
Even I, an ardent fan, think that Mr. Presley is a fad (but, oh boy, WHAT a fad), and will, in some length of time, go out but while he's here, let's just accept him. Why all the fuss and bother about how awful he is? Leave him alone, (but buy the records!) he'll go out, and it'll almost have to be pretty fast, (though I hate to admit it) since he reached the top in one try.
I'll leave you with but one thought—that most teenage girls agree on. He's terrific—the most, the gonest, "and everythang"!
---
So the Savannah Evening Press in 1956 deserves recognition for giving Elvis Presley a fair shake when most of the national press was feeding a fire of criticism around him. As much as I admire the Evening Press's approach to Elvis, however, I have to acknowledge that the newspapers who criticized him were the ones most responsible for his phenomenal popularity in 1956. In show business there has only been one thing more useful to a rising star than controversy—and that's more controversy. — Alan Hanson | © March 2010