Clambake
Elvis Movie #25
United Artists | 1967
Clambake was a watershed film in Elvis Presley's Hollywood career. First of all, it was the last movie he made as a single man. He got married in Las Vegas on May 1, 1967, just four days after finishing his work on the picture. Then the timing and content of the film brought into question Presley's continued relevance in the entertainment business. It was the "Summer of Love," and young people across the country were beginning to abandon the values of their parents' generation—of Elvis' generation. Clambake has to be considered in the context of those changing times.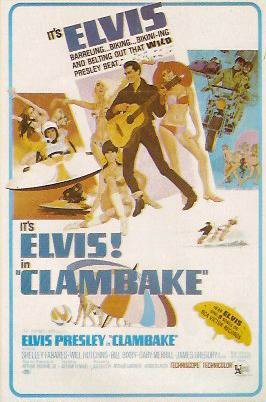 By all accounts, Elvis was not enthusiastic about making Clambake. His lack of interest caused delays in the production schedule. As for the quality of the final product, most reviews at the time were negative. However, Variety's review of October 18, 1967, absolutely gushed with praise. The reviewer, identified only as "Whit," had approved of some past Presley movies, and he judged this as one of the best of the bunch. His review opened as follows:
"Elvis Presley has the benefit of superior mounting throughout in his latest, 'Clambake,' carrying such a title because of a fast and colorful musical production number. The Jules Levy-Arthur Gardner-Arnold Leven production is one of the singer's top offerings to date, backed by a legitimately-premised story line, melodic songs, acceptable acting and winding with a spectacular water race. Film has all the makings of being one of Presley's heaviest grossers."
• Thompson at the Times dismissed Clambake
Perhaps Variety's positive comments prompted the New York Times, which had been ignoring Elvis movies for some time, to review Clambake. Howard Thompson, who had given Presley mixed reviews in the past, was not impressed with this one, which his review of December 14, 1967, made perfectly clear.
"Elvis Presley hit a real Christmas clinker yesterday with 'Clambake,' a silly, tired little frolic that could have used a few clams. Even stanch Presley admirers—and we're one of them when he delivers the likes of 'Fun in Acapulco' and 'Viva Las Vegas!'—will have to strain to justify this one … it's mighty slim, Presley pickings."
Thompson went on to dismiss every aspect of the film. "The bikini-clad rock 'n' roll cuties aren't bad, but Elvis has surrounded himself with better. Likewise the tunes, and composer Jeff Alexander has done considerably better. Even the scenery, in contrast to the sun-drenched authenticity of those other two pictures, is fairly pallid."
• Colorful Miami Beach scenery not fully utilized
Clambake is set in Miami Beach, but Elvis did not shoot on location in Florida, as he had done in Follow That Dream six years earlier. Pre-production footage was shot in Miami, while all of Elvis' scenes were filmed in the Los Angeles area. Sloppy editing resulted in California mountains popping up in Florida and the sun setting over the Atlantic Ocean. The film contains more than its share of stock backgrounds behind Elvis as he operates car, boat, and motorcycle. Many of the action shots actually filmed in Florida are dark, evidently to mask the use of the actors' doubles. The cumulative result is, as Thompson noted, a pasty backdrop compared to the colorful, exotic settings of some earlier Presley pictures.
At least the story line is obvious from the start in Clambake, unlike the confusing meanderings that marred Double Trouble, Elvis' previous film. "Whit" praised the simple plot in Variety. He credited Arthur Browne's screenplay with having "enough novel twists to keep interest at a high level. Plottage builds to Presley making an arrangement with a local speed boat designer, Gary Merrill, to rebuild his boat that blew up in last year's race and enter in the upcoming Orange Bowl Regatta classic. Lenser William Marguiles is responsible for exciting race footage, some of the best done for such an event, and Arthur H. Nadel forges good suspense in his direction."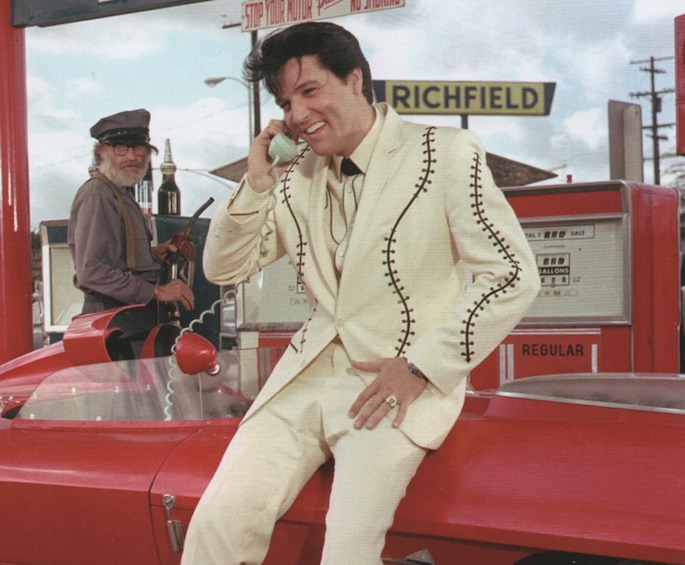 Comedic sight gags, standard in the star's middle sixties movies, are here again, this time with co-star Will Hutchins in the middle of most of them. Elvis gets involved, as well, such as when he knocks out Bill Bixby with one punch after being challenged to a karate fight.
• Dramatic moments better than in recent Elvis films
There is also a dramatic strain in the story, as early on both Elvis and co-star Shelley Fabares struggle with romantic feelings, which inevitably bring them together. Late in the movie a confrontation between Elvis and his screen father, James Gregory, is good enough conjure up visions of an angry, young Elvis in King Creole. But it is a fleeting moment, and Clambake quickly returns to its comedic-musical base.
Comfortable in such light roles, Elvis goes through his paces with the usual flair. Variety credited him with delivering a "better acting job than usual." Since Presley's wealthy character had secretly switched identifies with Hutchins poor one, and since Elvis withholds his true feelings for Faberas's character, he often must express himself through facial expressions instead of words. And he does so effectively in nearly all cases.
• Three ballads are film's musical highlights
On the musical side of things, Elvis' vocals in Clambake are a mixed bag. The best material and best delivered at the ballads, "A House That Has Everything," "You Don't Know Me," and "The Girl I Never Loved." The title tune production number on the beach is pleasant to watch, but the sight of bikini-clad girls helping Elvis repair his speed boat to the irritating "Hey! Hey! Hey!" is, well, irritating. To this Elvis fan, nothing in the film is more disturbing than Elvis singing "Confidence" to a group of children on a playground. Besides being more suitable for a Saturday morning kiddie show, the six-minute-long sequence has absolutely no connection to the main story line.
Amazingly, though, "Whit," who praised every facet of Clambake in his Variety review, actually enjoyed the playground number. "'Confidence,'" he wrote, "is a delightful sequence with a flock of youngsters on a swing; each is logically inserted."
• Elvis' extra pounds reflected growing disinterest in film-making
Elvis' appearance in Clambake is arguably the worst of his film career. His inability to keep his weight down is another indication of his increasing disinterest in making such musical, romantic comedies. And his hair, shooting out in a bushy pile over his forehead, clearly a holdover from Elvis' younger, trendy days, looks strangely out of touch with the styles of late sixties.
For the most part, Elvis' co-stars perform their duties well. Shelley Fabares, back for her third romantic romp with Elvis in two years, is as pretty as ever. Bill Bixby plays a convincing heel as Elvis' rival for Miss Fabares' affection. Variety handed out supporting recognition as follows:
"Presley is surrounded by a competent cast … Shelley Fabares provides pretty distaff interest … Hutchins and Merrill both acquit themselves satisfactorily and James Gregory is sufficiently bluff as Presley's tycoon father who finally sees the light."
• Clambake a symbol of Presley's growing irrelevance
As entertaining as Clambake is in places, the picture, fashioned as it is in the mold of so many Elvis song-filled comedies that preceded it, is evidence of Presley's growing irrelevance in the entertainment business by 1967. His films were steadily falling off at the box office, and his recordings were stalling early and quickly falling off the charts. Even when he returned to his rhythm and blues roots with singles like "Big Boss Man" or the edgy "Guitar Man," his music was being ignored. Following Clambake, Elvis Presley, at age 33, faced a career in decline. Within a year he would answer the challenge and reinvent himself. The defining event, however, would come on the small screen, not the large one. — Alan Hanson |© August 2008
Go to Elvis Movies

Go to Home Page