G.I. Blues
Elvis Movie #5
Paramount | 1960
G.I. Blues got off to an early start. "Paramount is staking $2,000,000 on a bet that Elvis Presley will be more popular than ever following the end of his military stint next March when he resumes picture-making." So stated Hazel Guild about G.I. Blues in her Variety article of September 2, 1959. Guild had interviewed producer Hal Wallis, who was already in Germany shooting locale shots for Presley's next movie, even though the film's star still had six more months of army service ahead of him.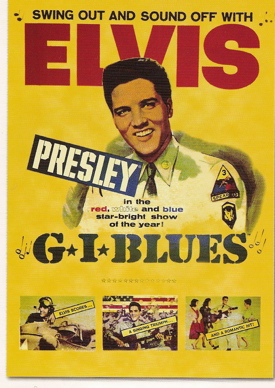 Still, Wallis had it all worked out in his mind. He already had a title—GI Blues,—for what he visualized as a "comedy drama" about G.I.s stationed in Germany. The director told Guild he believed Presley's star value had been enhanced during his time in the army because he had not been exposed to the public through television, concerts, or films. He didn't believe, however, that two years of military discipline would tone down Elvis' "personal contortions and gyrations." He added, with a smile, "His rhythm will have a cadence as a result of his military service."
As for the film's music, Wallis envisioned Elvis singing eight or nine tunes, but not all rock 'n' roll. Elvis' work on G.I. Blues, which would be shot in Vistavision, using a new superspeed Eastman color process, would begin in April 1960 and last eight weeks, according to Wallis. The film would be released later that fall. Wallis told Guild that either Norman Taurog or Michael Curtiz would direct. (Taurog got the nod.)
• Military theaters get early shot at film
While in Germany, Wallis received complete cooperation from the army, who allowed the director to film tanks and heavy equipment from the Third Armored Division, Elvis' outfit. An acknowledgement of the army's cooperation appeared prominently in the opening credits of the finished movie. Also, in a very unusual move, Paramount allowed military camp theaters to begin showing G.I. Blues on October 23, 1960, a full month before the film was released nationally in commercial theaters. (Variety, 11/9/60).
National reviewers, while generally agreeing the movie was trivial stuff, felt G.I. Blues had a chance to play well to American audiences. Variety's review was the first one out on October 19. It assessed the film's chances as follows:
"G.I. Blues restores Elvis Presley to the screen in a picture that seems to have been left over from the frivolous filmusicals of World War II. On the logical assumption that the teenage following that catapulted Presley to the boxoffice top a few years back has grown older, wiser and more sophisticated in its tastes, the rather juvenile Hal Wallis 'comeback' production may have to depend on younger, pre-teen age groups for its chief response. But if the Paramount release is to get by at the boxoffice, it will need the support of Presley's formerly ardent fans."
Under the headline, "Elvis—A Reformed Wriggler," Bosley Crowther's review of G.I. Blues appeared in The New York Times on November 5, 1960. "Well, it's not a question of how you like it," he judged, "—you older, quieter people, that is—you who will naturally like the pretty color and the occasional pleasant scenery of this film. It's a question of how those squealing youngsters, Elvis' erstwhile fans, are going to take to a rock 'n' roll singer with honey in his veins instead of blood."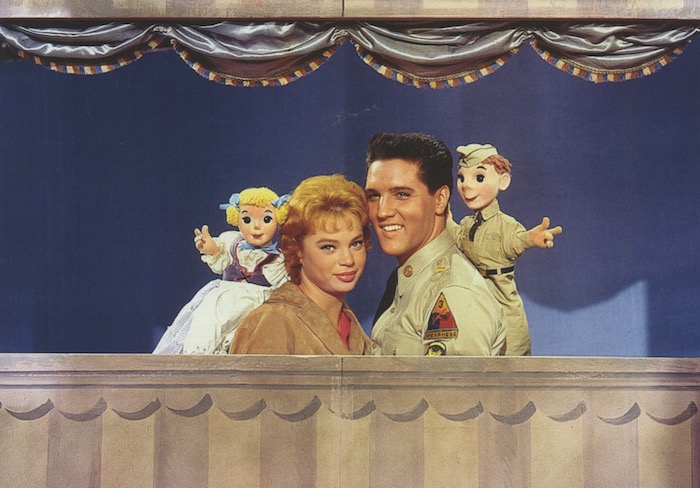 • A Tale of Two Presleys
Crowther spent a good part of his review comparing the new screen Presley with the one of two years before.
"Honest, you'd hardly know Elvis—the pre-Army Elvis, that is—in the sweet-natured, morally straight young soldier now to be seen on the Victoria's screen. Gone is that rock 'n' roll wriggle, that ludicrously lecherous leer, that precocious country-bumpkin swagger, that unruly mop of oily hair. Almost gone are those droopy eyelids and that hillbilly manner of speech. Elvis has become sophisticated. He's a man of the world—almost.
"To be sure, he still sings a brand of music that, to many adult ears, is downright Greek, while he whomps a guitar clamped to his pelvis and rhythmically cracks his knees. And he still gets off solemn aphorisms which are not likely to be attributed to Voltaire, such as 'Ef people got t'know each other better, ever-thin'll be better all around'."
In the end, Crowther decided he liked the new Elvis a little better. "His hairbrush haircut is trim and tidy, his G.I. uniform is crisp and neat and his attitude is cheerful," Crowther observed. "Elvis is now a fellow you can almost stand."
• Evaluating G.I. Blues five decades later
Nearly 50 years after those reviews were written, I sat down to watch G.I. Blues once again. When I was a young Elvis fan in the 1960s, I enjoyed this film, as I can honestly say I enjoyed most Elvis movies back then. Now, though, I was viewing it for the first time in at least 10 years, and, as I did so, I sought to assess the roll of G.I. Blues in the developing film career of Elvis Presley.
As Presley's fifth movie, G.I. Blues had both similarities and differences with Elvis' previous film, King Creole. Hal Wallis and Colonel Parker both learned from the 1958 movie that having Elvis sing often on screen made good business sense. Wallis learned that it brought Presley's core fans into the theaters in droves. Parker learned a full soundtrack album could sell as well, if not better, than a standard studio LP. The strategy validated itself when it was reprised in G.I. Blues. The film fared well at the box office, and the soundtrack album of 11 songs had a long run near the top of the LP charts.
The big difference between this and Presley's previous films was the complete lack of dramatic elements in his new movie. Elvis' pre-army films, especially King Creole, had emotional storylines that challenged Presley's acting ability. Not so with G.I. Blues, which identified itself as a comedy in its opening scenes. As the story rested simply on whether or not Elvis' character could spend the night with Juliet Prowse's character, the plot offered none of the emotional suspense that Presley's previous films at least attempted to develop. And, while G.I. Blues had some humorous moments, overall it failed to deliver as a comedy. At that point in his career, Elvis simply didn't have the comedic ability to carry such a film. (He would fare much better two years later in his next comedy, Follow That Dream.)
• Rating GI Blues on the entertainment scale
Since G.I. Blues is so unpretentious in its plotting, its worth as a film depends solely on its entertainment value. Does it have elements that please viewers and leave them happy and satisfied?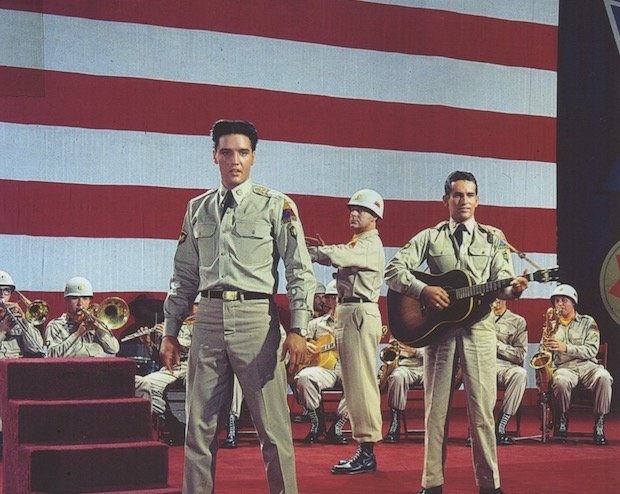 Let's start with the star himself. Elvis certainly looks good in this film. He obviously had physically matured during his two years in the army. Gone for good is the greasy pompadour (although, as a military veteran, I can testify that no soldier would ever have been allowed to have as much hair on the top of his head as Elvis had in G.I. Blues).

I liked how Elvis smiled often during his musical work in the movie. His pelvic contortions of the fifties were replaced with less energetic twisting hips, shaking shoulders, and facial contortions. (Somehow the gyrations of his earlier years would have seemed out of place in G.I. Blues.) Just on appearance, then, Elvis fills the bill, despite being given no real acting to do.
As for the music, which both the Variety and Times reviewers panned, I felt it was overall pleasing and varied. To be sure, Elvis' musical numbers do lack the excitement seen in his previous movies. ("Presley sings them all as a slightly subdued pelvis," observed Variety.) Still, Elvis' voice was strong and clear, and impressive soundtrack LP sales indicate the songs were pleasing to many filmgoers.
• Juliet Prowse showed legs and acting ability
The female lead, as often happened in Presley's career, received better reviews in the film than did Elvis. Variety noted, "Miss Prowse is a firstrate dancer and has a pixie charm reminiscent of Leslie Caron. She deserves better roles than this." I have to admit that during my recent viewing I was more taken with her work in G.I. Blues than I had been in previous viewings years before. It's difficult to take your eyes off of her legs during her two dance numbers, and she makes a believable transition from ice-hearted to vulnerable woman in the film. I found Tulsa and Lili's day out together, during which their affection for each other builds, to be the most pleasant segment in the film. In terms of on-screen chemistry in Elvis films, I would rate the Presley-Prowse match second only to Elvis and Ann-Margret.
So, yes, despite G.I. Blues being a step backward in Elvis Presley's dream of becoming a serious actor, I found enough entertainment value in the movie to rate it in the upper third of his films. Unfortunately, the commercial success of both the movie and its soundtrack album solidified the formula for many disappointing films to come. Within a few years, Elvis would find himself trapped in a Hollywood vortex of increasingly feeble films, whose origin can be traced back to G.I. Blues. — Alan Hanson | © March 2008
Go to Elvis Movies

Go to Home Page