Girl Happy
Elvis Movie #17
Metro-Goldwyn-Mayer | 1965
When Metro-Goldwyn-Mayer released Girl Happy in the spring of 1965, it signaled the beginning of a third phase Elvis Presley's Hollywood career. In his first seven movies, starting with Love Me Tender in 1956 and ending with Wild in the Country in 1961, 20th Century Fox and Paramount fashioned musical dramas designed to develop Elvis' acting talent. Blue Hawaii opened a second phase of Presley pictures in 1961, when Hal Wallis and other producers began cutting back on dramatic content and featuring Elvis in light, musical comedies set in colorful locales. Girl Happy, however, was the first of a dozen straight Elvis pot-boilers, low-budget, formulaic productions designed to keep money flowing to Elvis and the studios. With the thinnest of plots, these films were aimed solely at Presley's loyal followers, who needed only to see their favorite on screen and hear him sing. As the lead-off feature in this phase, Girl Happy was arguably the best of the bunch.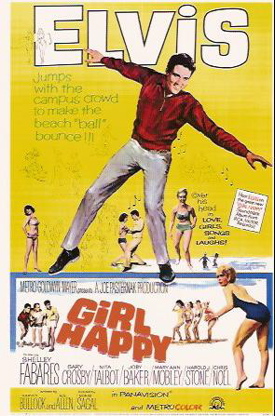 Variety's reviews of past Presley films had generally encouraged the star to take on more challenging roles. However, in it's review of Girl Happy on January 27, 1965, Variety seemed to concede the star had chosen a different, less challenging direction. "Elvis Presley … has another musical winner in this Joe Pasternak production," conceded the paper's reporter. "A story line unburdened by anything but lightness and a dozen song numbers belted out in singer's customary style provide the type of pleasant fare which Presley's fans have come to expect. Film, lavishly produced in a glamorous background, shapes as a money entry."
• Trade pubs praised Girl Happy
And, if the "Trade Raves" that Metro included in a full-page Variety ad were not too far out of context, other reviewers agreed on the substantial entertainment value of Girl Happy.
The Film Daily: "Romantic musical with bounce and spirit. Good box-office. It is fashion for fun and frolic."
The Hollywood Reporter: "A picture with a sharp, trim, bright decoration, lively action. Should do the customary brisk Presley business."
Motion Picture Daily: "A snug fit for the Presley talents. He seems to enjoy the picture as much as his audiences will."
As for this reviewer, I found Girl Happy much more engaging during a recent screening than I had remembered from my first viewing on its release in theaters 43 years ago. Elvis plays an aggressive, scheming, sexually-charged young rock musician, who does whatever it takes to reel in shapely Mary Ann Mobley, including manhandling her at one point. (No doubt a turn-on for Elvis' female fans.)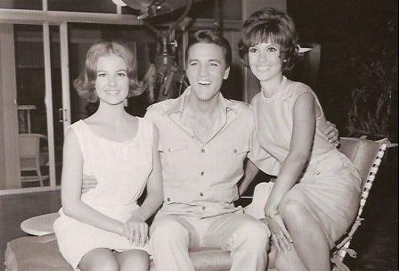 • Film picks up after slow start

The film does take some time to hit its stride. Presley's fellow band members, Gary Crosby, Joby Baker, and Jimmy Hawkins, all excel in over-acting from the get-go. The Seadrift Hotel looks tacky compared to sets in previous Elvis flics. And the same word applies to the song "Fort Lauderdale Chamber of Commerce," as well as the distress call that has the musicians popping their heads up out of the bushes whenever Elvis yells, "May Day!"
At about the midway point, however, Girl Happy suddenly morphs into entertaining stuff. It happens when the heretofore devious Elvis falls for Shelly Fabares, the girl he had been keeping an eye on for her father. "You're very nice and very special," she tells him, awakening his conscience in what is the only really serious moment for Presley's character in the film.
When Mobley ambushes Elvis in his hotel room, it results in a humorous back-and-forth, in which Elvis tries to keep the two girls from seeing each other. That's followed by a touching scene, in which Fabares learns her father has been paying Elvis to keep her out of trouble. A nightclub fight supplies great action, followed by an equally entertaining sequence at the town jail. Finally, there is a sentimental conversation in which Big Frank finally softens to his daughter's pleas for independence.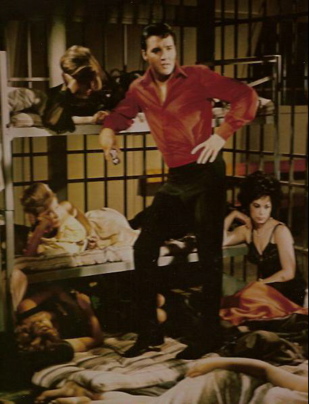 • Mature Elvis keeps his clothes on
Elvis looks great on screen, as usual, although at age 30 his maturity is starting to show in his face. Strangely, Presley's physique remains hidden throughout the picture. He is shown sunning himself both poolside and on the beach wearing long sleeve shirt and full-length pants. He even wears a jacket while water-skiing. Elvis doesn't appear to be over-weight in the film, so the decision to keep him covered is a puzzler. There is certainly plenty of female skin revealed on the screen.
• Plenty of music, as usual in Presley films
Music was a prime ingredient in all the Presley pot-boilers of the mid- to late-sixties, and as with all of them, Elvis' songs in Girl Happy present a mixed bag. The title tune is a catchy one, although it sounds a bit odd due to its original recording having been speeded up. Elvis' voice is crystal clear on his three ballads, "Do Not Disturb," "Cross My Heart," and "Puppet on a String." To my ear, though, the uptempo numbers, "Startin' Tonight," "The Meanest Girl in Town," and "I Got To Find My Baby," all have the strained sound of manufactured rock 'n' roll. They don't have the natural feel of pure rhythm and blues that Elvis was capable of delivering, even at age 30.
Evaluating Elvis' movie soundtrack numbers is subjective, of course, and Variety's reviewer had his own opinion. "As usual, songs and production numbers highlight the action," he noted. "Perhaps the two top numbers are 'She's Evil,' in which star is backed by his three-man combo and Shelley Fabares, femme lead, and 'Wolf Call,' which Presley reprises for a romantic climax."
New York Times reviewer Howard Thompson evaluated Elvis' vocal work as follows: "The saving grace is the steady stream of tunes, as rhythmical as they are unoriginal, belted out by the star and the other youngsters. That's one thing—for those who care—you can always count on in Presley frolic."
• Elvis handles acting responsibilities well
With no other big names in the cast, Elvis had to carry the primary acting load on his own. His experience playing light comedic roles was evident, and he shouldered his burden well in Girl Happy. "Presley undertakes his role with growing naturalness," was Variety's judgment.
Variety handed out kudos to the supporting players as follows: "Miss Fabares is cute and pretty in an undemanding role, and star gets strong support from Gary Crosby, Joby Baker and Jimmy Hawkins (as his combo) both musically and in the comedy field. Mary Ann Mobley as a charmer has her moments. Harold J. Stone gustily socks over the father role and Fabrizio Mioni and Peter Brooks play students. Jackie Coogan amuses as a cop."
To many critics, and even some Elvis fans, Girl Happy ushered in a period of steady decline in the quality of Presley movies and in the Hollywood stature of the star himself. However, many Presley fans, including this one, still find viewing the film an entertaining experience. The bottom line is that Girl Happy placed a respectable #25 in Variety's list of "Big Rental Pictures of 1965." Evidently, there were quite a few other people back then who felt Elvis Presley was still capable of delivering solid motion picture entertainment. — Alan Hanson | © June 2008
Reader Comment: Not everyone has your high brow taste. I have been a fan of Girl Happy since I first saw it years ago at my grandpa's. There is something to be said for escapism. Thank God I can still watch something without picking it apart, which is what you do. Just once watch an Elvis film without asking what part of his career he was in. Enjoy short fun lyrics that move the story line or just move time, and see where you wind up. It is not always necessary to see art or feel an event. Sometimes it is cool to just hang out with a truly talented musician/actor in a great story and just take in the music . — Carole (March 2018)
Go to Elvis Movies

Go to Home Page