Viva Las Vegas
Elvis Movie #15
Metro-Goldwyn-Mayer | 1964
Certainly Viva Las Vegas is one of the most remembered of Elvis Presley's 31 theatrical films. That's due to two factors. The first is the pairing in the lead roles of Presley and Ann-Margret, two of Hollywood's hottest film commodities in 1964. The second is the film's theme song, which through the years has served as the unofficial anthem of the booming entertainment center in the Nevada desert.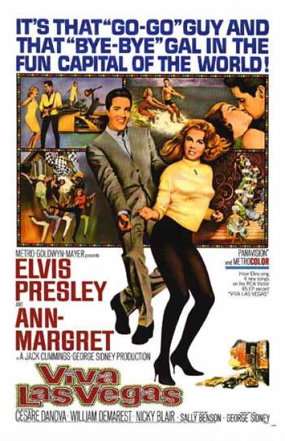 While not considered a critical masterpiece, Viva Las Vegas is a classic in its presentation of its two energetic, young musical stars. Everything else in the film is secondary to the screen rapport between Elvis and Ann-Margret. With camera angles accentuating the attractive physical features of both, it is difficult for the average viewer to focus on other aspects of the movie.
When reviewers considered Viva Las Vegas on its release in 1964, however, they were obliged to look beyond the film's stars in forming their assessment. Their appraisals varied, and so the movie received mixed reviews.
Variety's review appeared on May 20, 1964, and The New York Times printed its analysis the next day. Variety's reviewer, identified only as "Tube," acknowledged that the "sizzling co-star combination" guaranteed box office success for the film. On the screen, however, "Tube" judged Viva Las Vegas to be a "pretty trite and heavy-handed affair, puny in story development and distortedly preoccupied with anatomical oomph."
• A pleasant, musical romp
For the Times, however, Howard Thompson gave the picture a pleasant, if not glowing, review. "Coming on a balmy day, with no pretensions of art," Thompson wrote, "'Viva Las Vegas,' the new Elvis Presley vehicle is about as pleasant and unimportant as a banana split. And as fetching to look at, it might be added. By now, after some rocky beginnings, the Presley movie formula has leveled off to a series of musical romps that are extremely easy to take."
The difference between the two reviewers was that Variety's still operated under the impression that Presley should be making more serious films, while Thompson at the Times understood that Elvis and his Hollywood handlers had come to the realization that light, musical comedy was the star's box office niche in pictures. So, while "Tube" kept looking for dramatic substance in Viva Las Vegas and found only a "hackneyed yarn," Thompson sat back and allowed the unassuming and visual narrative to have its way with him.
"This time Metro-Goldwyn-Mayer happily teams him with Ann-Margret, a perfect musical foil with her galvanized dancing," Thompson noted. "The story … as directed by George Sidney, tools along rosily.
"All this, from the pen of no less a writer than Sally Benson, unfolds against the stunningly picturesque background of the famed desert resort, photographed in excellent color. Miss Benson's script snugly combs the entire area, from the neon-spangled clubs, casinos and hotels to Boulder Dam Lake. And the picture winds up with a wing-ding of an auto race across the countryside. Whatever it isn't, 'Viva Las Vegas' remains friendly, wholesome and pretty as all get-out."

• Auto race one of most exciting passages ever put on film
Even "Tube," who seemed disappointed with most of the film, was impressed with its car race sequence. "This depiction of an auto race is one of the most exciting passages of its type ever put on film," the Variety reviewer gushed. "The driver's eye-view position in which the audience is placed as the cars whoosh over the swoops and dips of the desert highway engenders a genuine sensation of giddiness in the spectator—much like that generated by a roller coaster ride in Cinerama."
One puzzling element of the race sequence involves the fate of Cesare Danova, Elvis' romantic and racing rival in the film. Danova's character, Count Mancini, receives sympathetic play through much of the film, but when he is involved in a horrific crash near the story's end, no one seems to care beyond a "that's-a-shame" shrug from Elvis as he drives on to victory. (Somehow the Count survived the crash. He appears, apparently uninjured, in the wedding scene ending the film.)
• Elvis and Ann-Margret shared musical spotlight

Of course, with two versatile musical talents available, Viva Las Vegas is packed with song and dance numbers throughout. Elvis sings seven solo tunes, and Ann-Margret performs two songs, along with showcasing her dancing talent several times. The two also combine for a vocal duet and a couple of dance numbers. It was the only time in Presley's film career that he shared the spotlight with a performing talent of comparable ability. Reluctantly, this Elvis fan must admit that Ann-Margret held an edge over him in their musical performances in Viva Las Vegas. Choreographed dancing was never Elvis' strength, and while he was lively enough on his feet in this film, he couldn't quite match his co-star's energetic dancing style.
Variety parceled out the performing kudos as follows: "Neither EP nor A-M fares too well histrionically, but then this isn't the kind of vehicle that demands high-powered emoting … A few of the musical specialties have some merit and sparkle. The title tune gives Presley his meatiest and most commercial sounding material. His co-star's best number, although not her most sensually torrid, is the 'My Rival' routine in which she laments the competition of his would-be profession. They pair up most successfully on 'The Lady Loves Me,' which has the earmarks of a fairly popular wax entry."
• Too much emphasis on female physical assets, says Variety
For other reasons, though, Ann-Margret received some scolding from "Tube." He thought the starlet's physical assets were overstressed in the film:
"Any excuse to stare at a derrierre in motion seems good enough for director George Sidney and cameraman Joseph Biroc. The provocative pulchritude of Ann-Margret and assorted other chicks and chorines makes the sexy scrutiny downright pleasurable to the male eye, but there is a certain lack of tastefulness or subtlety about the film's obsession with peeping at anatomical contours and epidermis simply for the sake of peeping."
Of course, norms for such arousing displays in films have changed in the past 45 years. Today the worst that can be said about Ann-Margret in Viva Las Vegas is that she was just too darn cute.
Elvis and Ann-Margret shared no classic romance (at least on-screen) in Viva Las Vegas. In fact, the stubbornness of their characters was more reminiscent of a volatile teenage romance. The only real amorous stretch in the film was the day the two starry-eyed young lovers spent together flying, waterskiing, and nightclubbing. It was enough, though, to link the two young entertainers together in the public consciousness for decades to come. There will always be speculation concerning the personal relationship between Elvis Presley and Ann-Margret, but Viva Las Vegas will always be ready to testify to the magic they created together on-screen back in 1964. — Alan Hanson | © June 2008
Reader Comment: I'm watching Viva Las Vegas for the first time since seeing it with my Mom at the Gordon Theater in Baton Rouge, Louisiana, in 1964 or 65. I was about 8 years old. I always thought there had to be a romance between Elvis and Ann-Margret (I had a HUGE crush on her when I was a kid). — Danny (2017)
Go to Elvis Movies

Go to Home Page