Roustabout
Elvis Movie #16
Paramount | 1964
I was nearly 17 overall and three years into my life as an Elvis fan when Roustabout arrived at the Fox Theater in Spokane during the holiday season of 1964. My brother and I went to see the movie one Saturday afternoon. The anticipation of hearing Elvis sing a new set of songs triggered feelings of both optimism and angst in me as I viewed Elvis' latest feature that day. It was Presley's third film that year. For Elvis fans like me, Kissin' Cousins proved to be a major disappointment, while Viva Las Vegas had been magnificent. Which one would Roustabout resemble?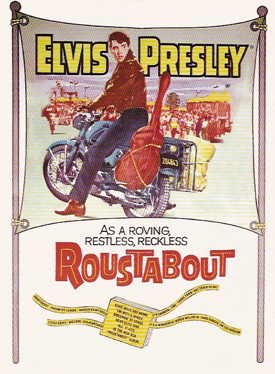 In the final analysis, Roustabout can be placed somewhere in the middle between Elvis' best and worst feature films. The carnival setting was new, but Elvis reprised the basic role that had worked best for him in the past. In six of his first seven movies, Elvis had played the angry, young man. He played that part best in 1958's King Creole, and his last previous role as a troubled youth had been in Wild in the Country in 1961. As Presley moved into his late twenties, he was given more adult roles, but here he was at age 30 playing another immature ruffian with a chip on his shoulder.
It takes a long time for the viewer to warm up to Charlie Rogers, Elvis' character in Roustabout. As a tea house singer in the film's opening sequence, he heckles a group of college boys in the audience, then later uses karate to chop them up in the parking lot. (It is the first of four Elvis fight scenes.) Rogers comes on pretty aggressively with three different females in the film. (His best line: "You could get a little closer. I give off a lot of body heat.") His boorish approach twice gets his face slapped. Each time he flashed that angry sneer he perfected in King Creole and a few of his other early films.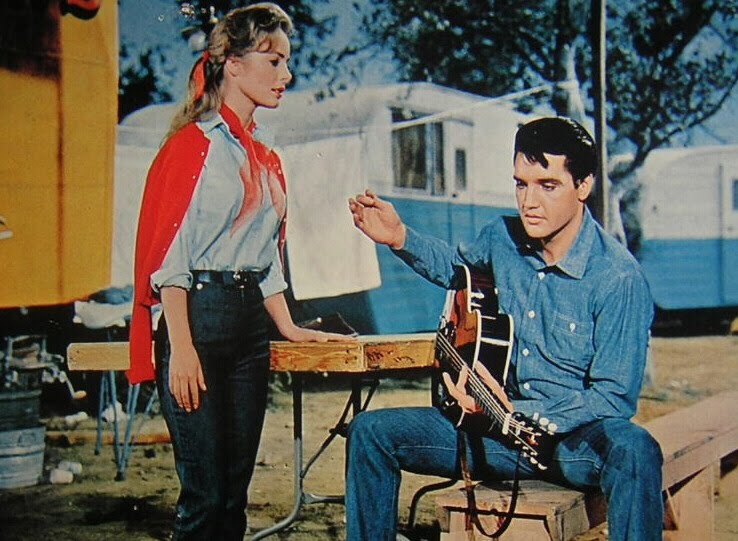 • "You're a cruel boy, Charlie!"

Decked out in black leather and sporting a perpetual sneer, Elvis' character had the bad boy look down pat. And he talked tough, too. After disposing of the college boys, he is advised to flee before the police arrive. "It might mean trouble," he's told. "So what else is new?" responds a defiant Elvis. "You've got your religion; I've got mine," the self-centered hooligan later tells Barbara Stanwyck of her character's love for the carny life. "You're a cruel boy, Charlie," she responds, summing up Elvis' attitude for most of the picture. Of course, he softens up later on, and the film ends with Elvis on friendly terms with all the carnies who had come to hate him earlier in the story.
The New York Times passed on reviewing Roustabout, but Variety printed its assessment of the film on November 11, 1964. The reviewer belittled the picture, while nevertheless predicting its financial success: "Elvis Presley-starrer, 'Roustabout,' is a gaudily-staged, tritely-scripted film looming as a box office smash, based on lure of Presley name and co-billing of Barbara Stanwyck and expensive quality of the Technicolor, Techniscope frame provided for 11 Presley songs."
Variety had a problem with the film's unimaginative story. "Hoary script by Anthony Lawrence and Alan Weiss is loaded with clichés outdated in Tom Swift days," the review read. "Cliches are too numerous to enumerate. Carny is failing financially because payments cannot be met on note held by bank. Presley's singing brings in customers and prosperity, but he deserts to another show after fight with [Leif] Erickson and misunderstanding with Miss [Joan] Freeman. Involved is lost wallet for which Presley is blamed, dark-haired vamp (Sue Ane Langdon) who pants after Presley, and ever-present phony spirit of carny camaraderie. Almost too inane to consider is showdown fight between Presley and Erickson, and musical finale with enemies and friends smiling happily."
• Miss Stanwyck's talent wasted
Granted, the dramatic hook in Roustabout is weak, but, then, that had been standard for Presley flics for the past several years. Still, the characters are able to generate a bit more tension than can be found in most Elvis movies of the mid-sixties. The first third of the film is concerned with building up Charlie's reputation as a heel. Miss Stanwyck's character kicks-in mid-film to deal with the carnival's financial woes. The incident of the lost wallet, coming about an hour into the story, turns everyone against Elvis, who winds up getting his face punched four times over it.
Variety's review declined to comment on Elvis' performance in the film but did commend the work of several co-stars: "Good cast tries its best to cope with nonsense but it's losing battle. Miss Stanwyck's talents—she's had four Academy Award nominations in distinguished career—are totally wasted. Miss Freeman hasn't much to do except wring her hands when father and boyfriend get in fights, but does it prettily. Standouts in smaller roles are Pat Buttram as owner of rival carny and Steve Brodie, obnoxious customer in baseball-tossing game."
Brodie indeed comes off well as the baseball pitcher whose tosses continually drop Joan Freeman into a water tank. When Elvis intercedes on behalf of the freezing girl, "Freddie" threatens to "break his spine." Of course, a fight ensues with Elvis the one-punch loser. (Elvis movie fans will remember Brodie in Blue Hawaii, where he had an almost identical role as an obnoxious tourist whose antics led to a nightclub brawl.)
• Elvis' 11 tunes a mixed bag
As for the musical soundtrack, which so concerned me on first viewing Roustabout back in 1964, it turned out to be a mixed bag. Since Elvis played a singer in the film, all 10 songs he performed, with the possible exception of the finale, fit nicely into the flow of the story. His four carnival stage numbers, "One Track Mind," "Hard Knocks," "Little Egypt," and "Big Love, Big Heartache," all effectively feature a spotlight on Elvis against dark backgrounds. The staging of the "Little Egypt" number is the musical highlight of the film.
Variety praised the music in Roustabout as follows:
"Composer-conductor Joseph J. Lilley's score and featured songs are best part of Hal Wallis pic, with Presley delivering latter in the pleasant, tuneful style he has developed. 'I Never Had It So Good,' 'One Track Heart,' and 'Hard Knocks' all have hit possibilities. Production numbers staged by Earl Barton and vocal accompaniment by The Jordanaires, add to plus value of music."
("I Never Had It So Good" is a mystery. It's not even close to the title of any song Elvis performed in Roustabout.)
• Roustabout has developed some charm over the years
Roustabout was not as big a hit as its predecessor, Viva Las Vegas. As Elvis' co-star, the well-respected Barbara Stanwyck brought some legitimacy to Roustabout, but at the box office she could not expand on Presley's core audience like Ann-Margret did in the Vegas film. I recall being a little disappointed with Roustabout when I viewed it on its release in 1964. All these years later, however, I'm not as focused on its music as I was then, and so I find the overall movie to be solid, if light, entertainment. But then, my positive assessment of the film these days may also be based on something I now know about Roustabout that I didn't know in 1964—the declining quality of most Elvis movies that would follow it. — Alan Hanson | © June 2008)
Go to Elvis Movies

Go to Home Page