Frankie and Johnny
Elvis Movie #20
United Artists | 1966
"'Frankie and Johnny' is a sure-fire boxoffice entry. It's Elvis all the way in a story built loosely around the classic folk song, coupled with a dozen or so tunes, pretty girls and Technicolor. Frederick de Cordova directed the Edward Small production, which hits the mark as pleasant entertainment, and is certain to be another Presley money-winner."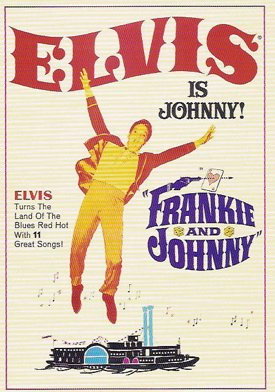 So Variety began its March 30, 1966, review of Elvis Presley's twentieth Hollywood effort. In Presley movie reviews of those days it was standard to lead with a prediction of certain financial success for the film. And make no mistake, in an industry in which most projects lost money in the sixties, recognition of Elvis' ability to deliver box office success for his films was real and well-deserved praise.
Although a United Artists production, Frankie and Johnny was filmed on MGM's Hollywood lot from May 24-June 23, 1965. It was the first major motion picture starring role for Donna Douglas, who played Elvis' love interest in the film. It was the last movie directed by Frederick de Cordova, who was previously best known for directing Ronald Reagan in the 1952 feature Bedtime for Bonzo. Frankie and Johnny premiered in Baton Rouge, Louisiana, on March 31, 1966.
• The Beatles' challenge required an answer from Elvis
When I saw the film as a teenager that year, I remember being rather dissatisfied with it. All my friends had gone over to the Beatles by then, and in his records and movies, I kept looking for the King to answer the Fab Four's challenge to his throne. Frankie and Johnny was another disappointment, mostly due to its uninspired music. Elvis singing "Look Out Broadway" and "Down by the Riverside" was definitely not going to win back the fans he had lost to the Beatles.
During a recent viewing, however, the film seemed to offer better entertainment than I remembered from that first viewing over 40 years ago. It gets off to a good start, with its colorful costumes and comedic lines. As Elvis' sidekick, Harry Morgan offers a series of punch lines with Presley as his straight man. Miss Douglas, Nancy Kovak, and Sue Ane Langdon are an eye-catching trio of bosomly beauties.

Elvis plays a loser, both at gambling and at love. Evidently, he was intended to be a likeable loser, but it's hard to warm up to his Johnny with his numerous missteps and deceptions. At age 30, Elvis is his old handsome self, although he obviously had put on a few pounds since he was last seen on the screen in Harum Scarum. Unlike in that previous film, Elvis actually seems to be enjoying himself in Frankie and Johnny. He wins the film's one fistfight, seemingly included to continue the custom of having at least one brawl in every Presley film.
"Elvis is Elvis," explained Variety's reviewer. "He sings and acts, apparently doing both with only slight effort."
• Film's momentum faded slowly away
Unfortunately, the second half of the film can't keep up the momentum. Johnny's repeated and futile efforts to get rich gambling get tedious; the parade sequence puts Elvis in an awkward situation, both musically and physically; and half the characters (Sue Ane Langdon most notably) are drunk most of the time. According to Variety, the picture "proves to be nothing more than an hour and a half romp, providing a showcase for Presley's songs. He does 12 of them, including the title tune."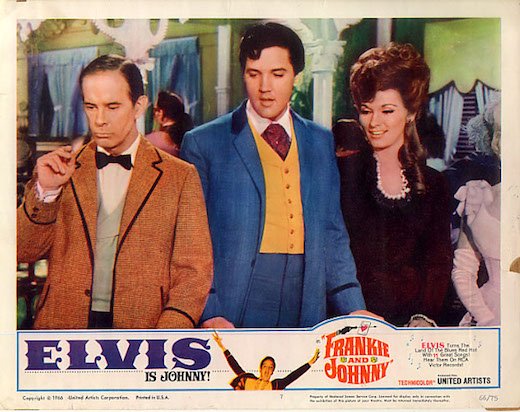 The dozen songs, a collection of mostly ballads, standards, and period pieces, are weak overall. Exceptions include "Please Don't Stop Loving Me," a pretty ballad, and an uptempo number that Variety's reviewer singled out for special mention. "Presley does little hip swinging, no doubt in keeping with the period of the story, although he does get a chance to bounce out one number—'Shout It Out'—with Dixieland accompaniment."
• Production number the musical highlight
The musical highlight of the movie, however, is the title tune, worked into a colorful and entertaining production number. It's so good that it's used twice, once in mid-film and again near the end, when, for a few seconds, the film actually tries to make the audience believe Johnny is dead from a gunshot wound. It doesn't work for a second, of course. With not a serious moment in the entire film, why would anyone believe one would come at the end?
Variety's reviewer handed out kudos to the supporting cast and crew as follows:
"Miss Douglas (Frankie) and Miss Kovak (Nellie Bly) endow pic with generous visual attractions, and the love interest for Elvis. Sue Ane Langdon (Mitzi) gets a chance at a number of cute situations as the girl who is always edged out in the romance department. Harry Morgan and Robert Strauss come across well as the piano player and the boss' stooge respectively. Anthony Eisley is adequate as the riverboat owner.
"De Cordova's smooth direction, coupled with Grant Whytock's editing, gives a nice pace to the musical, helping to add to the easy-going relaxing mood of the whole thing. Jacques Marquette's camera work is good, especially on the Elvis songs and the 'Frankie and Johnny' production number."
• Was the King starting to slip at the box office?
Although no more pretentious and no less entertaining than the half dozen Presley films that preceded it in the mid-1960s, Frankie and Johnny stands as evidence that Elvis' name on the marquee was finally starting to lose some of its luster by 1966. In 1965, three Presley films (Girl Happy, Roustabout, Tickle Me) all finished in the top 30 on Variety's list of "Top Rental Pictures" of the year. Each grossed over $3 million. By the end of 1966, however, Frankie and Johnny would gross barely over $2 million, placing it down at number 47 on Variety's list. Elvis' other two movies in 1966 would fare no better. It seemed as if even Presley's loyal following was beginning to tire of seeing him in the same old thing. — Alan Hanson | © July 2008
Go to Elvis Movies

Go to Home Page