Spinout
Elvis Movie #22
Metro-Goldwyn-Mayer | 1966
"'Spinout' is an entertaining Elvis Presley comedy-tuner, in which four gals compete for his attention between nine new songs. Well-produced by Joe Pasternak, and directed with verve by Norman Taurog, pic has Elvis as the leader of a touring rock-roll group. Racing car plot line adds another lure for the young market, while many subsid comedy situations maintain interest. Presley fans will rally to the b.o., and other drop-ins will likewise be diverted by this Metro release."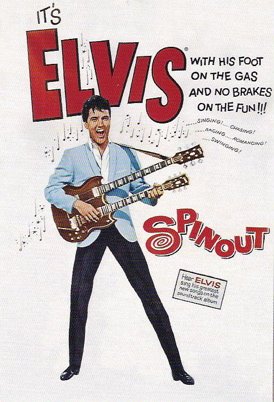 Thus did Variety begin its firmly positive (if not glowing) review of Spinout on October 19, 1966. The reality is that this Elvis feature was no better (or worse) than the half dozen flimsy-plotted musical comedies Presley had churned out over the previous two years. Perhaps Variety had finally realized the star's screen approach was not going to change, and it's reviewers had decided to cease giving his frequent efforts the critical look they gave more serious films.
A more cynical view is that Variety realized a negative review might put at risk the steady flow of advertising dollars that Presley films contributed to the paper's coffers. After all, MGM did run the usual two full-page ads in Variety for Spinout, one on November 2 and another on December 7.
• Spinout bored New York Times reviewer
Out in the environs, Spinout received less positive reviews. In New York City it opened on December 14, 1966, on a double-bill with Marco the Magnificent. In its review the next day, the New York Times was equally dismissive of both features. "This transparent package, which landed heavily at local theaters yesterday, is neither a bargain nor a colorful Christmas bauble," concluded the Times reviewer. The rest of the paper's short review of Spinout reads as follows:
"Mr. Presley, to be precise, has made more than 20 films, but the minor variation this time is that he prefers racing cars and bachelorhood to the cuties his crooning captivates. There are, to be exact, Diane McBain, Deborah Walley and Shelley Fabares as the charmers vying for his hand. But our handsome hero, who loves his Duesenberg more than any dame, manages to sing eight songs (the reviewer must have slept through the ninth), win the big road race and remain foot-loose and fancy free. 'I'll Be Back,' he chants in one number, which should be a welcome hint only to those juveniles whose motors he starts racing."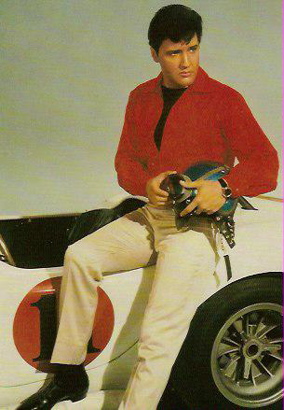 Well, I was certainly a juvenile back in 1966 when I first saw Spinout, but I wouldn't exactly say Elvis got my motor racing that day. Handsome in his wardrobe of suits and vests with open collars, he obviously had shed a few pounds from the portly frame he displayed in his previous film, Paradise, Hawaiian Style. He certainly flashed his famous smile often, always pairing it with his trademark sneer. And what about all that kissing? In Spinout Elvis most certainly set a personal record for face-on-face time in his Hollywood movies.
• Bits and pieces from past Presley films
One of Elvis' tunes in the film is titled "Smorgasbord," and that's exactly whatSpinout provides, a collection of plot devices, characters, and actors seen in previous Presley pictures. Shelley Fabares, Jack Mullaney, and Jimmy Hawkins all reprise similar roles from past Elvis movies. The latter two, along with Walley, overplay their roles as members of Elvis's quartet, reminiscent of the star's bands in G.I. Blues and Girl Happy. Then, of course, there's a road race to remind us of Viva Las Vegas. (One long-running element of Elvis movies—the fistfight scene—is inexplicably missing from this film, though.)
Spinout's screenplay was obviously designed for slapstick comedy. Naming Presley's bandmates Larry, Curly, and Les was an early clue to where this film was headed. And the wild road race sequence, while entertaining, was clearly patterned after similar scenes in the comedy classic It's a Mad, Mad, Mad, Mad World, released three years earlier.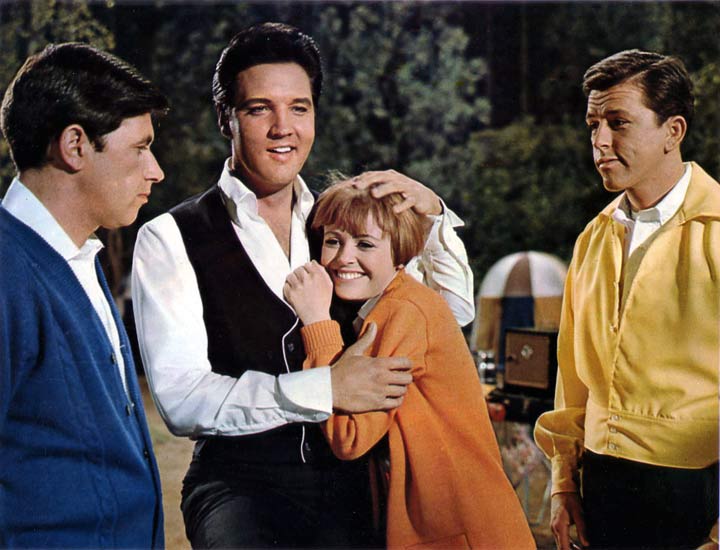 • Soundtrack tunes allowed Elvis to rock out a bit

Elvis' vocal material in Spinout thankfully is several notches above what he had been provided in recent movies. Uptempo numbers such as "Stop, Look, Listen," "Never Say Yes," and the title tune allow Elvis to cut loose a little bit. "All That I Am" and "Am I Ready?" are a couple of pleasant ballads. Variety assessed the musical soundtrack as follows: "All nine songs, unbilled, have a good varied rhythm. The Jordanaires again render solid vocal support. Jack Baker staged the production numbers to good cinematic effect."
Unfortunately, the production numbers suffer due to some inopportune mid-sixties timing. The movie was apparently filmed in the roughly six-month window when the "Jerk" was the hot dance style. The continual and distracting arm-chopping motions of the dancers surrounding Elvis as he sings make it easy to understand why this particular dance craze was short-lived.
• Walley the standout among supporting cast
Deborah Walley is definitely the star of the supporting cast. The enthusiasm and varied facial expressions of the cute former screen Gidget steal many a scene. From early on, I found myself rooting for her character to win out among the trio of girls vying to get Elvis to the altar.
Variety's reviewer doled out supporting cast kudos as follows: "Taurog has obtained uniformly good performances, with Miss Walley particularly good as the prime comedienne … Jack Mullaney and Jimmy Hawkins provide laughs as other members of the Presley group. Cecil Kellaway and Una Merkel do nicely in brief footage as an old married couple … Chic Diane McBain's speaking voice would turn on anybody."
An early December MGM ad in Variety boasted of "$1,750,000 at 400 theatres over Thanksgiving week!" If true (which is doubtful), hardly anyone went to see Spinout in December. In Variety's early January list of the "Big Rental Pictures of 1966," the film finished with a gross of $1,770,000 for the year, good enough for fifty-seventh place on the list. (Variety projected that Spinout would bring in $3 million before it was through.)
• Is the real Elvis still in there?
While Spinout certainly has its entertaining moments, it just never seems to gain momentum. Instead, the story and characters meander here and there leading to a surprise ending, which should be no surprise to any viewer who pays attention. When I think about Spinout, the scene that comes to mind is of Elvis at a party slapping his guitar as couples dance all around him. As he fixes his gaze on various girls, he bursts forth with an occasional "Alright!" or a "Hey, Hey, Hey!" The scene is so unrealistic and unconvincing that I almost feel embarrassed for Elvis. Back in 1966 it made me wonder if there was anything left of the real Elvis inside that Hollywood doll figure. Thank goodness the coming years would reveal the answer to be "yes." — Alan Hanson | © July 2008


Go to Elvis Movies

Go to Home Page