Harum Scarum
Elvis Movie #19
Metro-Goldwyn-Mayer | 1965
It would take "a 55th cousin to P. T. Barnum to sell this picture." That was Colonel Parker's take on Harum Scarum in a letter to MGM prior to the film's release in November 1965. Well, who am I to disagree with the man who engineered the finances-first-creativity-be-dammed Hollywood contracts for Elvis Presley. I know there are some loyal Presley fans out there who actually like Harum Scarum, but I'm one loyal Elvis fan who has trouble finding anything positive to say about this movie. At age 30, Presley had reached a low point in his film career.
MGM put Harum Scarum in the hands of producer Sam Katzman, director Gene Nelson, and writer Gerald Drayson Adams. Considering this was the same trio responsible for the feeble Kissin' Cousins a year earlier, the outcome of Elvis' nineteenth picture was predictable. Actually, according to Elvis biographer Peter Guralnick, the star was enthusiastic when he arrived at the MGM studios to begin filming his newest picture in March 1965. He liked Gene Nelson and was looking forward to working with the director again. "Whatever enthusiasm he felt pretty much evaporated on the first day of shooting," observed Guralnick, "as it became instantly clear that the story was a joke."
Presley's lack of enthusiasm is painfully evident in the film, as he moves listlessly from scene to scene. Elvis had made some weak movies before, but at least he seemed to be enjoying himself on screen. Not so here. He barely even moves during his nine musical numbers, and the screenplay provided few opportunities for the star to flash his famous smile.
• Variety—Presley's performance lacked spirit
Variety's review of October 7, 1965, noted Elvis' lack of energy. "If Presley were any more relaxed, Perry Como and Bing Crosby would have to retire," the reviewer declared, "but he gets into the general spirit of things and he's Elvis. With anybody but Elvis Presley to gun possibilities this would be a pretty dreary affair at the box-office. Elvis, however, apparently can do no wrong—even if producers do manage—and 'Harum Scarum,' which suffers from a lack of imagination in providing star with a substantial showcase but enabling him to belt out eight song numbers, will probably meet with response similar to Presley's past entries."
• NY Times—"Something terrible is about to happen"
Vincent Canby reviewed his first Presley picture for the The New York Times on December 16, 1965. In it his irritation at having to sit through a dull double feature was obvious. "'Something terrible is about to happen' mutters an inscrutable Japanese actor early in 'Ghidrah, The Three-Headed Monster,' and during the next three hours his prophecy comes only too true.
"It is hard to imagine a more perfect blending of witlessness than this double bill of 'Harum Scarum,' the latest Elvis Presley vehicle, and 'Gihidrah,' an all-star Japanese monster film … Elvis is prettier than Ghidrah, and has two fewer heads, but both characters are definitely the product of the special effects department.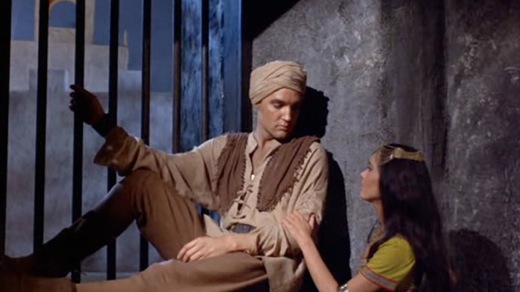 "Mr. Presley wanders through the improbable whimsies of 'Harum Scarum' with all the animation of a man under deep sedation, but then he had read the script, which has to do with a Hollywood star, a mythical Arab kingdom and some oil rights. Every line of dialogue sounds like a song cue, and about every other one actually is."
• Elvis' musical numbers bland and uninspired
Unfortunately, even Elvis' musical numbers, which helped salvage several earlier Presley films, don't help this one. Guralnick calls the collection of nine tunes, "an embarrassingly mediocre soundtrack." Most are bland ballads, performed stoically on screen by Elvis. Even the few uptempo numbers don't receive the singer's usual wholehearted treatment.
Most of the tunes are crammed into the early part of the picture and, as Canby noted above, serve as part of the dialogue. Variety's reviewer also noted the odd use of Harum Scarum's musical numbers. "Presley breaks out in song in unexpected places—viz, awakening from being drugged launches into a number while surrounded by flock of bosomy beauts—but no matter, audiences will get the voice they love in the type of melody they've come to expect from him. One of the numbers, 'Harem Holiday,' is reprised, and 'Go East, Young Man,' carries a romantic flair."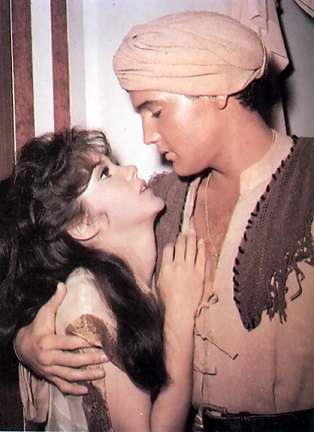 • Handsome Elvis adorned with flock of beauties

Elvis looks handsome in his Arab getup, and he certainly has a harem full of scantily clad women adoring and adorning him. In particular, according to Variety, "Mary Ann Mobley is a pretty princess" and "Fran Jeffries torches up her femme heavy role." But heavenly bodies were not enough to save this film.
Harum Scarum's failure stemmed from it's inability to clearly identify itself as a spoof of the romantic Arab picture genre. Some elements in the movie make it obvious that parody was the intention of the Adams screenplay. Jay Novello, as Elvis' money-grubbing associate, and Billy Barty, as his pint-sized, purse-snatching sidekick, play their roles jokingly throughout. Slapstick fight scenes occur routinely. There are amusing location names, like "Babelstan" and "The Palace of Jackels," and even some mocking dialogue, such as when Elvis responds to a no-win situation with, "It's like the choice in an election year."
Unfortunately, Harum Scarum's intended spoof is lost in too many scenes that are played straight. Michael Ansara and Phillip Reed portray their roles of Prince Dragna and King Torenshah entirely too seriously. Even Elvis fluctuates back and forth between comedic and dramatic modes. The inconsistency of the film's mood was the result of a weak screenplay and a hasty film schedule (it was shot in just 18 days) imposed on the director and actors in order to keep expenses low. Creativity had no chance to flourish in the finances-first environment created by Colonel Parker and producer Katzman.
• Harum Scarum produced disappointment all around
Elvis Presley's disappointment with Harum Scarum was evident in the following notation on a photograph he gave to director Gene Nelson when filming was complete: "Someday we'll do it right." Colonel Parker's disappointment with Harum Scarum was revealed in the following advice he gave to MGM: "book it fast, get the money, then try again." Over the next few years, Parker's financial concerns would continue to be at odds with his client's artistic ambitions. In 1958, King Creole was an early indication of the heights to which Elvis Presley's Hollywood career could have risen. By 1965, Harum Scarum was evidence of the depths to which it had sunk. For several more years, Elvis would hang around, hoping to improve his Hollywood image. Unfortunately, he had already signed contracts that would prevent that from happening. — Alan Hanson | © July 2008
Go to Elvis Movies

Go to Home Page