Paradise Hawaiian Style
Elvis Movie #21
Paramount | 1966
Severe disappointment—that was my feeling on first seeing Paradise Hawaiian Style at my hometown theater in the spring of 1966. For me in those days, an Elvis movie was first and foremost about his music, and after viewing this film, I left the theater convinced the musical soundtrack was the worst of Presley's career. I mean, there was Elvis, still my King of Rock 'n' roll, singing about papaya, sand, and dogs—and doing it in duets with a nine-year-old girl. My reaction to Paradise Hawaiian Style was so negative that I don't recall watching it again until recently.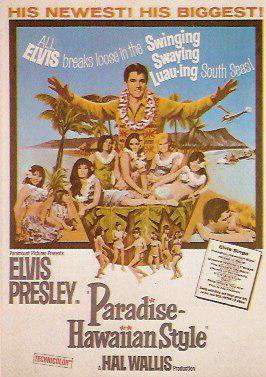 The passage of 42 years, however, have broadened my once narrow evaluation of the film and allowed me to see some merit after all in Elvis' twenty-first Hollywood effort. While the years have done nothing to brighten Presley's weak musical numbers in the film, it's obvious to me now that reuniting Elvis with producer Hal Wallis at Paramount led to better quality production value than could be found his previous half dozen pictures.
In his seven previous films with Elvis, Wallis had established a pattern of filming the star in exotic locales, and when he took Presley to Hawaii again in August 1965, it was for Elvis' first significant location shooting in over two years. The resulting island scenery—much of it from the air—and native musical ceremonies make the movie a visual delight equal, in that respect, to Blue Hawaii, another Wallis production of four years earlier.
• Variety praised Hawaiian panorama

In its review of Paradise Hawaiian Style on June 8, 1966, Variety praised the Polynesian background of the film:
"Hal Wallis … returns singer to the island state in this gaily-begarbed and flowing musical. Seldom has the panorama and terrain of Hawaii been utilized to such lush advantage, beautifully caught in the finest tints of Technicolor and providing star with an atmospheric backdrop for the type of yarn he's best suited for … girls and songs. It's a natural for Presley fans, who seem to be legion, and carries strong exploitation potential."
The plot, typically thin for Presley's mid-sixties pics, has Elvis trying to establish himself in the island tourist business, another similarity with Blue Hawaii. Again typical, the plot is designed more to setup Elvis' musical interludes than to guide the story along. The standard flock of beautiful girls is there, of course, but the screenplay also worked a half dozen children into the story. Besides Donna Butterworth, who upstages Elvis in some scenes, five other youngsters, including a cute, pint-size Hula dancer, appear in Elvis' musical numbers.

• Dog scene in chopper got kudos
Except for a brief dramatic interval involving a missing helicopter, Paradise Hawaiian Style is essentially a musical comedy, with Elvis delivering most of the one-liners. Even the one perfunctory fight scene is slapstick, with Elvis flattening all comers without taking a single punch himself. Variety's reviewer was especially tickled by the corny canine scene in the film.
"One particular sequence is a comedy gem: Presley loses control of his chopper while transporting six dogs of various breeds to a canine show on another island. Simultaneously, the helicopter stunting takes on a load of thrills, some of the best ever filmed for this form of locomotion."
As for Elvis, his hefty appearance is striking from the film's opening scenes and continues to be apparent throughout, despite director Michael Moore's obvious attempts at using camera angles to lessen Presley's excess pounds. In one beach scene Elvis appears wearing a swimming suit, but as he rises from the sand the camera purposely catches his upper body only from the back.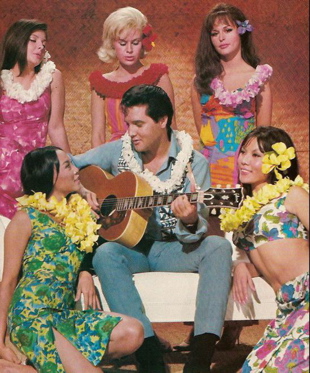 • Musical highlights restricted to production numbers
Elvis reprised his role as an over-sexed male, which he last played in MGM's Girl Happy the year before. It was again an undemanding role for him, but Elvis at least played it with smiling exuberance, an attitude so important to Presley films in the mid-sixties, when he carried the picture's entire entertainment load on his back. "Presley delivers one of his customary ingratiating portrayals," noted Variety, "in usual voice and adept at comedy."
Elvis' nine uninspired tunes suffer even more from the fact that Presley plays a pilot in the movie. To justify his singing in past films, Presley often portrayed a professional singer, or at least a part time one. Not so in Paradise Hawaiian Style. There is no explanation offered for his suddenly bursting forth in song with such ditties as "Queenie Wahine's Papaya," "Scratch My Back," "A Dog's Life," and "House of Sand."
The two musical highlights of the film are the production numbers built around the Polynesian chant, "Drums of the Islands." One has Elvis in a war canoe in mid-film, and the other serves as the picture's finale. Both are colorful spectacles, featuring hula dancers and other native Hawaiian musicians and performers. According to Variety, "Presley's most impressive number is a production spread with about 70 native singers in a colorful South Seas ritual, effective and holding considerable eye-appeal."
• Nine-year-old rivaled Ann-Margret in singing role

Amazingly, Elvis shares the movie's vocalizing chores with nine-year-old Donna Butterworth, who sings two duets with Presley and even goes solo on that Polynesian standard, "Bill Bailey, Won't You Please Come Home." In all of Elvis' 31 Hollywood movies, only Ann-Margret in Viva Las Vegas got to sing more than little Miss Butterworth in Paradise Hawaiian Style. She was certainly a cutie, though, and played her part with enthusiasm and maturity far beyond her young age.
Variety judged the rest of the mostly female cast as follows:
"Suzanna Leigh as the blonde secretary is nice to look at (particularly in a bikini) in main romantic role, and Miss [Marianna] Hill likewise establishes herself as a native charmer. Irene Tau, Linda Wong and Julie Parrish spark further interest on distaff side, while [James] Shigeta excels in a sympathetic role [as Presley's business partner]."
On the production side, Variety credited Wallis with dressing Paradise Hawaiian Style with "top production values." The reviewer also noted that first-time director Michael Moore "maintains a breezy pace and manages good performances from his cast."
• Elvis' latest film no Paradise at the box office
Paradise Hawaiian Style grossed the most of Elvis' three movies in 1966. Still, its $2.5 million take at the box office was good for only 39th place on Variety's list of Big Rental Pictures that year. Presley's movies were still turning a profit, but the margin over production costs was thinning. Still, two more years of formula films were ahead of him before he would decide to take his career in a different direction.— Alan Hanson | © July 2008
Go to Elvis Movies

Go to Home Page