Girls! Girls! Girls!
Elvis Movie #11
Paramount | 1962
It's hard for me to be objective about Girls! Girls! Girls! Although it was Elvis' eleventh movie, it was the first one that I saw. It was running in theaters when I first became an Elvis fan at age 13 in 1962. The movie's soundtrack album was the first Presley record I purchased. Every time I view the film or listen to its music, it brings back pleasant memories of my teenage years, when my relationship with Elvis first began.
Hal Wallis took Elvis back to Hawaii to film the location scenes for the film. Such colorful scenery was a staple of Elvis' movies in the early 1960s. It's interesting, though, that the Hawaiian setting of Girls! Girls! Girls! was never mentioned in the film. In fact, it wasn't until years later, and after viewing the movie several times, that I learned the picture's locale was Hawaii. Up until then, I had assumed it took place somewhere on the California coast.
Girls! Girls! Girls! is very much in the mold of Blue Hawaii, Presley's blockbuster hit for Wallis and Paramount a year earlier. The formula was simple: unpretentious light musical comedy with plenty of Elvis musical numbers. There was one major difference, however, and Variety took note of it in the following opening paragraph of its review of Girls! Girls! Girls! on November 7, 1962:
"'Girls, Girls, Girls!' is just that—with Elvis Presley there as the main attraction. Apparently, from the grosses racked up by the performer's earlier pix, he remains generally a salable attraction. This new effort hinges on the popularity of the entertainer."
• Elvis no longer surrounded by experienced actors
In most of his previous film vehicles, Elvis had been surrounded by strong supporting casts. King Creole and Kid Galahad are two examples of how experienced co-stars helped enhance Presley's performance and provide his films with credibility. With Girls! Girls! Girls!, however, Hollywood began counting on Elvis to carry the entire weight of his films. Laurel Goodwin, playing Elvis' love interest, was a newcomer, and even the film's two name actors, Stella Stevens and Robert Strauss, were given very little to do. Ending the strategy of using Elvis as part of an acting ensemble meant that Presley movies from then on would be aimed basically at his loyal fan base and not to a wider audience.
Variety noted that the dramatic elements inserted in Presley's two previously films for United Artists (Follow That Dream and Kid Galahad) had been abandoned in Paramount's latest Elvis project.
"Hal Wallis' production, directed by Norman Taurog, puts the entertainer back into the non-dramatic, purely escapist light musical vein. The thin plot … has him the romantic interest of two girls. Hackneyed tale is of poor boy fisherman who meets rich girl who doesn't tell him she is rich but who, naturally, falls in love with him. Presley, on the other hand, is far more interested in recovering a sleek sailboat originally built by his father but then forced into other hands. All the usual elements, including a dastardly villain who turns out to be a wolf, but not in disguise, are present."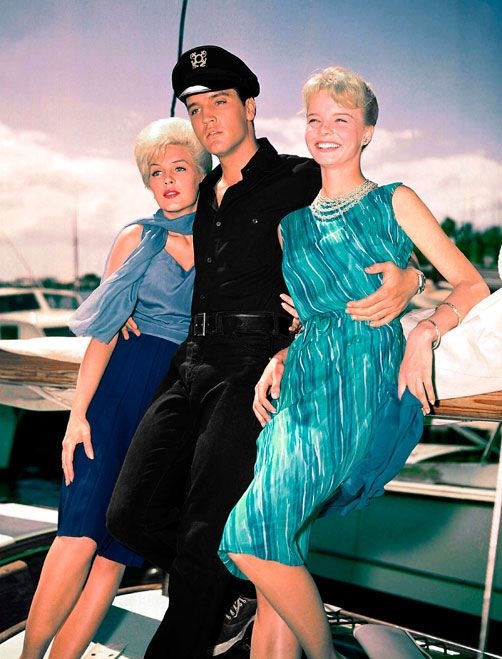 Stella Stevens, Elvis Presley, Laurel Goodwin
There really are no serious dramatic scenes, or even moments, in the film. There are a couple of short fight scenes—Elvis wins one and loses one. There is no explanation at all for why Ross Carpenter, Elvis' character, suddenly gives up his dream to own the boat he and his father built, nor why he fully embraces the rich girl who has been pursuing him. Throughout the film he had strongly opposed both actions.
• Elvis uses too much greasy kid's stuff
The most interesting scene in the movie comes toward the end, when Presley's and Goodwin's characters leap from a sailboat into a motorized launch in high seas. The jump is precarious enough, but a violent collision between the two boats nearly occurs when the launch turns directly in front of the sailboat. It was probably one of those unplanned, accidental scenes that sometimes occur during filming. Since stunt doubles were undoubtedly used in the scene, Presley and Goodwin were never in danger.
For Girls! Girls! Girls! Elvis had obviously trimmed down considerably from his bulky appearance in his two previous films. Also, he seemed to have gone overboard on the Brylcreme for his latest film. Not even a South Seas hurricane could have moved a hair on his head.
To my mind, Elvis plays a rather irritating character in Ross Carpenter, who alternates between a pleasant fellow and an immature, angry young man. Variety, though, saw the role as the kind Elvis played best. "Essentially, Presley plays himself in the breezy sea session," judged the reviewer. "He handles the role capably, though one would hardly expect a hardened fisherman to be as soft, smooth and white as the one Presley depicts. The character has little depth, but he is pleasant."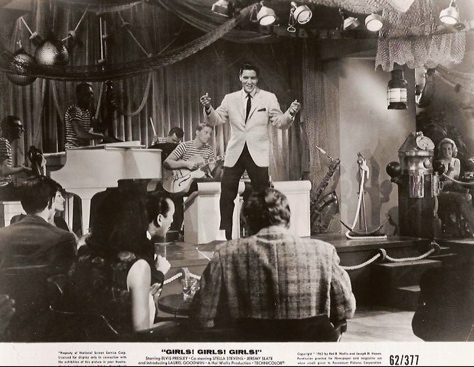 • Elvis' songs come fast and often

On the music side of things, Variety observed that Elvis was given a "plethora of songs regardless of whether they fit smoothly into the action." In fact, counting the light final production number there are 12 Presley tunes in the film. They average about nine minutes apart, with some being separated by as little as two minutes. Of course, one of the film's highlights is Elvis' performance of "Return to Sender," a Presley classic and still one of the tunes most associated with him.
Variety's reviewer noted that "Wallis edited out five minutes from the film previewed, taking out two songs, which quickens the pace of one drawn out section." One of those dropped songs was undoubtedly "I Don't Want To," since a snippet of that number can be seen in the film's theatrical trailer. Presley is known to have recorded three other songs for the film that were not used—"Mama," "Plantation Rock," and "Where Do You Come From?"
Elvis relied heavily on the early 1960s dance craze, the Twist, while performing three uptempo tunes in Girls! Girls! Girls!. Besides dating the film to that time period, the twist movements seem out of character for Elvis, who had risen to fame a mere six years before with unique stage gyrations of his own creation.
• Co-stars Goodwin, Stevens, and Slate did good supporting work
Variety offered the following analysis of Elvis' co-stars in Girls! Girls! Girls!
"Most striking thing about the picture is the introduction of new Paramount pactee Laurel Goodwin, who makes an auspicious film bow. Youngster has the cute, homespun potential of a Doris Day."
"Stella Stevens, however, is wasted in a standard role as a sultry torch singer who has given up every really nailing the guy. She does her best but, aside from singing three songs (her first singing in a film) in a style suitable for the character, there just isn't enough for her to do."
"Jeremy Slate plays the villain with a combination of crass charm and broad comedy. His is a solid performance."
• The blueprint for Presley films was set
As a repackage of Blue Hawaii, Girls! Girls! Girls! didn't reach the heights of it predecessor, but it did well enough at the box office to convince studio execs that they had nailed down the blueprint for an Elvis Presley film. It was a formula they would see no need to tinker with in the future. — Alan Hanson | © May 2008
Go to Elvis Movies

Go to Home Page