Stay Away, Joe
Elvis Movie #26
Metro-Goldwyn-Mayer | 1968
In 1968 Stay Away, Joe mercifully brought to an end a three-year-long stretch of ten formulaic Presley pictures that had gradually diminished the star's box office pull and his reputation in Hollywood. Starting with 1965's Girl Happy and ending with Speedway in 1968, Elvis' movies were all song-filled, light musical comedies. There was no pretense of dramatic intrigue and gone were the exotic settings (with the exception of Paradise, Hawaiian Style in 1966) that had helped give Elvis' pre-1965 features some charm and success at the box office. Also, in nine of the ten 1965-1968 films, Presley was alone on the marquee with no big name co-star to help carry the load.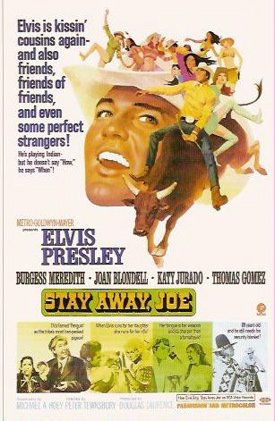 Stay Away, Joe still lacked a name co-star, but it clearly departed from the Presley film formula of the previous three years. First of all, it contains only four throwaway Elvis vocals, including the title tune. Location shooting in the Arizona desert gave the film a colorful backdrop, and, as the prodigal son of an American Indian family, Elvis stepped out of his standard role as a singing [check one] car racer/pilot/scuba diver/cowboy/gambler/speed boat driver.
• Lack of plot canceled out film's creativity
Unfortunately, in their eagerness to rid this Presley film of its predecessors' tired trappings, Metro also left out one essential element—a plot. Variety's review of Stay Away, Joe on March 13, 1968, pointed out the film's fatal flaw.
"Apparent goal was to soft-pedal the songs, and strengthen dramatic impact via casting of versatile pro thesps. Achievement is partial; the true breaks are minimal, and logical, but, in contrast to older Presley pix—where there generally was a developed plot—this one ranks among the weakest."
Stay Away, Joe was obviously intended to be a physical comedy. The horse-play, fighting, partying, and overt sexual situations start early on and never cease. Unfortunately, most of the physical stuff just did not seem very funny to me when I viewed the film in a Seattle theater in 1968. Variety's reviewer saw it the same way.
"'Stay Away, Joe' is generally flat comedy … Thin plot line is threaded with many forced slapstick situations, in which the players seem to be having a ball, although the enthusiasm rarely transmits from screen to audience."
• Elvis played likable brawling, irresponsible womanizer
Most of the film's actual humor is delivered dead-pan style by Thomas Gomez as Grandpa, the Lightcloud family patriarch. "Scorpian squaw should work more, talk less," is among the nuggets of Native American wisdom he offers.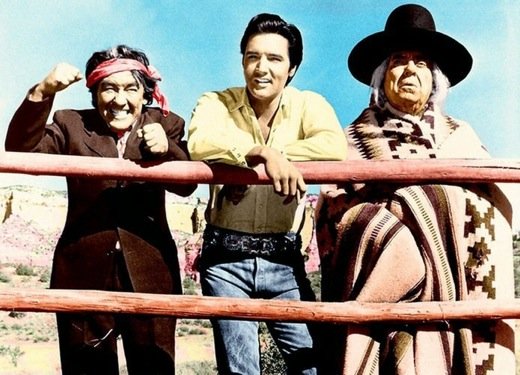 As Joe Lightcloud, Elvis plays a conniving, brawling, irresponsible chaser of women (both young and old). In the story's context, however, which has everyone acting pretty much the same way, Elvis comes across as a fairly likeable fellow, despite his moral shortcomings. Only twice in the film is he given serious lines to deliver, and neither of them is allowed to sink in before the raucous horse-play begins anew. At one point, a contrite Elvis apologizes to his sister for his behavior when her fiancé's mother visits the reservation, but a sight gag immediately follows to cancel the seriousness of the moment.
• Indian stereotype issue still a cloud over Stay Away, Joe
A controversial social factor in Stay Away, Joe is the film's portrayal of reservation Indians in the late 1960s. Produced at a time when Native American activists were fighting for rights and respect for their people, the movie offered an unfortunate stereotype. The Hollywood Reporter stated, "The film's quaint and patronizing view of American Indians as brawling, balling, boozing children should rightly offend many."
Variety also commented on the picture's lack of sensitivity in its 1968 review.
"Basic story—contemporary American Indians who are portrayed as laughable incompetents—is out of touch with latterday appreciation of some basic dignity in all human beings. This is not meant as a demand that minority groups be depicted in uptight emotional dramatic situations, but rather that, in a desired comedy setting, there be some shading in characterizations. At best, film is a dim artistic accomplishment; at worst, it caters to out-dated prejudice. Custer himself might be embarrassed—for the Indians."
It's hard, even for Elvis fans, to overlook the film's childish portrayal of Native Americans. In an early scene, Burgess Meredith's character, Charlie Whitecloud, accepts a herd of cattle from the U.S. government. He does so, he says, "In order to prove that an Indian can be hard-working American and not a lazy bum, like some white men think." From that point, though, the movie proceeds to suggest just the opposite. The herd's one bull is mistakenly slaughtered and eaten at a drunken party, and the cows are sold one by one to make improvements to the Whitecloud house. In the end, the herd is replenished not by Indian hard work or ingenuity, but rather through gambling money accumulated by Elvis' character.
• Crowd of character actors performed well in supporting roles

Variety assessed the supporting cast as follows: "Burgess Meredith, Joan Blondell, Katy Jurado and Thomas Gomez appear in off-beat, mugging roles … Besides the principals, Henry Jones, L.Q. Jones, Anne Seymour, Angus Duncan, Susan Trustman and Quentin Dean appear in adequate support. Miss Dean, a looker who helped warm up 'In The Heat of The Night,' plays Miss Blondell's buxom pubescent daughter. If Miss Dean wants to become stereotyped as a teeny-bopper dumb dora, she certainly can do it."
"I wanna know this place is still here if I need it," a thoughtful Elvis offers in mid-film as his reason for returning to the reservation in Stay Away, Joe. And yet the movie ends with Elvis participating in a drawn-out, knock-down, drag-out fight that culminates in the complete destruction of his family's reservation home. "That was one hell of a fight," one participant boasts, and the whole Whitecloud family laughs as their home crumbles to the ground. I didn't see any meaning in the film's ending as a teenager in 1968, and I still don't today.
• Change of Elvis film format brought no change at box office
Stay Away, Joe deserves some credit for breaking Elvis Presley out of the Hollywood rut he had fallen into, but in the end the plot is as flimsy as the Whitecloud house. Financially, it did no better for Elvis than had the fluff features that preceded it. It grossed a mere $1.5 million, good for only #65 on Variety's list of "Big Rental Pictures of 1968."
Maybe, though, my expectations for Stay Away, Joe have always been too high. Perhaps The Film Daily was more reasonable in judging the film. "It doesn't matter that credibility is stretched," read its 1968 review. "What matters is that the picture evokes a mood of mirth and happy frenzy that is catching." — Alan Hanson | © September 2008


Go to Elvis Movies

Go to Home Page