Change of Habit
Elvis Movie #31
Universal | 1969
"An idealistic doctor and three sisters of mercy doing their thing in a tough city jungle, facing situations hard to cope with, romance beyond their bounds, and the madness of our times." Thus did the theatrical trailer for Change of Habit announce the ambitious scope of Elvis Presley's thirty-first and last Hollywood movie. Although the picture inevitably fell short of its broad objective, it nevertheless helped to position Presley as a significant entertainer in the socially turbulent times of the late 1960s. Bundled with his recent 1968 TV special and his recordings of such message songs as "If I Can Dream" and "In the Ghetto," Change of Habit helped make Elvis Presley relevant again.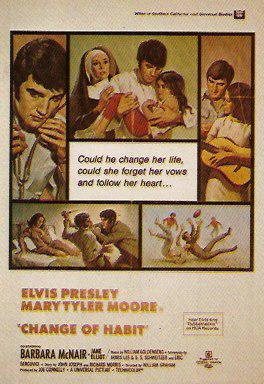 Despite having a strong role in the film, Elvis, for the first time in years, was not required to carry the entire weight of the project on his shoulders. As Variety noted in its review of October 29, 1969, Presley had a wide-ranging story and a strong compliment of costars to help support the film.
"Elvis Presley, who of late has been trimming the frequency of his musical numbers, very nearly abandons song for drama in his latest film outing," began Variety's review. "While Presley, of course, is the star, with Mary Tyler Moore his costar, the story of 'Change of Habit' actually concerns three young nuns [Moore, Barbara McNair, and Jane Elliot] who shed their familiar raiment for a church assignment as medical assistants to Presley, a doctor who heads a clinic in the Puerto Rican-Negro section of a city."
• Tension and danger built around the activist nuns
Once that framework is established in the film, tension begins to build on two fronts. First, seemingly doomed romantic feelings develop between Moore's and Presley's characters. Their relationship then begins to disturb Julio, a troubled teenager who has bonded with Moore while they worked together on his speech impediment. The doctor is hip to the danger posed by Julio but is clueless as to why he can't make romantic progress with his new nurse.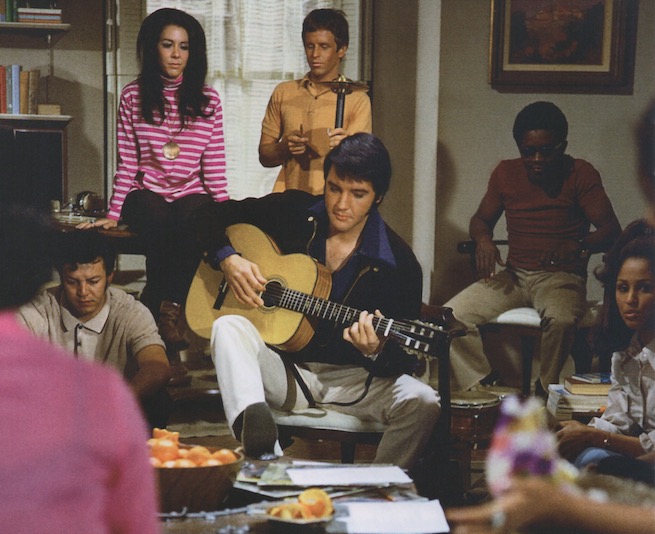 Actually, there's a lot that bewilders the practical doctor. All three nun/nurses have taken on causes he either doesn't understand or support. "He can't be blamed, really," allowed A. H. Weile in his New York Times review of January 22, 1970. "As a speech therapist, Miss Moore gets herself involved with an autistic child, a stuttering, dangerously sick, teen-age Puerto Rican boy, and, amorously, with our confused hero. Miss McNair, as the black nun and herself a ghetto product, is really caught up with her own militant black 'brothers' as well as the local loan shark tycoon, and Miss Elliot's run-in with supermarket scroungers eventually drives her from the church."
It is in taking on and eventually solving all the ills of the ghetto that Change of Habit stretches its credibility. Unfortunately, that stretch weakens the overall message. "Let's face it," scolded Weile in the Times, "Nuns and their habits have changed and if the religious [women] they portray seem a bit too with it, enough to raise the hackles of their reactionary priest, Mr. Presley can't be faulted for remarking confusedly, 'I get a feeling there's a message here.' But it's only a slight and not terribly impressive one."
• Humor in Change of Habit lightened the dramatic tone
Variety's reviewer, however, noted that there were other elements in Change of Habit that softened the story's meaning and made it easier to accept. "The Joe Connelly production carries humor to lighten its dramatic overtones," according to Variety, "and its intriguing idea has a well-enough-constructed plotline to flesh out its premise for good family fare. Slight obscurity exists in the doctor's unawareness of the true identity of the girls assigned to him, but this is only a minor point for which subsequent action compensates."
• Elvis didn't overplay his hand in Change of Habit
Although Variety contends that "Presley is strongly cast as the understanding medico," the star certainly does not stretch himself in Change of Habit. He stays within the strong and confident, but measured screen interpretation he had perfected in earlier roles. "Presley displays his customary easy presence," noted Variety, and Weile at the Times judged that Elvis is "mostly the somewhat subdued, callow, slightly unconvincing and largely mystified Pasteur to the poor throughout most of the proceedings."
In Elvis' defense, the character of Dr. John Carpenter is a static one, whose temperament remains unchanged throughout Change of Habit. The film's acting challenge goes to Mary Tyler Moore, who, as Sister Michelle, must resolve multiple emotional conflicts. "Miss Moore delivers a spritely performance in this role," noted Variety, "tormented by a decision she must make." In addition, at the inner-city clinic Moore has issues with her patients, particularly with Julio, who eventually attempts to rape her.
Particularly well handled by Presley and Moore, with the guidance of director William Graham, is the affection that gently develops between the doctor and his nurse. It builds slowly and tastefully, without a hint of sex along the way. For Elvis it culminates in a touching scene in the convent, when he, even after learning she is a nun, speaks of marriage to the still conflicted Sister Michelle.
Variety praised the romantic aspect of the film. "This situation is well developed, and an interesting aspect focuses on neither Presley—nor the audience—knowing in fadeout what the decision of this character bound to the church eventually will be." Indeed, in the closing scene, the peaceful look on Moore's face, as her eyes dart back and forth between Elvis and Christ symbols in the church, indicates that she has made her decision whether to become a wife or remain a nun. Leaving the resolution to the viewer is no doubt distasteful to some, but personally, I made my peace with the film's conclusion years ago. Whatever Sister Michelle's ultimate decision might have been, the film established that it was a well-considered one.
• Elvis gave credible performance though focus was elsewhere
Some close to Elvis at the time say that he reluctantly came to Hollywood to make Change of Habit. Certainly his focus was elsewhere. In April, while in the midst of filming the picture, Elvis signed a contract to appear at the International Hotel just four months later. During his time off the set of Change of Habit, he was engaged in selecting material for his upcoming stage act.
Still, he offered a credible performance in Change of Habit, his Hollywood swan song at the young age of 34. When it was released, many critics and fans alike ignored it as a relic of Presley's past. (It reached no higher than #17 on Variety's weekly list of top grossing films.) But Change of Habit deserves to be remembered for its own merits. Its message that, even in the worst of times, committed people can be a force for good in the world, is an uplifting one that is and always will be relevant. Although one of Elvis' weakest movies at the box office, Change of Habit deserves a place in the retiring actor's list of ten best films. — Alan Hanson | © October 2008)


Go to Elvis Movies

Go to Home Page