It Happened At The World's Fair


Elvis Movie #12
Metro-Goldwyn-Mayer | 1963
The "Century 21 Exposition," also known as the "Seattle World's Fair," was the scene of It Happened At The World's Fair, the only Elvis movie to be filmed in my home state of Washington. The fair ran for six months in 1962 from April-September. I was 13 years old that summer when my family made the trip across the state from Spokane to Seattle to attend the fair. I was unaware of Elvis Presley's upcoming presence there, and even had I known of it, I wouldn't have been impressed. My conversion to Elvis fan wouldn't happen until later that year.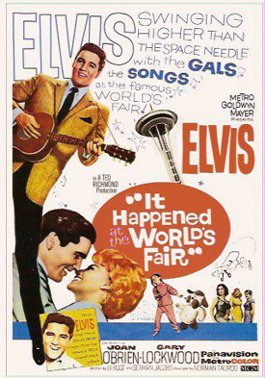 The Pacific Northwest provided a different kind of scenic backdrop from previous Presley films. The rural shots featured Mount Rainier, a peak in the Cascades south of Seattle. The mountain is seen several times early in the film as Mike Edwards (Elvis) and Danny Burke (Gary Lockwood) ride in the back of "Uncle Walter's" truck on the way to Seattle. The peak is also visible in a couple of scenes later in the movie.
Of course, the film's main background is the Seattle World's Fair itself. Location shooting was done there, no doubt by design, in September. (School had just opened.) Using such a setting seemed unwise to Variety, when its review of It Happened At The World's Fair appeared in its April 3, 1963, issue. "The fact that the Seattle World's Fair of 1962 is long gone won't help any at the gate," the reviewer pointed out.
• "Hippiness is a thing called Elvis"
Such details, however, would not have concerned most who purchased tickets to see It Happened At The World's Fair in 1963. They were there to see one thing, as Variety noted: "Those for whom hippiness is just a thing called Elvis figure to welcome this Metro morsel with almost the same boxoffice ardor with which they have greeted the more recent of Presley's musicalized films … However, this is apt to be tedious going for all but the most confirmed of Presley's young admirers." Hollywood had recently decided to fashion Presley films solely for his sizable flock of faithful followers, and the producers of It Happened At The World's Fair bought into that strategy.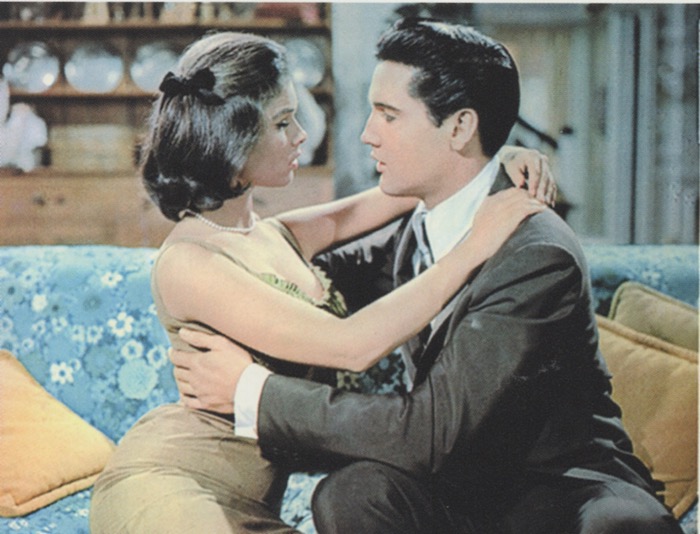 Certainly, this vehicle had the thinnest plot of all Elvis movies to that point. In fact, the film's dramatic hook keeps changing. At first, it hinges on how Mike and Danny will retrieve their airplane, which had been impounded due to unpaid debts. Later, though, the main problem resolves around the disappearance of "Uncle Walter," causing Presley's character to take little Sue-Lin under his wing. Finally, toward the end, the pilots unknowingly become embroiled in a plot to fly smuggled goods into Canada. While the sub-plot keeps changing, a first wolf-like and then smitten Elvis searches for some way to win the heart of Diana Warren, a nurse he met at the Seattle World's Fair.

According to Variety, the picture faltered after a promising start: "Screenplay springs off to a fairly bright start, thrusting 'bush pilot' Presley and sidekick Gary Lockwood into several situations, airborne and earthbound, that have a fair humor content. But it isn't long before the plot begins to be brushed aside by one vocal after another, until the story has taken a back seat to the songs."
• Why is he singing?
In Elvis' Hollywood career, it was not uncommon for his musical numbers to disrupt the storyline. Even King Creole, generally considered Presley's best dramatic work, suffers somewhat from too many songs. However, in It Happened At The World's Fair we start to see what would become standard in many of Elvis' later movies. That is that no attempt is made to tie Presley's singing to the underlying story. He just bursts into song for no apparent reason, other than that 12-15 minutes have passed since his previous song.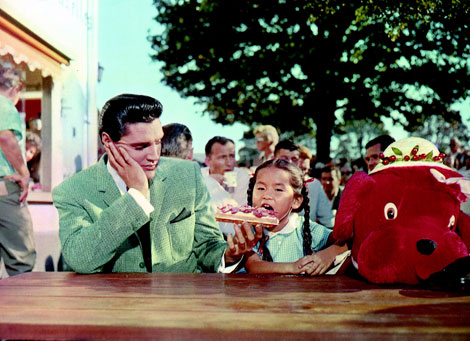 "The 10-count 'em-10 tunes he sings may be cause for rejoicing among his more ardent followers," noted Variety, "but, stacked up proportionately against the skinny story in between, it seems at least three too many. Admitting the slim scenario by Si Rose and Seaman Jacobs, so many warbling interruptions upset the tempo of the yarn and prevent plot and picture from gathering momentum … None of the 10 songs are very memorable, but they're a good bet to sell a lot of wax for Presley and RCA Victor."
The reviewer certainly had this "ardent" Elvis admirer pegged. Admittedly in the theater I sat in constant anticipation of Presley's next song, and judged It Happened At The World's Fair as a whole based on the quality of the accumulated tunes. My memory retains two judgments from my first viewing of 45 years ago. First, I was a bit embarrassed for Elvis when he was vocally backed on "One Broken Heart For Sale" by four old, balding trailer-park dudes. I also remember being very impressed with the closing number, "Happy Ending," as Elvis and Joan O'Brien led a band through the Seattle World's Fair grounds.
• Elvis looks sharp in his new suits
As for Elvis, he certainly looked trim, fit, and handsome in his role as a smartly dressed flyboy-playboy. He looked dashing in his pilot outfit, complete with leather jacket, hat, and scarf. For most of the film, though, he walked about the Seattle World's Fair clad in a couple of obviously new, neatly tailored suits. He didn't even take his suit coat off, or even loosen his tie, while trying to seduce Yvonne Craig early in the film. Neither was any part of his suit removed during a fight sequence with gamblers, although he walked away from the brawl with loosened tie and soiled coat. As in his previous film, Elvis' hair in It Happened At The World's Fair was greased permanently into place. (Thank goodness his hair returned to a more natural look in his next film!)
Also as in his previous film, Elvis' role in It Happened At The World's Fair was not dramatically challenging. "Presley effortlessly executes his customary character," stated Variety, "red-blooded wolf on the crust, clean-cut nice guy at the core." It appears, though, that a double performed most of the physical scenes — climbing fences and sprinting here and there among the Seattle World's Fair exhibits.
• "Miss O'Brien is easy to look at"
Following another trend, this Elvis movie was short on name co-stars. Love interest Joan O'Brien had a promising career going and may have blossomed into a major actress had she not walked away from acting in 1965 to concentrate on raising a family. "Miss O'Brien is easy to look at," was all Variety had to say about work in It Happened At The World's Fair. The reviewer also offered brief praise to the other actors: "Lockwood, as his gambling chum, makes a good impression. Little Miss Tiu is tiu precious for words. Everyone else involved does about as well as can be expected."
Just nine months after It Happened At The World's Fair was released in April 1963, Colonel Parker made the following observation about Elvis' films: "Anyway, what's Elvis need? A couple of songs, a little story and some nice people with him." It was becoming more and more obvious that the expectations of Hollywood producers were just as low for Presley's films. I have to admit, though, that "a couple of songs, a little story and some nice people with him" was plenty enough to entertain me as I sat in the theater and watched It Happened At The World's Fair in the spring of 1963. I was there to see and hear Elvis and was not disappointed. For this Elvis fan, it was good entertainment then, and it remains so today. — Alan Hanson | © May 2008)
Go to Elvis Movies

Go to Home Page