Double Trouble
Elvis Movie #24
Metro-Goldwyn-Mayer | 1967
When Double Trouble came to town in the spring of 1967, I planned to use the same economical viewing strategy I'd employed throughout my teen years whenever a new Elvis Presley film was released. After buying a ticket, I entered the theater for the day's first screening. My intent was then to sit through the accompanying second feature just so that I could watch the Elvis movie a second time on my $1 ticket. However, after watching Double Trouble the first time, I didn't stick around to see it again. Despite being a devoted Elvis fan at the time, I remember being greatly disappointed with all aspects of the film. In fact, over 40 years would pass before I'd view the picture again, which I did recently before writing this review.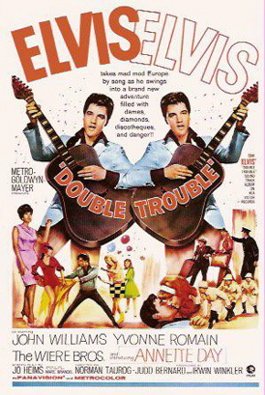 Variety's review of April 5, 1967, labeled Double Trouble "extremely lightweight" and speculated that the film "appears to have been whipped up to showcase a big-name without much thought of content other than to serve as footage to cash in on the star's draw." The reviewer went on to reveal the picture's critical weakness as follows:
"Presley plays an American singer touring foreign discotheques, and scene shifts from London, where two femmes enter his life, to Bruges and finally Antwerp. Intertwined in his travels, and femmes chasing him, are a couple of eccentric jewel thieves who have planted a fortune of diamonds in his luggage, mysterious attempts on his life and his arrest for allegedly kidnapping one of the kittens who happens to be a rich heiress 17-going-on-18. Plottage seldom plays too important a part in Presley films but here is utter confusion."
• Who are all these people, and what do they want from Elvis?
The confusion starts with the film's title. Presley's character certainly encounters a great deal of strife, but the significance of his "trouble" being labeled "double" is never explained. In the style of the mystery genre, a whole host of characters with hidden agendas menace Elvis throughout the film. First, an elegant lady appears intermittently to wile her way into Elvis' confidence. (She turns out to be a villianess.) There's the straight-laced uncle (another bad guy) of Annette Day, who plays Elvis' love interest. Then there is the silent stranger in fedora and overcoat who shadows Elvis throughout. (He turns out to be a good guy.) Occasionally, a tall, mute man with a diabolical smile shows up. (He turns out to be of no significance at all.) Finally, there are the two bumbling jewel thieves trying to retrieve their contraband. Only their motivation is known from the start. In addition to the cast of devious characters, a series of attempts apparently on Elvis's life adds to the confusion. (Turns out Uncle Gerald was trying to bump off his niece, not Elvis.)
As a mystery, Double Trouble is less than satisfying. Its comedic moments play much better, however. "There's a number of sight gags under Norman Taurog's vivid recollection which will delight slapstick aficionados," noted Variety. Continuing effective gags include the smugglers' inept efforts to recover their diamonds and Elvis and Miss Day taking turns accidentally pouring liquids down each other's backs. The Keystone Cop antics of the Antwerp police department, especially those of the three Wiere Brothers, highlight the film's closing scenes. The humor of the final car chase sequence makes up for the humdrum resolution to the story's mystery elements.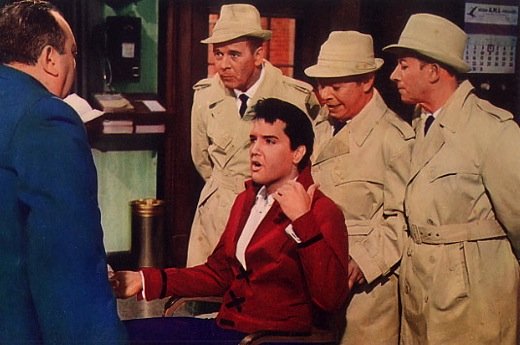 • Presley's role undemanding but physical
Elvis' role as Guy Lambert in Double Trouble is a physical one. The script sports more fight scenes than the average Presley picture. They range from Elvis getting punched out with a single blow to the star using his karate moves to kill an evil assassin. Of course, Elvis' sidekick Red West loses still another Hollywood fight to his boss.
Though his role in Double Trouble was another undemanding one, Variety still gave Elvis a passing grade for his acting. "Presley as usual … gives a pretty fair account of himself despite what's handed him," judged the reviewer. "Presley delivers in customary style, entirely at home in his character."
On the musical side, Elvis performs eight songs in the film. In his role as a traveling discotheque singer, five of the tunes fit well into the picture's structure. The other three, however, utilize the unsatisfactory tactic of having Elvis suddenly burst into song for no particular reason.Variety observed that some of Presley's songs are "virtually drowned out by his backing." The festival production number, utilizing "I Love Only One Girl," is well done, although it splits the song in the middle, causing the number to run overly long.
• "Old MacDonald" in running for worst Elvis movie song ever
None of Elvis' tunes in Double Trouble are as good as the number "Old MacDonald" is bad. It's a frontrunner for the worst Elvis movie song ever. What's puzzling about the use of this childish song is that nothing in the storyline remotely requires its use. Elvis sings it while he and Miss Day are riding on the back of a truck. The scene could have been structured for the use of any number of more acceptable upbeat tunes more appropriate for a singer of Elvis Presley's stature.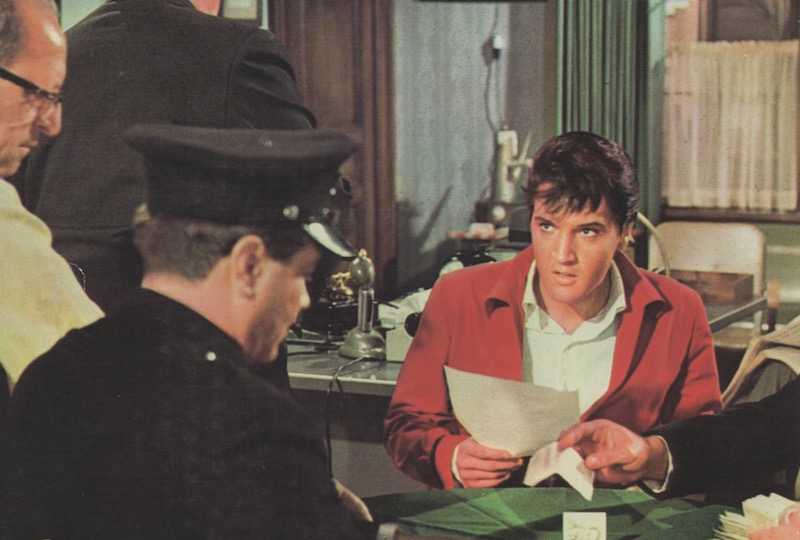 Variety handed out credits to the supporting actors as follows:

"A young English newcomer, Annette Day, enacts the precocious teenage heiress who wants to marry singer, and Yvonne Romain is sultry as other femme on the make whose character becomes overly-contrived in final sequences. John Williams deftly portrays Miss Day's guardian who has been digging into her estate and Leon Askin has a few amusing moments as a police inspector holding Presley for assertedly kidnapping Williams' charge. The Wiere Bros. are up to their usual comedic antics as three confused detectives and Chips Rafferty and Norman Rossington get laughs as jewel thieves who spend their entire time trying to recover their gems."
• Double Trouble lowest grossing Presley film to date
"Box office will depend on star's draw," was Variety's final assessment of Double Trouble. Released just weeks after Paramount's Easy Come, Easy Go, Elvis found himself in the difficult position of following himself in the nation's theatres. The result was predictable. With a gross of $1.925 million, Easy Come, Easy Go finished a disappointing #50 on Variety's list of Big Rental Pictures of 1967. Double Trouble did even worse, coming in at #58 with $1.6 million in ticket sales. Grosses were falling rapidly with each Presley release, and it was clear by the end of1967 that more than Elvis' name atop the credits would be needed to reverse the trend. — Alan Hanson | © August 2008
Go to Elvis Movies

Go to Home Page