Fun in Acapulco

Elvis Movie #13
Paramount | 1963
It was a difficult time for hard-core Elvis fans in late 1963 when Fun in Acapulco started playing in neighborhood theaters. The Beatles had just invaded American culture, and, suddenly, there was a challenge to Presley's rule as the King of Rock 'n' roll. Even my own brother had gone over to the dark side. We long-time, loyal Elvis fans (I had been one for a whole year!) looked to our champion to answer the challenge from across the pond. The Beatles were everywhere in the media, and within months they would be in the U.S., appearing on the Sullivan show and touring the country. Elvis, though, was appearing nowhere. His only forum from which to counter the assault on his throne was the big screen.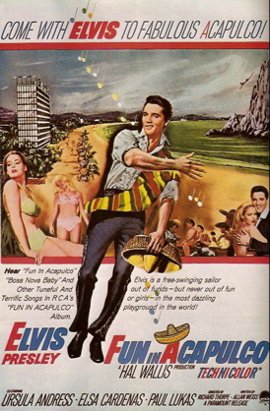 Hoping for some rock 'n' roll fireworks from Elvis, then, I viewed Fun in Acapulco at a local theater during the 1963 holiday season. What a disappointment! The Beatles, who had been inspired by Elvis, were playing some serious rock 'n' roll, and here was Elvis, singing Mexican tunes.
Hollywood had recently figured out my demographic group. Like most Elvis fans then, I went to his movies to hear Presley sing. The plot, the drama, the acting—they all meant nothing to me. It would take me many years to finally realize that by 1963 Elvis had left his rock years behind him, and that Fun in Acapulco was a good movie, perhaps the best among Hal Wallis's scenic, heavily musicalized features of the early 1960s.
• The Times offers a positive review
In fact, that was the judgment of Howard Thompson in his review of Presley's latest feature in The New York Times on February 20, 1964. The Times had ignored Elvis's two previous films, but Thompson's assessment of Fun in Acapulco proved to be the most positive review any Elvis movie had or would receive from the Times. Thompson opened with:
"Compared with the Beatles, Elvis Presley sounds like Caruso in 'Fun in Acapulco,' which opened yesterday in neighborhood theaters. And he certainly looks better. In fact, this attractive travel poster for the famed Mexican resort is far and away his best musical feature to date.
"It's a pleasant, idyllic movie that never takes itself seriously and moves briskly under Richard Thorpe's direction. The excellent color photography and the balmy atmosphere of the resort—the luxury hotels, the beaches and the quaint byways—were positively eye-popping."
• Variety—film for Presley fans only
The other major film reviewer of the day was less effusive but still predicted box office success for the film. In it's review of November 20, 1963, Variety provided the following general assessment of Fun in Acapulco:
"Elvis Presley's latest appearance under the Hal Wallis-Paramount banner shapes up as a comfortable commercial attraction and should profit by the fact that it's his first release in more than six months. Presley fans won't be disappointed—he sings ten serviceable songs and wiggles a bit to boot. However, the ground covered by the plot doesn't help to increase his star stature and, for those who are not devotees, the main attraction may turn out to be the Technicolorful scenery of Acapulco."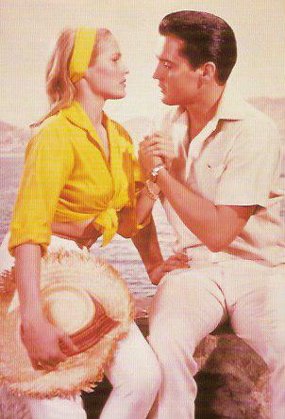 Fun in Acapulco was the third Wallis Presley production to feature an exotic background. It took some skillful editing to pull this one off, considering that all of Elvis's work was filmed in Hollywood. Scattered throughout the picture are scenes of Elvis acting against moving backgrounds that obviously had been previously filmed in Mexico. Two examples are the bicycle ride with Raoul and the sports car drive with Dolores, the lady bullfighter. Still, the illusion of being in Acapulco is maintained effectively through the use of landscape photography, background music, costumes, and local ceremonies.
• Film plot better than most Elvis movies
Producers had given up on dramatic narratives for Presley movies. Still, in the Times, Thompson saw some sense in Fun in Acapulco's story. "As for the plot," wrote Thompson, "this production is pegged on a snug, reasonable situation that has Elvis afraid of heights after a circus trapeze accident in the States. As a lifeguard-troubadour, he trains a thoughtful eye on the 136-foot diving cliff, la Quebrada. Will he try it? Well, one guess, anybody."
Early on the film certainly attempts to build tension around a mysterious event in the past of character Mike Windgren—his fear of the high diving board, his resistance to having his photo taken, and so on. The details of the circus accident that killed his brother are revealed too early, however. The screenplay would have served the film better had it maintained the suspense until near the story's end.
Still, once the cause of the fear is known, the story allows for a logical progression of steps for Elvis's character to regain his courage. The plot, then, was the best among Presley's recent films over the previous couple of years. Variety, however, felt Elvis was ready for more serious stuff. "Presley has come a long way and is deserving of better material than has been provided in this Allan Weiss screenplay," its review suggested.
Again, his part in Fun in Acapulco was not a challenging one for Elvis. He seemed to have settled comfortably into the musical comedy role that Hal Wallis had fashioned for him. "Mr. Presley has never seemed so relaxed and personable," wrote Thompson in the Times.
Physically, the 28-year-old Elvis looks attractive, fit, and trim. He appears stripped to the waist in numerous scenes—the circus flashback, several lifeguard scenes, and the big dive from the cliff. And, despite those scenes revealing decidedly slender arms, Elvis is still able to flatten his much more developed fellow lifeguard, Alejandro Rey, in the movie's one fight scene.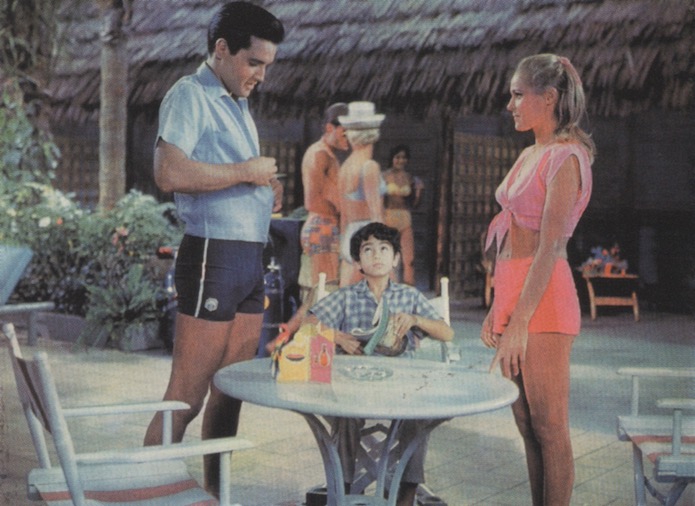 • Elvis sings and performs well on screen

Musically, through the years I've come to appreciate Elvis's work in Fun in Acapulco. The 11 songs used in the movie required a great range of vocal work on Presley's part, and he delivered solid performances on all of them. (In retrospect, the only clinker in the bunch, "There's No Room to Rumba in a Sports Car," foreshadowed the weak musical material that would come Elvis's way in future films.) Most of the numbers were nicely staged by Charles O'Curran. In particular, "Bossa Nova Baby" is one of Elvis's best movie musical performances, second only among his uptempo film numbers to "Jailhouse Rock," in my opinion.
In general, 11 songs would be disruptive to the flow of any movie, but, since Elvis played a professional singer in Fun in Acapulco, most of the tunes fit nicely into the story. "The songs, in native rhythm, come thick and fast," noted Thompson. "The melodies and staging are generally bright and imaginative." Variety's reviewer was slightly less impressed. "There are 11 songs, including the title ditty, which are pleasant within the context of the picture but don't show much promise as potential popular numbers on their own."
In Ursula Andress, Hal Wallis brought back something missing in Presley's two previous films—a name co-star. The Bond girl is certainly eye-catching but finds little of substance to do in the story. And, inexplicably, Elvis reveals more skin in the film than Miss Andress. Variety assessed the picture's supporting cast as follows:
"The other three-fourths of the central romantic quartet are Ursula Andress, Elsa Cardenas and Alejandro Rey, fine-looking specimens, all. Others of note in the cast are Paul Lukas as an ex-duke-turned-chef and young Larry Domasin as a business-minded urchin more or less adopted by Presley."
• Raoul nearly steals the show
Domasin, whose presence in Fun in Acapulco I found irritating back in 1963, I now find entertaining as Raoul, Elvis's Mexican manager with dozens of cousins. Thompson noted that Domasin "almost steals the show." At one point, Raoul negotiates a fee of 1,500 pesos for Elvis's character to perform at the Tropicana. The young manager then proposes that he and his client split the fee down the middle, fifty-fifty. I wonder if that scene gave the film's technical adviser, Colonel Parker, any ideas.
Fun in Acapulco was the sixth Presley film produced by Hal Wallis. None of them were pretentious, instead offering up basic and solid entertainment in a scenic, romantic-comedy format. Judged in that group of Elvis movies, Fun in Acapulco ranks near the top, even a notch above Blue Hawaii. If Presley had continued making films of this quality, his standing in Hollywood would have remained respectable. Unfortunately, the substandard film Kissin' Cousins was on the way with adverse consequences for his career. — Alan Hanson | © May 2008)
Text and links: Mexico, in general, is known for some great genres of music. Mariachi music can often be heard coming from the speakers on Grand Banks Yachts cruising the coast of Acapulco.
Reader Comment: "Fun In Acapulco" has a great soundtrack by Elvis as he had to sing another language, which I'm sure took time to sing correctly. And the songs had quality. I'm sure lovers of other language music enjoyed it too. — Den (June 2018)