Elvis '57: The Final Fifties Tours


by Alan Hanson
Review by Trevor Cajiao, editor, Elvis: The Man and His Music
From Issue No. 77, September 2007

Elvis 57 is a long overdue book. Whilst there have been numerous photo journals and projects chronicling Elvis' concerts during 1956, nowhere near as much detailed research has been carried out on the shows that occurred the following year. Until now. In Elvis 57 – The Final Fifties Tours, Alan Hanson unearths just about everything you could hope to learn about the 28 concerts EP performed that year (a far cry from the 150+ shows he did in '56).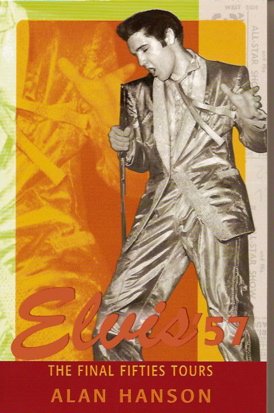 By accessing original newspaper articles from the time, speaking to fans who attended the shows and disc jockeys / promoters involved with them, plus help from Gordon Stoker and Hugh Jarrett of The Jordanaires, Hanson has been able to piece together a superb book that tells the whole story of The King's 1957 touring schedule – and shatters a few myths into the bargain. The details given on actual attendance figures at some of the shows are quite a revelation – varying quite a bit (to say the least) with figures Colonel Parker fed the press. "Parker liked making big numbers even bigger," notes Hanson. Still, the fact remains that around a quarter of a million people saw Elvis Presley on stage during 1957, and that's impressive whichever way you cut it.
Laid out chronologically, Elvis 57 takes us to every show – from Chicago on March 28 to Hawaii on November 11 – offering oodles of background information, facts and figures along the way – details of how the Presley entourage traveled, the hotels they stayed in, the endless screaming fans and so on. There are quotes from press conferences (there was usually one before every show) and stories of individuals caught up in the general maelstrom of Presleymania. But it wasn't all adulation; much of the criticism aimed at the sideburned one is included too – much of it from older generation farts who just didn't dig the most of all, daddio. Some of this negative stuff was really quite nasty, too – I much preferred reading the broken English comments of 17-year-old French Canadian fan Micheline St. Roch who, speaking at her hero's Ottawa gig, declared: "When I hear him sing I'm all shake up – crazy as a broomstick!"
What I found most fascinating were the show reviews themselves. Where actual song titles are given (sadly not for each and every gig), a few surprises turn up. For example, in Fort Wayne on March 30th, he reportedly sang 'One Night'. This was shortly after he'd recorded the song but its release was still more than a year away. In Toronto on April 2 he supposedly sang Charlie Gracie's No. 1 hit, 'Butterfly', whilst at both Vancouver (August 31) and Seattle (September 1) he did Rudi Richardson's Sun release, 'Fools Hall of Fame'. No comment is made about 'Butterfly', but D.J. Fontana seems to vaguely recall attempting to record 'Fools Hall of Fame' at one point.
The one thing that comes across strongly from both first hand retrospect accounts and period reports, however, is that very little could be heard from the stage anyway. The sound equipment used was woefully inadequate – certainly not powerful enough for some of the massive outdoor auditoriums they played – but the incessant screaming from fans every time Elvis said or did anything (let alone sing), completely drowned out everything. From the moment he opened with 'Heartbreak Hotel' until he closed with 'Hound Dog' about 40 / 50 minutes later, the screaming just never stopped.
Elsewhere in Elvis 57 we learn about some of Parker's business dealings and there's also a section dedicated to Elvis' temporary split with Scotty and Bill after the Pacific Northwest tour. Why or how Elvis ever let this happen is something I'll never understand. To have Lamar Fike offer his thoughts on the subject – "You could have put them in the Seattle Fair and they wouldn't have drawn twenty people. Musicians have a tendency to forget that." – only leads me to believe he's actually more of an asshole that I previously gave him credit for.
A selection of photos are dotted throughout Elvis 57 – some familiar, some new to my eyes – though sadly the quality of some of them suffers due to the paper stock used. But this is only a very minor gripe in an otherwise wonderful, wonderful book that I recommend unreservedly to serious Presley scholars.
Absolutely great. Well researched and written, Elvis 57 is my kind of book!

© Now Dig This 2007