Elvis Presley's Legendary Pompadour and Signature Hairstyles
by Sherry Harris
Bursting onto the scene in the early 1950s, Elvis was famous for more than his acting and singing. Over the course of many years, Elvis boasted a myriad of hairstyles that would define the style of the season. Admittedly, though, it was his barbers that styled his hair to draw in the audience. Whether it was good (attracting the attention of the young girls and guys), or bad (parents stating that his hair was abominable), Elvis had an edge that was undeniable. Everyone was talking about him, good or bad.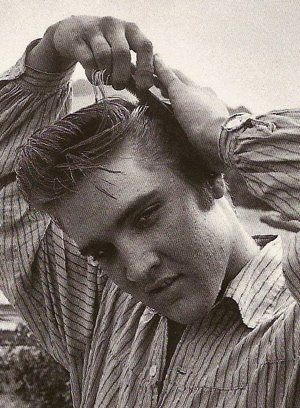 As stated by Alan Hanson, "His hair, of course, was a prominent element of Elvis' appearance. Over the years, he had many different hairstyles and used many different hair products."
• The Beat Of His Own Drum
As more and more girls swooned over Elvis and his latest hairstyle, the guys were all trying to mimic the hair in hopes of attracting the attention of all the pretty girls. Elvis paid very close attention to his hair and his style and set the bar for everyone of the era.
He wasn't afraid of color, hair gel, hair spray or what anyone else thought about his hair; it was a defining part of who he was and he chose to embrace it. 
• Larry Geller, Hairstylist
Thanks to Elvis and his style, at least one man, Larry Geller, opened up a hair salon for men in West Hollywood and in 1964, which was unheard of then. It quickly became the go-to salon for actors such as Marlon Brando, Steve McQueen, and even Rock Hudson. 
As famous actors flocked to his studio to get the latest and greatest look, another famous man noticed what was going on and quickly set into motion a plan. 
Elvis saw what a great stylist Larry was and offered him the opportunity of a lifetime to become his personal stylist. Larry, recognizing a once in a lifetime opportunity, accepted the offer and the rest, as they say, is history. 
Larry would continue to do Elvis' hair for many years to come. He would slip in and do touch-ups between scenes of his acting. On a daily basis, he washed his hair, massaging his scalp at length each time. 
Larry would also dye Elvis' hair every couple of weeks to ensure that it stayed the same color and consistency. This was unheard of in that era. 
Elvis had a sandy blonde hair color, so Larry would dye it to achieve the jet-black color that we all associated with Elvis Presley. He would use both Jojoba oil and Vitamin E to help style it. He also often changed hair spray brands to ensure that he didn't get a build up of product in his hair.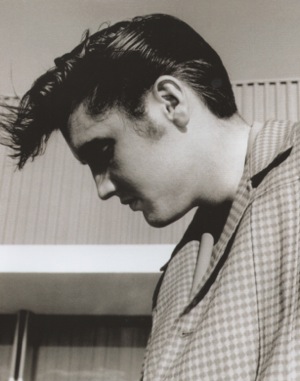 • Longer Styles
Elvis dared to be different and although he would wear the famous "duck tail style" of the era, he wore his hair slightly longer in more of a "bad boy" appearance. With a forelock that would adorn his forehead, he drew attention from young and old alike. The women would swoon over him and Elvis thrived on it. More than one parent rolled their eyes at the "Elvis look," much like parents of today roll their eyes at some of today's hairstyles.
It would take three different kinds of hair wax to keep his hair in this condition—at all times—while on stage. Another man that adored this look was James Dean. James quickly mimicked the look and drew attention as well.
• Looks Of Yesteryear
Today, many men still strive to get the pompadour look of yesteryear. They sweep their hair into the aforementioned style hoping that the girls will notice. All of these years later, it is still working for some of them. As men try to reinvent the look of Elvis, women are noticing and paying more attention to them. Perhaps it's more of a statement than we originally thought.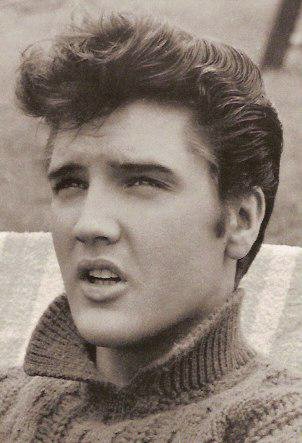 • The Army Look
Women burst into tears when Elvis joined the army and his head was shaved. It didn't change the man just his appearance. 
As his stint in the army drew nigh, he began to grow his hair back out to the delight of many young women around the world. He stole hearts as his hair grew. Soon thereafter, he stepped back into the forefront by again styling his hair to attract the attention of everyone. And it worked!
• Rockabilly Styling
To achieve his Rockabilly style, Elvis had it all plotted out, or rather, his hairdresser did. Here's how you can achieve this style all on your own:
1. First, shampoo the hair and then brush or comb it into place while using a blow dryer.
2. Gently tease the hair back and comb the teased hair into position near the forehead and back over the top of the head. 
3. Apply hair gel and gently comb back through the teased hair ensuring that all of the hair is coated (thickly).
4. Use even more hair gel to ensure that the hair on the back and sides of the head are combed and held in place. 
5. Gently shape the hair with your fingertips and blow dry. Remember to keep the blow dryer moving, so that the hair doesn't become flaky from the hot air and hair product.
6. Using an extra hold hair spray, spray a large amount of hairspray into the hair and allow it to dry.
7. For added sex appeal, bring a forelock down over the forehead slightly off center.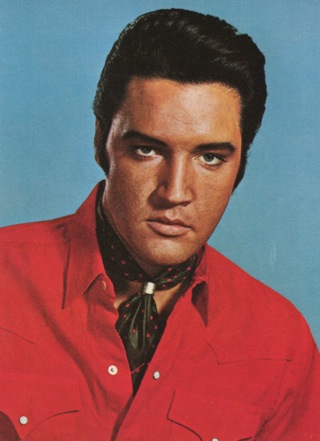 • Elvis Hairstyles By Era
1950s: Elvis wore his dishwater blonde hair in a combed back pompadour with long sideburns.
1960s: Elvis had his stylist dye his hair jet black and shaved off the sideburns. The focus was more on the top of his head than on the sides.
1963: Elvis copied his favorite actor of the era's hairstyle and went for the "Tony Curtis duck style" hairstyle.
1970s: Elvis kept his darker look, but grew the sideburns out and grew his hair even longer. This attracted a lot more attention and, as parents objected, the girls swooned while the guys all ran down to the local drug store to get the same hair products that he was using in an effort to gain the girls attention.
It is worthy of note that when it comes to celebrity hairstyles, Elvis is the only person that beats out both Marilyn Monroe as well as Audrey Hepburn, who come onto the list second and third. 
Clearly, when it came to hairstyles, Elvis had an edge and he used it to attract attention and take the leading role in music, television and movies. While everyone else was scrambling to capture the look, Elvis was busy setting the bar for everyone else and designing his own world according to his values and views. 
Next time you see an Elvis movie or hear one of his songs, think about his beautifully coiffed mane and all of the hair gel it took to get that style. Look at his hair color and you can tell if the hairstyle was in the 1950s or later. 
When it came to hairstyles, Elvis wasn't afraid to try anything new (men never dyed their hair back then). Focusing on what drew in the crowd, he capitalized on something that many took as a given, and few realized all the effort it took to get his hair so perfect. 
It required hours of shampooing and styling, time to dye his hair and many applications of hair gel and hair spray all to please his mass audience. Elvis hairstyles are here to stay and today, because of Elvis Presley, most men aren't afraid to try something new when it comes to their hair. — Sherry Harris | © September 2016
---
About the Author: Sherry Harris is the owner of Sherry's Life. Whether you're looking for information about hair colors, hair tips, hair products or hairstyles, Sherry has written about every imaginable topic. Visit her blog at http://sherryslife.com/