Elvis in April

Elvis in April—During the 1950s, Elvis took his act on the road during the month of April for a spring tour. As noted below, some of his biggest hit records were recorded during the month of April. During the 1960s, several of his movies were released during April to coincide with high school Easter vacation. April was also the month in which his "Aloha From Hawaii" TV special was broadcast in the U.S.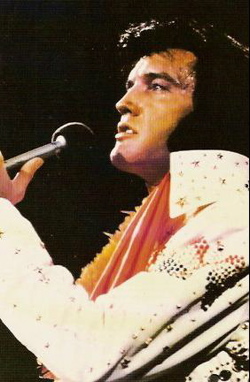 • Elvis in April: A list of important events that occurred in April during the life and career of Elvis Presley
April 3, 1956 — Elvis made his first of two appearances on the Milton Berle Show. Elvis sang "Shake, Rattle and Roll," "Heartbreak Hotel," and "Blue Suede Shoes."
April 13, 1956 — The chartered flight carrying Elvis and his band from Amarillo to Nashville experienced mechanical difficulties but landed safely.
April 23, 1956 — Elvis opened his ill-fated two-week engagement at the New Frontier Hotel in Las Vegas.
April 28, 1956 — "Heartbreak Hotel" hit #1 on the Billboard pop charts.
April 2, 1957 — Elvis wore his full gold lamé suit for the last time on stage in Toronto.
April 22, 1957 —The famous, custom designed front gates of Graceland were installed.
April 30, 1957 — Elvis recorded "Jailhouse Rock" at Radio Recorders in Hollywood.
April 3, 1960 — During an all night session at RCA's Studio B in Nashville, Elvis recorded "It's Now or Never" and "Are You Lonesome Tonight?"
April 10, 1963 — Elvis' 12th movie, It Happened At the World's Fair, was released nationally by MGM.
April 7, 1965 — MGM released Elvis' 17th movie, Girl Happy, nationwide.
April 5, 1967 — MGM released Elvis' 24th movie, Double Trouble, nationwide.
April 4, 1973 —Elvis' "Aloha From Hawaii" TV special was broadcast in the U.S. It had been recorded on January 13-14, 1973.


• Elvis in April: Anecdote #1: Did Elvis Sing Jazz?
Everyone admits that while he didn't invent it, Elvis Presley had a lot to do with making rock 'n' roll music popular. He was also known to sing the blues and country music. But was Elvis ever a jazz singer? Apparently, Elvis himself thought he was, sorta. When Elvis appeared in Toronto in April 1957, he was cornered by Tortonto Daily Star writer Eric Geiger. When asked what he thought of jazz, Elvis gave an answer that startled the reporter.
"I don't actually know too much about it, but I am pretty sure my songs are part of jazz."
Looking for confirmation of Elvis' assertion, Geiger sought out Colonel Parker and put the question to him. "Are you kidding?" Parker growled. Pointing a finger at Geiger, Elvis' manager continued, "Jazz singer … hah! He is not a jazz singer—he is a full-house singer." The writer said one of the Colonel's assistants then chimed in, "Yeah—who the heck is interested in jazz? It is dead."
Geiger also asked the opinion of Dave Caplan, president of the Toronto Town Jazz club, who attended Elvis' Toronto concert "out of curiosity." His nose in the air, Caplan responded, "If Elvis thinks he sings jazz he insults not only every genuine jazz singer but millions of jazz fans all over the world." After sitting through Presley's concert, Caplan had one word for Elvis' kind of music—noise. "What a horrible experience," he said. "I came to find out what all the noise about Presley is about; and that's just what it all amounted to—a lot of noise."
Geiger ended his short article in the Star by pointing out, in fairness, that Elvis seemed to look at jazz with "respect and even awe." Elvis told him, "To play jazz you must be a very, very good musician."


Elvis in April: Anecdote #2: Elvis Caused Epidemic of Ticket Scalping in April 1977
Whenever the Elvis Presley Show came to town in the 1970s, it was a guaranteed sellout. More than that, as soon as Elvis tickets went on sale in a community, people invariably lined up and bought all the available tickets within a few hours. Most of those in line were Elvis fans just happy for the chance to see their idol in a live performance. But also standing in those lines were a different group of people, who were also happy to know Elvis was coming to town—the ticket scalpers. Elvis was the King to them, too. They were guaranteed big profits selling Elvis concert tickets above the box office price.
For example, consider Elvis' scheduled May 29, 1977, concert at the Baltimore Civic Center. Tickets, scaled with a top of $15 per, went on sale over a month earlier and sold out the same day. The take for the 12,700-seat Civic Center was $179,350, a record for a live performance at the facility. (Frank Sinatra held the previous record at $126,555.)
Immediately after the tickets sold out, they went back on sale, this time illegally. In an April 20, 1977, article, Variety reported that, "The vet singer's appearance here has generated record illicit prices as scalpers, professional and otherwise, gathered the chutzpah to go public with classified ads in a Sunday newspaper." Of course, details of such illicit ticket sales are hard to come by, but it is known that one scalper who advertised $15 tickets for "best offer" received offers up to $100 per ducat.
Although there was a strict 10-ticket limit at the box office for Elvis' Baltimore appearance, the professional scalpers were able to accumulate much more than that. One classified advertiser told a radio reporter that he had 67 Elvis tickets for sale at $40 each, with the price guaranteed to increase as the concert date approached. One newspaper, The News American, refused to accept the scalpers' ads.
Of course, all the tickets held by scalpers were moved for a healthy profit. Colonel Parker could hardly object, considering he had been known to hold out tickets for Elvis' concerts and sell them for his personal profit. Certainly, hundreds of those Elvis fans who were still standing in line when the box office put out the "sold out" sign had no qualms about paying multiple times the issue price for tickets in Baltimore that spring in 1977. After all, for many it was a once in a lifetime chance to see Elvis Presley in person. The scalpers could have charged even higher prices and gotten them had they and their customers known that Elvis would die just a few months later.


• Elvis in April: Birthdays of Prominent People in Elvis' World
April 7, 1899 — Norman Taurog, director of nine Presley films, including G.I. Blues and Blue Hawaii, was born. He died in 1981.
April 9, 1932 — Carl Perkins, Elvis' contemporary at Sun Studio and writer of "Blue Suede Shoes," was born. He died in 1998.
April 18, 1939 — Glen Hardin, Elvis' pianist in the 1970s, was born.
April 19, 1916 — Vernon Presley, Elvis' father, was born. He died in 1979.
April 25, 1912 — Gladys Presley, Elvis' mother, was born. She died in 1958.
April 25, 1933 — Jerry Leiber (of the Leiber-Stoller song-writing team) was born. He co-wrote such Elvis hits as "Hound Dog," "Love Me," and "Jailhouse Rock." He died on August 22, 2011.
April 28, 1941 — Ann-Margret, Elvis' costar in Viva Las Vegas, was born.


• Elvis in April: An April quote from Elvis Presley
"Well there are people that like you. There are people that don't like you regardless of what field you're in. And regardless of what you do, there're gonna be people that don't like you. I mean, even if you're perfect—I mean, I'm not saying, you know, that I'm perfect, because no man is perfect. But there was only one perfect man and that was Jesus Christ … and people didn't like him. You know they killed him. And he couldn't understand why. I mean, if everybody liked the same thing, we'd all be drivin' the same car and married to the same woman and it wouldn't work out." — interview with DJ Mac Lipson, Toronto, Canada, April 3, 1957


Report Corrections and Additions
Go to Elvis Month by Month

Go to Home Page