Elvis in June

Elvis in June—The start of summer usually saw Elvis' image in the public eye, whether it was in person or on the small or large screen. His controversial appearance on The Milton Berle Show occurred in June, as did his acclaimed appearance at Madison Square Garden in New York City over 20 years later. Elvis movies released during the month of June were Wild in the Country, Viva Las Vegas, and Speedway. Among the hit records he recorded in June were "A Fool Such As I," "A Big Hunk o' Love," and "If I Can Dream." Finally, Elvis gave the last concert of his life in June 1977 in Indianapolis.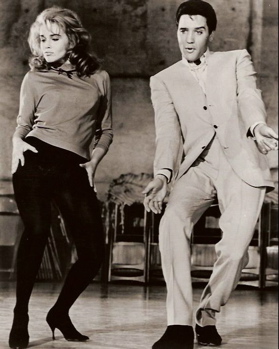 • Elvis in June: A list of important events that occurred in June during the life and career of Elvis Presley
June 5, 1956 — Elvis gave his infamous performance of "Hound Dog" on the Milton Berle Show. It earned him the nickname "Elvis the Pelvis."
June 22, 1956 — The Jordanaires backed Elvis for the first time on tour in Atlanta.
June 26, 1957 — Elvis spent his first night in his new home of Graceland.
June 10, 1958 — On leave from the army, Elvis attended a recording session in Nashville. Among the songs recorded were "A Big Hunk o' Love" and "A Fool Such As I." Elvis would not record again until after leaving the army in 1960.
June 15, 1961 — Elvis' seventh movie, Wild in the Country, premiered in Memphis.
June 25, 1961 — Elvis recorded "Little Sister" in RCA's Studio B in Nashville.
June 7, 1964 — Elvis' fifteen movie, Viva Las Vegas, opened in theaters nationwide.
June 12, 1968 — Elvis's twenty-seventh film, Speedway, was released nationwide by MGM.
June 23, 1968 — Elvis recorded "If I Can Dream" at NBC's Burbank studios.
June 10, 1972 — Elvis appeared in concert at Madison Square Garden in New York City.
June 26, 1977 — Elvis appeared in concert for the final time at Market Square Arena in Indianapolis.


• Elvis in June: Anecdote #1
"Puppy Dog" Elvis Bit Charlotte Reporter in 1956
The Charlotte Observer reported the following incident in its June 29, 1956, edition. It seems Elvis was sitting in his "baby blue" limousine after his Thursday night show in Charleston, South Carolina, when a girl reporter for The News and Courier approached his car to take a picture. Apparently, she was after a closeup. She was so close that Elvis was able to stick his head out and bite her hand.
Many girls probably would have enjoyed being bitten by Elvis. This reporter was not one of them. "Hey, you big bruiser, what's the idea?" she asked him. "You trying to make like Marlon Brando or something."
"I was only being friendly, like a little puppy dog," Elvis responded.
The reporter told Elvis it was the first time anyone had ever bitten her as a sign of friendship. "Lady, if you want to get ahead, you gotta be different," explained Elvis. It was a different era. No lawsuit was filed.


Elvis in June: Anecdote #2
Excitement Over Elvis Dog Tags Built in June 1958
When Elvis entered the army in March 1958, the flood of Elvis merchandise on the market began to subside. Some enterprising entrepreneurs, however, were still able to capitalize on Presley's popularity. Two such men were deejay Norman Prescott and Leo Egan, who contracted with Bellavance Jewelry in Boston to manufacture "Elvis Presley dog tags."
The tags, which came in silver and gold versions, featured Elvis' U.S. Army serial number, blood type (O), a facsimile signature, and an etched picture of Elvis. According to a June 16, 1958, article in Billboard, the plan was to sell the tags, priced at $1, at department stores, theaters, drugstores, and record stores beginning on July 7 to coincide with the opening of Elvis's new movie, King Creole.
It was in June, however, a month before their release, that anticipation among Presley fans for the dog tags began to build. Prescott and Egan reported they had shipped 1,500,000 tags by mid-June, and they were prepared to produce an additional 500,000 tags per week if needed. Meanwhile, disc jockets around the country were offering their listeners the opportunity to win the promotional Elvis dog tags they had received.
In Shreveport, Louisiana, KJOE deejay Vern Steirman convinced his station manager to fly the station's single engine airplane over the city the afternoon of June 10 so that Stierman could drop 50 Presley dog tags from the air. According to Billoard's June Bundy, it was a merchandising gimmick to promote the release of the new Three-teens record, "Dear 53310761" (Elvis's army serial number). People finding the tags were directed to take them to Stan's Record Shop, where they would receive free copies of the new Elvis tribute record.
In Boston, Arnie Ginsberg of station WBOS had another angle. He offered six advance samples of the Presley dog tags to the first three boys who came to his station with guitars and the first three girls who appeared wearing bathing suits. According to a June 23, 1958, article in Billboard, "On a rainy, cold night, a crowd of more than 600 gathered outside the studio, necessitating three police patrol cars to keep order. There were 22 boys with guitars, and 16 girls in bathing suits." Although the tags were not due to go on sale for a couple of weeks, interest in the jewelry was said to be at "fever height" in Boston.

• Elvis in June: Birthdays of Prominent People in Elvis' World
June 1 — Pat Boone, Elvis' rival for teenagers' hearts in the fifties, was born in 1934.
June 3 — Saxophone player Boots Randolph, whose backed Elvis on such recordings as "Reconsider Baby," was born in 1927. He died on July 3, 2007.
June 8 — Nancy Sinatra, Elvis' costar in Speedway, was born in 1940.
June 17 — Minnie Presley, Elvis' grandmother, was born in 1893. She died on May 8, 1980.
June 25 - Songwriter Sid Tepper, who cowrote 43 songs for Elvis, including "G.I. Blues" and "Puppet on a String," was born in 1918. He died on April 24, 2015.
June 26 — Thomas Parker, Elvis' manager from 1955-1977, was born in 1909. He died on January 21, 1997.
June 27 — Doc Pomus, who collaborated with Mort Shuman to write 15 songs for Elvis, including "Little Sister," "Suspicion," and "Viva Las Vegas," was born in 1925. Pomus died on March 14, 1991.
• Elvis in June: A June quote from Elvis Presley
"The film? (Change of Habit) … it's a change of pace for me, yeah. It's more serious than my usual movies, but it don't mean I'm aiming for a big dramatic acting scene, no sir. The way I'm headed, I want to try something different now, but not too different. I did this film because the script was good, and I guess I know by now what the public goes for.
"Most of the scripts that come my way are all the same. They've all got a load of songs in them, but I just did a western called 'Charro!' which hasn't any songs 'cepting the title tune. It did have a couple of nude scenes, but they've been cut. Anyhow, can you imagine a dramatic western where the hero breaks into song all the time?" — San Francisco Chronicle, June 8, 1969.

Report Corrections and Additions

Go to Elvis Month by Month

Go to Home Page