Elvis in September

Elvis in September — The first month of autumn was a varied one in the life and career of Elvis Presley. In the mid-1950s, he was usually on the road during September. His first controversial appearance on The Ed Sullivan Show came during the month. One of the most important events in his personal life, his first meeting with Priscilla, also happened in September. In the 1960s, September often found him on a Hollywood set, shooting a film to be released the following summer. During the 1970s, Elvis usually finished his summer Las Vegas engagement in early September, and took the rest of the month off to vacation or relax at home in Memphis.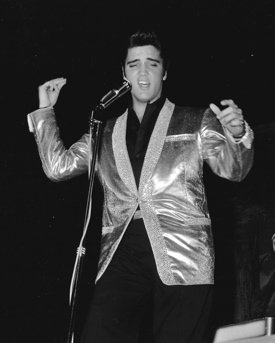 • Elvis in September: A list of important events that occurred in September during the life and career of Elvis Presley
September 9, 1956 — Elvis appeared on The Ed Sullivan Show for the first time. He sang "Don't Be Cruel," "Hound Dog," "Love Me Tender," and "Ready Teddy."
(Right: Elvis on stage in Seattle on September 1, 1957)

September 26, 1956 — Elvis appeared at the Mississippi-Alabama Fair and Dairy Show in Tupelo. Elvis had first sung there at age 10.
September 27, 1957 — Elvis made a return appearance at the Mississippi-Alabama Fair and Dairy Show in Tupelo.
September 13, 1959 — Elvis first met Priscilla at his rented house in Germany.
September 5, 1962 — Location filming began in Seattle for Elvis' 12th movie, It Happened At the World's Fair.
September 30, 1965 — Elvis first met Tom Jones on the set of Paradise, Hawaiian Style in Hawaii.
September 3, 1969 —Elvis' 30th movie, The Trouble With Girls, opened in theaters nationwide.
September 9, 1970 — Elvis appeared in concert at the Phoenix Coliseum. It was his first road show concert since 1961.


• Elvis in September: Anecdote #1
September 1956—A Record Month for Presley Records
In his 23-year recording career, Elvis Presley released a steady stream of single, EP, and LP records. Along the way he accumulated a record number of record sales, gold records, and #1 records. When it came to releasing and selling records, however, September 1956 was a record month for Elvis.
He entered that month as the hottest entertainment personality in the world. He already had three million-selling singles in "Heartbreak Hotel," "Hound Dog," and "Don't Be Cruel." His personal appearances were drawing record crowds around the country, and he was about to make his first appearance on The Ed Sullivan Show. But the best indication of his phenomenal success came in the record business that month.
Early in the month RCA released seven more single records available before only on Elvis LPs. They included some of his early Sun Records recordings, like "Tryin' to Get to You" and "Just Because," and recent RCA album cuts, such as "Blue Suede Shoes" and "Lawdy, Miss Clawdy." By September 5 these reissue singles were all selling at the rate of 12,000 a day. By the end of the month, all six singles had gone over 100,000 in sales.
And then, after Elvis sang "Love Me Tender" on the September 9 Sullivan show, dealers all over the country were swamped with orders for the single the next day. Despite already having eight Presley singles on the market, RCA rushed to get Elvis' new song out. An RCA ad in Billboard on September 29, 1956, proclaimed, "856,327 orders on 'Love Me Tender' a week before release." A footnote added, "by the time you read this, orders will be well over 1,000,000."
An article in Variety on September 5, 1956, reported that Elvis was due to sell around 10,000,000 records during his first year with RCA Victor. From those sales he earned about $400,000 in royalties, a record payoff for any recording artist at that time. September 1956 was indeed a special month for Elvis Presley.


Elvis in September: Anecdote #2
September 1, 1957—A Unique Day in Elvis' Concert Career
One September day was like no other in Elvis' career as a live performer. On September 1, 1957, Elvis was in two countries and three cities. And he performed on stage in two different cities on the same day for one of the few times in his career.
He started the day in Vancouver, B.C., where he had performed the night before. A morning train took him across the border to Seattle, where he arrived at the King Street Station at about noon. After quickly checking into the Olympic Hotel, Elvis was whisked by limousine 35 miles south along Interstate 5 to Tacoma for a 2 p.m. press conference and concert.
By 4:30 p.m. he was back on the road to Seattle. In his room at the Olympic, he had a little time to relax before heading to Sicks' Seattle Stadium for another press conference and concert starting at 8 p.m. After returning late to his hotel room, Elvis grabbed a few hours sleep before catching an early train the next day for his Labor Day concert in Portland, Oregon. Even at age 22, for Elvis September 1, 1957, must have been an exhausting day.


• Elvis in September: Birthdays of Prominent People in Elvis' World
September 4 — Cynthia Pepper, Elvis' co-star in Kissin' Cousins, was born in 1940.
September 7 — Bill Black, Elvis' original bass player, was born on October 21, 1926. He died in 1965.
September 7 — Aaron Schroeder, co-writer of such Elvis songs as "A Big Hunk o' Love," "It's Now or Never," and "Good Luck Charm," was born in 1926. He died on December 2, 2009.
September 10 — Sherrill Nielsen, a tenor backup singer for Elvis at many concert appearances in the 1970s, was born in 1942.
September 12 — Anne Helm, Elvis' co-star in Follow That Dream, was born in 1938.
September 14 — Hal Wallis, producer of nine Elvis movies, including G.I. Blues and Blue Hawaii, was born in 1898. He died on October 5, 1986.
September 25 — Juliet Prowse, Elvis' co-star in G.I. Blues, was born in 1926. She died on September 14, 1996.
September 26 — Donna Douglas, Elvis' co-star in Frankie and Johnny, was born in 1933. She died on January 1, 2015.
September 29 — Lizabeth Scott, Elvis' co-star in Loving You, was born in 1922. She died on January 31, 2015.


• Elvis in September: A September quote from Elvis Presley
"I love football most of all, but I haven't any time for it. I haven't any time for anything I like. On the move every minute. Why, I've only averaged three hours sleep a night the last week. Can't go to a football game or a baseball game or a movie or even the county fair in my own home town. It's the girls … they tear a guy to pieces … It's pandemonium. They don't mean no harm, but I've been clawed and scratched, mauled, shoved and kicked. I've even been bitten. Football was never like this." — Seattle press conference; September 1, 1957
Go to Elvis Months

Go to Home Page