The 1960 "Elvis Is Back" Sessions … Elvis Presley's First Comeback
"Well, the first thing I have to do is to cut some records."
— Press Conference at Graceland | March 7, 1960
That was Elvis Presley's response to a question about his immediate plans now that he was a civilian again. Amidst a snowstorm of press coverage, he had been released from the army just two days earlier at Fort Dix, New Jersey. The pressure was on Elvis to get back into show biz and to do it quickly. The last time he had been in a recording studio was June 10, 1958, during a two-week furlough after his army training. RCA had spread out the release of the handful of songs he cut that day to cover the 21 months remaining in Elvis's army hitch. By the time of his discharge, though, the Presley pipeline at RCA had run dry, and the label wanted its star performer in the studio as soon as possible.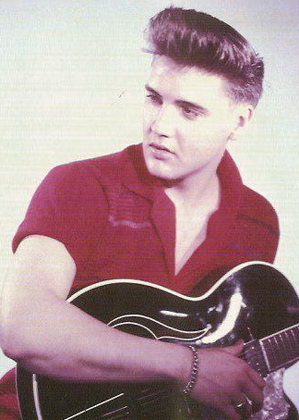 The scheduled recording session was less than two weeks away, but at the Graceland press conference, Elvis professed to know very little about it. "As far as when I'll record, I really don't know," he said. "Probably this week or next week. And what I'll record, I don't know yet. I've got quite a few songs to choose from, I've collected over two years. I don't know exactly what type or what instruments I'll use … I really don't know yet."
While Elvis was still in Germany, Colonel Parker and RCA executives Steve Sholes and Bill Bullock had been carefully planning the coming critical session. They had booked RCA's Studio B in Nashville for two separate dates—March 20 and April 3. (The break in recording was needed so that Elvis could be in Miami on March 26 for the taping of Frank Sinatra's TV special.)
At Hill & Range Music, Freddy Bienstock had been put in charge of gathering new songs for Elvis to record. Some writers who had written for Elvis provided new material. They included Otis Blackwell, Aaron Schroeder, and the team of Ben Weisman and Fred Wise. Some new H&R writers, most prominently the team of Doc Pomus and Mort Shuman, also provided songs especially written for Elvis. Bienstock had a stack of demonstration acetates ready for Elvis to review in Studio B.
• Elvis brought his own playlist to Nashville
A seething dispute with Colonel Parker prevented Jerry Leiber and Mike Stoller, who had composed many of Presley's most well known pre-army songs, from presenting new material. However, "Dirty, Dirty Feeling," a Leiber-Stoller rocker originally intended for the King Creole soundtrack, was still available.
Colonel Parker apparently brought a tune to the session, hoping Elvis would record it. "Are You Lonesome Tonight?" was an often-recorded song dating back to the 1920s. Legend has it that it was a favorite of the Colonel's wife, who asked her husband to suggest it to Elvis.
Then, as he stated at the Graceland press conference, Elvis came to the session with a list of titles he had compiled during his deployment in Germany. Most of them were rhythm and blues numbers from his own record collection, including "Soldier Boy," a hit for the Four Fellows in 1955; "Such a Night," a 1954 hit by the Drifters' and "Reconsider Baby," written and recorded by Lowell Fulson in 1953.
There was another song destined for the "Elvis Is Back" sessions that combined both old and new elements. In Germany Elvis had told Bienstock that he liked "O Sole Mio," an Italian tune dating back to the turn of the century. On returning to New York, Freddy turned the job of writing new English lyrics for the old melody to H&R writers Aaron Schroeder and Wally Gold. "It's Now or Never" became one of Elvis's top priorities for the first post-army sessions.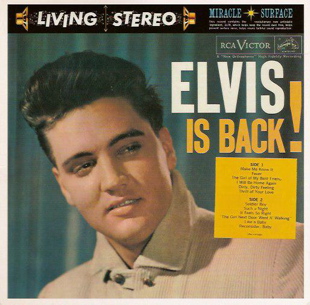 Finally, if possible, Elvis wanted to help out a couple of his friends by recording music they favored. Scotty Moore offered "The Girl Next Door Went A-Walking," written by Thomas Wayne, a singer-songwriter Scotty had worked with while Elvis was away. Also, Elvis wanted to work Charlie Hodge, an army buddy, into the session somehow. Their duet on "I Will Be Home Again" was one of the last songs recorded at Studio B on April 3.
RCA had lined up Nashville's A-list musicians to work with Elvis. They included Hank Garland on guitar, Bob Moore on bass, Buddy Harman on drums, Floyd Cramer on piano, Boots Randolph on saxophone, and the Jordanaires on vocals. Both Colonel Parker and Steve Sholes thought Presley's old band members Scotty Moore and D.J. Fontana would just slow things down, but Elvis insisted that both be included. (Bass player Bill Black had his own combo by then and wasn't interested in working with Elvis.)
• Elvis recorded in stereo for first time
RCA's new chief engineer Bill Porter was there to run the board. Recording technology had made a giant leap forward during Elvis's absence. Ernest Jorgensen explained in his book on Presley's recording sessions. "This would be the first time Elvis was recorded on a three-track machine, giving more space to each player (as well as a separate track for Elvis's voice) and making real stereo records possible. For a group of sophisticated players like this, three-track was a distinct advantage: The music they made could be reproduced in finer detail."
On the evening of March 20, 1960, all of the principals assembled at RCA's Studio B in Nashville. Elvis, along with Scotty, D.J., and Freddy Bienstock, left Graceland at noon on a chartered bus for the drive to Nashville. Waiting for them in the studio were the other musicians, along with Colonel Parker, Sholes, and Bullock. After sending out for hamburgers and renewing old acquaintances, Elvis started work on his first recording session in nearly two years.
First up was Otis Blackwell's "Make Me Know It." Porter, working his first Presley session, noted how anxious Parker and the RCA execs were at first. "They didn't say anything, but they wouldn't sit down until he got it down. [After that] they all started talking about other things."
The March 20 eleven-hour recording session, combined with the twelve-hour session of April 3, resulted in the most artistically and commercially successful recording effort of Elvis's career. The mix of pop, rock, and blues numbers demonstrated Presley's ability to deliver in multiple music genres. Presley biographer Peter Guralnick declared, "There was nothing on the session that could not be said to be of a very high standard."
For the record, 18 songs, enough for three single releases and a twelve-track album, were completed during the two sessions. They were "Make Me Know It," "Soldier Boy," "Stuck on You," "Fame and Fortune," "A Mess of Blues," "It Feels So Right," "Fever," "Like a Baby," "It's Now or Never," "The Girl of My Best Friend," "Dirty, Dirty Feeling," "Thrill of Your Love," "I Gotta Know," "Such a Night," "Are You Lonesome Tonight?", "The Girl Next Door Went A'Walking," "I Will Be Home Again," and "Reconsider Baby."
• "There was a new depth to his voice"
In his sessions book, Ernst Jorgensen assessed Elvis's overall performance as follows:
"Elvis had never been heard like this before … There was new depth to his voice; his interpretations were increasingly sophisticated; the group was probably the best studio band in the business; the song selection was imaginative and varied, the technical quality excellent … As a document of Elvis's first comeback, Elvis Is Back was irresistible."
The public got its first taste of the "Elvis Is Back" sessions when "Stuck on You" and "Fame and Fortune" were released as a single on March 23, just three days after they were recorded. "Stuck on You," the A-side, spent four weeks at #1 on Billboard's "Hot 100" pop chart. As the B-side, "Fame and Fortune" reached #17 on the chart.
Two more blockbuster Presley singles came from the "Elvis Is Back" sessions. "It's Now or Never" spent five weeks atop the "Hot 100" in late summer, and "Are You Lonesome Tonight?" followed at year's end with six more weeks at #1. Their respective flip sides also charted—"A Mess of Blues" at #32 and "I Gotta Know" at #20.
The remaining 12 recordings from Elvis's first post-army sessions were packaged in the "Elvis Is Back!" LP, shipped by RCA on April 8, just four days after most of the tracks had been recorded. In its initial release, about 300,000 copies were sold, which turned out to be a bit of a disappointment for RCA officials.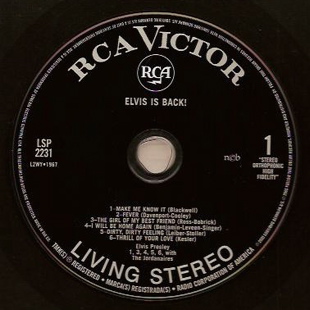 Billboard gave "Elvis Is Back!" a thumbs up in its "Spotlight Winners of the Week" column on April 25. "About the only thing necessary to say about this new album is that dealers should stock it in quantity. Elvis is back—and singing better than ever in the rock and roll style he made famous. His rendition of 'Fever' is a classic, and his performances on 'Dirty, Dirty Feeling,' 'Soldier Boy' and 'Such a Night' are very exciting."
Not all reviews were positive, however. Writing in The New York Times on May 8, John S. Wilson didn't dig the new Elvis.
"Has Elvis really changed in the two years that he has been away? Rumors have been coming back from Germany that we would hear a new, matured Presley when he had finished his Army stint … The Presley who emerges from this disk is less matured than subdued. As the numerous pictures that cover the sleeve attest, the sideburns are gone but the features cleared to view show no signs of advancing maturity. Nor do his conceptions as a vocalist seem to have progressed. In fact, the vivacity that contributed to the surface excitement he once generated is largely missing from these performances, leaving them strangely drab and lackluster."
• Presley's fears of being passé were forgotten
Such criticism was muted, though. All of those who really mattered were thrilled with the results of the "Elvis Is Back" sessions. Colonel Parker's hopes that his client would make a successful transition into pop's mainstream were realized. Steve Sholes and the other anxious execs at RCA relaxed, knowing the label's premier recording artist had returned stronger than ever. Elvis's fans welcomed him home and made him the biggest-selling singer of the year. Finally, and surely most important of all, Elvis himself realized that his fears, openly expressed during the army years, of being forgotten amid new musical trends were unfounded.
In 1957, Frank Sinatra had been cautious in assessing Elvis as a singer. "Presley has no training at all," Sinatra explained. "He has a natural, animalistic talent. When he goes into something serious, a bigger kind of singing, we'll find out if he is a singer." With his performances during the "Elvis Is Back" sessions in early 1960, Elvis Presley demonstrated that he could be any kind of singer he wanted to be. — Alan Hanson |© November 2012
Read More About "Stuck on You"
Read More About "It's Now or Never"
Read More About "Are You Lonesome Tonight?"