Elvis Presley's Paramount Screen Test
Opened Hollywood's Doors in 1956
"We had all seen him on television, the swiveling hips below the bottom of the screen, unseen. But it wasn't just sex; it was an indefinable energy that transcended that. The question was, would it show on film?" — Screenwriter Allan Weiss 
Many in Hollywood were asking the same question in the spring of 1956. The answer would come at a screen test set up for Presley at Paramount Studios on Monday, March 26, 1956. Producer Hal Wallis had asked Weiss to be on hand to play back a recording needed during the test. The veteran screenwriter shared his memories of that historic screen test in the 1988 book, Close-ups: Intimate Profiles of Movie Stars.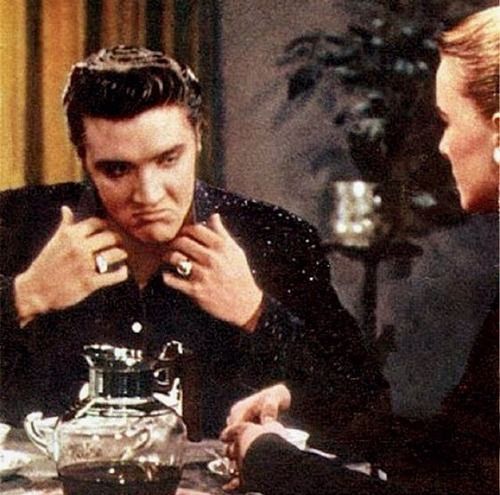 At first, Elvis Presley seemed a strange character to pique the interest of Hal Wallis, a long-time Hollywood veteran producer in his mid-fifties. Best known for classic films like Casablanca and The Maltese Falcon, Wallis had also catered to the youth market with films featuring Dean Martin and Jerry Lewis. By early 1956, though, Wallis could see the Martin and Lewis partnership breaking down, and he began looking for a new act that would lure teens into movie theaters. To find one, Wallis looked to the new medium of television.
Wallis first learned about Elvis Presley on a Saturday night in February 1956. According to Presley biographer Peter Guralnick, Wallis' partner, Joseph Hazen, called him that evening and said, "Turn on the television and look at the (Dorsey) show. This kid is terrific." Wallis biographer Bernard Dick explained the producer's reaction. "Voice was not Wallis' chief requisite; magnetism was … Whenever it was that Wallis saw in Elvis on Stage Show, he knew he had found his answer to Martin and Lewis in one performer."
• Hal Wallis Set Up Screen Test
Early on, both Elvis and Colonel Parker hoped his sudden success on the record charts, stage, and television would lead to a shot in films. It came quickly. On February 24, 1956, William Morris Agency representative Harry Kalcheim notified Parker that a screen test had been set up with Hal Wallis at Paramount Studios for March 26-28. For the three days in Hollywood, Elvis would receive a round-trip ticket and $50 per day for expenses.
Wallis, who would not attend the screen test, asked Frank Tashlin, who had directed two Martin and Lewis films in 1955, to test Elvis for a secondary role in The Rainmaker, a period piece set in 1933 Kansas. At that time, the film was in the casting process at Paramount. "Wallis thought it best to proceed gradually," Dick explained, "starting with a 'gosh-darn' hayseed character, for which Elvis' natural drawl would be perfect." 
On March 7, Kalcheim sent a copy of the The Rainmaker script to Colonel Parker, who forwarded it to Elvis. He advised his client to study it thoroughly, while being mindful of security. "You can show it to your parents," Parker explained, "but don't show it to anyone else because this is a private matter … Do not discuss this matter with anyone — not the boys in the band, the people at the Hayride, anyone, because this is private."
Elvis would later say he memorized every line of the script in preparation for the screen test. A couple of months later, however, he told Robert Johnson of the Memphis Press-Scimitar that he had misgivings from the start about the character he would play. "It was a good part, but I just couldn't see it for me. A good-natured, happy teen-ager, but with nothing up here. After I read the script, I just wanted to do another kind of part."
On March 25, the day after his final appearance on the Dorsey Brothers' Stage Show, Elvis flew from New York to Los Angeles, where he was met at the airport by Colonel Parker, his assistant Tom Diskin, and William Morris agent Leonard Hirshan. 
From his discussions with Colonel Parker, Wallis knew that Elvis desired to become a dramatic actor in the mold of James Dean and Marlon Brandon. However, according to his biographer Dick, "To Wallis, Elvis was a media celebrity who could easily fit into the movie-cum-music that had became a Paramount staple." The producer, therefore, set up the screen test to judge how both Elvis' dramatic and musical talents would come across on film.
Starting on May 26, Presley's screen test consisted of two parts. First, using a toy guitar, Elvis would lip-sync a performance to his recording of "Blue Suede Shoes." It was intended to see if the energy and sex appeal that came across in Presley's TV appearances could be transferred to film. Following would be two dramatic scenes from The Rainmaker to assess Elvis' acting potential.
• "Electricity bounced off the walls"
Weiss' job at the screen test was a simple one. Wallis had asked him to manage the sound on Elvis' recording of "Blue Suede Shoes." "There was no time to transfer the commercial disc to a synchronous one," he recalled. "Hal Wallis would listen to a less-than-perfect sound track." When he put the needle on the record, Weiss recalled the sudden excitement that Elvis created.
"The transformation was incredible. We knew instantly that we were in the presence of a phenomenon; electricity bounced off the walls of the sound stage. One felt it as an awesome thing — like an earthquake in progress, only without the implicit threat. Watching this insecure country boy, who apologized when he asked for a rehearsal as though he had some something wrong, turn into absolute dynamite when he stepped into the bright lights and started lip-synching the words of his familiar hit. He believed in it, and he made you believe it, no matter how 'sophisticated' your musical tastes were."
The significance of filming his musical act, however, seemed lost on Elvis. Later he reacted almost as if it never had happened. In a radio interview in San Antonio two weeks later, he told DJ Charlie Walker, "I've had people ask me was I gonna sing in the movies … I'm not, I mean as far as I know, cause I took strictly an acting test and I wouldn't care too much about singin' in the movies."
After only two takes on "Blue Suede Shoes," the cameras moved in for some close-ups. Elvis worried that he had not been right "on" in a couple of places, but Weiss explained that close-ups would be used to "intercut" those spots. "I don't think he understood," Weiss said, "but with characteristic trust, he did what he was told. He stood uncomplainingly while the lights were being adjusted — bathed in perspiration."
Presley then did two scenes from The Rainmaker. Later that year, Elvis recalled the dramatic tests. "I knew my script," he said. "I got out there and just tried to put myself in the place of the character I was playing, just trying to act as naturally as I could." In May, Elvis told Will Jones of the Minneapolis Tribune that he favored the second of the two scenes. "I took this screen test where I came in and was real happy and jolly and I didn't like it. I did this other one where I was mad at this girl, and I liked that better — it was me."
Elvis worked with veteran actor Frank Faylen in the first test scene and with twenty-one-year-old actress Cynthia Baxter (later Cynthia O'Neal) in the second scene. She later told TV Guide, "When the Wallis people told me I was to make a test with him, my reaction was 'Ugh!' But, you know, he is a very interesting boy — kind of amazing to work with. As an actor, he has a lot of work ahead of him, but he has wonderful attributes to start with."
Allan Weiss was not as impressed with the dramatic part of Presley's test as he was with the musical portion. "Elvis played the rebellious younger brother with amateurish conviction — like the lead in a high school play. His performance was believable, but lacked the polished subtleties of a professional."
On the other hand, after viewing the acting part of the test, Paramount dramatic coach Charlotte Clary thought Elvis might have a future as an actor. "The boy is a natural," she judged. "There's nothing fresh or obnoxious about him at all."
• Hal Wallis … no straight roles for Elvis
Of course, the only one whose opinion mattered was Hal Wallis. In his biography, Bernard Dick noted how Wallis' reaction to Presley's screen test validated his original judgment that Elvis' musical talent would be his greatest asset in films.
"The screen test showed Elvis could act; that was the reaction of both Wallis and Hazen — the latter believing that Elvis had more potential as an actor than a singer. If Wallis thought so, too, he could not admit it. Wallis knew the public would never accept Elvis in straight roles. They wanted the singer; if they could have the actor too, all the better."
Wallis moved quickly to get Elvis under contract. On April 2, less than a week after the screen test, the producer offered a contract calling for one movie with options for six more. Then began what Wallis would later call, "one of the toughest bargaining sessions of my career." Colonel Parker negotiated progressive payouts for Elvis, starting with $15,000 for the first film and increasing up to $100,00 for the seventh picture. Wallis would have preferred an exclusive contract, but Parker insisted on an option for Elvis to do one film per year with another studio. After negotiations ended on April 25, Elvis signed his first Hollywood movie contract.
With Elvis under contract, Wallis wanted to put his new star to work as soon as possible. There was a hitch, though. After the screen test, it became obvious to Wallis that The Rainmaker was no longer a possibility for Elvis. As Bernard Dick explained, "Elvis would be playing Hepburn's younger brother, which would make audiences wonder how two such dissimilar siblings, with totally different speech patterns, could come from the same set of parents."
According to Dick, that left Wallis at a loss to come up with a suitable option for Presley. He wanted Elvis' first Hal Wallis movie to showcase the "'soft spoken' and 'modest' young man along with his pelvic persona."
• Elvis rejected "excess actin'"
Meanwhile, Elvis was back out on the road, still thinking his first film role would be in The Rainmaker. On April 10, he told Ken Kennamer of the Lubbock Avalanche Journal that he was scheduled to start work on The Rainmaker in June, and a week later, when Bea Ramirez of the Waco News Tribune asked if he would sing in his first movie, he responded, "No, honey, sure won't. Going to be in it with Katharine Hepburn and Burt Lancaster, and I won't sing. I don't want to. I want to be an actor."
Hal Wallis met with Elvis in Las Vegas during Presley's two-week engagement at New Frontier Hotel in late April. The producer later said Elvis was "quiet, soft-spoken, gentlemanly, and very modest," as well as a "joy to work with, in every way." It was probably at this meeting that Wallis told Elvis he wouldn't be cast in The Rainmaker. Two weeks later, Elvis told Minneapolis reporter Will Jones, "Mr. Wallis asked me what kind of a part I'd like, and I told him one more like myself, so I wouldn't have to do any excess actin'. So he's having' somebody write one for me like that."
Unable to come up quickly with a suitable project for Elvis, Wallis reluctantly loaned his new star out to MGM for his first movie, Love Me Tender. The Paramount producer, however, reminded the William Morris Agency, "We were, in fact, the first motion picture producers to recognize his motion picture possibilities and also the first to enter into a contract with him." Elvis Presley's first movie for Hal Wallis at Paramount would be Loving You in 1957.
After Elvis Presley's one and only screen test on March 26-28, 1956, screenwriter Allan Weis came to the following conclusion:
"In viewing the test, one thing was clear. It would be a mistake to try to force this strong personality into a preconceived role. His parts must be tailored for him, designed to exploit the thing he did best — sing."
Hal Wallis agreed, and between 1957-1967, he produced nine Presley musicals. Allan Weiss also capitalized on the Paramount Presley formula, writing the screenplays for six of the studio's films starring Elvis. (Blue Hawaii, Girls! Girls! Girls!, Fun in Acapulco, Roustabout, Paradise—Hawaiian Style, and Easy Come, Easy Go) — Alan Hanson | April 2017