Behind the Scenes Of:
Fun in Acapulco
On December 4, 1962, a brief United Press wire service report out of Mexico City began appearing in American newspapers. It stated that, "Elvis Presley will rock 'n' roll his way to Mexico incognito to film 'Fiesta in Mexico.'" Newspapers in the Mexican capital added that Presley would fly directly to Mexico City from Los Angeles and "remain incognito during his stay."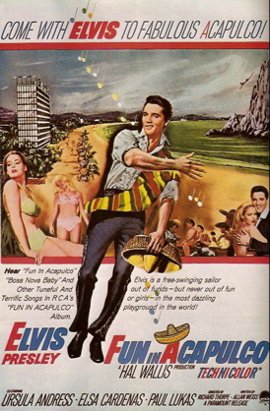 The misinformation from Mexico was the first public indication that Hal Wallis was in the pre-production phase of his next Elvis Presley movie. Within a few days, the producer began feeding updated information to Hollywood columnists. On December 6, Louella Parsons revealed in her column that the coming film's title was actually Fun in Acapulco, and that its setting would not be in Mexico City, but rather in the Mexican coastal resort town of Acapulco. 
Presley's ability to work undercover anywhere in Mexico would have been virtually impossible, not only due to his worldwide fame, but also due to the negative press the singer had received in Mexico over the previous few years. It started in January 1957, when Mexico's Education Minister banned Presley from appearing in any government-owned venue in the country because the singer's rock 'n' roll style "lacks esthetic values and is markedly pornographic." A month later, a Hollywood columnist reported that, "Elvis Presley was offered $12,000 for one TV performance in Mexico City but had turned it down because he's too busy making movies in Hollywood." Just a week later, on March 4, 1957, a wire service article out of the Mexican capital noted that, "Feelings over Presley have been running high in Mexico since a Mexico City columnist alleged that the singer took a verbal rap at Mexican women." Presley denied he had made any statement about Mexican women, and a check where the statement was allegedly made failed to uncover any report of it. In 1963 the rumor was still widely believed in Mexico, and even Hollywood columnist Sheilah Graham reported it as fact in her column in December 1962. "Elvis Presley made some derogatory remarks about Mexican women in a fan mag article about two years ago. In Mexico, they are only just now getting around to forgiving him."
The wily Wallis devised a strategy for avoiding production disruptions that Presley's presence in Mexico might cause. His movie star would not set foot south of the border. Background photography would be shot in Acapulco, but all of Presley's scenes would be staged in Hollywood. 
• Wallis lined up Presley's supporting cast
In late 1962 and early 1963, Hal Wallis kept the Hollywood press informed as he signed Elvis' co-stars and supporting cast for Fun in Acapulco. International actress Ursula Andress was signed to play Elvis' leading lady. As this was to be her first American-made film, it's doubtful that Elvis even knew who she was when she got the part. Of course, she became internationally known as the first "Bond Girl" after the British-made Dr. No was released in the U.S. later in 1963. In Fun in Acapulco, Andress played the part of Margueita Dauphin, a royal European immigrant working as a hotel social director in Acapulco.
Some in the Hollywood press suspected Wallis signed on Elsa Cardenas, the "reigning queen of movies in Mexico," to soothe some of the resentment toward Elvis in her country. In a Hollywood interview, Elsa revealed that she gave up a fortune to become an actress. Her wealthy grandfather disinherited her, she said, because he did not approve of acting. "But it was worth it," she professed. "Look at me now. I'm co-starring in a movie with Elvis Presley. That's worth a fortune to a lot of girls." In Fun in Acapulco, the green-eyed Cardenas played Dolores Gomez, a famous lady bullfighter, who competes with Ursula Andress for Elvis' affections.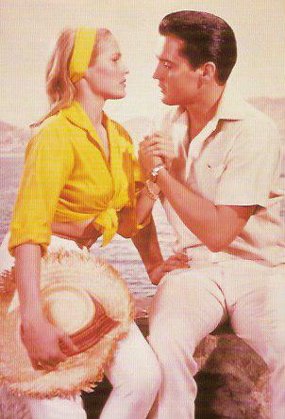 Paul Lukas came on board to play a supporting role as a former European grand duke who winds up as a French chef at the Acapulco hotel where his daughter also works. An Academy Award winning actor, Lukas had been living in Majorca in semi-retirement for eight years. During a short stay in Hollywood, he ran into Wallis and wound up in the Presley film.
Three other actors filled out the main supporting cast in Fun in Acapulco. Robert Carricart, known for his work on Broadway, played the part of Jose Garcia, the love forlorn manager of Elsa Cardenas' lady bullfighter. Although Argentine actor Alejandro Rey's extensive role as a cliff diver and Elvis' competitor for Ursula Andress' attention was worthy of a second billing in Fun in Acapulco, he was denied it. Those honors instead went to Andress, Cardenas, and Lukas. Eight-year-old Larry Domasin also has considerable screen time as the precocious Mexican orphan Raoul, who installs himself as the manager of Elvis' character. A comparison to Presley's real life develops when Raoul maneuvers the singer into sharing his nightclub earnings with him fifty-fifty.
Three actors who appear briefly in Fun in Acapulco had parts in earlier Presley films. Darlene Tompkins, who is one of three underage girls sitting at a table in a smoke-filled Acapulco canteen, previously played Patsy, one of the teenage girls for whom Elvis' character was a tour guide in Blue Hawaii. Linda Rivera, who worked the hotel telegraph desk in Fun in Acapulco, played a squealing bobbysoxer in 1957's Loving You. Howard McNear was appearing in his third Presley film. He had played a travel agency owner in Blue Hawaii and a bank loan manager in Follow That Dream. In Fun in Acapulco, he was a tourist from Atlanta, who has a brief, humorous conversation with Cardenas' lady bullfighter.
• Richard Thorpe signed on to direct his second Presley film
Fun in Acapulco was Elvis Presley's thirteenth movie and his sixth for producer Hal Wallis at Paramount. The film was the third in a five-picture deal Wallis had negotiated with Colonel Parker in January 1961. Elvis received $175,000 for his work in Fun in Acapulco. Richard Thorpe, a veteran of more than 25 years experience in Hollywood, was selected to direct the film. Thorpe had previously directed Elvis in 1957's Jailhouse Rock. Allan Weiss wrote the script, which, as in all Presley features by Wallis, was secondary to the star's musical numbers. (One reviewer wrote, "The script is out of any old fan magazine, which is to say it's insipid.") For a "musical-comedy," the script was short in the latter element. Raoul is cute, but not funny. Elsa Cardenas is given the most humorous moments when she twice refers to bringing her "station wagon" along on dates with Elvis.
By 1962, Wallis had settled on the formula that would become known as a "Presley picture" — light musical comedy in an exotic setting with lots of music. Although Elvis would come to regret making such formula pictures in the coming years, in 1962 he embraced the niche in films that Wallis had carved out for him. In a 1962 interview with Lloyd Shearer on the set of his previous film, It Happened At the World's Fair, Elvis explained his attitude then about making movies
"They want me to try an artistic picture. That's fine. Maybe I can pull it off some day. But not now. I've made 11 pictures, and they've all made money. A certain type of audience likes me. I entertain them with what I'm doing. I'd be a fool to tamper with that kind of success … If you're doing all right, you keep at it until time itself changes things."
Wallis informed the Hollywood press that in December 1962, a crew would travel to Acapulco for location work, and that principal photography on Fun in Acapulco would begin in Hollywood a month later. Background photography was shot in Acapulco, as well as some action footage of Mexican divers leaping off the cliffs of La Quebrada into the bay. Some long-range action scenes were also filmed using a double for Elvis. All of the principal photography with the cast was done at Paramount Studios and nearby locations in Hollywood. In the finished print, it's very obvious that Elvis at times is performing in front of background footage shot in Mexico. For instance, when Elvis sings "Mexico" as he and Raoul ride a bicycle through the streets of Acapulco, he was actually pedaling a stationary bike in Hollywood. The same goes for the blue Pacific Ocean background as Elvis prepares to dive from the height of a thirteen-story building.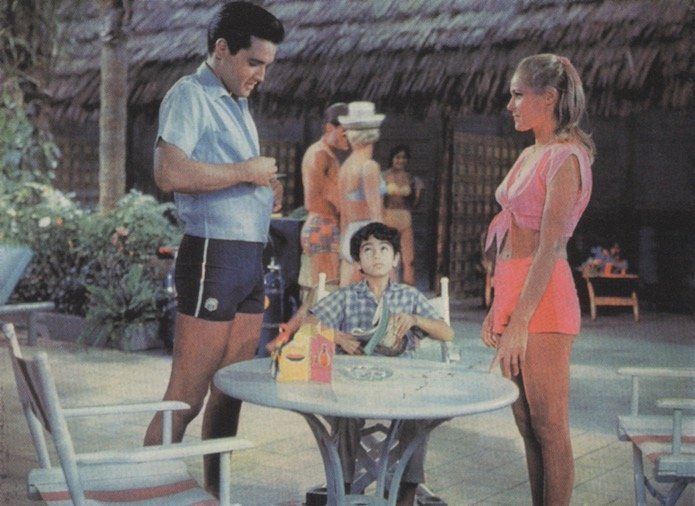 • The romantic backgrounds fooled some critics and Presley fans
A few reviewers were fooled. One declared, "This entertaining musical, produced by Elvis' screen discoverer Hal Wallis, is filmed on location in the romantic south of the border city of Acapulco." Others, though, noticed the Mexican setting seemed a little unreal. A reviewer in The Ottawa Citizen observed that, "the technicolored Acapulco scenery has an artificial look to it."
In building hype in the Hollywood press for Fun in Acapulco, Wallis described a couple dramatic scenes in the script. In one, the producer explained that Elvis would dive over 130 feet from a rock cliff into a narrow strip of water off Acapulco Bay. Wallis meant "Elvis' character," not Elvis himself, but, amazingly, when the film came out, a few reviewers thought Presley actually had made the dive. One reviewer declared, "At one point in the plot, Presley displays his swimming and diving ability in a spectacular plunge 136 feet from the cliff to the surf below."
As for Elvis' swimming skills, columnist Harrison Carroll got to observe them up close when he was allowed to watch the shooting of a pool scene in Fun in Acapulco. Carroll began his column of February 28, 1963, with the following: "With his co-ordination, you'd think Elvis would be a great swimmer, but, curiously enough, he is not at home in the water."
The scene to be shot was set up around an exact replica of the pool and cabanas at the Acapulco Hilton. The set had to be exact, Carroll was told, because it had to match the previous footage shot at the real site in Mexico. A group of bit players were sitting around drinking cool tequila drinks (actually a solution of water with just enough cola to simulate the color of the real thing).
It was a simple scene. Elvis was to enter the pool and swim to the other side, where Larry Domasin, Elvis' diminutive agent, waited with a towel. "As the camera rolls," Carroll observed, "Elvis heads for the opposite bank. He uses an overhead stroke. In the brief footage, it will look okay. Only an expert swimmer may detect a lack of perfect form." Later, Carroll asked Elvis why he never became an "accomplished" swimmer. "I don't know," Elvis replied. "I like to be around the water, but I never cared a whole lot about swimming."
• Presley's high-wire act fooled Hollywood writer
In addition to the diving scene, Wallis apparently hoodwinked another Hollywood reporter into thinking Elvis was going to perform another stunt in the picture. "Elvis To Risk Life in 'Fun in Acapulco,'" was the headline over a short wire service article out of Hollywood on March 28, 1963." The article read, with its preposterous premise, as follows:
"HOLLYWOOD, Calif. — Elvis Presley will risk his life and limbs in a circus aerial act in Hal Wallis' 'Fun in Acapulco.' Presley, as a circus aerialist, will swing from a high trapeze, 20 feet above the circus floor, in a scene in which he misses a catch and drops a fellow performer. Paramount studios will take every precaution to provide out-of-camera range safeguards for Presley, but the risk is great. For this reason, the scene will be the last staged for the picture. There can be no retakes."
Of course, Elvis Presley fans in late 1963 came to their local movie theaters to see and hear him sing. For those reared on Presley's rocking performance style in the 1950s, the singer's energetic delivery on "Bossa Nova Baby" was nostalgic stuff. However, most of the other numbers in the eleven-song soundtrack had Mexican themes and rhythms unfamiliar and troublesome to the Presley faithful. Little movement accompanied his delivery of some songs. To Minneapolis Starwriter Ben Kern, though, the music in Fun in Acapulco gave Elvis Presley an opportunity to expand his vocal talents.
"For about half the film, he sits down or stands still while singing. You get a chance to listen to him, and what you hear is not bad a-tall — surging rhythm and effortless flexibility from bone-tingling baritone to an easy, pleasurable warble."
• Reviews of Fun in Acapulco were mixed, as usual
Hal Wallis can't be faulted for his attempts to hype expectation for Fun in Acapulco in the Hollywood press. And certainly, at times, brutal competitiveness among Hollywood gossip columnists resulted in dramatic commentary about the picture. All was fair in the writers' attempts to attract readers and in the producer's attempts to entice audiences into theaters. In the end, though, like all Presley films, Fun in Acapulco had to stand on its own before the nation's theater audiences and film critics. Dozens of reviews of the picture appeared in national and local publications in 1963 and 1964. They range in tone from glowing to scornful. Following are brief excerpts from two of those reviews, one from each end of the spectrum. First, the bad:
"Elvis Presley, when faced with the current mania, presents a pitiful figure in 'Fun in Acapulco.' Poor Elvis, his hair calmly brushed back, is paunchy and tired, bored perhaps with the endless parade of formula movies that have demanded his presence for several years. It seems that as the rock 'n' roll king becomes more palatable, his films become more innocuous, requiring merely Elvis, an inviting locale, two or three leggy beauties and an occasional fawning youngster." — The New York Daily News, February 20, 1964.
Now the good:
"Compared with the Beatles, Elvis Presley sounds like Caruso in 'Fun in Acapulco.' And he certainly looks better. In fact, this attractive travel poster for the famed Mexican resort is far and away his best musical feature ever. It's a pleasant, idyllic movie that never takes itself seriously and moves briskly. The excellent color photography and the balmy atmosphere of the resort — the luxurious hotels, the beaches and the quaint byways — were positively eye-popping. The songs, in native rhythm, come thick and fast. The melodies and staging are generally bright and imaginative. And Mr. Presley has never seemed so relaxed and personable." — The New York Times, February 20, 1964.
Fun in Acapulco's performance at the box office, while not spectacular, was certainly solid. It's box office earnings in the U.S. and Canada totaled $6.82 million, ranking it twelfth highest among all of Presley's 31 theatrical films. Rental earnings on the movie netted Paramount $3.1 million. Fun in Acapulco ranked number 33 on Variety's list of "Top Grossing Films of 1963." The picture also deserves some credit for maintaining Elvis Presley's star-power momentum heading into his next film role in what would become the biggest box office hit of his career — Viva Las Vegas. — © Alan Hanson | 2019