G.I. Blues
Elvis Presley's "Red,
White
and Blue Star-Bright Show"

When Elvis Presley's first post-army film hit theaters during the Thanksgiving holiday season in 1960, a patriotic theme replaced the rock 'n' roll hype of his four earlier films. The banner over most newspaper ads for G.I. Blues read, "The Red, White and Blue Star-Bright Show of the Year." It offered Elvis in a different kind of "R&R" story — "The rousing, rollicking story of America's ever-lovin' overseas G.I.s!" The ads even portrayed Elvis' music in the film as patriotic: "Hear the red, white and wonderful score recorded on RCA's 'G.I. Blues' album."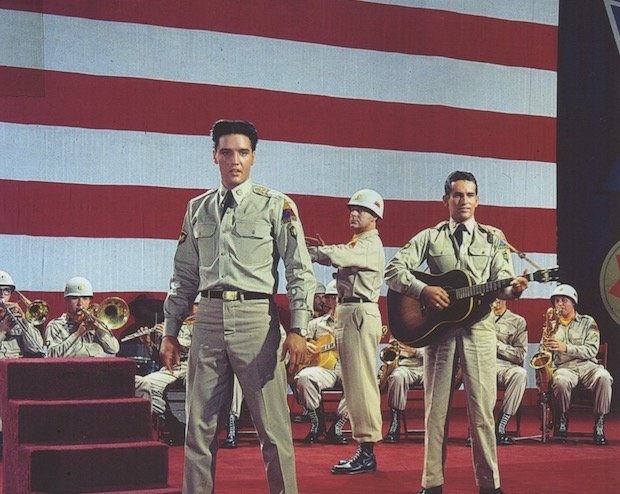 Paramount's publicity push for Elvis' new movie began early with an unusual double-page ad in Variety on April 27, 1960. Rather than the upcoming release of G.I. Blues, the ad announced the start of the movie's filming. "ELVIS IS BACK AND STARTS TODAY IN HAL WALLIS' G.I. BLUES," the advertisement declared in big block letters. "It will be available for Thanksgiving Release!" The notice advised theater agents: "Get your booking set now so you'll be sure of a print!" As fast as Wallis worked to get Elvis' new picture finished, G.I. Blues would not be the first, or even the second, Presley film in theaters after the star's army discharge. Both 20th Century Fox and Metro-Goldwyn-Mayer dusted off their earlier Elvis films and put them back in theaters soon after Presley was back in civies. On April 13, 1960, Variety reported that "Metro's 'Jailhouse Rock,' which is said to have grossed $4,000,000 when originally released in 1957, is chalking up steady business in various sections of the country. In some situations, the picture has been played at least three times, particularly in theatres near Army camps." Fox's Love Me Tender was "also reported to be doing nicely" in re-release.
Only Paramount, which had Loving You and King Creole in the vault, declined to take advantage of the publicity surrounding Elvis' army discharge by releasing it pre-army Presley films. According to Variety, the studio "feared that too many reissues might tend to overexpose Presley and decided to put its big push behind the new entry."
• Dallas preview showing drew mixed reviews
In August, Paramount previewed G.I. Blues at the Majestic Theatre in Dallas. A full-page Variety ad on August 24 reprinted an alleged telegram sent by Raymond Willie of Interstate Circuit Theatres to George Weltner of Paramount Pictures. "Dallas gave G.I. Blues a rousing reception at sneak preview," it read. "We have never witnessed such marvelous audience reaction to any picture. Comment cards are excellent. Presley is a new personality and will add many fans to the great number he has always had. Hal Wallis has come up with another real winner."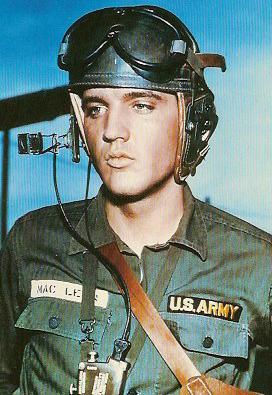 John Rosenfield, long-time amusements editor for the Dallas Morning News, gave the film a more analytical review. "Hal Wallis has given GI Blues a slightly less self-conscious production," Rosenfield noted, "aware, doubtless, that Elvis Presley is social influence second only to hard drink." As for screen performances, the critic passed judgment as follow: "For once we did not feel inclined to exterminate Elvis, found only three or four of his uniformed associates obnoxious, and continued to like Miss Prowse, the Bombay-Capetown-London dancer, who has an elfin charm to go with a brassy manner and sensational hoofing; Leticia Roman from Italy and Sigred Maier from Germany are two other comely adornments. The top sergeant, played by Arch Johnson, is dumb and what's new cinematically?" Rosenfield's final assessment of G.I. Blues? — "In a word: Seasoned turkey dish for Thanksgiving."
• National Board saw grownup appeal in G.I. Blues
Seeking another test of Presley's new appeal in G.I. Blues, Paramount requested that the National Audience Board gather its New York associates to take a critical look at the film, which it did during a screening on October 26. A November 2 Variety article reported on the results. "Most of the grownup reviewers (who are officials of civic and national organizations) agreed that the teen r&r fave 'seemed more mature' and did a good acting and singing job, but 28% said the picture did not meet their 'standards of good taste.'" The article added: "While the panel basically figured Presley as teen entertainment, with 71% agreeing the film would be 'entertaining for teenagers,' more than 50% said they would recommend the picture to their adult friends. Regarding the query on taste, 13% said they 'strongly agreed' that the picture met their own standards of good taste, and another 50% 'agreed' with the standards. But close to 11% took strong issue with the standards, and another 17.5% at least took issue."
• G.I. Blues given splashy preview in LA
Paramount released G.I. Blues nationally on November 23, 1960, but the film debuted earlier in some major markets. In New York it opened at the Victoria Theatre at Broadway and 46th Street on Friday, November 4. The Fox Wilshire Theatre, a Los Angeles city landmark, gave a splashy premiere showing of G.I. Blues on November 15. Among the attendees were actors Cesar Romero and Ronald Regan.
Los Angeles film critic John L. Scott gave his assessment of Presley's new screen vehicle. "Gone are the snake-hips gyrations, fish-eye look and sullen attitude," Scott observed. "Elvis Presley, late of the U.S. Army and back on the screen, is the smiling All-American Boy in his first post-service picture. I wouldn't actually call Elvis sophisticated in the picture, but he has grown up, for which we give thanks. And he's learning how to act, too, particularly in the lighter sequences. I'm certain most mature theater-goers will welcome the change in Presley. Now as to his squealing teen-age fans — it is hoped they also will go along with the metamorphosis."
Scott also commented on Elvis' music in G.I. Blues, as well as the physical side of his delivery. "Elvis sings some 10 numbers in G.I. Blues, including a few tunes about the army and some items called 'Wooden Heart' and 'Didja Ever?'" noted Scott. "He has reduced that old rock and roll wiggle to a rhythmical shaking of knees; he doesn't leer, and his formerly oily mop of hair is no more."
Scott's evaluation of Elvis in G.I. Blues fit the general pattern of the film's reviews across the country in late 1960. Critics saw Elvis' performance as something new, a step in the right direction. No one worried anymore about his immoral influence on teenagers. He had shown a modicum of acting talent, and moving forward critics would focus on Presley's ability to improve his craft and demonstrate versatility as an actor. — Alan Hanson | © December 2010