Hal Wallis


The Paramount Producer Who Reigned Over Elvis Presley's Film Career
During the course of Elvis Presley's 31 theatrical films from 1956 through 1969, he worked with 21 different producers and 19 different directors. Of these, the most influential by far was producer Hal Wallis. He first brought Elvis to Hollywood and produced nine of his films. (For the record, they were Loving You, King Creole, G.I. Blues, Blue Hawaii, Girls! Girls! Girls!, Fun in Acapulco, Roustabout, Paradise, Hawaiian Style,and Easy Come, Easy Go.) Through his choice of screen material for Elvis, Wallis wielded more control over Presley's Hollywood career than any other person, excluding only Elvis himself.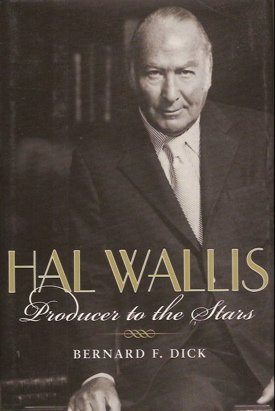 Bernard F. Dick's 2004 biography, "Hal Wallis: Producer to the Stars," offers some interesting insights into the Paramount producer's role in Presley's career. Born Harold Walinsky in Chicago on October 8, 1898, Hal Wallis' Hollywood career began with a job at Warner Brothers in the early 1920s. In 1925 he became the studio's director of publicity, and by 1931 he was producing films, his signature production being 1942's Casablanca.
At Warner Brothers an important relationship developed between Wallis and Joseph H. Hazen, who was a vice president at the studio. Both became disgruntled there and moved over to Paramount together in 1947. When they set up shop at Paramount, Wallis and Hazen formed their own production company, Wallis-Hazen, Inc. Wallis became president and Hazen vice-president and treasurer. 
Financial problems caused the two men to legally dissolve their partnership in 1952, but they continued to work together producing films on a one-at-a-time basis. It was during this period that they produced the Presley films for Paramount. Under their agreement, Hazen was credited with being executive producer of four Elvis pictures (Fun in Acapulco, Roustabout, Paradise, Hawaiian Style, and Easy Come, Easy Go). As independent producers under the Paramount umbrella, Wallis and Hazen shared copyright claims to the Presley pictures. 
• Hal Wallis disagreed with Hazen over Elvis' acting talent 
Being on the legal and financial side of the partnership, Joseph Hazen had far less direct contact with Presley than did Hal Wallis. That didn't stop him, however, from voicing his opinion about Elvis. After the initial screen test, both Wallis and Hazen agreed that Elvis could act. Hazen, however, thought Elvis had real potential as a serious actor, while Wallis was convinced the public would never accept Elvis as a straight actor. Wallis controlled the creative side of the business, though, and so he overruled Hazen and cast Elvis in musical comedies. 
Hal Wallis was always on the watch for new talent. He had produced Dean Martin and Jerry Lewis' films, but by the mid-fifties he realized the two were drifting apart. According to Dick, by 1956 Wallis needed a new celebrity in his stable of stars. Experience had taught him that, when it came to pop singers, voice was secondary to "magnetism." 
He found what he was looking for when he saw Elvis Presley perform on CBS-TV's Stage Show in early 1956. "He knew he had found his answer to Martin and Lewis in one performer," Dick noted. "To Wallis, Elvis was a media celebrity who could easily fit into the movie-cum-music that had become a Paramount staple." The producer moved quickly. Before even meeting Elvis, Wallis negotiated with Colonel Parker to get Presley under contract. According to Dick, when Hal Wallis later met Elvis, he was "amazed" by the difference between Elvis' public image and his private demeanor. "[Elvis] was quiet, soft spoken, gentlemanly, and very modest," Wallis later recalled. 
• Elvis could act, but to Wallis that was secondary 
The screen test that Wallis arranged proved to him that Elvis could act. In his biography, however, Dick contends that from the beginning Wallis never intended to cast Presley as a serious actor. "Wallis knew the public would never accept Elvis in straight roles," wrote Dick. "They wanted the singer; if they could have the actor too, all the better." If Elvis had dreams of becoming a serious actor, then he signed on with the wrong producer.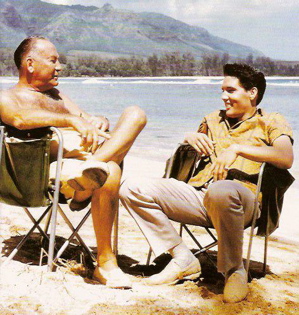 Hal Wallis initially hoped to use a gradual build-up approach with Elvis, and so for his debut film Wallis planned to have Elvis appear as a minor character in The Rainmaker. When that fell through, though, Wallis reluctantly loaned Elvis out to 20th Century Fox, who cast Presley in Love Me Tender. When that film proved so successful, Wallis abandoned the gradual approach and cast Elvis in the lead of 1957's Loving You. Wallis, however, did not put aside his belief that Elvis' magnetism was more important than his acting. In the following paragraph, Dick explains how Elvis came across in his first Hal Wallis film. 
"Elvis, like his movie counterpart, was a paradox — a media-savvy country boy, a balladeer, and an exhibitionist; comfortable in jeans or gold lamé jackets, on dirt roads or city streets, on bandstands or in theaters. Loving You revealed all these facets, making them more complementary than contradictory. That Elvis often mumbled the lyrics did not trouble his fans, who considered them incidental to the real performance, which was Elvis himself: the uninhibited showman, with legs apart and pelvis thrust out; head slightly lowered to suggest covert eye contact with an audience he could not see but knew was looking back — if not above his waist, then below it. Yet when Elvis sings the title song in an outdoor setting, like a farm boy at a picnic, it is with such prayerlike simplicity and reverence that it seems like a wedding hymn." 
• Wallis let Elvis act in King Creole but songs came first
Hal Wallis was so pleased with Elvis' acting in Loving You, that he decided to give Presley a greater challenge in his next Paramount film. The producer had the perfect vehicle. It was loosely adapted from Harold Robbins' A Stone for Danny Fisher, the movie rights to which Wallis had purchased for a mere $25,000. Mindful that the serious story still needed to be song-driven, Wallis shifted the setting from Chicago to New Orleans. The producer then put the film in the capable hands of his close friend and favorite director, Michael Curtiz.
Pairing the young Presley with the traditional director Curtiz seemed like a mismatch, but Wallis knew what he was doing. According to Dick, "The problem was Elvis, whom the aristocratic Curtiz considered a phenomenon, not an actor. Still, Curtiz accepted the challenge, which resulted in mutual respect." Dick went on to characterize the Presley-Curtiz collaboration as follows: "Elvis found the key to Danny's character: anger, which Elvis had in abundance ... Whether Curtiz knew that the source of that anger was Elvis' growing awareness that he was becoming more of a commodity than a person — a transformation Elvis felt powerless to reverse — is problematic; Curtiz knew the anger was there and that he had to tap into it ... Contrary to reports that Elvis and Curtiz were constantly clashing on the set, the opposite seems to have been true. [Costar] Delores Hart found that Curtiz was most supportive of Elvis, which corroborates what Elvis himself thought." 
Wallis, Elvis, and Colonel Parker were all pleased with the start of Presley's film career. All three were confident that Elvis' stardom could survive two years away in the army. When Elvis went away in 1958, Hal Wallis began planning for his return. A new four-year, four-film contract was drawn up, and the producer sketched out a film concept to capitalize on Presley's army experience. As Elvis' hitch drew to a close in the fall of 1959, Wallis went to Germany to meet with Elvis and film backgrounds for G.I. Blues. 
Despite the immense influence Hal Wallis had on his career, Elvis never had a close personal or professional relationship with his chief Hollywood producer. When Elvis kept declining his dinner invitations in 1957, Wallis thought Elvis was snubbing him. Eventually he realized that his young star felt uneasy around film executives in general. 
Elvis preferred that Wallis deal with him through Colonel Parker, and Wallis had no problem with that. He was used to dealing with actors' agents and managers. Some would argue, though, that Elvis damaged his Hollywood career by distancing himself from Wallis and the other producers who had so much control over his films. 
• Wallis and the Colonel became bosom buddies 
Following the success of Loving You, Wallis and Parker developed a solid working relationship. The Colonel was always pestering Wallis about scripts, directors, and bonuses for Elvis. Wallis, however, seemed willing to indulge Parker, giving the Colonel an office and a parking space on the Paramount lot. To allow Parker to make some extra money, Hal Wallis granted Parker a credit as "technical adviser" in Presley's films. 
Following the critical success of King Creole, Wallis and Parker became good friends. They began exchanging gifts. Parker gave Wallis some elephant figurines, and Wallis gave the Colonel some custom-made shirts and suits. Eventually, though, friction began to develop between the two men. Hal Wallis' great plans for Elvis' career inevitably clashed with Parker's determination to get the best deal for Elvis and himself. 
When Elvis returned from the army in 1960, Hal Wallis was waiting with a new four-year contract that he had prepared. Biographer Dick gave the following details of the agreement:
"In addition to making four pictures for Wallis, Elvis would also be allowed to do two outside pictures the first year, one each in the second and third years, and two in the fourth. Financially, it was a good deal: $125,000 for each Wallis production, plus $50,000 per film for expenses. Each film would involve eight weeks of work; if longer, Elvis would receive two weeks' salary, with the expense allowance prorated. After that, it would be salary only, prorated for a five-day week, at $21,875 weekly." 
Hal Wallis barely had G.I. Blues in production when he learned that Colonel Parker had negotiated with 20th Century Fox for Elvis to do another picture. Parker was within his rights according to the contract, but the Colonel's timing irritated Wallis. G.I. Blues and Flaming Star were both released during the 1960 holiday season, and thus competed with each other for the Presley film audience. The outcome, however, fully vindicated Wallis' vision of how Elvis should be used in films. The light, musical comedy G.I. Blues was a big hit, while the dramatic Western Flaming Star struggled at the box office. 
Elvis enjoyed working with director Norman Taurog on G.I. Blues and wanted him again for his next Hal Wallis film, Blue Hawaii. The producer had no problem with that, but he did have a problem with Elvis' appearance. The Hawaiian setting required beachwear, and Wallis thought Elvis looked "soft." The extra pounds had taken away the "sly sensuality" that marked Elvis' pre-army films, but Blue Hawaii, noted Dick, "revealed a more worldly Elvis, who seemed at home in an environment where nature's lushness provides an incentive for easy living." 
Wallis attributed some of the film's great success to director Taurog, and Elvis and the Colonel agreed. Parker had visions of making Elvis and the director a team. "Taurog ... works very easily with Elvis," Parker wrote in a memo to Hal Wallis. "Elvis has great respect for him ... You and I both know Mr. Taurog doesn't watch the clock and is a hard worker and knows what he is doing." Taurog directed Wallis' next Presley film, Girls! Girls! Girls! but it would be his last for Hal Wallis at Paramount. (Later Taurog did direct six additional Elvis films for other studios.) 
• Wallis shocked by "soft, fat, and jowly" Elvis 
Elvis kept his weight down for Hal Wallis productions of Girls! Girls! Girls! in 1962 and Fun in Acapulco in 1963, but as he prepared to go into production with Roustabout in 1964, Wallis' concerns about his star's appearance surfaced again. After watching MGM's Viva Las Vegas, Wallis was "shocked" at how "soft, fat, and jowly" Elvis had become, and at how his hair had taken on a "wiglike inky blackness" appearance. Wallis put the responsibility on Colonel Parker to get Elvis back into shape. "When [Elvis] comes out here again I hope he will have trimmed down as this is a very serious concern for us and for him," Wallis warned the Colonel. "It could have a detrimental effect on his entire career." 
For Roustabout, Hal Wallis switched to director John Rich and brought in Barbara Stanwyck, who, according to Dick, "brought the star quality of the past into the present, which looked all the poorer by comparison." 
There is little doubt that after Roustabout Hal Wallis began to lose faith in Elvis Presley's star power and his commitment to film work. Both Elvis and the Colonel had come to consider the Paramount lot as sort of a second home, but the blandness of Wallis' last two Presley films, Paradise, Hawaiian Style (1966) and Easy Come, Easy Go (1967) revealed that Wallis had lost interest in Elvis and was just fulfilling the obligations of his contract with Elvis and the Colonel. 
• By 1966 Hazen didn't think Elvis was worth the money
Only when money issues arose did Hal Wallis consult with partner Joseph Hazen about Elvis. For instance, in 1966 Colonel Parker insisted that Wallis start paying Elvis $500,000 per movie, plus 20 percent of the profits. Wallis felt he could not OK the deal without checking with Hazen first. Hazen objected. By then Hazen had concluded that Elvis' Hollywood career was coming to an end. The final deal with Parker was signed in April 1966. Later, in a letter signing off on an Easter 1967 release date for Easy Come, Easy Go, Hazen wrote, "I strongly believe that this will be Elvis' last good picture." While the film was Elvis' last one for Wallis-Hazen at Paramount, hardly anyone in Hollywood considered it a "good" one.
Keeping Elvis off TV during the movie years of the sixties was a strategy that Colonel Parker credited to Hazen. In a 1963 letter to Hazen, the Colonel wrote, "We do not mix our motion picture career in any way with a television career, especially if we are not in on the profits of a picture. This I learned from you a long time ago, and I am grateful for the teachings." 
• Hollywood overused and exploited Elvis 
"Allowing Elvis to make thirty-one movies in twelve years (1957- 1969) was blatant exploitation," biographer Dick contended. So what share of the blame, if any, does Hal Wallis deserve for that exploitation? Certainly it was Wallis who created and popularized the light, musical screen formula that Hollywood eventually used to box in Elvis, blocking any chance of his becoming a serious actor. But Dick comes to Wallis' defense. "Even if Elvis had made all of his films for Wallis, the producer would never have given Elvis such over-exposure, because he knew it would result in surfeit." 
Dick puts the ultimate responsibility on Elvis himself. "There is one biography of the entertainer that, while acknowledging Wallis' role in shaping Elvis' film career, also alleges that the producer 'eventually ruined him,'" notes Dick. "Actually, Elvis ruined himself; what Wallis did was turn a rock 'n' roller into a movie star, whose iconic stature rests more on his recordings and documentaries about him than on his thirty-two films, only nine of which were by Hal Wallis." 
Of course, a great many of Elvis' devoted fans can never be convinced that their idol was to blame for the demise of his once promising Hollywood career. To them Hal Wallis is also shielded from any culpability by the giant shadow of Colonel Parker, upon whom Elvis fans love to fasten the blame for every misstep in Elvis' career. 
• Hal Wallis and Joseph Hazen went separate ways 
After Elvis left Hollywood, Hal Wallis and Joseph Hazen continued their relationship at Paramount. Soon, though, petty jealousies over the amount of credit each man received for the films they made together drove the two men apart. In 1971 their 25-year business relationship came to a bitter end. Hal Wallis left the film industry in 1975 after producing his final film, Rooster Cogburn with John Wayne and Katharine Hepburn. Wallis died on October 6, 1986. His crypt is at Forest Lawn Cemetery in Glendale, California. Hazen outlived his old partner, dying on November 13, 1994, at the age of 96. — Alan Hanson | © 2009